Killer Beer Week, WW Beer Pro/Am + Other Craft Beer Event for the Week of Oct. 13
|
Killer Beer Week begins, plus Willamette Week Beer Pro/Am and other craft beer events for the week of October 13th.
Cloudy IPA Night
5- 9 p.m. Thursday Oct. 13, Imperial Bottle Shop & Taproom, 3090 SE Division St.;
Celebrate the return of our beautiful cloudy weather by drinking some delicious cloudy IPAs, including: Block 15 Brewing Co. Fluffhead and Story of the Ghost; Great Notion Brewing Juice Jr.; Coronado North Island; Claim 52 Brewing Fluffy; and Sixpoint Puff. They'll be offering a 6-beer sampler tray for $11 and all beers by the glass, but no growlers of the featured beers during the event.
Harvest Happening Fundraiser
6-9 p.m. Thursday Oct. 13, Bushwhacker Cider, 1212-D SE Powell Blvd.;
Celebrate harvest season with Bushwhacker Cider and Finnriver Farm & Cidery and help Oregon's Farmers Ending Hunger raise funds for their Adopt-An-Acre program. A portion of Finnriver cider sales from the evening will be donated to help the harvest get to those in need. A special line up of custom cider cocktails including Hot Toddy, Choco-Caliente and Port in the Woods, as well as seasonal and limited release draft offerings will be featured.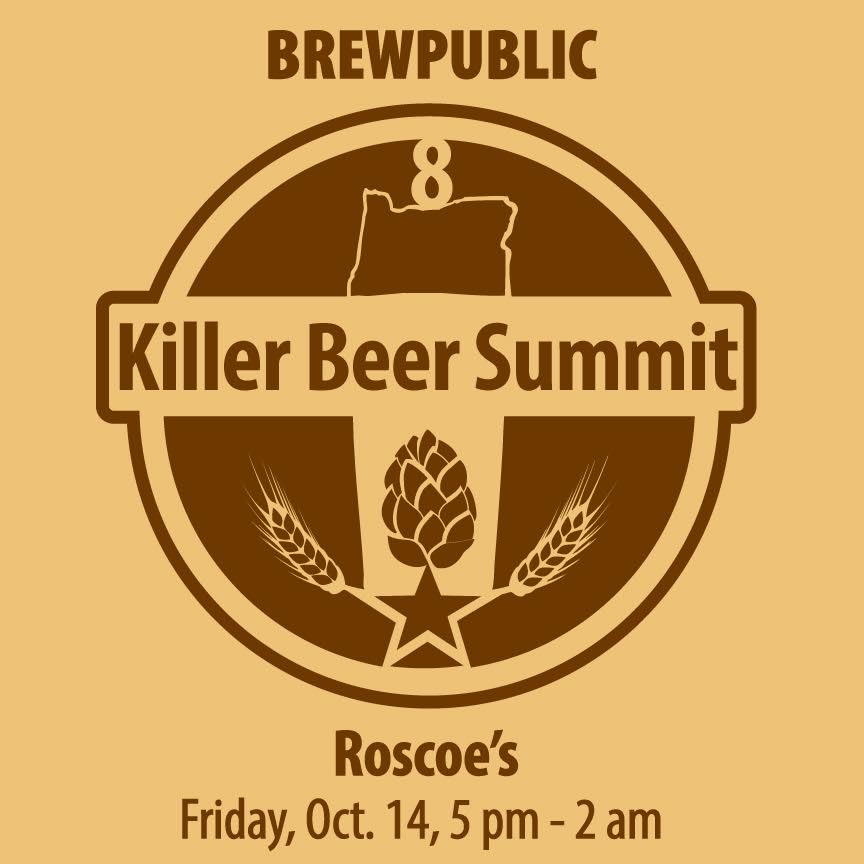 Killer Beer Summit
5 p.m.- close Friday Oct. 14, Roscoe's Pub, 8105 SE Stark St.;
A killer beer festival in its own right, the Killer Beer Summit is the traditional way to start Killer beer Week and the Brewpublicans join good friends Quyen and Jeremy and the staff at Roscoe's Pub of Portland's Montavilla neighborhood to bring you some exclusive seasonal and cellared beers while welcoming the madness of KBW to the hearts and livers of Po0rtland beer fans. Look for delectable treats that include Corn Star, a collaboration from Bagby Beer, Sun King Brewing and Beachwood BBQ and Brewing along with other tasty beers from Alesong Brewing & Blending, Gigantic Brewing, Oedipus and The Commons Collaboration, Crooked Stave, Fort George, Occidental, Noble Ale Works and many more…
Welcome Back Christopher
5 p.m.-close Friday Oct. 14, The BeerMongers, 1125 S.E. Division St.;
The BeerMongers favorite Brit, Christopher, is back from his summer sojourn in Blighty and his many friends at Mongers welcome him home with some of his favorite beers on tap and music from Bolt Upright.
Fourth Annual Brewers Pro/Am
1- 6:30p.m. Saturday Oct. 15, North Warehouse, 723 N. Tillamook St.; $25 includes pint glass & 32 tasters of beer.
Willamette Week came up with a great idea when they held Portland's original home brewer and professional brewer collaboration event. Since its start in 2013, when 11 brewer teams competed in the first Pro/Am, this event has evolved into something special among beer fests. This year 30 home brewers partner with established pro brewers to create and debut 30 brand new beers including jalapeño cream ales, mango/lime/habenaro hefeweizens, lavender-infused ales, Pinot Gris oak barrel strong ales, milk chocolate caramel coconut stouts, nectarine IPAs, ginger pale ales, a cider inspired by Prince lyrics, an imperial wheat beer called "PEEL THE BERN! Make America Wheat Again," and so much more. Thirty-one home-brewer created, professionally brewed beers in all, and event guests will get to taste each and vote for their favorite at a beer fest that's becoming Portland's fave…
Killer Pumpkin Fest – DUE TO WEATHER CONCERNS, RESCHEDULED FOR SATURDAY, OCTOBER 29TH 11:00AM – MIDNIGHT
11 a.m. – Midnight Saturday Oct. 15, Green Dragon, 928 SE Ninth Ave.;
It's October and pumpkin beer is as unavoidable as cold rain so you may as well dive in and sample from dozens of pumpkin beers at this family-friendly all-day event. It features all things pumpkin: pumpkin foodie treats, pumpkin smashing festivities and pumpkin beers 'til hell won't hold 'em… Elysian Brewing will tap its gourd filled with beer at 5 p.m. Killer Pumpkin Fest will once again be Portland's largest pumpkin party and the Dragon has a permit to close Ninth Ave down to traffic to accommodate the expected crush of pumkinphiles…
Alchemeat – The Portland Beer and Charcuterie Festival
Noon- 6 p.m. Saturday Oct. 15, Culmination Brewing, 2117 NE Oregon St.; $35.00 includes two 13 oz. beers.
Killer Beer Week 2016 marks the debut of the Portland Beer and Charcuterie Festival. Culmination Brewing will feature charcuterie boards filled with meats from Laurelhurst Market, Old Salt Marketplace, and Tails and Trotters. Each board will also include cheese from three Pacific Northwest cheese makers. Tickets sales are limited to 300.
Breakside Third Annual Oktoberfest
Noon-8 p.m. Saturday Oct. 15, Breakside Taproom, 5821 SE International Way, Milwaukie;. $15 includes souvenir glass and four tix. All ages, family friendly, activity bags for the kids.
Breakside celebrates the season and celebration of German-style beer with special tappings including firkins of Habanero Passionfruit Sour & Cucumber Lucky As Helles & German pub fare.
Killer IPA Fest
2 p.m. -Midnight Sunday Oct. 16, Monday Oct. 17, N.W.I.P.A., 6350 SE Foster Rd.;
This year Jackson Wyatt and crew are hosting two days of Killer IPA Fest. On Sunday it's Greetings from SoCal: extremely rare-seen-in-Portland offerings from the likes of Bagby Beer, Beachwood BBQ and Brewing, Noble Ale Works, Three Weavers, El Segundo, and more. On Monday N.W.I.P.A. channels its inner New England with Vermont Style Haze Craze. Look for cloudy, hazy IPAs from Noble Ale Works, Block 15, Great Notion, and more.
Killer Dave Fest/Cribbage Night
6 –10 p.m., Tuesday Oct. 18, The BeerMongers, 1125 SE Division St.;
Brewpublic has decreed 2016 to be the year of Dave. Back in 2011 Brewpublic's Angelo decided that a significant number of brewers were named Ben, hence Ben Fest. Since that fateful day other packs of eponymous craft beer types have been honored by– in turn – Sean Fest, Mike Fest, Chuck Fest and Chris Fest. This year we honor the Daves of the craft beer world with a special night at The BeerMongers and a taplist of beers brewed by Daves: Dave Marliave, Dave Fleming and more. Plus, as usual now, it's also cribbage night at The BeerMongers. Cribbage game boards will be available but if you have a lucky one from home feel free to bring it along.
Killer Lupulin Night
4-10 p.m. Wednesday Oct. 19, The Upper Lip, 720 SW Ankeny St.;
If you still need a hop fix after Sunday and Monday at N.W.I.P.A., The Upper Lip is bringing in three out-of-state breweries and some serious IPAs: two beers each from Other Half Brewing, Three Weavers Brewing and El Segundo Brewing.