The Beer's Still Here: Beer Events for Week of September 25
|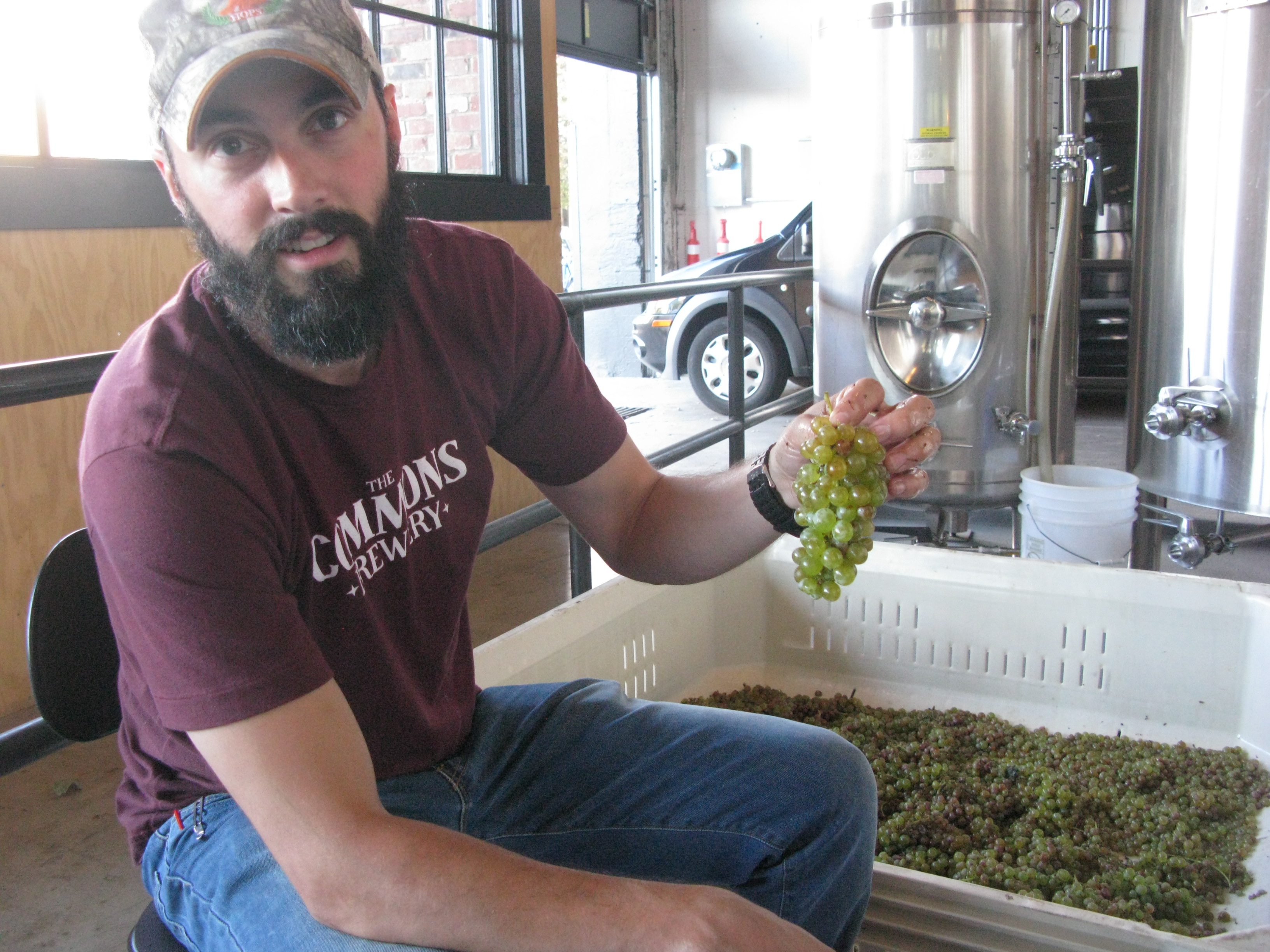 Pacific Northwest Brew Cup
Friday Sept. 25-Sunday Sept. 27, Columbia River Maritime Museum at the Barbey Center, Astoria; free admission, $9 sampling mug, beer tix are a buck each.
One of my favorite beer fests, this year's Brew Cup features nearly 50 Northwest craft beers, local food vendors, wine, spirits and games for the kids and some of the best of the Northwest's music all against the peerless backdrop of the mighty Columbia River. Three days of music includes sets from Michael Hurley, Brownsmead Flats, Boomrad, The Talbott Brothers, Three for Silver, Vinyl Gold, Troll Radio Review, Kelsey Mousley, Jamie Leopold and the Short Stories, Bart Budwig, Beach Fire, Vaudeville Etiquette, Smokey Brights and more.
Occidental Oktoberfest
Noon-10 p.m. Saturday Sept. 26, Occidental Brewing Co. , 6635 N. Baltimore Ave., St. Johns; Free admission, $10 for a glass mug and first beer, $4 beers after that. kids welcome.
This is a fine fest – one of my favorites – with a great view of the St. Johns bridge, a taplist of Occidental's fine German-style beers including Kölsch, Altbier, Hefeweizen, Dunkel, Pilsner, Dunkelweizen, Kellerbier and Festbier. Also: live music, and food by Urban German.
Seventh Annual Belgianfest
2 – 10 p.m. Saturday Sept. 26, North 45, 517 NW 21st Ave.;
Belgian Beer, waffles & more…such as the Old World vs. New World Battle where you can sample traditional Belgian beers against Northwest iterations of the style beers. Food too: they'll be serving sweet and savory Belgian waffles and North 45's signature mussels.
Mixed Tape Track II
7-10 p.m. Saturday Sept. 26, Eastburn, 1800 E. Burnside St.;
#pdxbeergeeks presents the second of a series of music-inspired beers. Track I featured the music of David Bowie, Track II is inspired by Beastie Boys…
Taplist:
McMenamin's Thompsons: Check Your Head IRA
Gigantic Brewing: HotSauceComittee Part II, SOLID! Firkin aged with Habenero
Hopworks, Brass Monkey: Potato Wit aged with rum chips
Wingman Brewing: Raisin' Hell, American Strong Ale brewed with raisins & figs
Pints: MCA Tribute IPA
Crooked Fence: Root Down, Sugar beet beer
No-Li: Funky Monkey randalled w/orange slices, vanilla bean, cocoa nibs, and coffee beans.
Sixpoint Brewing: No Sleep 'Til Brettlyn Saison, Saison aged in red wine barrels with Brett
Hood River Hops
Noon-8 p.m. Saturday Sept. 26, Columbia Parking Lot, downtown Hood River; all ages until 5 p.m. $15 includes entry, glass mug and five tix, $50 includes access to the Official Hops Fest Brewers Tent, glass mug, 15 tix and more.

Hood River Hops Fest features local cuisine, wine, ciders, arts and crafts vendors, a children's play area, contests, and live music. And of course, fresh-hop beers from the Northwest's finest:
Amnesia Brewing (Washougal)
Backwoods Brewing Company (Carson)
Baerlic Brewing Company (Portland)
Barley Brown's Beer (Baker City)
Base Camp Brewing Company (Portland)
Beer Valley (Ontario)
Big Horse Brew Pub (Hood River)
Breakside Brewery (Portland)
BridgePort Brewing Company (Portland)
Burnside Brewing Company (Portland)
Coalition Brewing Company (Portland)
Crux Fermentation Project (Bend)
Deschutes Brewery (Bend)
Double Mountain Brewery (Hood River)
Ecliptic Brewing (Portland)
Elysian Brewing Company (Seattle)
Everybody's Brewing (White Salmon)
Ex Novo Brewing Co. (Portland)
Fort George Brewery (Astoria)
Full Sail Brewing Company (Hood River)
Gigantic Brewing (Portland)
Golden Valley Brewery (Beaverton)
GoodLife Brewing Co. (Bend)
Hopworks Urban Brewing (Portland)
Lagunitas Brewing Company (Petaluma)
Laurelwood Brewing Co. (Portland)
Logsdon Farmhouse Ales (Hood River)
Migration Brewing (Portland)
Oakshire Brewing (Eugene)
pFriem Family Brewers (Hood River)
PINTS Brewing Co. (Portland)
Sasquatch Brewing Co. (Portland)
Solera Brewery (Mt. Hood)
Stickmen Brewing Company (Lake Oswego)
Terminal Gravity Brewing (Enterprise)
Three Creeks Brewing Co. (Sisters)
Upright Brewing (Portland)
Vertigo Brewing (Hillsboro)
Walking Man Brewing (Stevenson)
Wild Ride (Redmond)
Worthy Brewing (Bend)
Portland Vegan Beer & Food Festival
1 – 7 p.m. Saturday Sept. 26, Zidell Yards; $35, 21 and over only.
Sample the best of the region's craft beer, ciders, and kombucha from top vegan food carts, trucks, vendors and restaurants, plus a a Vegan pop up Marketplace with vendors selling everything from clothing to vinyl to craft goods. It seems like a pricey ticket, but you get unlimited pours from over 50 breweries and cideries including 21st Amendment, Atlas Cider, Ballast Point, Ninkasi, Fat Heads, Coalition, Commons, Ecliptic, Eel River, Golden Road, Ground Breaker, Iron Horse, Modern Times, Natian and more and featuring 100+ different beers. Also: chalk walls, cornhole, and giant Jenga, plus live music
21st Dove Lewis Dogtoberfest Dog Wash
Noon-5 p.m. Sunday Sept. 27, Luck Labrador Brew Pub, 915 S.E. Hawthorne Blvd.;
DoveLewis volunteers and sponsors will gather to scrub up and dry off hundreds of dogs to benefit the DoveLewis Blood Bank, and — as always — the venue is Portland's most doggeriffic pub porch. Plus: beer, live music and the unveiling of the 2016 DoveLewis calendar.
Flat Tail's Fifth
6-9 p.m. Wednesday Sept. 30, Saraveza, 1004 N. Killingsworth St.;
The Saravezans are celebrating Flat Tail Brewing's fifth year and they have the only keg of the Corvallis brewery's anniversary beer in Portland. The 11 percent fifth Anniversary Saison is called Menage Brah, thanks to the brewery friends who contributed elements such as wildflower honey, Jonagold apple juice from Lee Larsen of 2 Towns Ciderhouse lactobacillus soured carrots from Joel "Carrots Are The New Hops" Rea of Corvallis Brewing Supply to acidify the mash.
Also: two new beers on draft: Free Gluten Wheat IPA and Dam Wild, a farmhouse ale open fermented with lactobacillus and brett and with marionberries and pink peppercorns added. 6 percent. Dave from Flat Tail will be in the house, sampling Flat Tail's canned beers and raffling off some fun schwag.
contact John Foyston at johnfoyston@comcast.net