'Tis the Season for Coffee Beers – Beer Events for the Week of January 25th
|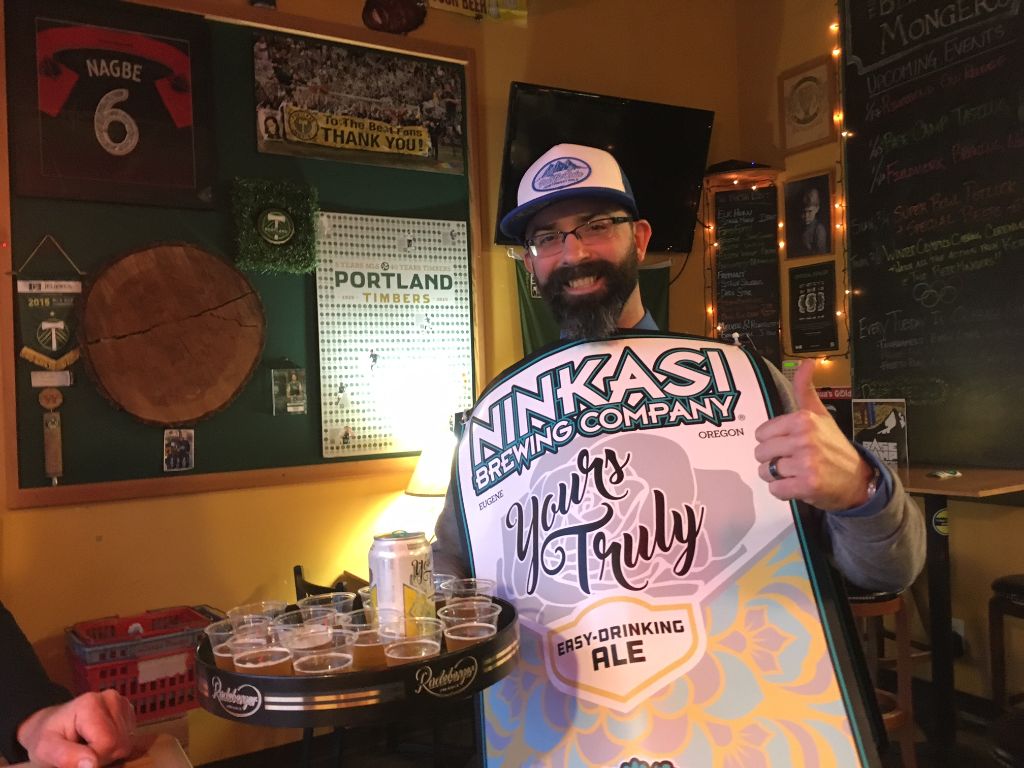 'Tis the season for coffee beers with the NW Coffee Beer Invitational along with Hamerhead's 32nd Birthday, Beers and BBQ, Barrel Aged Beer at The Civic Taproom, Meet the Brewer at Bailey's Taproom and beers from Fieldwork Brewing all the way from Berkeley, California. A listing of beer events for the week beginning January 25th.
Hammerhead's 32nd Birthday
Thursday Jan. 25, All McMenamin Properties
Hammerhead Ale was created 32 years ago at the Hillsdale Brewery in Portland and on Thursday, all McMenamins are celebrating this signature ale with specials such as $4 pints and $8 growler fills, plus food: a Hammerhead BBQ Chicken Hoagie – crispy chicken, Hammerhead BBQ sauce, grilled onions, smoked gouda, lettuce, tomato & BBQ mayo.
10th annual "Brew Hog" beer tasting and BBQ
6-9 pm Thursdays through April 5, North 45 Pub, 517 NW 21st Ave.;
This popular series invites folks to meet local brewers, enjoy free beer tastings, $4 pints, and delicious bbq specials. During the "Brew Hog" series, North 45 Pub hosts a different local guest brewery each week — this week it's Ninkasi — to showcase their brews with free tastings, and Chef Ashley Waechtner prepares different delicious smoked ribs and pork specials to pair with that week's beer selection all on North 45's newly renovated large year-round patio, complete with a new domed tent and high efficiency duct tent heaters.
The series ends with the annual Brew Hog Blowout Party on April 5, from which a portion of proceeds benefit Ronald McDonald House Charities of Oregon & Southwest Washington.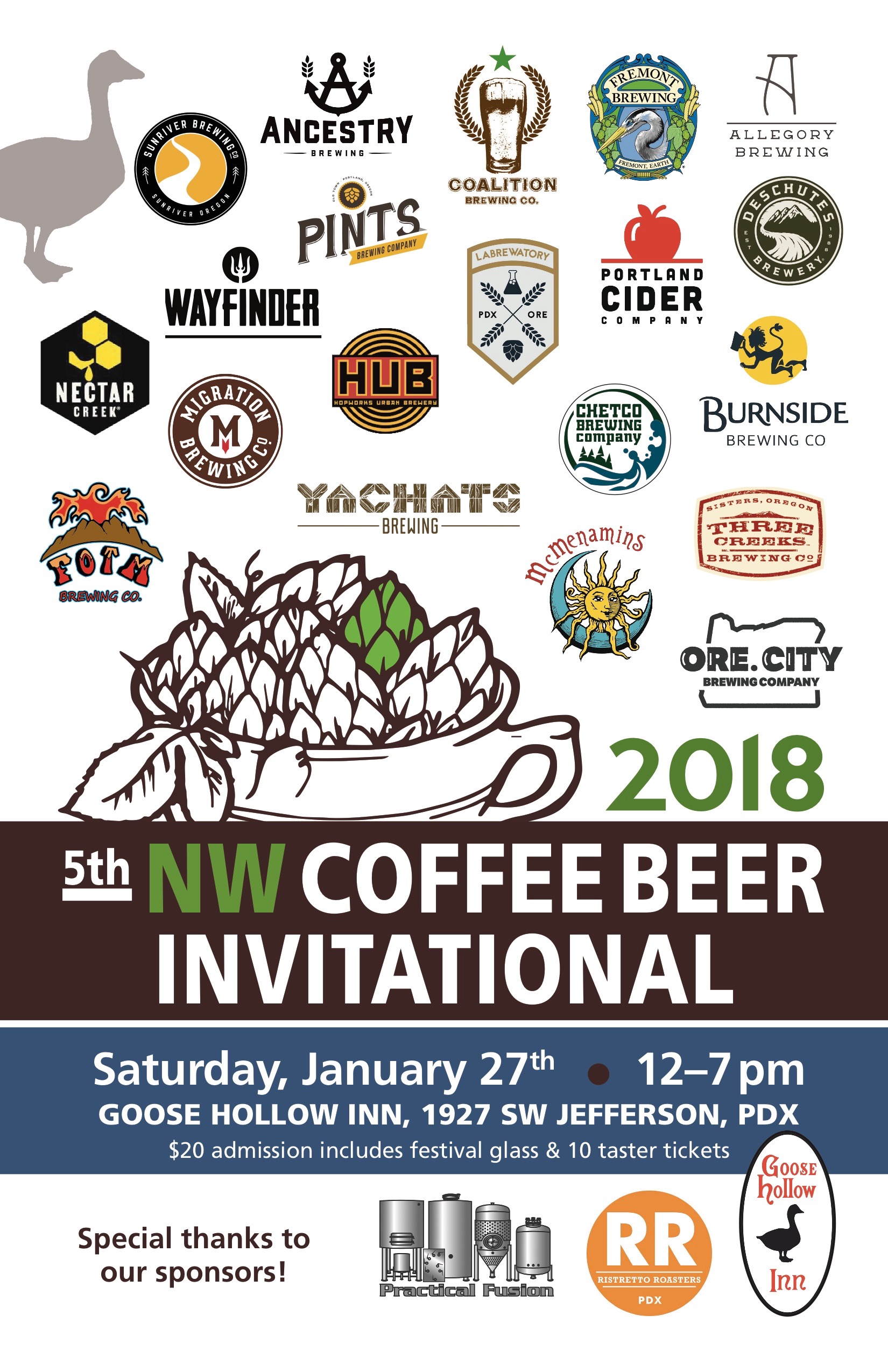 NW Coffee Beer Invitational
Noon – 7 pm, Saturday Jan. 27, Goose Hollow Inn, 1927 SW Jefferson St.; $20 includes festival glass and 10 tix. Family friendly. Tickets at the door only.
The fifth NW Coffee Beer Invitational is Portland's intimate mid-winter beer festival where talented beverage-makers are asked to get creative with locally-roasted coffee. This year's roster includes a cidery and a meadery as well as 19 outstanding breweries. To celebrate the fifth year, organizers Dave Fleming and Jean Hefferman Fleming asked past festival-favorite brewers Alan Taylor (PINTS and Zoiglhaus), Ben Nehrling (Fire on the Mountain) and Kevin Shaw (Buoy Brewing) to collaborate with Ristretto's Din Johnson to make a special anniversary beer. It was brewed at Buoy in Astoria, and will be released at the festival.
All beverages are in competition and a best of show winner will be announced at the festival. Nicole Kasten (Beer Connections), Sarah Pederson (Saraveza), and John Foyston (long-time Oregon beer writer) will bring their expert palates to our judging table. once again, the venue is a cozy tent at the Goose Hollow Inn and great food from the Goose will be available throughout the day, as well as live music from The Michael Shay Trio (Noon-3 pm) and Logger's Daughter (3:30-6:30 pm).
Participating breweries:
Allegory Brewing • Ancestry Brewing • Burnside Brewing • Chetco Brewing • Coalition Brewing • Deschutes Brewing • Fire on the Mountain Brewing • Fremont Brewing • Hopworks Urban Brewery • Labrewatory • McMenamins Brewery • Migration Brewing • Nectar Creek • Oregon City Brewing • PINTS Brewing • Portland Cider Company • StormBreaker Brewing • Sunriver Brewing • Three Creeks Brewing • Wayfinder Beer • Yachats Brewing
Third annual Barrel Aged Fest
Saturday Jan. 27, Civic Taproom & Bottle Shop, 621 SW 19th Ave.
The Civic's general manager, Chelsea, has spent the last year squirreling away one-offs, special offerings and exciting barrel-aged beers just for this event, resulting in an impressive taplist:
Royale BA Spelt Saison
Royale BA Old Fashioned
Crux Tough Love
Oakshire Hellshire IV
Deschutes Abyss '14
Deschutes Abyss '16
Deschutes Abyss '17
Deschutes Black Barleywine
Laurelwood Moose & Squirrel
Ordnance Radagast
Bear Republic Tartare Rouge
Lagunitas Hi – Westified
Santiam Vlaams Rode
Santiam Jean Peche
Santiam Govnas Reserve
Epic Baptista '16
Epic Baptista '17
Perennial Abraxas
Georgetown BA Chopper
New Holland Brewing Co. Mocha Mint Dragon's Milk
Pono Brewing Fashionably Late
Each beer will be available to purchase on their own as well as multiple flight options and chances to purchase tasters of each.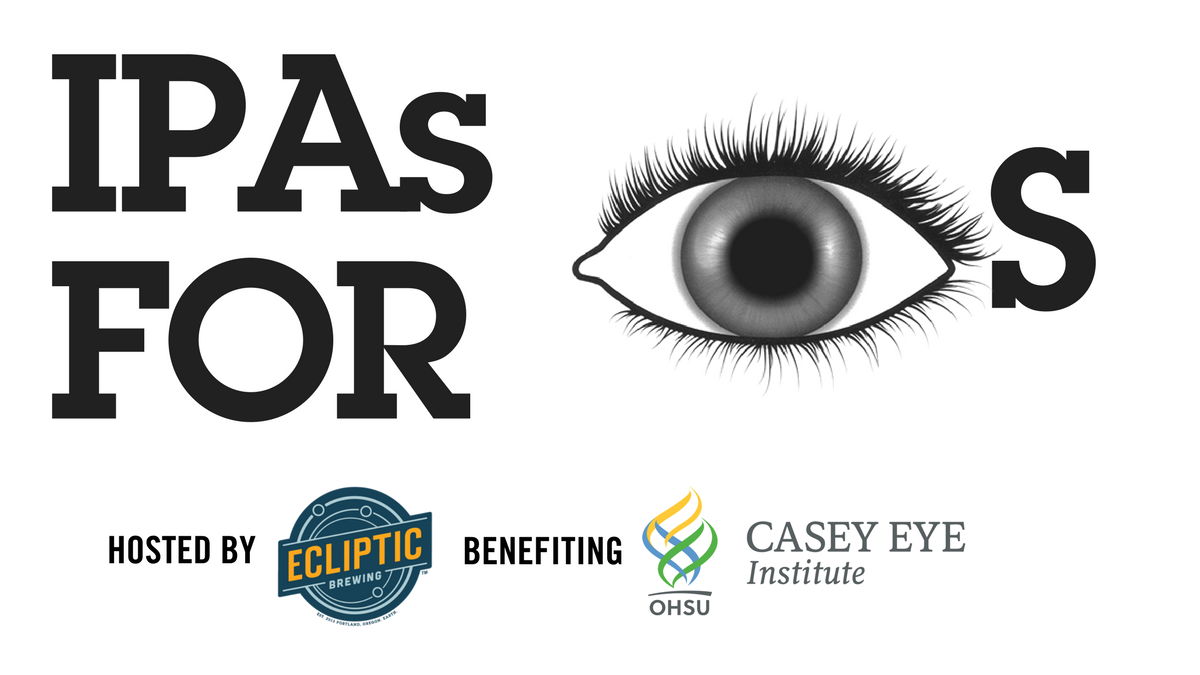 IPAs for Eyes
Sunday, Jan. 28, Ecliptic Brewing, 825 N. Cook St.;
This benefit for the OHSU Casey Eye Institute will help fund quality prescription glasses for under-served Oregon residents through the Casey Community Outreach Program. Ecliptic will donate 10 percent of all sales to help pay for free prescription glasses offered by the Community Outreach Program. In addition, Ecliptic Brewing's distributor partner Maletis Beverage, and Point Blank Distributing, have agreed to match donations from the day.
Ecliptic will offer a special IPA taster tray throughout the day. At 5 p.m., a raffle drawing will be held for prizes that will include IPAs from Breakside & Stormbreaker breweries, a two-night stay in Cannon Beach, and other fun items. Raffle tickets can be purchased at the brewery through Sunday.
Event attendees will also be able to tour the Casey Eye Institute's 33-foot, fully outfitted mobile ophthalmology unit, which provides free medical vision screenings at locations ranging from the state's remote corners to Portland's urban core.
Fieldwork/Great Notion Breweries Tap Takeover
5 pm, Monday Jan. 29, Roscoe's, 8105 SE Stark St.;
The owner and brewer from Fieldwork are making the trek from Berkeley and bringing seven beers, and there'll also be a couple of awesome beers on tap from Great Notion. The Fieldwork taplist includes:
Eastside Motel double IPA (8.3% abv)
King Citra double IPA (8.7% abv)
Saint Thomas hazy IPA(6.7% abv)
Chaos Emeralds IPA (6.8% abv)
Hoppin' 4-Tay hybrid IPA (7.3% abv)
Lilith Belgian Golden Ale (8.0% abv)
Caribbean Queen fruit-fermented sour ale (5.4% abv)
Engine House No. 9 Meet the Brewer
Tuesday Jan. 30, Bailey's Taproom, 213 SW Broadway;
Bailey's Taproom & Shelton Bros. are co-hosting an Engine House No. 9 Meet the Brewer Event when Tacoma's finest is coming to the bar to share some exclusives from the Shelton Bros. Oregon book. Shane, the head brewer, will be in house to discuss the brewery, the beers, and E9's rich history and the taps will be pouring The Duel Wild Ale (with Raspberries & Bing Cherries), Nectarberry Farmhouse Ale, Meraki #2 (Blueberry Sour), Belgian White, Dark Passenger Imperial Stout w/Brett C and Sno-Cru (Barrel blend of Dubbel, Trippel & Imperial Stout on Brett C)