Widmer Brothers Brewing Celebrates 4th Annual Hefe Day
|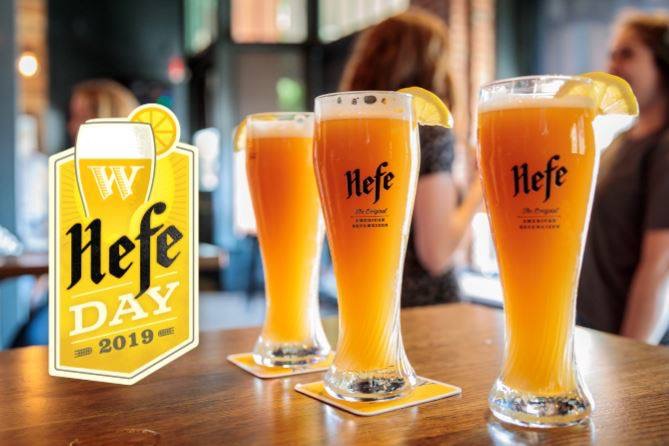 For the past 33 years Widmer Brothers Brewing has been brewing Hefeweizen (HAY-fuh-vy-tsen), its interpretation of a German Hefeweizen. Three years ago the city of Portland declared May 15, 2016 as Hefe Day. On that day, an afternoon celebration held in Pioneer Courthouse Square honored the beer's 30th anniversary of the brewer's most well-known beer.
On Saturday, May 18, 2019, Widmer Brothers Brewing will host its 4th Annual Hefe Day at its brewery in North Portland. The event is free to attend and will take place from 2:00-8:00pm with some amazing deals on this iconic Portland beer.
The very first keg of what is now known has Hefe, was delivered to Portland's Dublin Pub on May 15, 1986. The pub's owner wanted to offer a third beer from the two-year-old Portland brewery as its other offerings were an Altbier and Weizenbier. Therefore, co-founders Rob and Kurt Widmer decided to not filter its Weizenbier and offer its unfiltered version, Hefeweizen as a new beer choice.
Now 33 years later, Hefe continues to be Oregon's Favorite Craft Beer, and one that has played a crucial role in today's craft beer landscape. More recently with the boom in Hazy IPAs, Widmer has dubbed its Hefe as being "Hazy Since '86!"
During Hefe Day there will be 12oz draft and 12oz cans of Hefe served for only $1.00! All other Widmer beers on draft will only be $3.00, not too shabby. Pig Sauce BBQ Co. will provide food throughout the event. There will also be a Hefe Day Yard Sale featuring vintage Widmer Brothers merch items for $1, $2, and $3. Plus, Widmer will be offering Hefe in $6.00 6-packs and $24.00 cases to-go located in Widmer's retail shop during the Hefe Day festivities.
Widmer Brothers is also partnering with Oregon Food Bank; those who donate to Oregon Food Bank at Hefe Day will be entered to win a private event in the Widmer Brothers pub space.
Widmer Brothers Pub and Beer Garden
929 N. Russell Street
Portland, OR 97227