Epic Brewing Big Bad Baptist Release At Roscoe's
|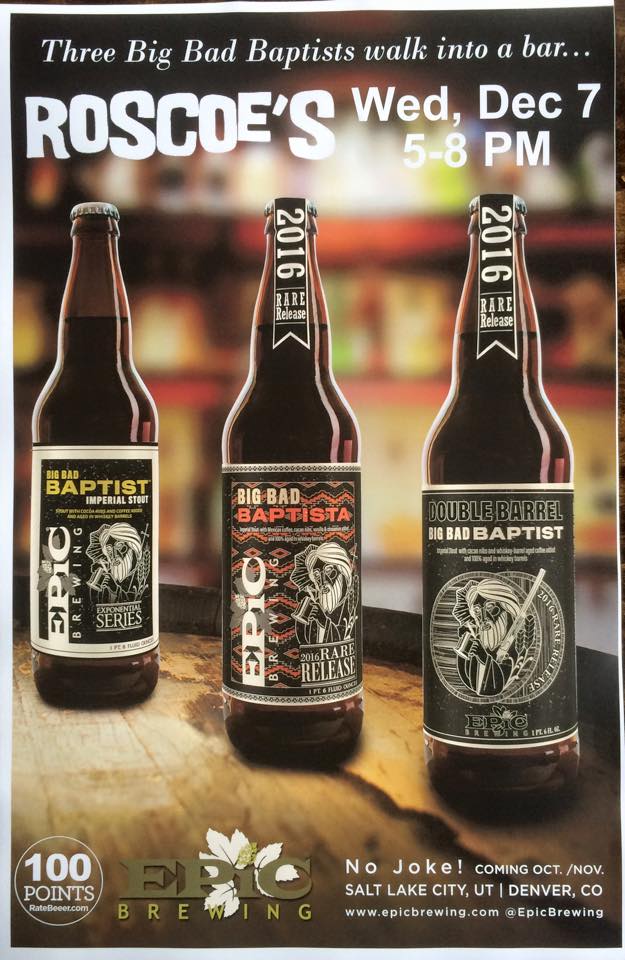 With the pending cooler weather that is forecasted to hit Portland this week one way to keep a bit warmer is to visit Roscoe's on Wednesday, December 7th for a night with Epic Brewing and its Big Bad Baptist release. There will be four versions of different specialty kegs of Big Bad Baptist Imperial Stout that will be tapped beginning at 5:00pm.
Here's what will be on tap.
Rare vintage keg of Big Bad Baptist Batch 3 that has been cellared since 2011
Brand new Big Bad Baptist (Batch 82) brewed with Cocoa nibs and Coffee beans
Big Bad Baptista brewed with Mexican coffee, cacao, vanilla, and cinnamon
Double Barrel Big Bad Baptist – The cream of the crop brewed with barrel-aged single origin coffee, artisan micro-batch cacao nibs, and a ceaseless passion for style
Not sure which one to try? Taster trays will be available to make it easy to sample all 4 versions side by side!
Roscoe's
8105 SE Stark
Portland, OR 97215