Deschutes Brewery Releases the Forged Together Oregon Mixed 15 Pack for Oregon Wildfire Relief
|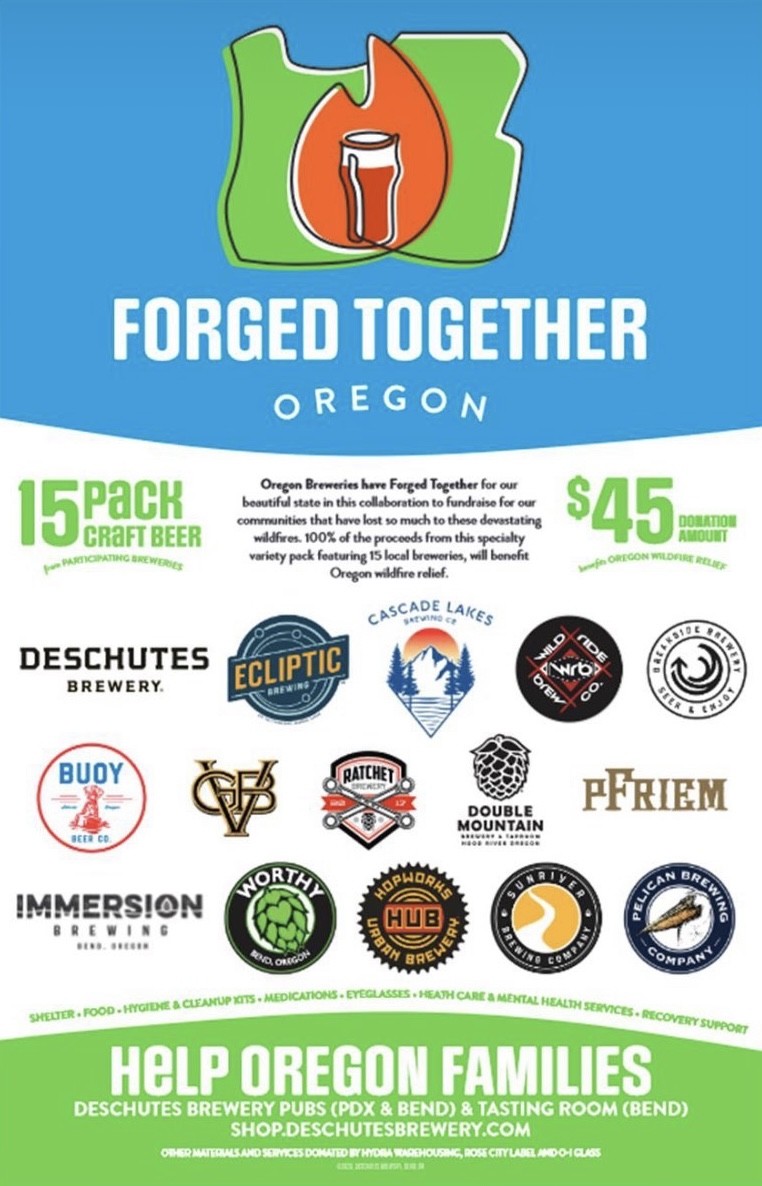 A new collaborative effort led by Deschutes Brewery will raise much needed funds for Oregon Wildfire Relief. Forged Together Oregon is a fundraiser in collaboration with 15 locally owned Oregon breweries to raise funds for Wildfire Relief in Oregon. Presales are now taking place with pick up in either Bend or Portland beginning on November 7, 2020. We have our order in and are excited to pick this one up while donating to a great cause!
To assemble this fundraiser, Deschutes Brewery reached out to its fellow Oregon craft brewers to participate. Forged Together contains 14 beers and one cider from each brewery at a cost of $45 with 100% of the proceeds benefiting those impacted by the wildfires recently here in Oregon.
"Monetary donations are a priority for people who have experienced loss from the fires," said Michael LaLonde, CEO of Deschutes Brewery, in a statement. "Oregon is strong and resilient, and we are forging together as an industry for our community in this collaboration for our beautiful state.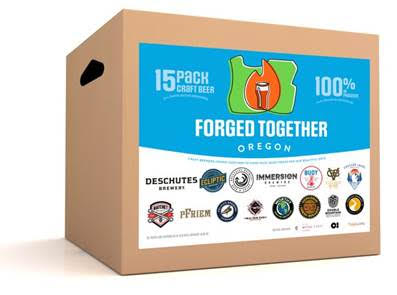 The Forged Together Variety Pack includes one each of the following:
Deschutes Royal Fresh IPA (12oz bottle)
Ecliptic Quasar Pale Ale (12oz can)
Breakside True Gold Golden Ale (12oz can)
Hopworks Abominable Winter Ale (12oz can)
Golden Valley Bald Peak IPA (12oz bottle)
Cascade Lakes Mic Check Pale (12 oz can)
Immersion Packin' the Arena Session (12 oz can)
Ratchet Forged Together IPA (16 oz can)
Wild Ride Whoopty Whoop Wheat –

2020 GABF Gold Medal

– (12 oz can)
Pelican Cape Crasher IPA  (12oz bottle)
Pfriem Flanders Red (375 ml bottle)
Worthy Ten Mile Lager (12 oz can)
Double Mountain Dry Cider (12oz bottle)
Sunriver Rippin' Pale Ale (12oz can)
Buoy Cream Ale (12oz can)
In addition to these 14 beers and one cider, the variety packs also include a random assortment of brewery stickers, bottle openers, hats, reusable tote bags, and other small items. Plus, the first 500 people that preorder Forged Together Oregon will receive a long-sleeved Deschutes Brewery zip up hoodie!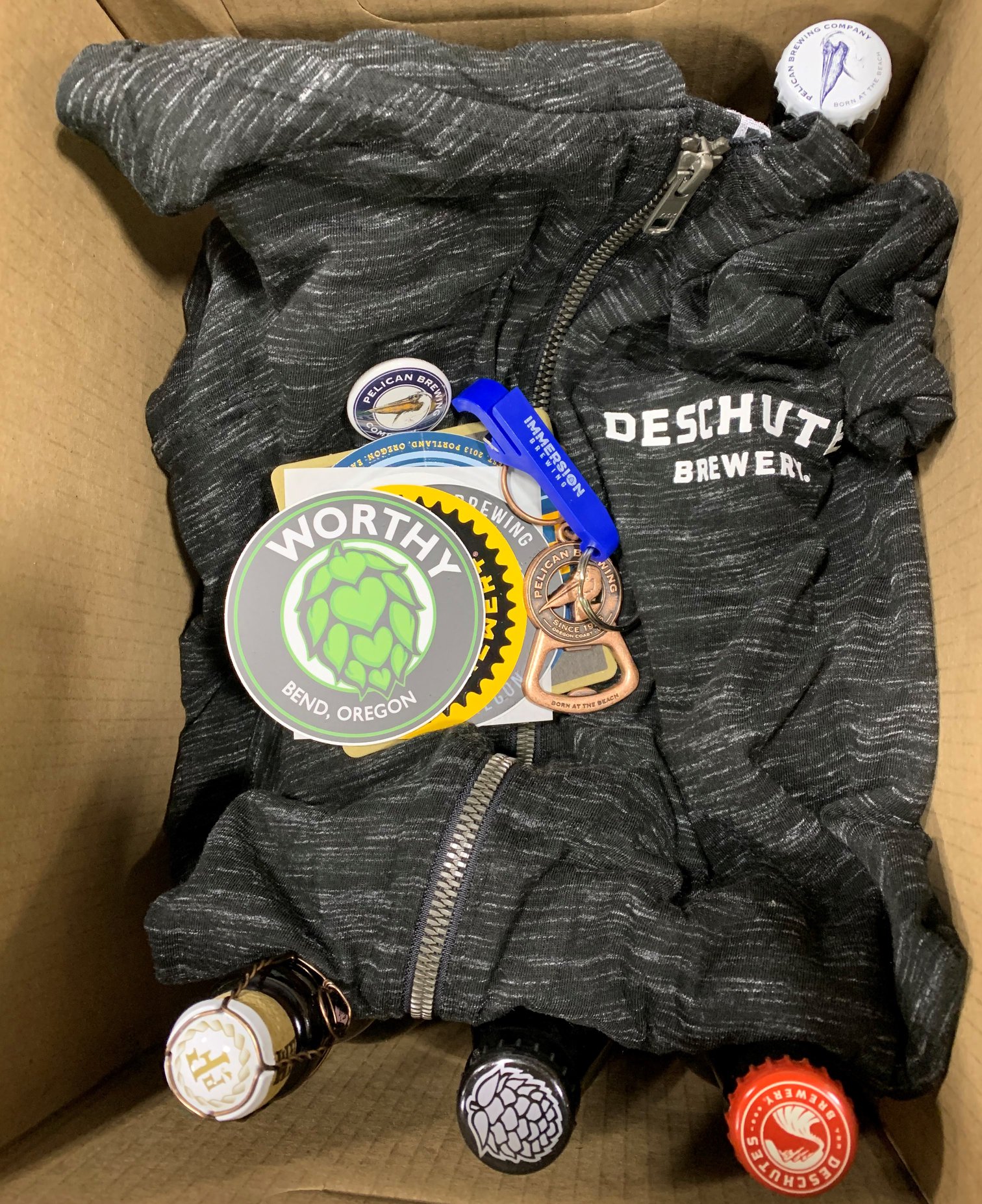 Deschutes Brewery thanks a few of its suppliers – Trojan Litho, Rose City Label, Owens-Illinois, Halo Branded Solutions, and Hydra Warehousing, LLC. – who donated time and materials to this fundraiser.
The Forged Together Oregon Variety Pack will available for sale at Deschutes Brewery's Bend Pub and Tasting Room and Portland Pub this Saturday, November 7th. Presale orders can be placed online now at https://shop.deschutesbrewery.com/forged-together-variety-pack-p129.aspx for pick up on Saturday through a social distanced, drive-through pick up from 12pm-3pm at the Bend Tasting Room and at the Portland Pub from 12pm -7 pm.  These specialty variety packs will sell for $45 at Deschutes locations with 100% of sales donated to wildfire relief in our beautiful state, an estimated donation of over $25,000.
For breweries unable to contribute a packaged beer, our brewers have shared a West Coast IPA recipe for a Forged Together Oregon Beer. Unfortunately, this beer is not in the fundraising variety pack. Participating breweries creating a Forged Together Oregon beer will sell on draft at their brewery and donate the proceeds to a wildfire relief fund of their choice.
Forged Together Oregon Recipe
Style: West Coast IPA
Specs: 7% ABV, Bright, Color 6 SRM 60 IBU's
Malt: 2 Row, Wheat, Munich
Hops: Suggest using OR/WA aroma hops such as Amarillo, Chinook, Centennial, Citra, El Dorado, Mosaic
Yeast: American ale or Hazy IPA strain
If you have questions please contact Angie Anderson-May @ AAnderson-May@deschutesbrewery.com.