Powell's Books Partners with Ex Novo Brewing on City of Books IPA
|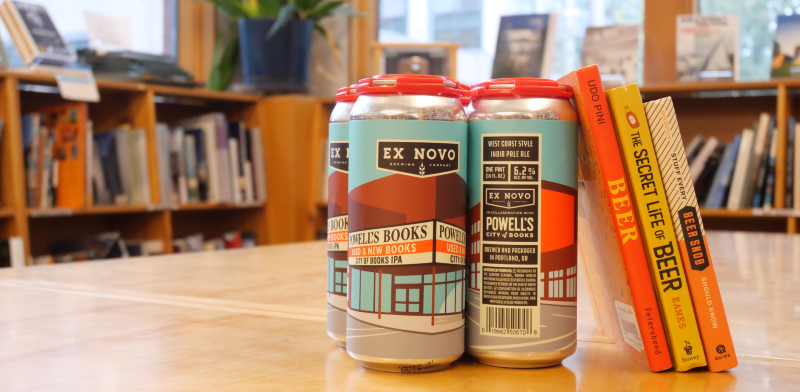 Portland's iconic Powell's Books has a new collaboration project and this one is with a local brewery on a new beer. The longtime book seller has partnered with Ex Novo Brewing on City of Books IPA that'll benefit Book Industry Charitable Foundation (Binc),
City of Books IPA will debut on Saturday, October 16th at Powell's Books flagship store on W. Burnside. From 10:00am-4:00pm, book and beer lovers can purchase 4-pack, 16oz cans of City of Books IPA at Powell's flagship location in Portland's Pearl District for $15.99 each.
Powell's in-store purchases are limited to two 4-packs and the beer cannot be consumed on the premise at Powell's. City of Books IPA will also be available at Ex Novo's North Portland and Beaverton locations while supplies last.
City of Books IPA is a West Coast IPA that sits at 6.2% ABV. Yes, a bit lower in alcohol than other IPAs, but this is what the team at Ex Novo was aiming for.
"We discussed different options for styles of beer, but when you live in the Pacific Northwest we all know that IPA is king," stated Ryan Buxton, Ex Novo Brewer, on Powell's Books website. "We wanted to make a splash with this beer and knew it had to be special. We landed on a 6.2% ABV West Coast Style American IPA. We wanted just a touch lower ABV than your typical IPA to make it easy to drink more than one or to sip on while enjoying a good book. For the base of the beer we selected premium Pilsner malt for a very clean backbone that doesn't get in the way of the real star, the hops! We also added a little wheat and a pinch of a very light caramel malt for some depth and complexity in every sip."
Buxton continues, "This beer is a one-two punch from Citra hops and new experimental hop HBC586. Experimental hops come out every year and they are usually fun to experiment with in beer. Rarely does an experimental hop variety come out that blows us away though. However, when we got our hands on HBC586 it blew our socks off. It is packed with aromas of pineapple, lychee, mango, guava and citrus. It truly is a beautiful hop and we knew it would play nicely with Citra which needs no introduction. We balanced the beer to not be overly bitter but still balanced so as to not be too sweet either."
To help support independent bookstores and booksellers across the country, 10% of proceeds from the City of Books IPA will be donated to the Book Industry Charitable Foundation (Binc), a nonprofit that helps bookstore owners, booksellers, and comic store employees and owners with unforeseen emergency financial needs. You can also donate to Binc directly by clickin here.