Pelican Brewing – Brewing on the Oregon Coast for 25 Years
|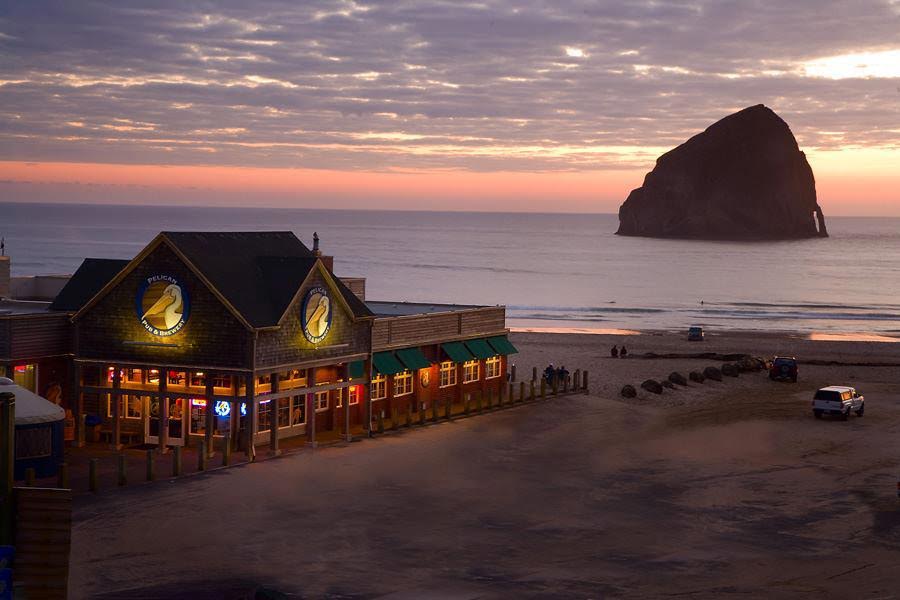 A brewery on the Oregon Coast, with quite possibly the best view of any brewery out there, celebrates a big milestone this year. Pelican Brewing will celebrate its 25th anniversary tomorrow on May 4th.
Reaching this milestone is quite the accomplishment. There are only a handful of other Oregon breweries that have been around longer than Pelican Brewing, but none that have been more award-winning. Through its first 25 years, Pelican has garnered over 450 brewing awards from around the globe.
As the saying goes, Pelican Brewing was born at the beach. This beach so happens to be Pacific City, Oregon with the scenic Haystack Rock that emerges from the majestic Pacific Ocean in its backdrop. In 1996, co-founders Jeff Schons, Mary Jones and brewmaster Darron Welch, opened the doors to Pelican Brewing on May 4th. Strangely enough, it also happens to be National Bird Day, quite fitting for the brewery with the famous logo that features a pelican.
Through its first 25 years, there has been a few expansions with new locations that includes a production facility and taproom in Tillamook along with a brewpub in Cannon Beach. Then come next year, the goal is to open the brewery's third coastal location in Lincoln City at Siletz Bay with a 15-barrel brewhouse there. Originally a 10-barrel brewhouse had been planned but Darron now feels that a larger system is necessary.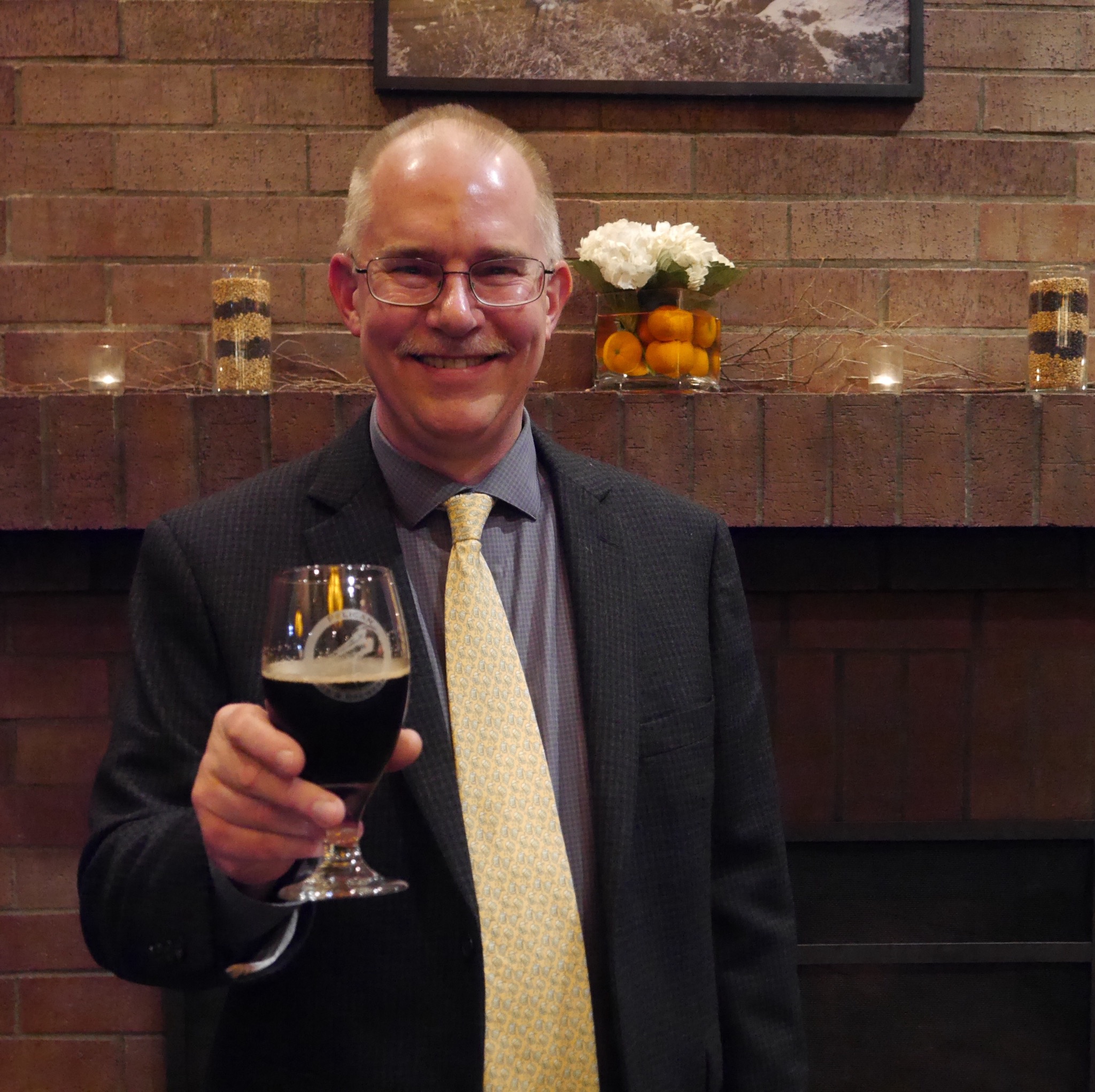 Darron Arrives In Pacific City
The way in which Darron connected with Jeff and Mary to become a co-founder is an interesting one that happened a year prior to opening the coastal brewpub. At the time, in 1995, Darron was brewing in the Midwest in Appleton, Wisconsin. Being an Oregon native he never planned to be in Wisconsin for an extended period of time as his goal was to get back to his home state at some point.
"At the time I was working for Appleton Brewing Co. brewing the Adler Brau brand," said Darron. "The owner had sent beer to the Oregon Brewers Festival in past years and was going to do so my first year in Appleton. I also found out that the same week there was going to be a brewing seminar hosted by Brewing Techniques magazine. I decided that I am going to sign up for this conference. So I signed up for this conference and flew back on my own dime to attend. And I decided that I am going to look for jobs."
"At the conference there was a bulletin board, no, an actual large physical bulletin board, one with different job postings on it. There was a 3×5 card that said something like, beachfront brewery looking for a Master Brewer. I wasn't a Master Brewer but I applied anyway. Kept calling and didn't reach anyone but persisted. I finally reached Mary Jones on her cell phone. Apparently, I had left multiple messages. We had a couple of conversations and was given a job offer. Went back to Wisconsin, packed up and drove back home to Oregon."
The following year when Pelican opened its doors in May 1996, Darron had what he describes as a vast array of four beers on tap. "We had light beer, we had amber beer, we had stout, and we had brown beer," Darron sarcastically said. "We had a whole lot to offer! It was a glorious lineup for 1996"
Surprisingly, Kiwanda Cream Ale, the brewery's most notable and award winning beer, did not make the cut for the opening tap list. Darron was hyping a cream ale to both Jeff and Mary but they weren't listening. "We debated but they were a little bit cautious. They said let's open the doors with a wheat beer. So that's what we did."
A month later Pelican added a seasonal beer and it was Kiwanda. But the light beer continued to be Hefeweizen. "I was scheming to make Kiwanda the full-time light-colored beer," stated Darron. "So I very carefully tracked weekly sales numbers. Then at the end of that second summer I was able to present the case that Kiwanda should become the year-round light beer and Hefeweizen the summer seasonal. Numbers don't lie and I then won my case!"
For many years Kiwanda Cream Ale had been Pelican's number one selling beer. However this title has been replaced by Beak Breaker Double IPA as it has taken over the top spot in sales.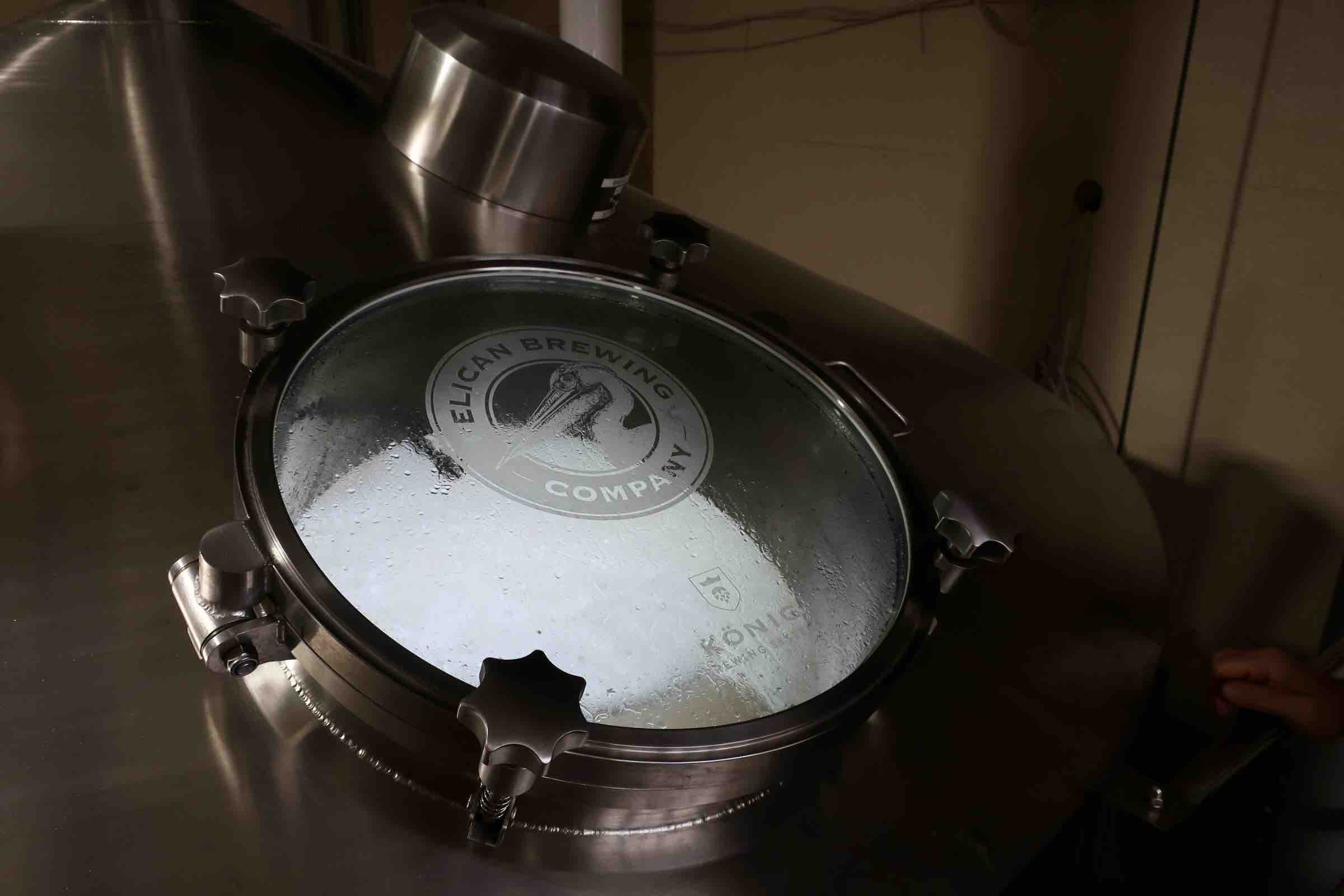 Managing a Way Through a Pandemic
The past year has been an interesting and one filled with challenges for the brewery. It's production in Tillamook has remained strong but a few changes took place at its original location in Pacific City.
While managing their way through the pandemic, it brought a few new ideas that have been implemented at Pelican's original location on the beach. Instead of picking up to-go orders of food and beer inside the restaurant, Pelican added two pick up windows, an order window and pick up windows for to-go business. This allows for a safe and efficient way to order food and beer to-go and then take it down to the beach. It's quite handy and if you're looking for some Fish n' Chips or a stovepipe can of Kiwanda, Beak Breaker or IPA, its an easy, quick transaction.
With the addition of these new service windows, a few adjustments had to be made in the brewery at Pacific City. Mainly the decision was made to cease brewing there during the pandemic to make it easier on the staff and its customers.
"We haven't brewed here since the pandemic started a year ago," stated Darron. Now the smallest brewhouse in the Pelican system is further north off of U.S. Highway 101 in Cannon Beach.
"So with Cannon Beach, the way that this facility is laid out, we have the brewery out in its own little corner," said Darron. "Brewery operations can easily proceed without any interruption with the kitchen or service operations. That system is a little bit smaller than the brewing equipment here at Pacific City. All of our test batches and research brews have all been happening in Cannon Beach for the past year."
Only a very small amount of beer comes out of the 10-barrel brewhouse in Cannon Beach. Pelican brews its large share of beer at its production brewery and taproom in downtown Tillamook.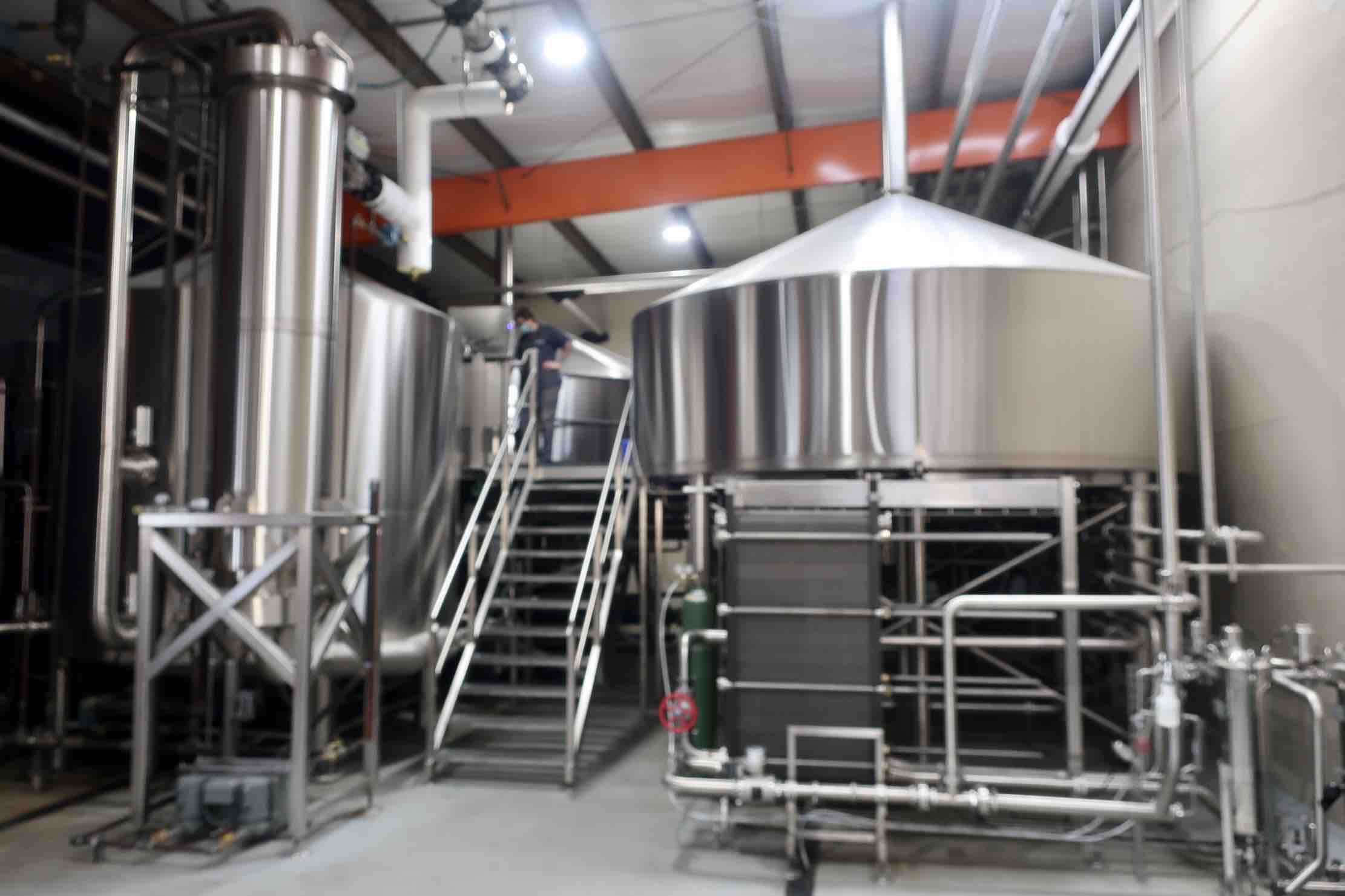 Tillamook Brewery Expansion
Nearly eight years ago Pelican opened up its Tillamook location and began brewing on a 30-barrel, 3-vessel brewhouse. Yes, a decent sized system that should have kept the brewery going for many years to come. However, the brewery's growth began to explode and last year the brewery installed a 90-barrel, 4-vessel brewhouse. Pelican was able to tuck it into a far corner of the brewery that is not visible from the tasting room and restaurant. From the restaurant side guests can easily view the enhanced 30-barrel, 5-vessel brewhouse.
This new 90-barrel brewhouse was built by König Brewing Systems and offers a handful of features that makes for being a better steward of the environment. With its external calandria and rectifier, it allows for a more efficient heating of water, as it also allows for smaller batches down to a 60-barrel size. A few features that many breweries overlook, but when building this one Darron's goal was to build the perfect one for many years to come.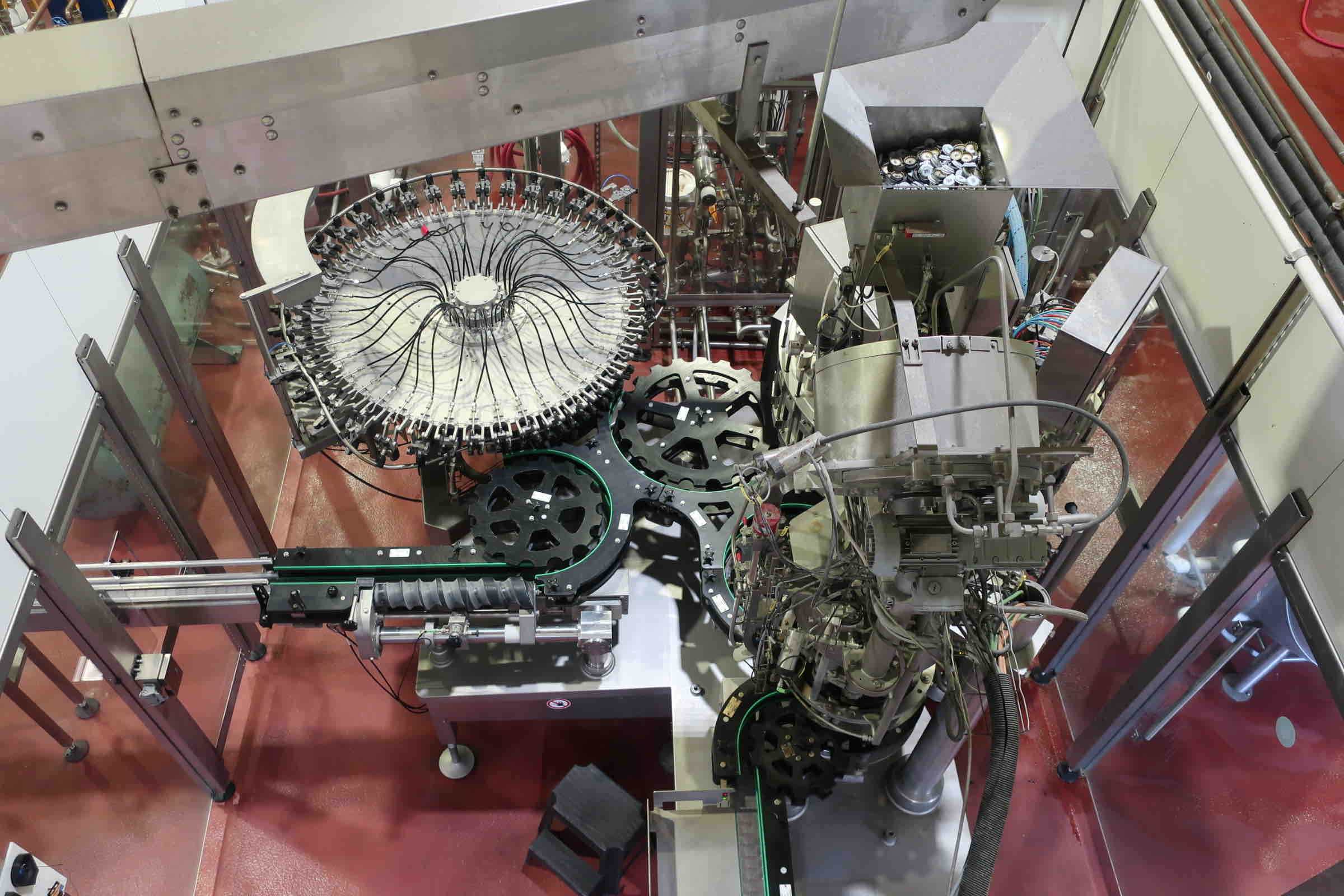 When it comes to packaging its beer in Tillamook, Pelican invested wisely in separate bottling and canning lines that allow for excellent efficiency and the best possible shelf life for the product. This packaging hall opened in 2016, first with a KHS Bottler that fills 180 bottles per minute. The line also conveniently fills both 12oz and 500mL bottle sizes with a quick, easy transition.
More recently Pelican invested in a high-end canning line from CFT. This line will fill up to 300 cans per minute with very low dissolved oxygen levels, one thing that can dramatically shorten the shelf life of the product. Much better of a canning machine than what most other craft brewers use, especially mobile canning operations.
These investments in its packaging lines has paid huge dividends for the brewery. Consistency in its output of beer is a positive trait of Pelican and one that Darron stresses to his brew team.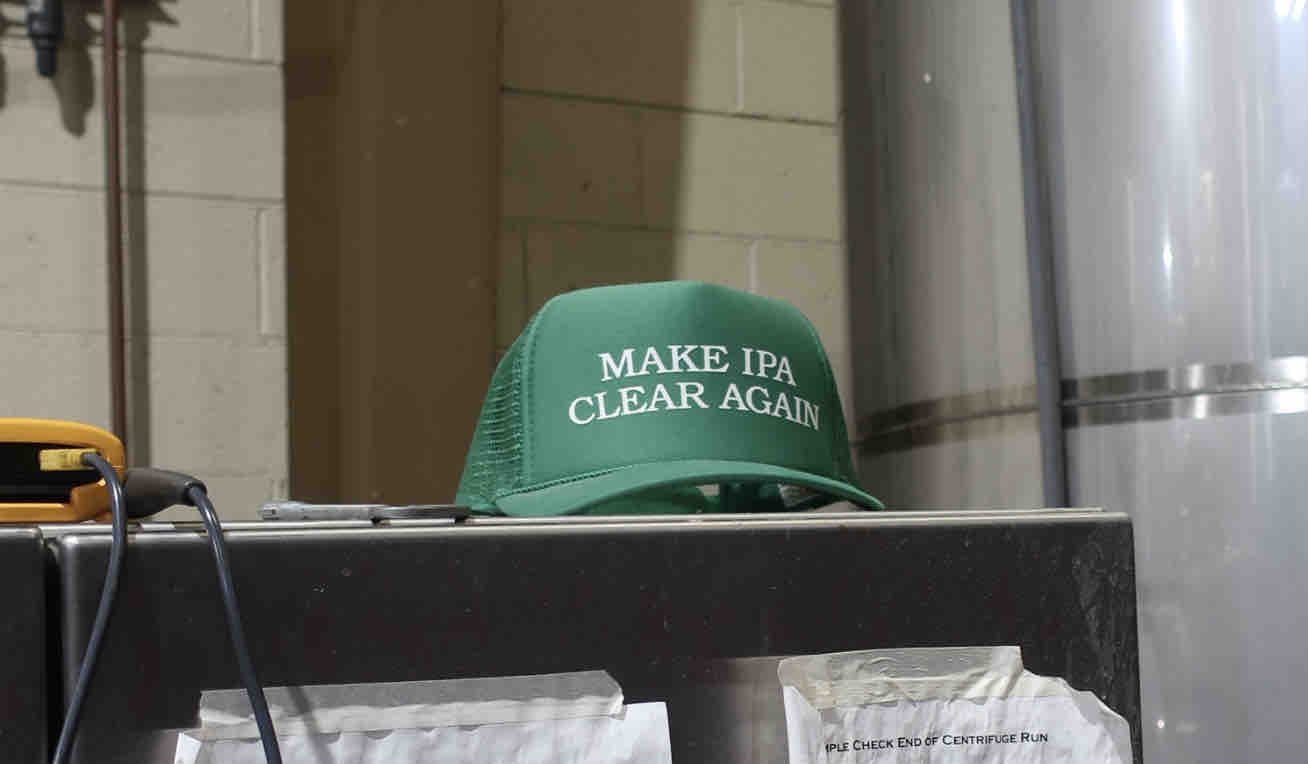 The rewards of doing so are quite evident with the 450+ brewing awards that the brewery has received over its quarter century of brewing. Pelican has taken home the prestigious 2015, 2016, 2017 Australian International Beer Awards Champion Medium International Brewery; 2014 World Beer Cup Champion Small Brewery; and 2013 Great American Beer Festival Large Brewpub of the Year. To take a gander at all of its award winning beers look here: https://pelicanbrewing.com/awards/.
When it comes to sales, Pelican continues to grow, even in a pandemic riddled year. According to the 2020 OLCC beer reports Pelican grew in state by approximately 3,000 barrels over the past year. Sales were also strong beyond the state of Oregon in the other two states, Washington and Idaho, that the brewery distributes its beers in.
"We have grown both in dollar volume and barrels produced in the last year," stated Darron. "We had rather more ambitious goals in mind, but we are satisfied with this. And we are pretty fortunate to see some double-digit growth!"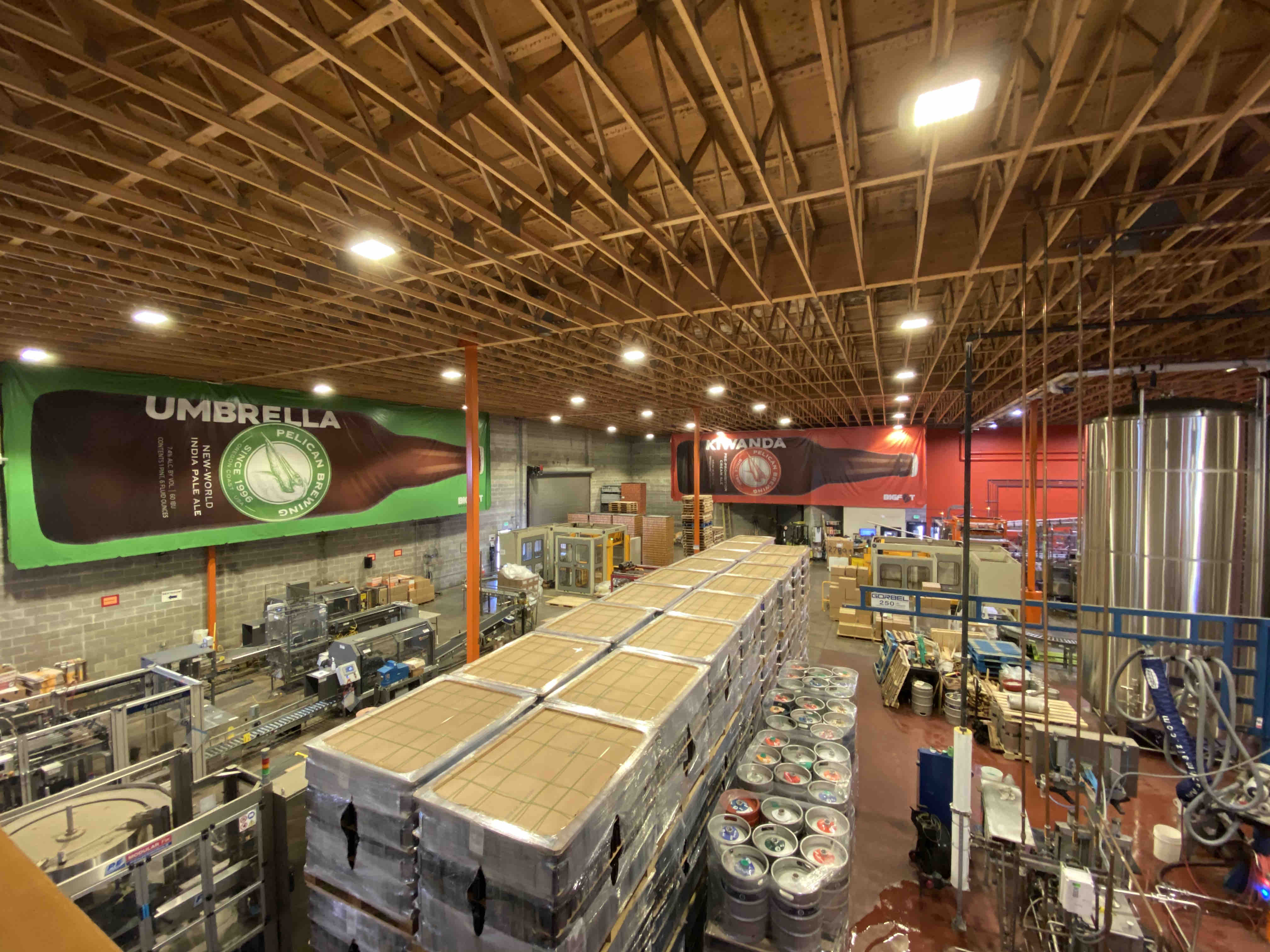 Pelican Brewing 25th Anniversary
And since it's a big year for Pelican, the brewery is going all out in celebrating its 25th birthday with a few ways to win some nice prizes. One is for those beer drinkers who also happen to be turning 25 years old in 2021, you can receive a complimentary 6-pack of Kiwanda Cream Ale. Learn more about this 25th birthday promo by visiting https://pelicanbrewing.com/enter/. Plus, you can earn a free pint of Kiwanda during your birthday month by visiting any Pelican location.
Another contest that's a bit more enticing and that is open to anyone of legal drinking age is the Golden Pelican Bottle Cap Giveaway. Look under the bottle cap of one of our new 25th Birthday bottle caps to see if you are one of 10 winners of a trip to the beach. Winners will receive a prize of a two-night stay at Hart's Camp for a coastal getaway in an Airstream and a $250 gift card to Pelican Brewing Company to enjoy just across the street in Pacific City. For more details about our Golden Pelican Bottle Cap Giveaway, head to https://pelicanbrewing.com/golden-pelican/.
To round out the 25th anniversary festivities, Pelican Brewing is set to release its second installment in its Bird-Day series of four collaboration beers. The first release, Bird-Day Volume 1, brewed with Whitney Burnside from 10 Barrel Brewing, is an imperial porter brewed with passionfruit and cacao nib. This satisfying porter was released a few months ago and can possibly still be located out in the marketplace.
Bird-Day Volume II – Tangerine Golden Ale Aged in Mezcal Barrels will likely be released this month and features a collaboration with Ben Love from Gigantic Brewing. His first brewing job in Oregon was at Pelican and him and Darron have a unique bond as both began their brewing careers at the same brewery in Appleton, Wisconsin, just at different times.
"Ben worked for us for three years when he moved back from Appleton," stated Darron. "He started here in 2003 and was here until 2007. Then he worked for Hopworks for several years before starting Gigantic Brewing with Van Havig."
On this beer, Darron and Ben chose to brew a cocktail inspired beer that's inspired by Ben's admiration of Mezcal Sours. "It's a riff on a whiskey sour, but he substitutes in Mezcal," said Darron, of Ben's idea of the collaboration beer.
"So we did a base beer of a strong Golden Ale, kind of like an extra strong Kiwanda. Then part way through fermentation we put in plenty of tangerine fruit puree and then racked that into Mezcal barrels. We sourced three different kinds of Mezcal barrels. A Reposado that was ex-white wine, an Añejo that was also ex-white wine and then a Reposado that was ex-bourbon. So each of these barrel sets each had a unique character. It's going to be pretty exciting when we marry the barrels!"
The result is Bird-Day Volume II that spent three months in these Mezcal barrels that brings forth the bright and tart flavor of tangerine with agave and hints of vanilla-like toasted oak. This one sits at an approachable 7% ABV and 25 IBUs.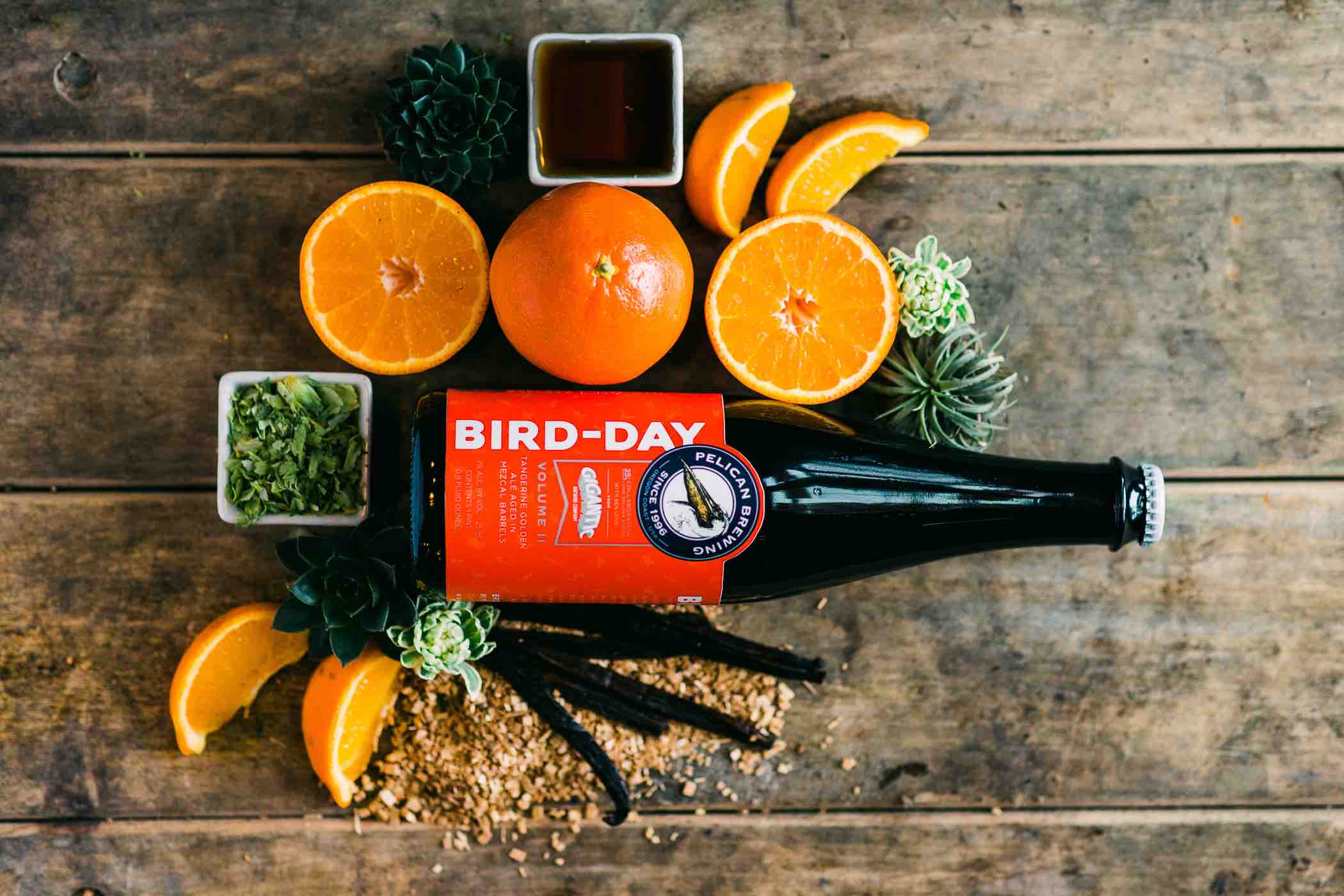 For the release of Bird-Day Volume II, Pelican is once again offering a specially curated Bird Day Box – Volume II. Just as with Volume I, this new box set also includes some fabulous extras that is sure to excite any fan of Pacific City's scenic Haystack Rock. The box set includes six 500mL bottles of Bird-Day Volume II along with two custom North Drinkware Pacific City Haystack Rock Pint Glasses. These uniquely designed glasses are valued at $48 each. To purchase Bird Day Box – Volume II click here. Complimentary shipping to legal Oregon residents is included.
Later this year, the final two volumes in the Bird-Day series will be collaboration beers with Jason Schonemann of Steel Toe Brewing and Hutch Kugeman of Brooklyn Brewery.
The year has started out well for Pelican Brewing and the upcoming months only look better as they celebrate their 25th anniversary. To that we say CHEERS!