Iron Maiden's TROOPER Limited Edition Box Set Arrives For Legacy of the Beast World Tour '22
|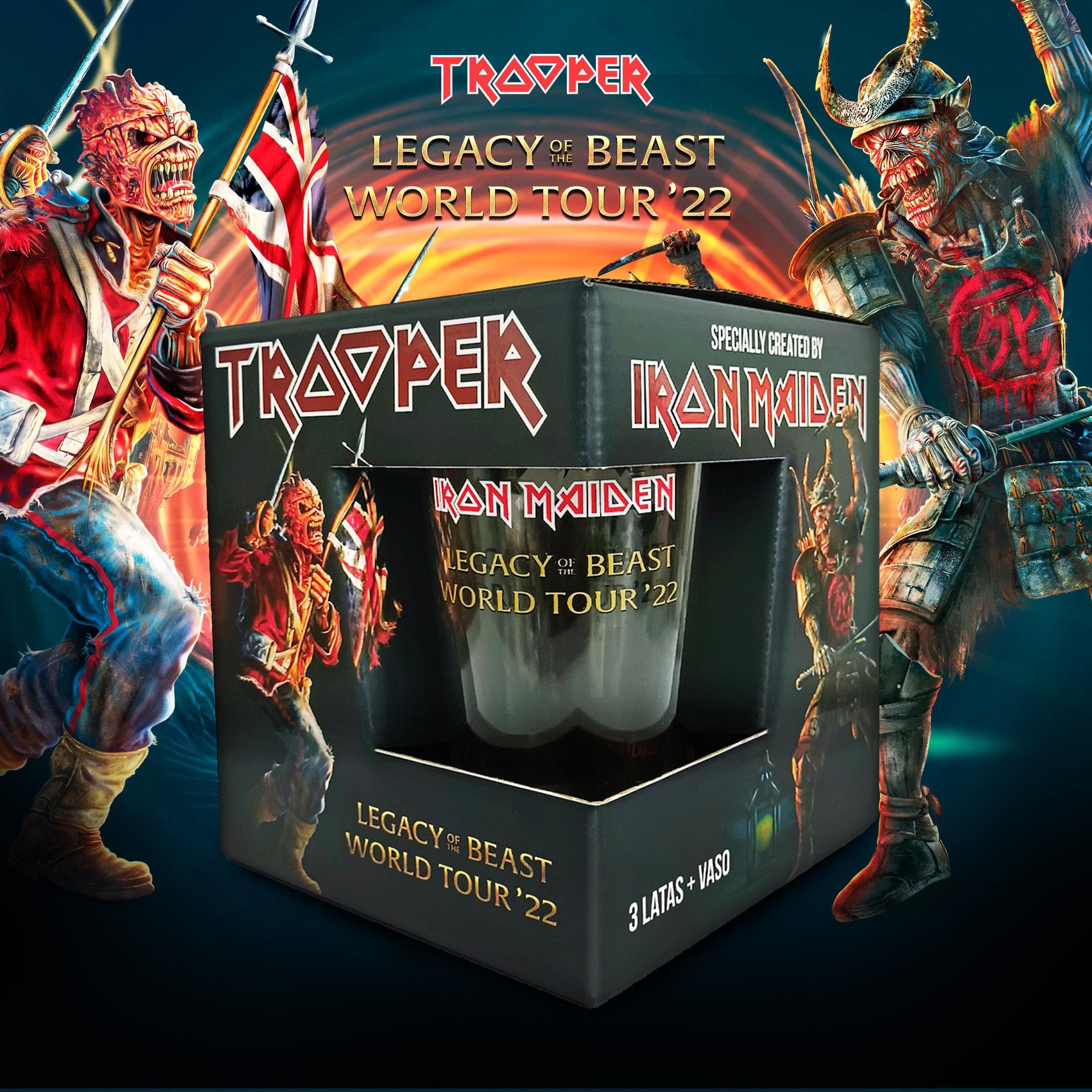 Austin, TX (July 7, 2022) –Artisanal Imports, the exclusive U.S. importer of Robinsons Brewery, makers of Iron Maiden's world-renowned TROOPER line of beers, is excited to announce a special "Legacy of the Beast" commemorative box ahead of the iconic band's arrival to the United States for their World Tour performances, starting in September in El Paso, TX and continuing through the fall at select cities nationwide.
The Legacy of the Beast limited-edition box set features Iron Maiden's renowned mascot ("Eddie") holding a sword and a British flag as he squares off against Samurai Eddie from Iron Maiden's album Senjutsu. Inside, the box holds two 16.9oz cans of award-winning TROOPER beer, one 16.9oz can of TROOPER Sun and Steel sake lager and a commemorative "Legacy of the Beast" pint glass that is sure to be an instant collector's item.
Taking its name from the Iron Maiden song inspired by Tennyson's famous poem "The Charge of the Light Brigade," TROOPER is a premium British ale with malt flavors and citric notes from a unique blend of Bobec, Goldings and Cascade hops. This deep golden ale finishes with a subtle hint of lemon – a satisfying blend of flavors and aromas that has helped this ale sell millions of pints around the world since its inception in 2013.
TROOPER Sun and Steel is the first lager in the TROOPER range and is one of the most complex beers that Robinsons Brewery has ever produced. It is a 4.8% ABV, double-fermented lager brewed with authentic Japanese sake yeast. The beer takes its name from the Iron Maiden song "Sun and Steel" from their 1983 album Piece of Mind, which was, in turn, inspired by the life of Japanese samurai Miyamoto Musashi.
About Iron Maiden: With over 100 million albums sold worldwide, Iron Maiden is considered one of the most successful heavy metal bands in history, having played over 2000 live shows internationally throughout a career spanning over four decades. Iron Maiden's famous mascot, "Eddie", has been a steadfast figurehead over the band's 16 studio albums, the most recent of which is their first ever double and topped the chart in over 40 countries. For more information on the band, their tour and beer, head to http://ironmaiden.com/.
About Robinsons Brewery: A proud family of independent brewers, Robinsons is one of the most advanced and sophisticated breweries in the U.K., with a worldwide reputation for real ale. Robinsons applies decades of experience to create exciting new varieties and choices of flavor that encourage drinking excellence.
Combining original recipe heritage brews such as Old Tom (first brewed in 1899) and Unicorn (legendary since 1896) with innovative young ales such as Dizzy Blonde, Wizard and TROOPER (created with Iron Maiden) is what differentiates Robinsons… forward-thinking with the very best traditions. It's an award-winning formula which has earned Robinsons real ale recognition for almost 180 years. Learn more at www.robinsonsbrewery.com.