Worthy Brewing to Host Forest Revival Benefit Concert
|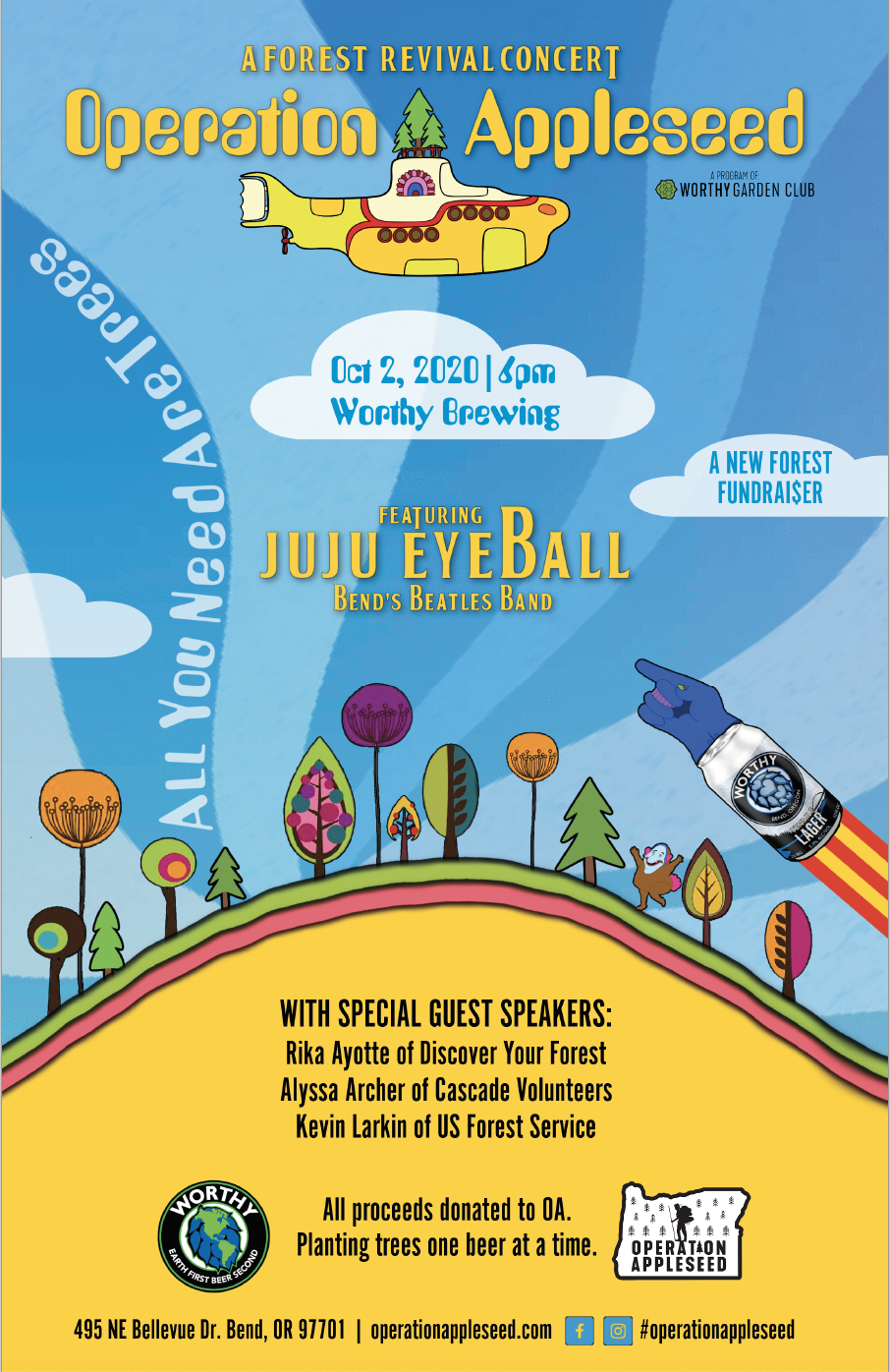 To help support Operation Appleseed, Worthy Brewing will host a ​Forest Revival Benefit Concert featuring Juju Eyeball, Bend's Beatles Tribute Band on Friday, October 2nd. Funds raised will go towards reaching the Operation Appleseed goal of to plant over 1 million trees in Oregon by 2023.
Worthy Garden Club, Worthy Brewing's non-profit arm, launched Operation Appleseed in 2019 with a pledge of $1 million. That money was allocated to several partners including Discover Your Forest, The Cascade Volunteers, the US Forest Service, the Bonneville Environmental Foundation, and the Oregon Natural Desert Association.
At the beginning of the year, Operation Appleseed was headed towards planting 500,000 native trees by the end of 2021. But then COVID-19 struck and altered its plans. The goal of Operation Appleseed is to target badly burned, savagely clear-cut and mismanaged public and private forests in Oregon. As a result of the pandemic, several volunteer tree planting events, mainly in the Deschutes and Willamette National Forests, were postponed. And most recently the forest fires have also added injury to this plan.
"Now more than ever, as the forests burn and the usually pristine Oregon air turns toxic, we need to plant more trees," said Roger Worthington, owner of Worthy Brewing, in a statement. "Oregonians want to do something. They want to pitch in, roll up their sleeves, and volunteer to help restore the forests, which we all know are the lungs of our precious and hurting planet."
The Forest Revival Concert will feature guest speakers from the US Forest Service and Discover Your Forest, among other advocates. Because of the pandemic and raging fires, as of now no definitive dates for planting can be scheduled. However, the Worthy Garden Club will be collecting names of tree lovers who wish to volunteer their services when the time is ready to suit up.
"As our public lands face new and daunting challenges from climate change to mega fires, we need our communities to come together to support these amazing places," said Rika Ayotte, Executive Director of Discover Your Forest, in a statement. "The Worthy Garden Club has set an incredible example by initiating Operation Appleseed, which will fund essential reforestation efforts from here East of the Cascades all the way to the Oregon Coast."
Worthy Garden Club is also accepting donations, 100% of which will be invested in cultivating and planting more native trees in our forests. Worthy Brewing will continue to donate a healthy percentage of all sales of its recently released Tenmile Dry Hopped Lager to Operation Appleseed.
Worthy Brewing's Forest Revival Benefit Concert is free and will be live-streamed on www.facebook.com/worthybrewing​, starting at 6pm. WBC will also be presenting a video on the Worthy "Dream Wall" that highlights the beauty, wonder and utility of healthy forests. WGC will enforce all pending rules regarding mask wearing and safe distancing.