Ben Edmunds and Peter DeFazio are Brewers Association 2023 Industry Award Winners
|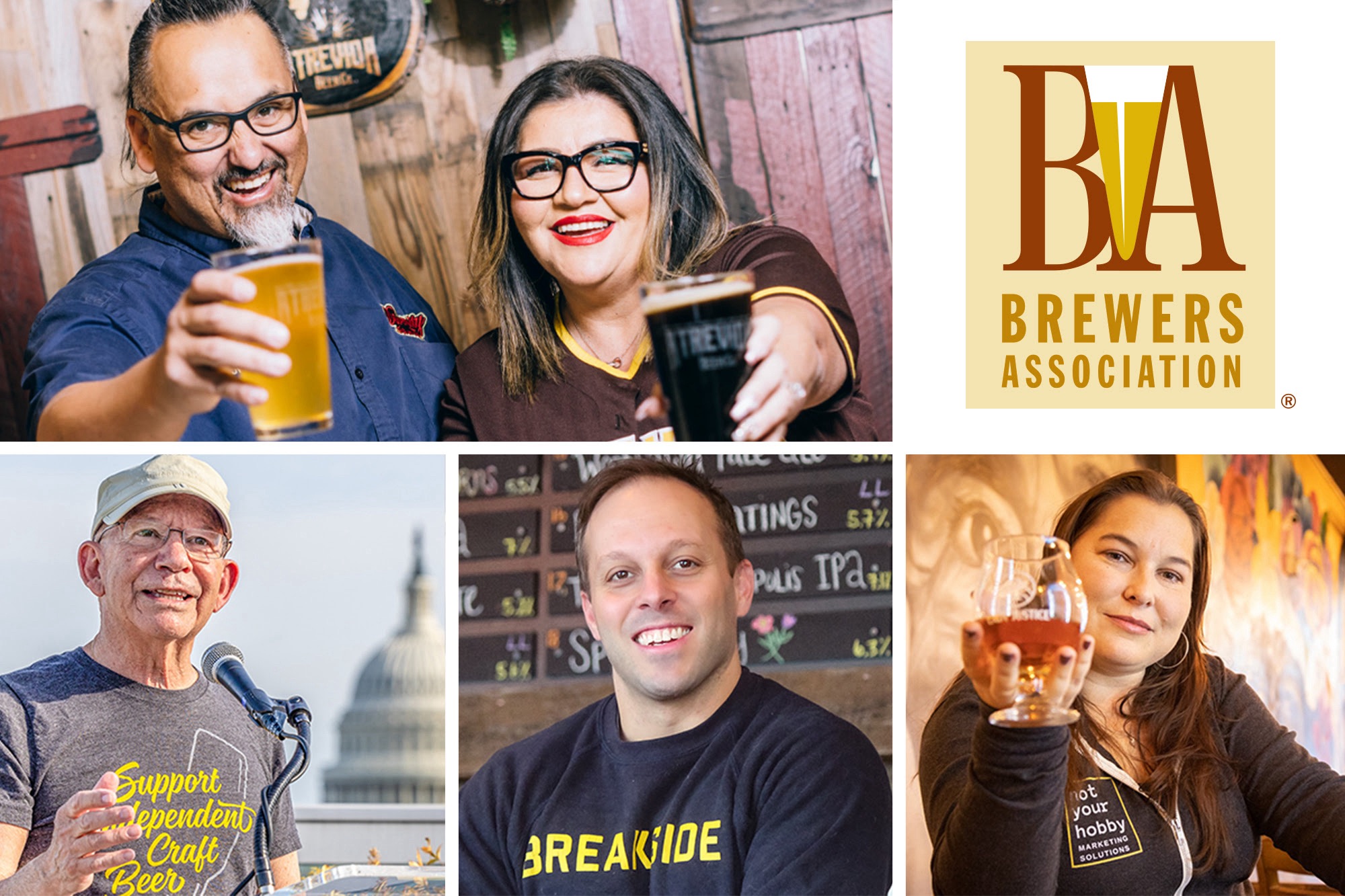 Boulder, Colo. • April 11, 2023 — The Brewers Association (BA)—the not-for-profit trade association dedicated to small and independent American craft brewers—is pleased to announce the recipients of its 2023 Industry Awards. Each year since 1987, the Brewers Association has recognized individuals who inspire, defend, and innovate within the craft brewing industry. The 2023 award recipients will be honored for their dedication and service during a special ceremony on May 8, 2023, at the Craft Brewers Conference® in Nashville, Tenn.
"This year's award recipients have set the bar high," said Bob Pease, president and CEO, Brewers Association. "They have legislated millions of dollars of excise tax relief for small brewers, pushed the envelope of brewing innovation, inspired and mentored future leaders, and cultivated, supported, and defended underrepresented communities. In short, this year's honorees have had an immeasurable impact on the craft beer community and beyond."
2023 Industry Award Recipients
F.X. Matt Defense of the Industry Award
Ret. Representative Peter DeFazio
This award is named for the late F.X. Matt of F.X. Matt Brewing Co. and is presented to an individual or company for their contributions and efforts in championing the small brewing industry.
Peter DeFazio retired from Congress after representing Oregon's 4th Congressional District for 36 years—the longest-serving House member in Oregon's history. He is also the 65th longest-serving House member in history. DeFazio served on the Natural Resources], and Homeland Security Committees. He completed his tenure on the hill as chairman of the Transportation and Infrastructure Committee, which he served on for his entire career. DeFazio is one of the nation's foremost transportation and infrastructure policy experts, he played a leading role in the Infrastructure Investment Jobs Act and other major legislation.
A long-time supporter of small and independent breweries, DeFazio was an original founder of the House of Representatives Small Brewers Caucus. Organized in 2007 as a way to educate his colleagues about the economic and social impacts of craft brewing, the Small Brewers Caucus grew to become the largest special interest caucus in Congress, playing a key role in reforms at the Tax & Trade Bureau (TTB) on labeling, formulas, and other issues. As co-chair of the Caucus, DeFazio led the fight against the FDA's proposal to require drying, packaging, and labeling of spent grains and hops. The Caucus was also instrumental in the reform of taxation on beer, most notably the Craft Beer Modernization and Tax Reform Act (CBMTRA), saving brewers an estimated $80 million annually.
Russell Schehrer Award for Innovation in Craft Brewing
Ben Edmunds, Breakside Brewery (Portland, Ore.)
This award is presented in honor of Wynkoop Brewing Company founding partner Russell Schehrer to an individual or company for their innovative contributions to the brewing industry.
Ben Edmunds is the brewmaster at Breakside Brewery in Portland, Oregon, where he oversees the company's production brewery and two pub breweries. As the founding brewer of Breakside, he helped grow the company from a small brewpub into a successful regional brewery. Edmunds is a brewers' brewer—pushing style boundaries and creating new beer experiences for all to enjoy—and has proven himself to be a powerhouse and a major contributor to the advancement of brewing, not only for Breakside but for the industry as a whole.
Under Edmunds' leadership, Breakside has won many medals at international competitions, including eight World Beer Cup awards, 22 Great American Beer Festival medals since 2011, and Brewery of the Year honors at the Oregon Beer Awards in 2015, 2017, and 2019-22. Educated at the Siebel Institute and Yale University, he is a former president and current board member of the Oregon Brewers Guild, a judge at the Great American Beer Festival and World Beer Cup, a founder of the Oregon Beer Awards, and a member of the MBAA National Technical Committee. He is a frequent speaker on the topics of American hoppy beers, sour beers, brewery leadership and management, and barrel aging.
Brewers Association Recognition Award
Jessica and Richard Fierro, co-owners, Atrevida Brewery (Colorado Springs, Colo.)
This award is presented each year to an individual or company whose inspiration, enthusiasm, and support have contributed to the craft brewing movement.
In 2017, Jessica Fierro entered her beer Doña Neta in VICE TV's Beerland competition. The beer won. One year later, Fierro opened her own brewery, Atrevida Beer Co., in Colorado Springs. As a woman- and Latina-owned brewery, Fierro ran into difficulties on all fronts, from sourcing funding to battling biases. Fierro was resolved to build a business her way, which included hiring an all-women (and one male) brew crew.
Jessica and her husband, Rich, a former 15-year Army officer with four combat tours, have a vision to bring the community together. "Diversity, it's on tap!" is engrained in Atrevida's culture and displayed throughout the brewery. Every beer on the menu has a narrative with the intention of creating meaningful dialogue.
This unwavering commitment to the community was especially present on November 19, 2022. The Fierro family was at Club Q when a gunman opened fire. Five people lost their lives and 25 more were injured. Rich tackled the assailant and, with the help of bystanders, disarmed the gunman and undoubtedly saved lives.
The Fierros truly embody the meaning of their brewery's name, "Atrevida," which means bold or daring in Spanish, and their many contributions have inspired the craft brewing community and beyond.
Brewers Association Mentor of the Year Award
Julie Rhodes, owner, Not Your Hobby Marketing Solutions
Through its mentorship program, the Brewers Association connects dozens of mentors with individuals looking to develop their knowledge and skills, and those seeking to break into the craft brewing industry for the first time.
The Mentor of the Year Award recognizes a volunteer mentor for their outstanding mentorship to program participants and for demonstrating an extraordinary commitment to championing those who experience barriers to access and advancement in their professional journeys.
With over two decades of experience in the food and beverage industry, this year's Mentor of the Year, Julie Rhodes, is an authority on off-site beverage sales, digital marketing, leadership, team management, and distributor partnership management. She is the owner of Not Your Hobby Marketing Solutions, an educational services and strategic business consulting company built specifically for small to medium-sized craft beverage companies, where she teaches owners and operators how to work smarter, not harder. In addition to being an educator and strategic advisor, she is also a beverage business journalist, an active public speaker, a Certified Cicerone®, , a member of the national board of the Pink Boots Society, and a member of the North American Guild of Beer Writers, the American Cider Association, Women of the Vine & Spirits, and multiple state brewery guilds. Julie is also one of the founding members of the Safe Bars P.A.C.T. Initiative and the Safer Workspaces Initiative.
"Julie not only took the time to get to know me but also to listen to me and my specific concerns and curiosities," said mentee Merida Teot. "Her confidence in me gave me the confidence to apply for and eventually get a job in marketing at a brewery here in Utah."
Award recipients were nominated by their peers and determined by votes from committees comprised of members of the Brewers Association board of directors, the craft brewing community, and past award winners.
In addition to the individual industry awards, the Brewers Association also conducts two prestigious national and international professional brewing competitions–the Great American Beer Festival and World Beer Cup®.
For more information on past winners and nominations for 2024 awards, please visit here.
About the Brewers Association
The Brewers Association (BA) is the not-for-profit trade association dedicated to small and independent American brewers, their beers, and the community of brewing enthusiasts. The BA represents 5,600-plus U.S. breweries and more than 37,000 homebrewers. The BA's independent craft brewer seal is a widely adopted symbol that differentiates beers by small and independent craft brewers. The BA organizes events, including the World Beer Cup®, Great American Beer Festival®, Craft Brewers Conference® & BrewExpo America®, Homebrew Con™, National Homebrew Competition, and American Craft Beer Week®. The BA publishes The New Brewer® and Zymurgy® magazines, and Brewers Publications® is the leading publisher of brewing literature in the U.S. Beer lovers are invited to learn more about the dynamic world of craft beer at CraftBeer.com® and about homebrewing via the BA's American Homebrewers Association®. Follow us on Facebook, Twitter, and Instagram.
The Brewers Association is an equal opportunity employer and does not discriminate on the basis of race, color, national origin, gender, religion, age, disability, political beliefs, sexual orientation, or marital/familial status. The BA complies with the provisions of Executive Order 13672 and the rules, regulations, and relevant orders of the Secretary of Labor.