John Maier Announces His Retirement From Rogue Ales
|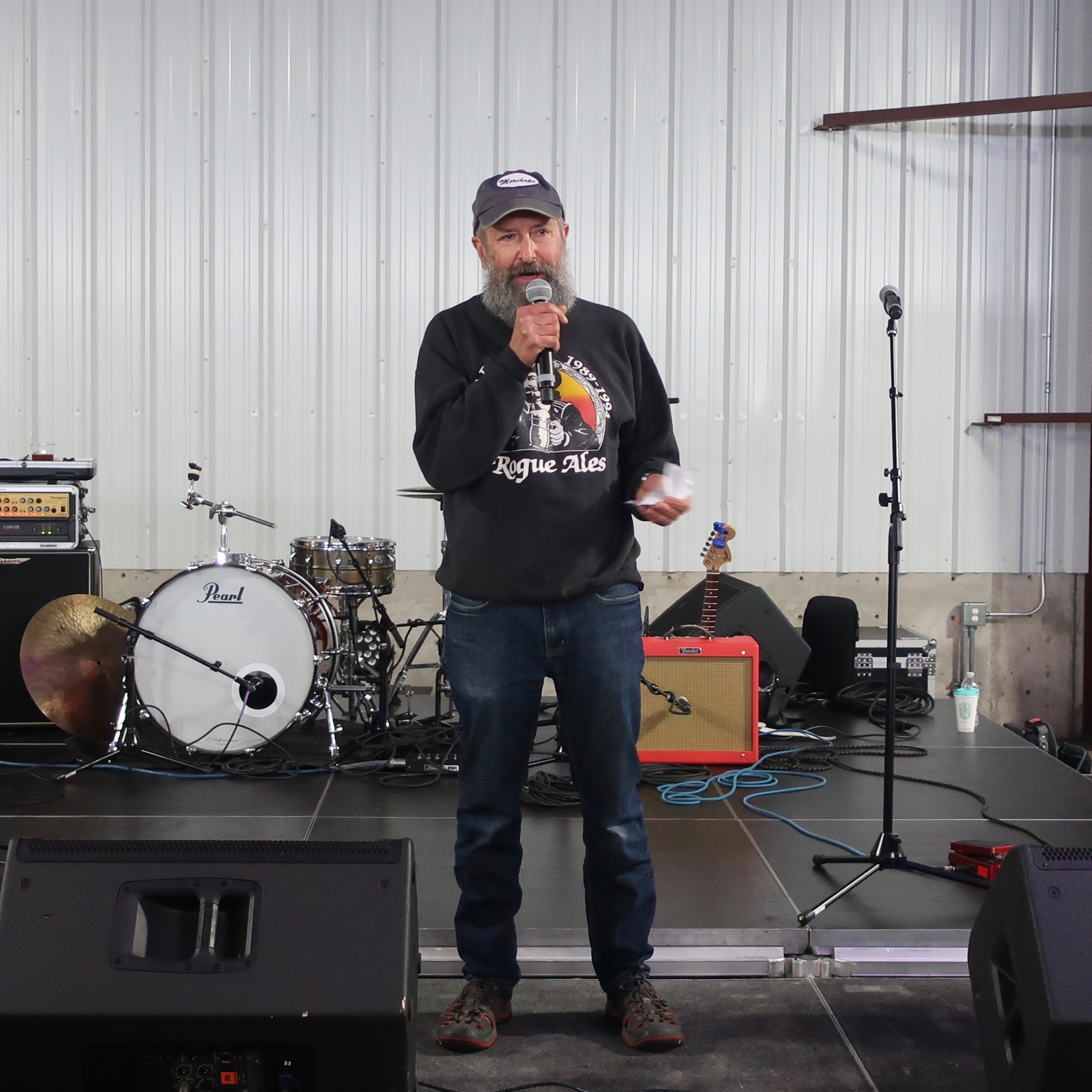 After 30 years on the brew deck at Rogue Ales in Newport, Oregon, John Maier announced his pending retirement at the inaugural John Maier Coastal Brew Fest this past Saturday. Recently turning 64 years old, John has decided that it's time to hang up his brewing boots for the last time in July 2019.
Halfway through the brew fest, there was a toast to John that began at 4:30pm. Dharma Tamm, President of Rogue was first up to congratulate and honor the work that John has put in at Rogue over his 30 years. This was followed by a nicely done video that featured others from the brewing world congratulating John on his 30 years on the brew deck at Rogue. A few that offered up kind words about John where Ken Grossman and Terence Sullivan from Sierra Nevada, Jamie Floyd from Ninkasi, Shaun O'Sullivan from 21st Amendment and former Rogue President, Brett Joyce. We were in Newport to attend the fest and we have an exclusive video of John's speech where he announces his pending retirement. Not surprising, there were a lot of tears shed during John's speech.
John now joins a few others that were part of the early craft breweries to enter retirement. He'll join retirement with Kurt Widmer from Widmer Brothers, Steve Dresler from Sierra Nevada, and Charlie Papazian from the Brewers Association. In his retirement, his plan is to stay in Newport, a town he has grown to love and spend it with his loving wife Stacey and their dogs.
During his 30-year run at Rogue he's brewed over 22,582 batches of beer in Newport. John and his team of brewers have been awarded over 30 medals at the prestigious Great American Beer Festival, in addition to his 11 awards at the World Beer Cup. Not too shabby of brewing honors.
But more importantly, John has been an inspiration to so many brewers. His initial recipes have inspired so many beers that we enjoy today. He developed an appreciation of hops that he helped usher in to the India Pale Ale style of beer. So much so that he's known as John "More Hops" Maier!
Prior to begin working for Rogue Ales as it relocated from Ashland, Oregon to Newport, John brewed at Alaskan Brewing in Juneau. It was Jack Joyce, co-founder of Rogue Ales whom passed away nearly 5 years ago, that was able to lure John back to his native state of Oregon. Those two had a very strong relationship through the years. "Jack Joyce let me brew what I wanted regardless of the cost of the ingredients and I still do," John recently told us.
Since moving back to Oregon over 30 years ago. John has been the face of Rogue Ales. He is truly one the nicest, most sincere persons out there. Very humble and gracious for the opportunities that were presented to him in his brewing career. John is still the same guy that bikes to and from work each day over the scenic Yaquina Bay Bridge.
When asked what his greatest accomplishment has been, he said "I was the first recipient of the Russell Schehrer Award for Innovation in Craft Brewing in 1997 and I also was awarded the AHA Governing Committee Recognition Award in 2011," said John. "Both are awards I am very proud of."
Read More: An Interview with John Maier on 30 Years of Brewing at Rogue Ales
During his last week prior to officially retiring from Rogue, John will be in Portland prior to leaving the brew deck for the last time. His plan is to attend his 31st Oregon Brewers Festival as a brewer on Thursday, July 25th.
The following day on Friday, July 26th, John will once again attend and be heavily involved with the 15th annual Glen Hay Falconer Foundation BrewAm Golf Tournament. All proceeds from the BrewAm go to support the Glen Hay Falconer Foundation brewing scholarship program, which sends brewers from the Pacific Northwest to the Siebel Institute and the American Brewers Guild to further their knowledge and the craft. You can learn more and register by clicking HERE.
Then on Saturday, July 27th, Rogue Eastside Pub in Portland will host John's official retirement party. We expect to see many people from the brewing industry from both near and afar making their way to Portland that weekend to celebrate and honor such a good man
Here are additional photos from the John Maier Coastal Brew Fest that took place on May 18, 2019 at Rogue Ales in Newport, Oregon…