Oregon BottleDrop Debuts Refillable Bottles at Widmer Brothers Le Petit Brasseur Release Party
|

After many months of planning, the Oregon Beverage Recycling Cooperative (OBRC) will finally launch its first beer packaged in a new 16.9 oz/500mL BottleDrop Refill Bottle made in Portland, Oregon at Owens-Illinois Glass.
The first beer to be released in these new bottles that are designed to be re-washed and re-used up to 25 times is from Widmer Brothers Brewing. The beer release for the brewer's new Le Petit Brasseur will take place on Thursday, June 21st from 4:00-7:00pm at Widmer Brothers Pub.
For the release, Widmer Brothers will be donating 100% of all beer sales during the evening's event to its June Pints for Portland partner, SOLVE Oregon. Proceeds raised will support their mission of bringing Oregonians together to improve our environment and build a legacy of stewardship.
This concept of the BottleDrop Refill Bottle is not a new one as this is something that many of the industrial breweries readily did up until a couple decades ago. Closer to home, Double Mountain Brewing implemented a refillable bottle about six years ago and even offered double the normal bottle deposit to better entice its consumers to return its bottles back to the brewery.
But where do these bottles go to be washed and ready for reuse? Well its not here in Oregon, nor a bordering state. The OBRC will have to collect the bottles and send them to Bayern Brewing in Missoula, Montana to be processed. This location is a good day's drive from Northwest Portland where the glass bottles will get sorted.
"Bayern is currently, the closest wash facility to Oregon, and the only wash facility exclusively working with beer bottles and therefore understands the quality expectations of the industry," said Cherilyn Bertges, BottleDrop Give Program Manager, in an exclusive interview with Brewpublic. "We're launching the program with this model because we need to prove the concept before we can build our own. The cost margin is tighter while we are trucking to Montana, but we're thinking long-term."
BottleDrop – Refillable Bottles. Reborn. from Oregon BottleDrop on Vimeo.
The long term goal is to have a cleaning facility within the state of Oregon. However this is a few years away. "We're aiming for spring of 2020, and will be washing both 16.9oz and 12oz there," stated Bertges.
Future breweries that are going to come online with the new BottleDrop Refill are from across the state and will also include 12 ounce bottles. Bertges states, "Along with Widmer, we are working with Buoy, Double Mountain, Gigantic, GoodLife, Wild Ride, and Rock Bottom."
For now these new BottleDrop Refill Bottles will be aimed for Oregon only distribution with a goal to add neighboring states for bottle pickup. "Yes, we are exploring the possibility of picking up in Washington and having reciprocity with California, a fellow bottle deposit state," Bertges stated.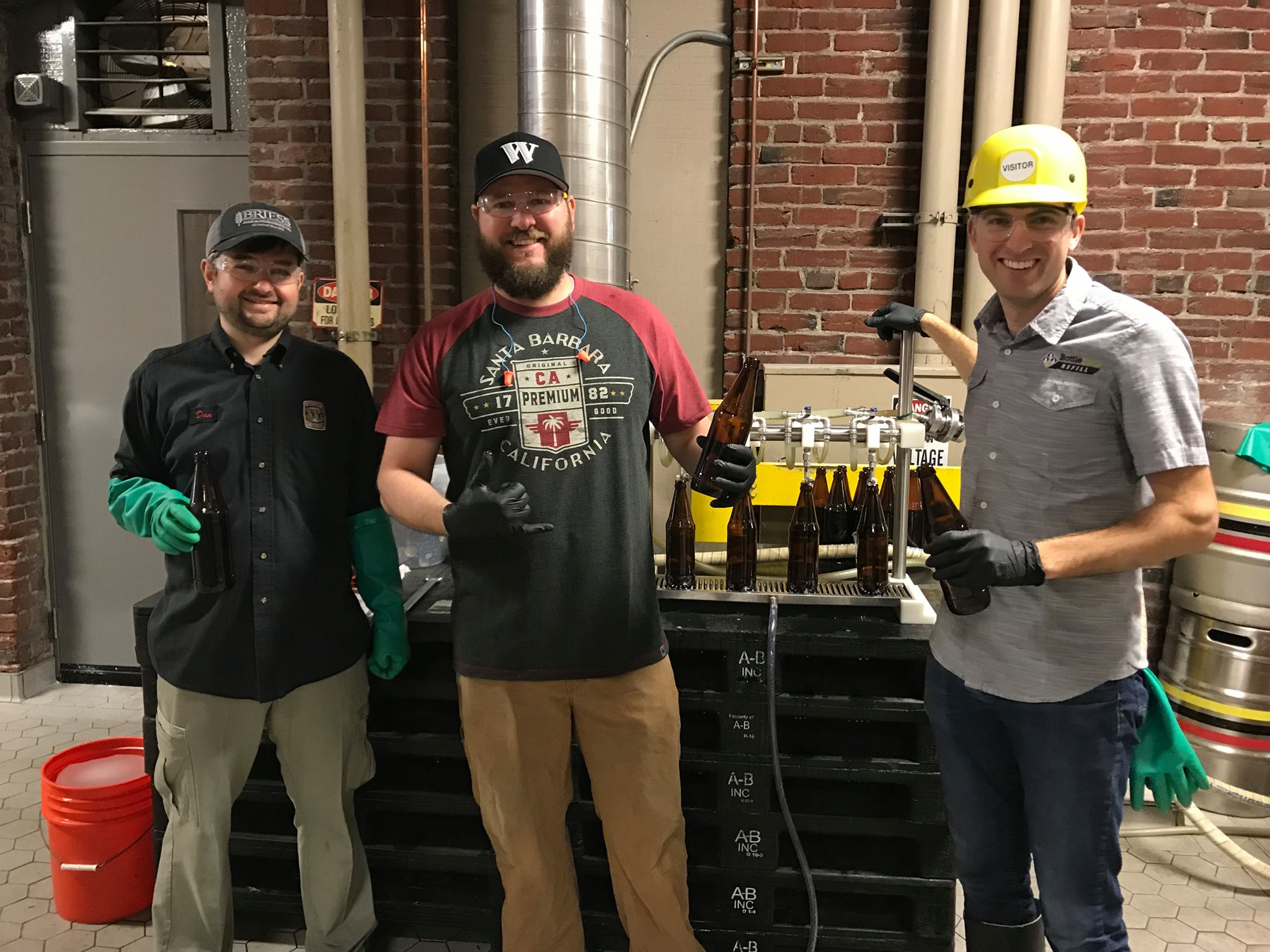 As this new bottle relates to Widmer, the brewer has no plans to scrap its beers being packaged into 22 once bottle in favor of the more accessible 500mL bottle that is being released on Thursday.
Here are additional details from the OBRC press release…
The Refillable Bottle is being made by O-I in Portland, Oregon, with 70% recycled content from bottles collected in Oregon. The refillable bottles are easily identifiable, with the BottleDrop name embossed in the glass, and can be re-circulated to breweries as many as 25 times. The bottle is being distributed by BottleDrop, the arm of the Oregon Beverage Recycling Cooperative (OBRC) in charge of collecting deposit bottles and redeeming the deposit on containers.
"The refillable bottle is the most sustainable choice in the beer aisle," said Nick Munson-Phelps, BottleDrop Refill Coordinator. "Every time a bottle is washed and refilled, the carbon footprint of that bottle is cut in half. From a life-cycle perspective, this is the most sustainable beer container for consumers."
Widmer Brothers are proud to be the first Oregon brewery to use the BottleDrop refillable bottle. Other breweries, including Buoy, Double Mountain (which has been using its own refillable bottle since 2010 and will transition to the BottleDrop Bottle), Gigantic, GoodLife, Rock Bottom, and Wild Ride will be coming to retailers in refillable bottles later this year.
The celebratory beer is a collaboration between Widmer Brother's innovation brew lab and the OBRC staff. It celebrates Oregon's history of environmental conservation with locally sourced ingredients. The result is Le Petit Brasseur (Little Brewer), a playful tribute to the French fable "Le Petit Prince". The beer is a Petit Saison, perfect for enjoying all summer. The limited-edition beer will be available only at Widmer, while supplies last.
The unveiling of the new bottle and the new beer will also benefit SOLVE, Oregon's best known environmental clean-up organization. SOLVE's mission is to bring Oregonians together to improve our environment and build a legacy of stewardship.
What: Refillable Bottle and Beer Release Party
When: 4-7 PM, June 21, 2018
Where: Widmer Brothers Pub, 955 N Russell St., Portland, OR 97227
Benefit: Oregon's environment and Oregon SOLVE
BottleDrop is promoting the refillable bottles with a new Oregon-made animated video that will begin airing this summer.
Refillable bottles were for many years the industry standard. They eventually lost favor to single-use containers, which quickly became a source of litter. Oregon responded to the litter problem with SOLVE in 1968, and with the bottle deposit and redemption system in 1971. It is due to the Bottle Bill that Oregon now has a statewide bottle collection system, BottleDrop, capable of managing the first statewide refillable bottle program in the United States.
"BottleDrop refill is the next step in the beverage industry's commitment to Oregon's environment and stewardship of Oregon's Bottle Bill," said Jules Bailey, OBRC's Chief Stewardship Officer. "We're excited that our system allows us to bring this program back to Oregonians."
Once bottles are collected, BottleDrop refillable bottles will be washed in an advanced, German-designed and manufactured bottle washer. Capable of washing up to 15,000 bottles per hour, the washer uses a combination of high heat, detergents, and mechanical spraying to clean and sanitize the bottle. Notably, the washer uses a cascading reservoir rinsing technique to minimize the amount of water needed. In addition to washing, bottles will be fully inspected and lab-tested to ensure the purity of the bottle and the highest standards of brewing are met.
"Bottle washing technology allows us to clean and sanitize bottles to meet the high standards of Oregon's craft brewers," said Nick Munson-Phelps, BottleDrop Refill Coordinator.