Block 15 Brewing Releases Emerging Sunshine IPA and Selection Series Strata IPA
|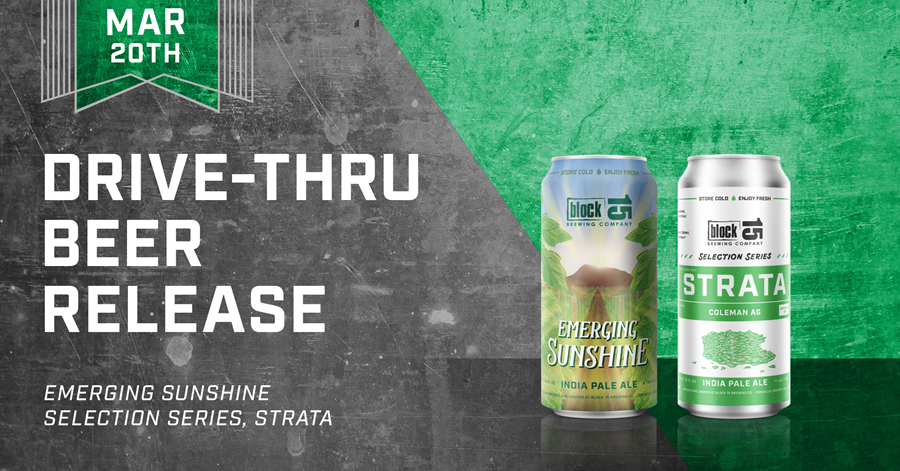 This week Block 15 Brewing returns with Emerging Sunshine IPA, its Spring Seasonal and debuts Selection Series, Strata IPA, its final entry into the brewery's lineup of single-hopped IPAs. Both beers will available this Saturday at both Block 15 locations and at accounts around the Pacific Northwest all spring long.
Pre-orders can be made through the Block 15 Online Store, which is now open and will remain open until Friday at 9:00am. Emerging Sunshine and Selection Series, Strata will then be available when the Tap Room and Pub open on Saturday morning at 11:30am.
Here are additional details on the two releases.
Emerging Sunshine IPA
Crisp, refreshing, and bursting with citrus, mango, and floral hop notes—this golden IPA is inspired by budding hops and spring sunshine chasing away the winter haze. Brewed often and canned fresh, look for Emerging Sunshine around the Pacific Northwest this spring.
6.75% ABV
$3.25, plus deposit / 16oz can
Selection Series – Strata IPA
This IPA was brewed exclusively with Strata hops from Coleman Agricultural farm in Gervais, OR. With an unobtrusive grist profile and soft water base as the canvas, this beer is meant for Strata's vibrant notes of dank herbs, tangerine, and mango to shine.
7% ABV
$4.00, plus deposit / 16oz can