Breakside Brewery Releases 10 Fresh Hop Beers In 2018
|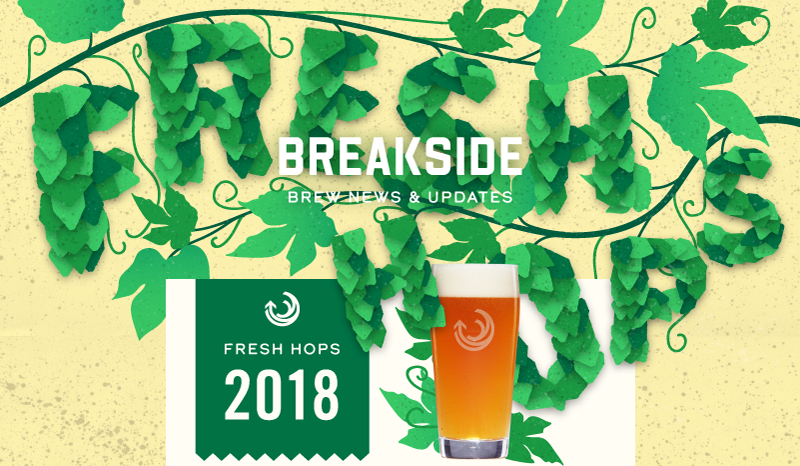 As we begin to see 2018 fresh hop beers hitting the marketplace, Breakside Brewery is set to release 10 fresh hop beers in the coming weeks. This will be a busy time of the year for the brewers at Breakside as it doubles the amount of fresh hop beers in 2018 as compared to last year.
Already on tap are fresh hop versions of its Stay West IPA; one with freshly picked Centennial hops and the other with freshly picked Simcoe hops. Both of these two offerings use hops grown at Crosby Hop Farms in Woodburn, Oregon.
While at Breakside Slabtown last evening, this location was pouring both Stay Fresh – Centennial and Stay Fresh – Simcoe. Both beers are ones to definitely try on your 2018 fresh hop quest. The Centennial version took us back to IPAs of yore with a great citrus aroma and taste.
Here's a preview of what to expect when it comes to fresh hop beers from Breakside Brewery in the coming weeks…
Breakside 2018 Fresh Hop Lineup:
Stay Fresh – Centennial (Stay West IPA)
Centennial hops from Crosby Hop Farm
7% ABV 63 IBU
Stay Fresh – Simcoe (Stay West IPA)
Simcoe hops from Crosby Hop Farm
7% ABV 63 IBU
Fresh Guy (Tall Guy IPA)
Triumph hops — not commercially available yet
8% ABV 57 IBU
Breakside IPA – Fresh Hop Chinook 
Fresh Trap (Thirst Trap)
Chinook hops
6.22% ABV, 69 IBU
Wanderlust – Fresh Hop Cascade
What Fresh Beast (What Rough Beast)
Mosaic hops
7% ABV, 75 IBU
Fresh Hop Comet Rainbows & Unicorns
Fresh Hop Nugget Bazooka Face
Fresh Hop Sterling Kellerpils
As these fresh hop beers begin to be released the best place to find them will be at any of the three Breakside locations in the Portland area.
Breakside Brewery
Dekum – 820 NE Dekum
Slabtown – 1570 NW 22nd Ave
Milwaukie – 5821 SE International Way