BrewDog Brings Six Enjoyable Non-Alcoholic BrewDog AF Beers To Market
|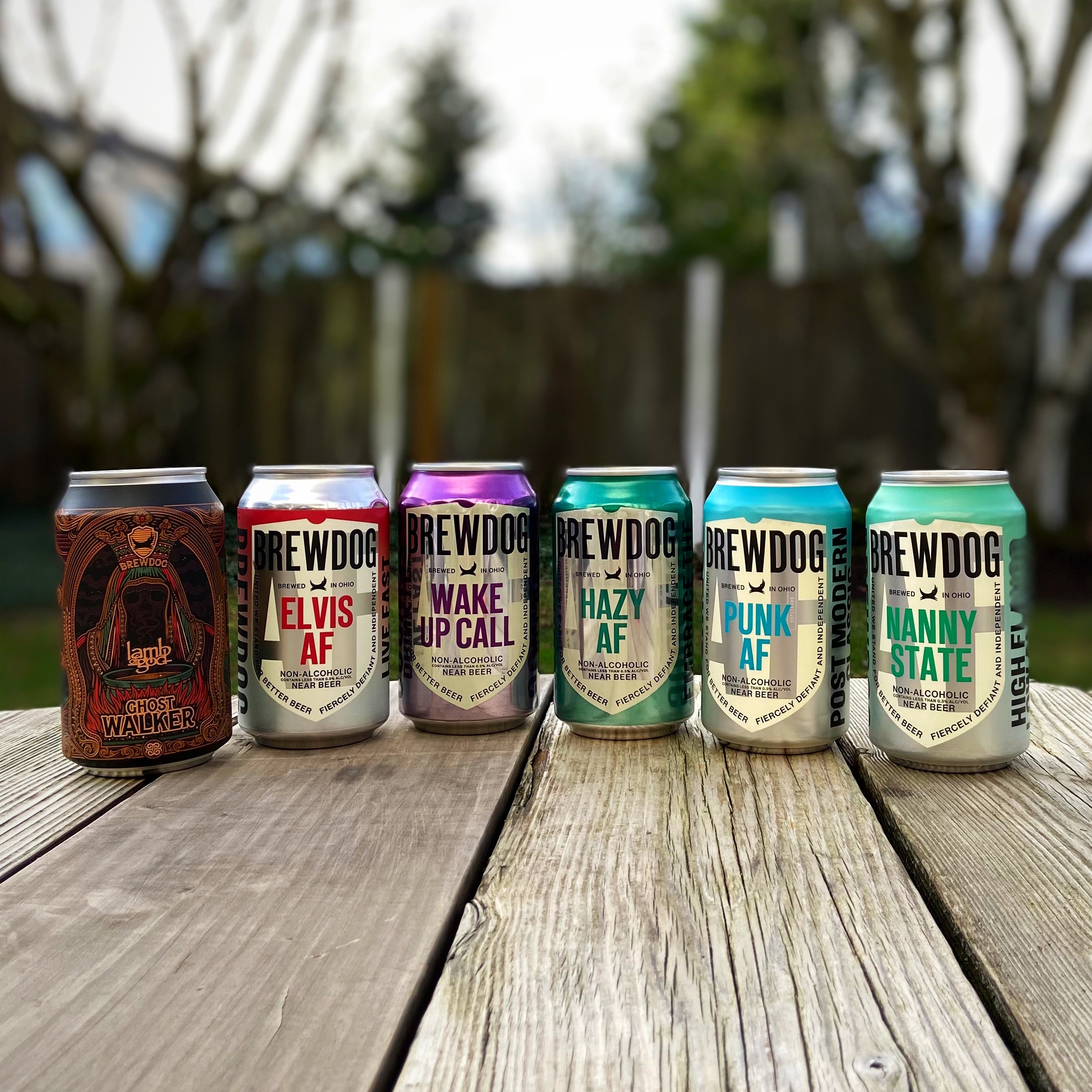 Over the past few years the selection of non-alcoholic beers has grown considerably as the flavor continues to evolve. Many have had flavors that were not very desirable for those looking to reduce their alcohol intake or have given it up completely.
One brewer that has embraced this trend of non-alcoholic (NA) beers is BrewDog, the Scottish based brewery that was founded in 2007 by James Watt and Martin Dickie. BrewDog has released a six-beer lineup of what the brewer calls Alcohol Free beer with the tagline of All Attitude, No Alcohol. Overall, the lineup is quite impressive as it is difficult to tell that these offerings are NA beer. From sampling the lineup this past weekend, we were quite impressed with the entire lineup and determined that we have had fewer satisfying beers from alcohol fueled craft breweries.
BrewDog is brewing its lineup of Punk AF, Hazy AF, Elvis AF, Nanny State, Wake Up Call, and Ghost Walker here in the U.S. at its brewery located in Canal Winchester, just outside of Columbus, Ohio. This production brewery, restaurant and hotel opened around the same time the brewery sold under a quarter of the company to TSG Consumer Partners, a large firm that has ownership in Stumptown Coffee, Dutch Bros., and Pabst Blue Ribbon, in 2017.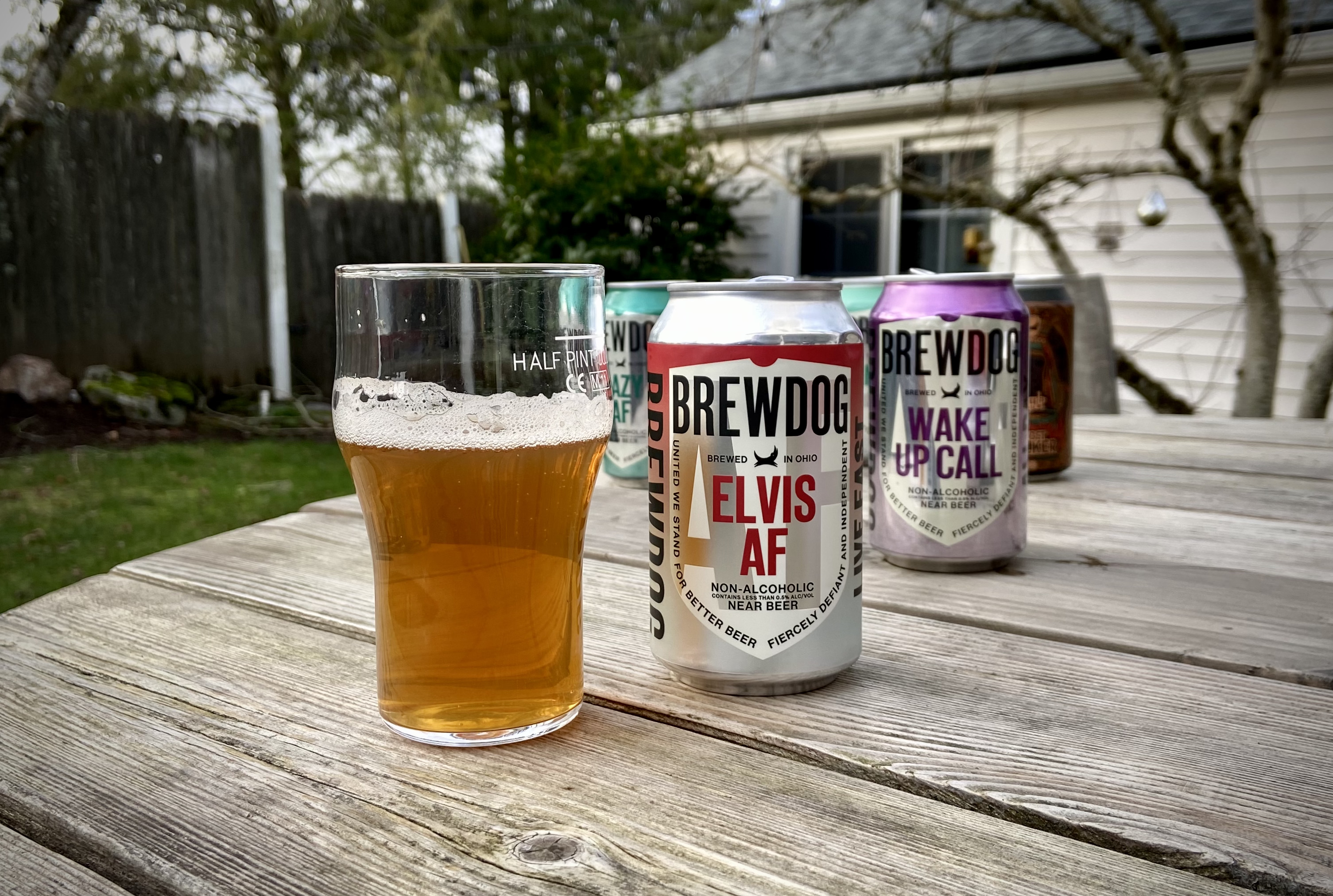 The trend for these NA beers is growing as more and more breweries invest in the category. According to Statista.com, the global NA beer market was valued at roughly 18 billion U.S. dollars in 2020. In the coming years, the global market is expected to grow at a CAGR (compound annual growth rate) of 7.5%, reaching a value of about 25 billion U.S. dollars by 2024.
When it comes to who is seeking out these beverages, Nielsen recently released a study that reveals 47% of people over the age of 21 are making an effort to cut back or abstain from consuming alcohol. To meet this demand, BrewDog has released an Alcohol Free Mixed 24-Pack that can be delivered directly from the BrewDog brewery to your front door.
So how does BrewDog brew its NA beer? The brewer is said to use microfermentation, a technique that allows the beer to fully ferment using unfermentable malts and sugars. This results in a beer with no alcohol but will full flavor and much lower calories.
Of the bunch, our favorites were the Wake Up Call – All Day Coffee Stout, Punk AF, and Nanny State. That said, the other three NA offerings – Elvis AF, Hazy AF, and Ghost Walker – were all great beers that if we were blindfolded would have had a challenge to decipher that these were NA beers.
Wake Up Call
Packed full of dark roasty coffee aromas and flavors this All Day Coffee Stout will make you want to reach for a second can. The full body must have something to do with the beer's 77 calories and 17g of carbs, the highest amount of the six offerings. And if you need a bit of a pick me up, Wake Up Call has 39mg of caffeine.
Punk AF
Our second favorite of the bunch. A take on BrewDog's flagship beer, Punk IPA, this NA does not falter. Full of the juicy, grassy and pine flavors one expects from a West Coast IPA but sans the alcohol. We have had less desirable IPAs with alcohol from other breweries and this one is only 37 calories and 6.5g carbs. A perfect almost beer while at lunch during your work day!
Hazy AF
If you're a fan of Hazy IPAs, this one is for you. Hazy AF brings together tropical fruits and grassy notes as oats and wheat unite for a flavor associated with the New England-Style IPA. And at 37 calories and 6.5g carbs it won't fill you up or help pack on the lbs.
Elvis AF
With the tagline of "Live Fast Drink Slow", this NA beer would be perfect for the King, especially in his later years. Elvis AF toes the line between a Hazy and American IPA. There are juicy grapefruit flavors with a bit of haze but also notes of pine. Not as light as a few of the other AF offerings from BrewDog as Elvis AF arrives at 49 calories and 9g carbs and an excellent companion to the beer it was inspired from, Elvis Juice.
Nanny State
Some may say we live in a nanny state but no matter what, BrewDog package a satisfying hoppy ale in its 12oz can of Nanny State. This one is brewed with a blend of Centennial, Amarillo, Columbus, Cascade and Simcoe hops, dry hopped to the brink and back that makes for a well-balanced ale. Sort of reminded us of Tetley's English Ale. And don't worry if you have a few as Nanny State only packs 21 calories and 4.3g carbs
Ghost Walker
On this one BrewDog collaborated with the metal band Lamb of God to bring forth a beer that's perfect for a night of music. Said to be the world's first non-alcoholic beer collaboration, this one lives up to the hype. At 54 calories and 10g carbs, Ghost Walker offers up pleasant tropical aromas with a bit of pine on the backend.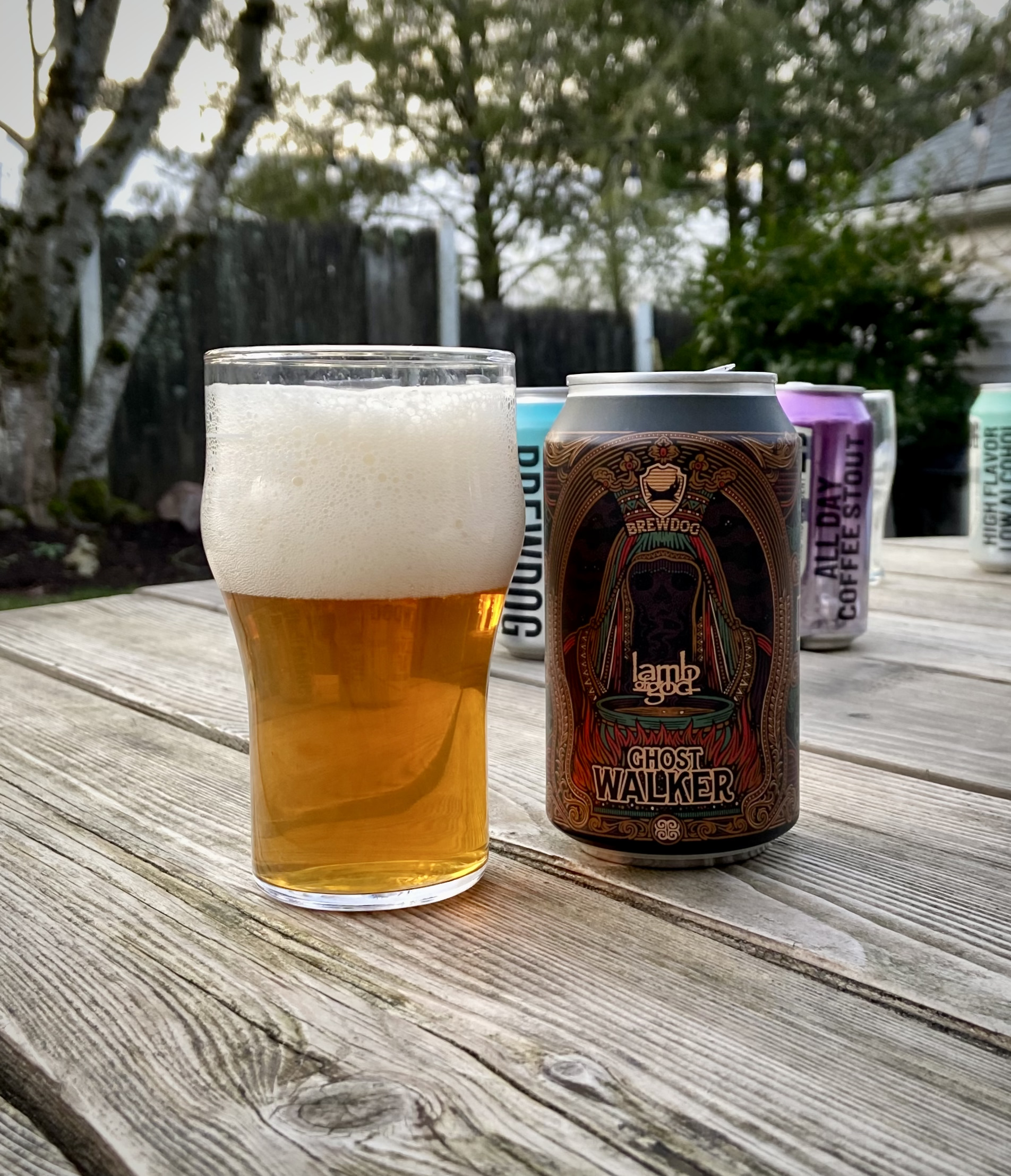 Coming soon to this AF lineup is Tiki Torpedo, as it is expected to begin rolling out this month. This NA beer brings forth flavors of pineapple with sweet, refreshing tartness, just as you'd expect from a sour beer. Tiki Torpedo is 21 calories and 3.6g of carbs.
If you'd like to get your hands on the BrewDog AF 24 Mixed Pack shipped to your door, you can do so for under $43. The mixed pack includes four cans each of Hazy AF, Punk AF, Elvis AF, Wake Up Call, Nanny State, and Ghost Walker.
BrewDog will ship this AF case at a special price of $42.99, well except if you live in Alaska, Georgia, Hawaii, Idaho, Kansas, Michigan, or Mississippi.
https://shopusa.brewdog.com/products/non-alcoholic-mixed-24-pack