Ecliptic Brewing to Launch Eighth Orbit: Italian-style Pilsner
|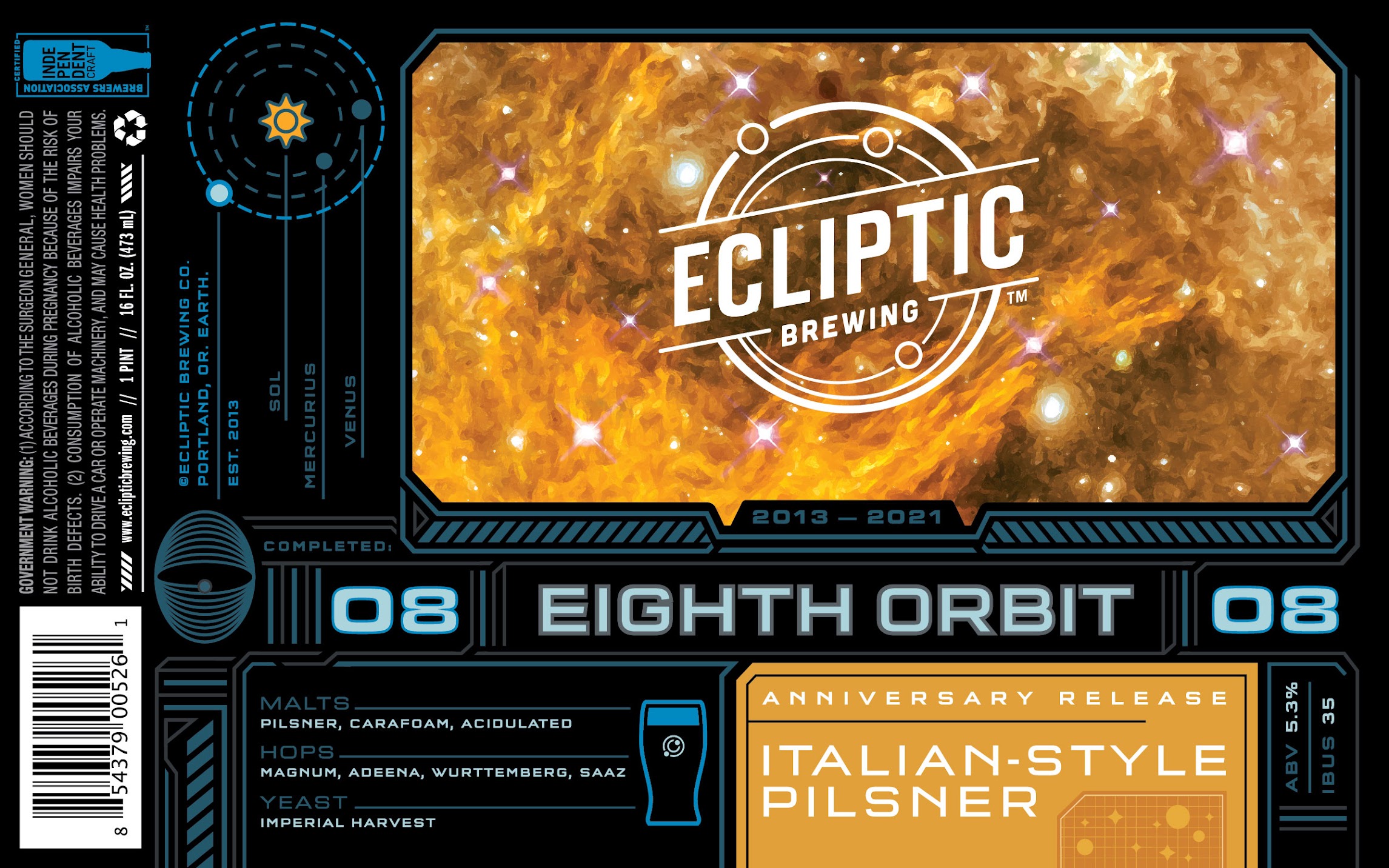 Portland, Oregon. Earth. (October 14, 2021)- In celebration of Ecliptic Brewing's Eighth Anniversary on October 20th, the company will release an Italian-style Pilsner in both draft and 16-ounce cans.
Eighth Orbit: Italian-style Pilsner is brewed with Pilsner malt, Imperial Harvest yeast and is heavily dry hopped, with a hop bill including Magnum, Adeena, Wurttemberg, and Saaz. A crisp, clean finish and 5.3% ABV make this a very drinkable lager. Ecliptic brewed an Italian-style lager once before in the spring of 2020, and it was a huge hit.
Says Ecliptic's Owner and Brewmaster, John Harris, "In the past, I have always brewed a beer with fruit or other ingredients. This year I wanted a classic, newer style done just right- crisp and clean, waiting to refresh everyone."
Eighth Orbit: Italian-style Pilsner will be released in 16-ounce cans and draft throughout Ecliptic Brewing's distribution network on October 20th. The company will celebrate the release and its eighth anniversary with a five-day celebration at their restaurant which includes rare beer tappings, amuse buche food specials and more. Visit Ecliptic's Facebook page for up-to-date details on this event.
Eighth Orbit: Italian-style Pilsner
Light in color and moderate in alcohol, Eighth Orbit: Italian-style Pilsner is dry hopped using noble and modern German varieties. This traditionally hoppy lager is balanced, yet complex, with high drinkability and a clean, dry finish.
ABV: 5.3%