Firestone Walker Adds Another Life and Mystic Shadows to IPA Mixed Packs
|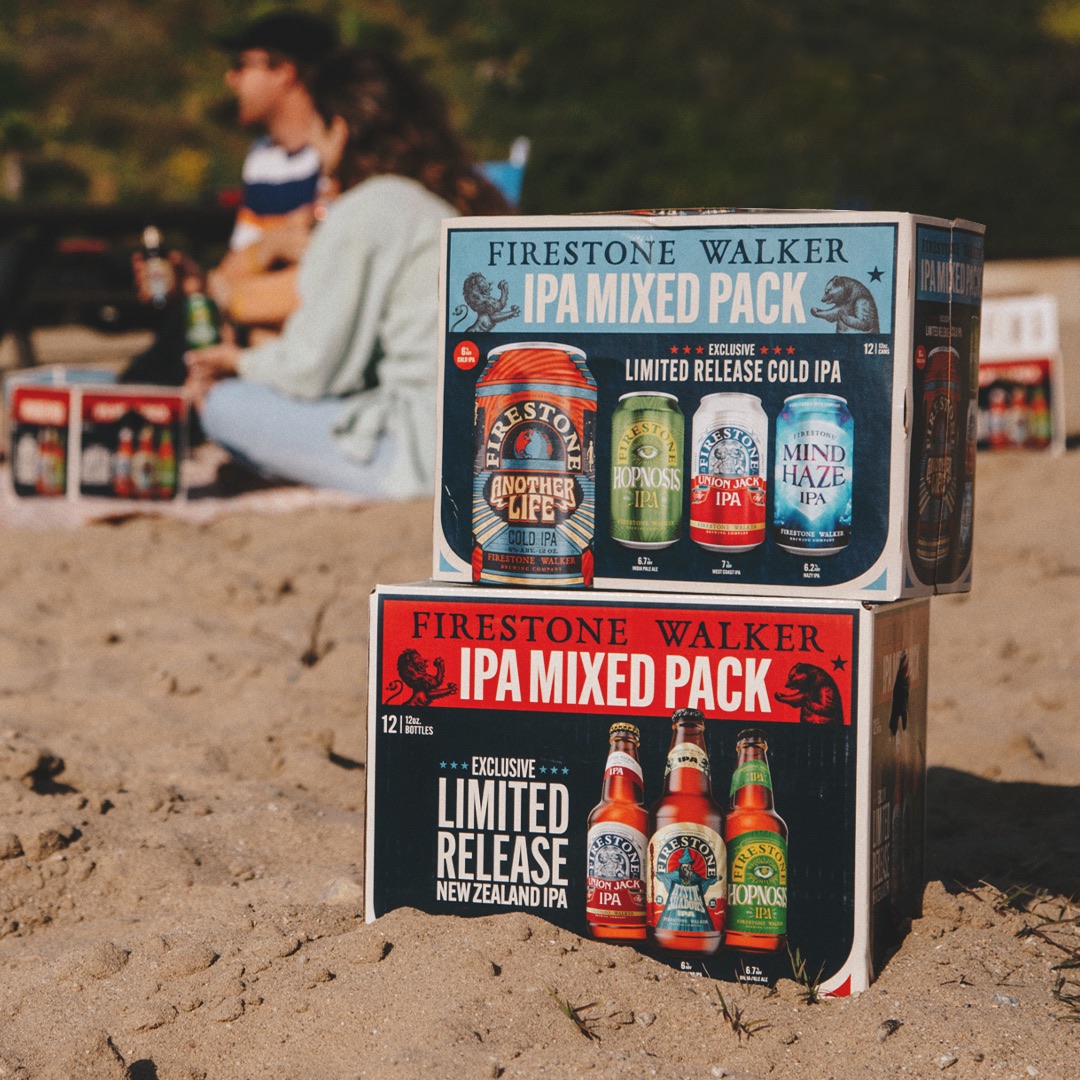 With mixed packs continuing to see positive sales growth, Firestone Walker Brewing is once again on the leading edge of this marketing concept. On the breweries newly updated IPA Mixed Packs for the upcoming summer season, Firestone Walker is offering two different beers for each pack. Look for Another Life Cold IPA in the canned IPA Mixed Pack and Mystic Shadows New Zealand IPA in the botttled IPA Mixed Pack.
The canned Firestone Walker IPA Mixed Pack featuring Another Life is rolling out now to all Firestone Walker markets and locations. This pack also includes Hopnosis, Mind Haze and Union Jack.  Concurrently, a parallel bottled IPA Mixed Pack featuring Mystic Shadows is rolling out to the California, Arizona and Nevada markets. This pack also includes Hopnosis and Union Jack.
Learn more about each beer from the descriptions below.
Another Life: Cold IPA | 6% ABV
Greet the sun with Another Life—a bright blonde Cold IPA featuring a blend of Citra, El Dorado, Centennial and Chinook hops. Melding classic Pacific Northwest hop flavors of citrus and pine with new age notes of pineapple and watermelon candy, this is a crisp, clean IPA that's built for summertime enjoyment. "We brewed this beer with a simple bill of pilsner malt and rice and fermented it with lager yeast to create a true-to-form Cold IPA," said Brewmaster Matt Brynildson. "The Pacific Northwest hops shine through while the mouthfeel stays light, refreshing and perfectly cold."
Mystic Shadows: New Zealand IPA | 6% ABV
Mystic Shadows is a new-age showcase for New Zealand hops. A light malt base provides the perfect canvas to feature these captivating hop varieties, lending notes of white gummy bear, blue raspberry, strawberry, green mango and bubblegum. This is a lighter-bodied, crushable IPA with a unique hop profile. "We blended a few of our favorite New Zealand hops, Nelson and Motueka, with a couple of other newer discoveries called Rakau and Moutere," Brynildson said. "We had just enough supply to create this limited release, which blends West Coast style with Southern Hemisphere character."
Hopnosis: Cold IPA | 6.7% ABV
Hopnosis is the culmination of Firestone Walker's 15-year quest to master the IPA style. Brewed with Mosaic Cryo Hops®, Hopnosis is a seamless, aromatic and explosively tropical beer, employing Cold IPA brewing techniques to create an ultimate new-school expression of a West Coast IPA. The resulting beer delivers pure hop character with minimal bitterness, loaded with flavors of mango, passionfruit, white grape and lychee.
Mind Haze: Hazy IPA | 6.2% ABV
From the coast of California comes Mind Haze, a free-spirited beer made to elevate your perceptions—juicy, fresh and loaded with an imaginative array of tropical hop flavors. This is a hazy IPA done the Firestone way. Mind Haze is ultimately a beer that breaks the mold with explosive hop aromas; juicy, fruity flavors; and a true hazy-style mouthfeel.   \ 
Union Jack: West Coast IPA | 7% ABV
Huge flavor that packs a punch. This is Union Jack—an icon of the West Coast IPA style, for those who like their beer loud and proud. Union Jack is the IPA that helped blaze the trail for the revolutionary West Coast style. Named for the British Lion who co-­founded the brewery, Union Jack is intensely hoppy yet eminently drinkable from start to finish. A fad-proof IPA for any hop head.
To locate either of these two IPA Mixed Packs, use the Firestone Walker Beer Finder.