New Seasons Market & Gigantic Brewing Collaborate on Unipiper Hazy IPA
|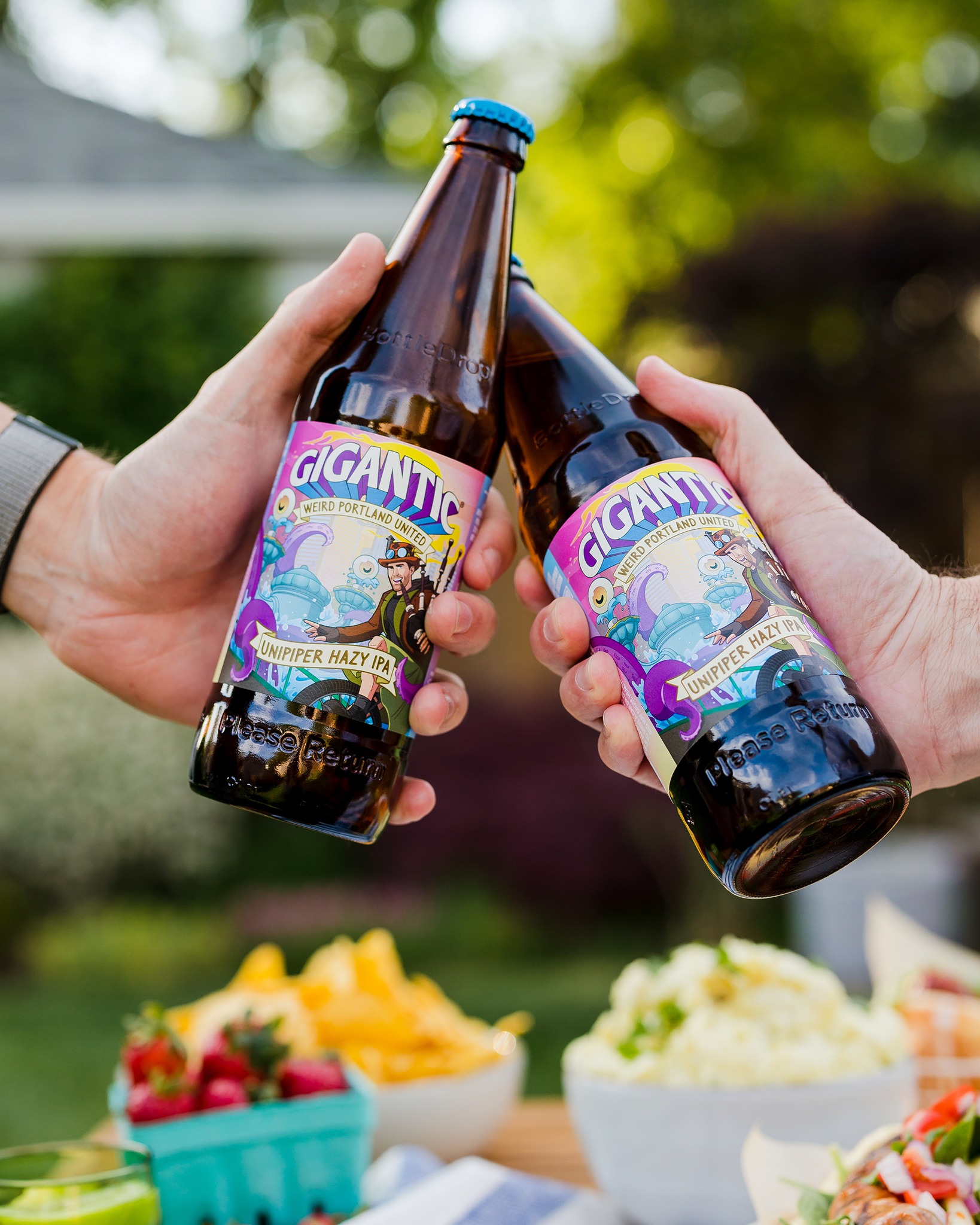 Portland, Ore. (June 7, 2023) – New Seasons Market, Gigantic Brewing and the Unipiper are proud to announce their new collaboration, the Unipiper Hazy IPA. This limited-edition beer is the newest release in the "Weirdtastic Beer Series," which benefits Weird Portland United, a nonprofit that supports the artistic risk-takers that make Portland weird.
"We're thrilled to be a part of this collaboration," said Greg Reiter, Program Category Manager – Beer and Wine for New Seasons Market. "The Unipiper is a quintessential symbol of what makes Portland a unique community, and we're proud to support his work through Weird Portland United. We hope everyone enjoys the Unipiper Hazy IPA as much as we do!"
The Unipiper Hazy IPA is a tropical, hazy IPA with notes of passionfruit, mango, guava and orange. It's brewed with a blend of Citra, Mosaic, Crystal and Unipiper Cascade hops, and is fermented with Cosmic Punch yeast. The result is a flavorful and refreshing beer that is sure to please fans of both the Unipiper and Gigantic Brewing.
"We're excited to partner with New Seasons Market and the Unipiper to create this special beer," said Ben Love, brewmaster and owner of Gigantic Brewing. "The Unipiper is a beloved Portland icon, and we sought to create a beer that would celebrate his creativity and passion. We think the Unipiper Hazy IPA is the perfect way to do that."
The Unipiper Hazy IPA is available now for purchase at all 19 New Seasons Market locations throughout the Portland-metro area, with Unipiper-hosted tastings taking place on:
Friday, June 9: 3 – 6 p.m. at New Seasons Market Slabtown (2170 NW Raleigh St., Portland)
Friday, June 16: 3 – 6 p.m. at New Seasons Market Concordia (5320 NE 33rd Ave., Portland)
"I'm so excited to team up with Gigantic Brewing and New Seasons Market to create this special beer," said Brian Kidd, the Unipiper. "I love the idea of using beer to support a good cause, and I'm proud to be a part of Weird Portland United. I hope everyone enjoys the Unipiper Hazy IPA!"
About the Unipiper
The Unipiper, also known as Brian Kidd, is a Portland, Ore.-based entertainer and performer. He is best known for his viral videos featuring his signature blend of flame-throwing bagpiping while riding a unicycle in a kilt. He has been featured on national television shows such as "America's Got Talent" and "Jimmy Kimmel Live," and has become a local icon in Portland. Beyond his performances, the Unipiper is also committed to supporting the arts community in Portland and has participated in various charity events over the years. For more information, visit: www.unipiper.com/.
About Gigantic Brewing
Gigantic Brewing is an independent craft brewery based in Portland, Ore., that was founded in 2012 by Ben Love. The brewery is known for producing bold and flavorful beers that push the boundaries of traditional styles and showcase the expertise of its brewing team. Since its founding, Gigantic Brewing has won numerous awards and accolades within the craft beer industry, including multiple medals at the Great American Beer Festival and the World Beer Cup. In addition to producing high-quality beers, the brewery has a commitment to supporting its local community through various charitable partnerships and collaborations. For more information, visit: www.giganticbrewing.com/.
About New Seasons Market
New Seasons Market is a friendly neighborhood grocery store that believes great-tasting, local food has the power to build community and enhance lives. From taking care of its staff, partners, neighborhoods, and the environment to growing a sustainable business, it's doing what it loves with a commitment to cultivating a strong community centered around food. Founded in 2000 by three families and 50 friends in Portland, Ore., New Seasons Market is now a team of nearly 2,700 passionate staff across 19 stores in Oregon and Washington, serving a unique mix of locally sourced and organic items, classic grocery favorites, chef-made grab and go meal solutions. New Seasons Market is proud of its progressive values—from offering industry-leading compensation and benefits to committing 10 percent of its after-tax profits to the communities it serves, also receiving B Corp certification more than 10 years ago. For more information, visit www.newseasonsmarket.com.