Purchase The New Dogfish Head Off-Center Your Summer Pack To Enter To Win a Trip To Delaware
|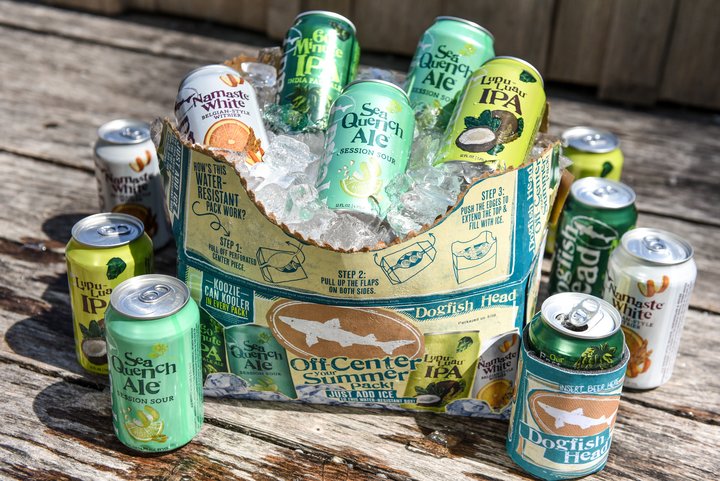 Dogfish Head Craft Brewery is ready to usher in the summer of 2018 with a brand new variety pack with its Off-Center Your Summer Pack. This new variety 12-pack includes cans of 60 Minute IPA, SeaQuench Ale, Lupu-Luau IPA and Namaste White.
Here are additional details on the beer and the contest that could take you on a beercation to visit Dogfish Head Craft Brewery in Delaware…
In addition to containing a broad selection of distinct beers, the Off-Center Your Summer Pack converts into a functional cooler (just pop it open and add ice).  Each of these 12 packs includes a custom Dogfish Head KOOZIE® Can Kooler and offers consumers the chance to win a trip to coastal Delaware for a once-in-a-lifetime Dogfish Head experience.  Winners get to hang out at Dogfish Head's harbor front hotel and Rehoboth brewpub, but they will also be lending a hand at the brewery and helping prepare the pure culinary ingredients that go into these four delicious beers.
"At Dogfish, we're committed to creativity and innovation through our diverse variety of beers and we couldn't be more proud of our latest breakthrough in packaging as we rollout our new Off-Center Your Summer Cooler Pack," said Sam Calagione, founder and CEO of Dogfish Head Craft Brewery. "My coworkers and I strive to deliver consistency, high-quality and a portfolio of well-differentiated beers and this new packaging will be a well-timed complement to our upcoming can-focused Off-Center Your Summer program as it combines all three goals into one icy cold pack."
Dogfish developed the functional cooler design in partnership with WestRock, a leading paper and packaging company. Exclusive to Dogfish, the innovative package features a tear-open top – allowing the cooler to unfold for quick ice application, along with a leak resistant construction featuring wet-strength paperboard that can hold ice/water for up to six hours and built-in handles which makes it easy to transport—even when loaded with ice. "Mad props to our pals at WestRock and our Dogfish team who quickly took this opportunity from an idea to a reality in a short period of time allowing us to bring the cooler pack to market just in time for summer," said Calagione.
The Off-Center Your Summer Pack contains four summer favorites including:
60 Minute IPA
A continually-hopped super-fantastic East Coast IPA (6% ABV) brewed with a slew of great Northwest hops for a powerful, but balanced, citrusy hop character.
SeaQuench Ale
The 2017 and 2018 Men's Health Best Low Calorie Beer, this session sour (4.9% ABV) is a mash-up of a crisp Kolsch, a salty Gose, and a tart Berliner Weiss brewed in sequence with black limes, sour lime juice and sea salt to make this the most thirst-quenching beer Dogfish Head has ever brewed.
Lupu-Luau IPA
A coconut India Pale Ale (7.3% ABV) brewed with a tropical trifecta of toasted coconut, coconut water and an experimental hop which adds coconut aromas.   This beer gets its natural haze from Pils malt, flaked barley and rolled oats.
Namaste White
A Belgian-style witbier (4.8% ABV) brewed with dried orange flesh and peel, fresh-cut lemongrass, a bit of coriander, peppercorns and a generous dose of good karma.
Inside the box, you'll find a code to enter for a chance to win a weekend adventure for two to Dogfish Head.  The trip includes a rare opportunity to brew the Off-Center Your Summer beers with the Dogfish brewers at the production facility in Milton, a two-night stay at the Dogfish Inn, a VIP Tour of the brewery and Happy Hour in the Steampunk Treehouse with Sam Calagione, dining options at the brewpub, Dogfish Head Brewings & Eats, along with the seafood-centric Chesapeake & Maine, and an off-centered prize pack.
To learn more about Dogfish Head, visit dogfish.com.