Reuben's Brews Announces 2020 Beer Release Calendar
|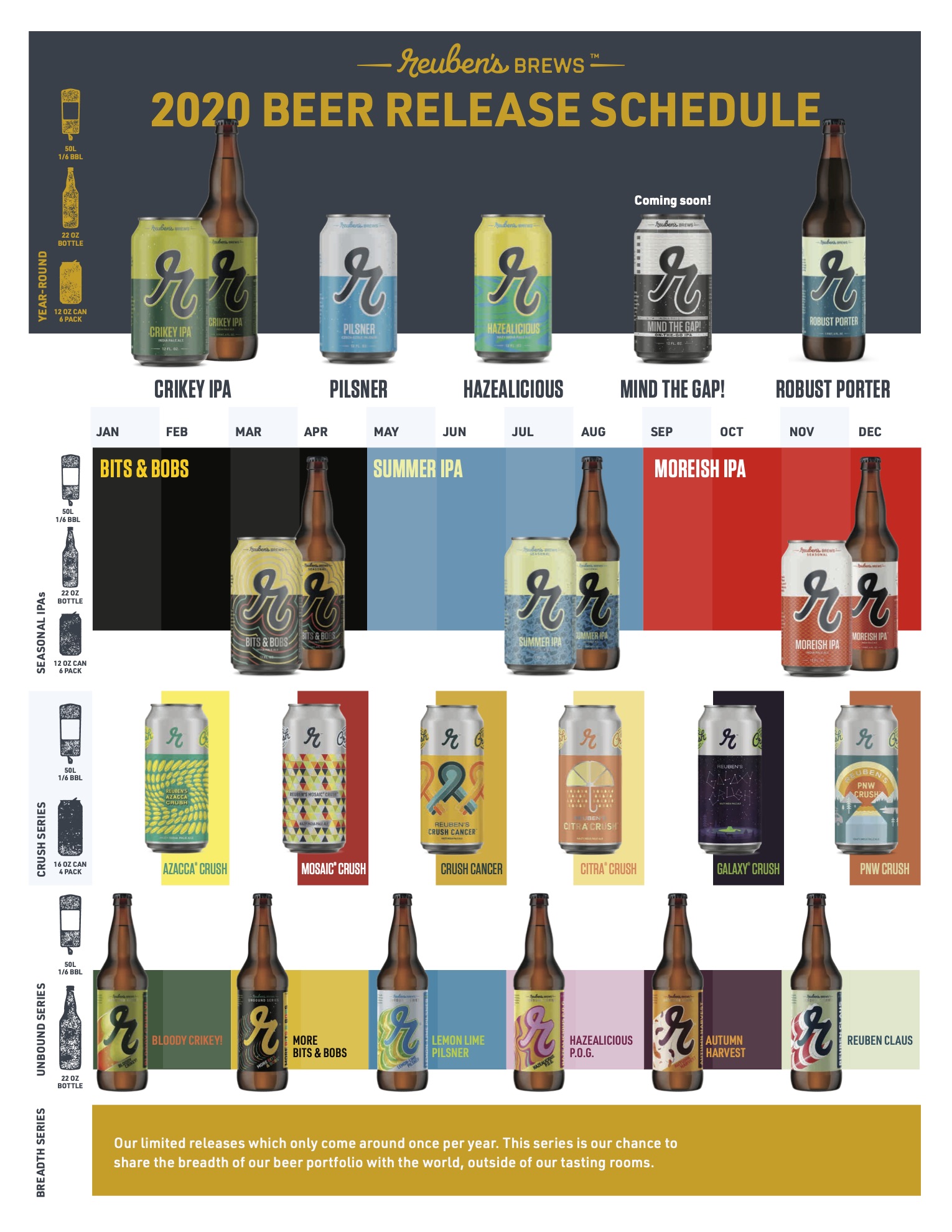 On the heels of releasing over 170 different beers in 2019, Reuben's Brews has announced its 2020 Beer Release Calendar. In the coming year, Reuben's Brews will release a new year-round IPA along with two new series of seasonal beer releases.
The new Mind the Gap! IPA joins the lineup of year-round beers that includes Crikey IPA, Pilsner, Hazealicious IPA, and Robust Porter. Reuben's Seasonal IPA roster of beers will remain intact from its 2019 offerings that features Bits & Bobs, Summer IPA and Moreish IPA.
Reuben's Crush Series will expand to become a year-round seasonal. This coming Saturday, January 11th, Reuben's will release Reuben's Azacca Crush, its latest beer in this series. Reuben's Azacca Crush is a 6% ABV Hazy IPA that uses Azacca hops with notes of mango, pineapple, and orange, with a juicy hazy body. Also releasing on Saturday is Après Ski, a refreshing blackcurrant ale. Cans of both beers will be available at The Taproom beginning at 11:00am.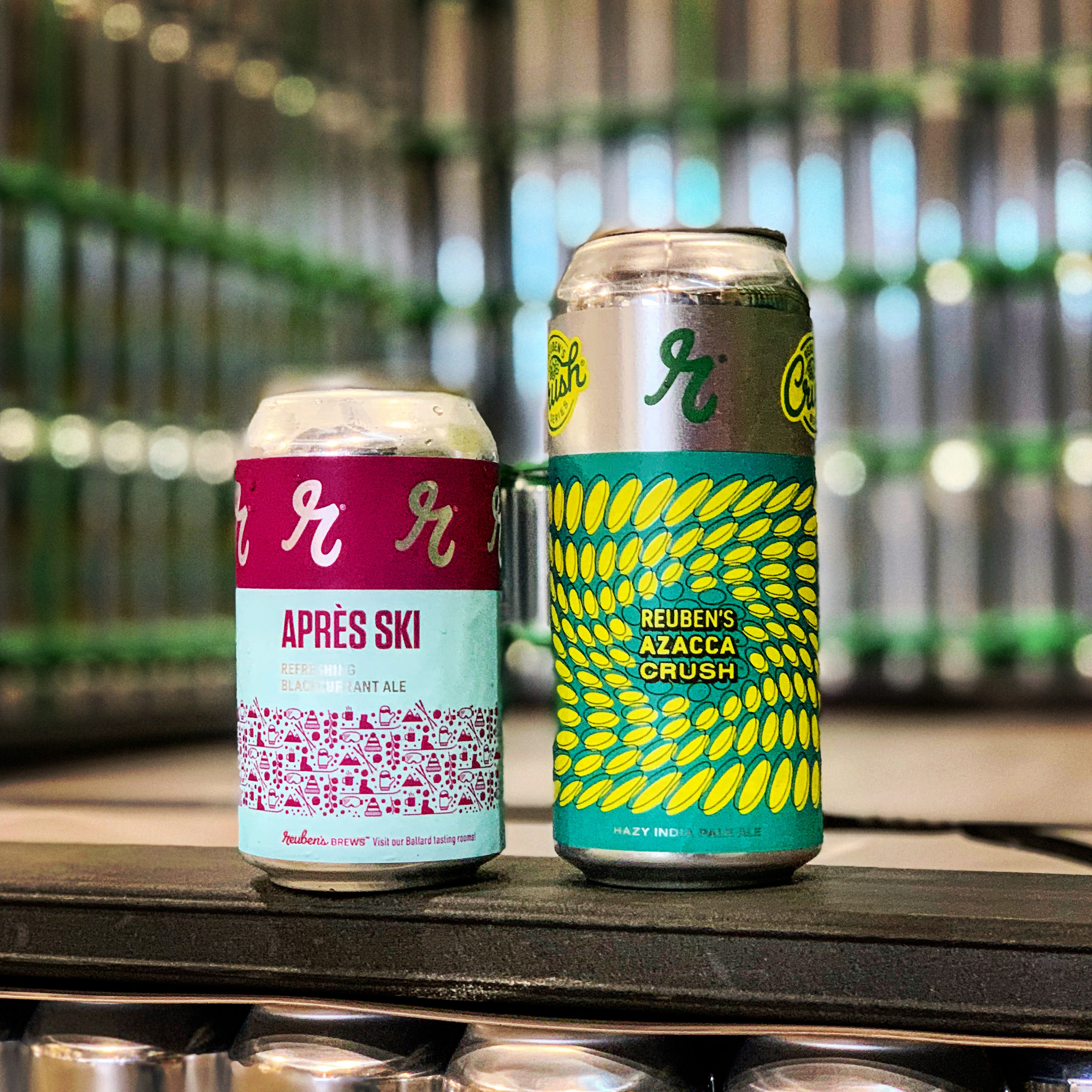 Reuben's Brews will also release the following innovative highlights in 2020:
New Year-Round Beer: Mind the Gap!
Mind the Gap! is a highly drinkable and crisp India Pale Ale at 5.3% ABV. Previously available only at the Reuben's Brews Taproom in Seattle, Mind the Gap! will now be available year-round in cans beginning in March 2020. Perfect for Pacific Northwest adventures, this brew was made for mindfully enjoying the "gaps" in the day.
Reuben's Crush® Series Becomes a Year-Round Seasonal
Reuben's Crush® Series, previously only available in limited release, joins the calendar as a seasonal rotator. The hazy IPAs in the Reuben's Crush® Series will be available for distribution in 16-ounce cans and on draft, offering the Pacific Northwest more access to this popular line of hazy IPAs than ever before.
New Series: Unbound Series
This new 22-ounce bottle lineup puts innovative twists on year-round brews by unleashing them with extra ingredients and new ideas. The first beer to launch in the series in January 2020 is Bloody Crikey, a blood-orange version of the popular Crikey IPA. In March, More Bits & Bobs will follow as an imperial version of the winter/spring seasonal IPA. Other seasonal beers in the Unbound Series include Lemon Lime Pilsner, Hazealicious P.O.G., Autumn Harvest and Reuben Claus.
Small Batch and Sour Series Join the New Breadth Series
Reuben's Brews will continue to release a variety of beers from its three breweries (5bbl, 15bbl, and 30bbl), including yearly releases of classic beers like Holiday Gose, Festbier, and Blimey That's Bitter!, amongst many others. The Sour Series and Small Batch Series beers from 2019 will continue to be released once yearly as part of the Breadth Series.