Von Ebert Brewing Introduces Three New Heritage Beers on Saturday
|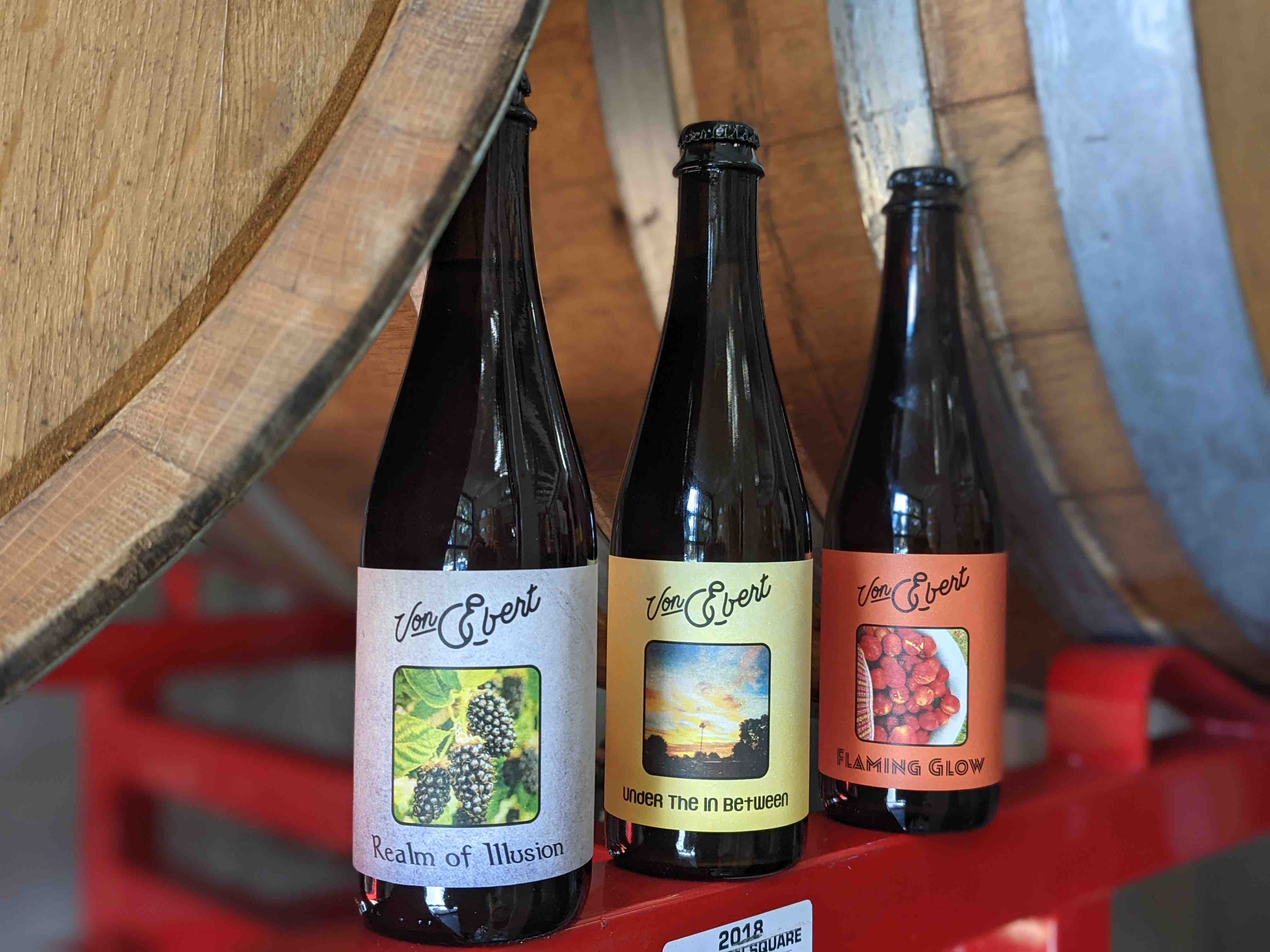 PORTLAND, Ore. – October 21, 2021 – Von Ebert Brewing, winner of the 2021 Oregon Beer Awards' Medium Size Brewery of the Year, will release three new beers from its Heritage Beer program on Saturday: Realm of Illusion, Flaming Glow, and Under the In Between.
With these releases, the brewery will also unveil a new look and style for the beers falling under its Heritage Beer program. Each Heritage Beer label will now prominently feature a photograph showcasing the farm where some of that specific beer's ingredients, such as fruit or herbs, were grown. Most of these photographs will be taken by the farmer who planted and harvested the highlighted ingredient, with the label including a photo credit for the farmer.
"Local agriculture plays such an important role in our Heritage Beers," explained Sam Pecoraro, Head Brewer, Von Ebert Brewing. "We wanted to use the labels of those beers to pay tribute to the farming partners who have helped us produce them, while also making that farming connection even more obvious to consumers."
Realm of Illusion is a 6.4% ABV blend of puncheon-aged mixed-culture Heritage Beers that were refermented on marionberries from West Union Garden in Hillsboro, Oregon.
Flaming Glow is a blend of foudre-aged beers that were then refermented on two different nectarine varieties – Flaming Fury and Arctic Glow, both from Peachwood Orchard in Hood River, Oregon. The beer clocks in at 6.5% ABV.
Under the In Between is a 4.8% blend of foudre-aged and puncheon-aged mixed-culture Heritage Beers, further conditioned on Szechuan peppercorns with Yuzu zest and juice from the specialty citrus experts at Pearson Ranch in Porterville, CA.
"We're really excited to release these three beers," exclaimed Jason Hansen, lead brewer and blender, Von Ebert Glendoveer. "Our Heritage Beers are a labor of love. They require a lot of time and care, and also feature the beautiful agricultural bounty grown by our farm partners. The relationships with those farmers are a big part of what allows us to produce the complex, layered flavors of our Heritage Beers."
All three of the new Heritage Beers will be available in bottles and limited draft at both the Von Ebert Glendoveer and Pearl brewpubs on Saturday.
Find Von Ebert on social media: @vebrewing and facebook.com/VonEbertBrewing.
About Von Ebert Brewing
Von Ebert Brewing, winner of Brewery of the Year, Medium Size, at the 2021 Oregon Beer Awards, sits at the crossroads where storied traditions meet bold new ideas in brewing. Independently owned and operated, the Portland, OR-based brewery produces award-winning beers in a variety of styles. Von Ebert beers have received medals at numerous competitions, world-class ratings from top blind tasting panels, and recognition as one of the top 20 beers in the world over the past year. In addition to modern IPAs and crisp lagers, the oak-aged, bottle-conditioned Heritage beer program sets the brewery apart. All of the beers pair perfectly with the elevated American pub cuisine served at both brewpub locations. For more information, please visit www.vonebertbrewing.com.