9th Annual Cider Summit Portland Returns June 21-22, 2019
|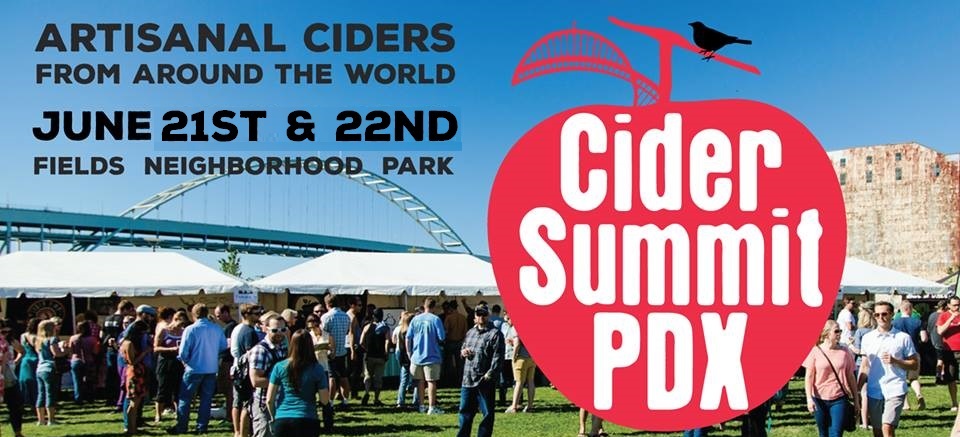 Nearly a decade strong, the 9th Annual Cider Summit Portland returns from June 21-22, 2019 to Portland's Pearl District inside The Fields Park. Organized by one of the region's largest cider proponents, Alan Shapiro, the 2019 edition of Cider Summit Portland will bring together nearly 200 craft ciders.
Cider Summit Portland is Oregon's largest cider tasting festival and is part of the opening weekend of 2019 Oregon Cider Week that takes place from June 20-30, 2019. Event hours for Cider Summit PDX are Friday, June 21, from 3pm to 8pm (a VIP session allows early entry at 2pm); and Saturday, June 22, from Noon to 5pm. The last pour is 15 minutes prior to the close of each session.
Hard cider continues to be among the fastest growing beverage alcohol categories in the United States, with sales increasing from $44 million in 2008 to $506 million in 2018. Last year's cider sales were up 8.4% from the year before. Local craft cider sales in Oregon grew 30% in 2018, and those brands are outselling national ones.
Cider Summit Portland takes place during Oregon Cider Week, an event put on by the Northwest Cider Association (NWCA). "Our community of local, craft cidermakers are thriving and innovating, creating unusual ciders that celebrate what's grown here," stated NWCA Executive Director Emily Ritchie in a news release. "People are constantly amazed at the variety of ciders now available here in the Pacific Northwest; Cider Summit Portland is an excellent opportunity to sample so many ciders in one place."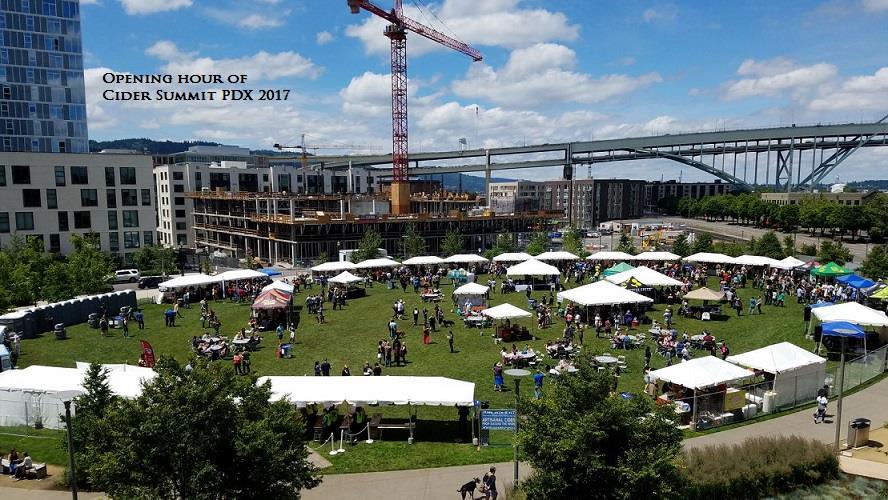 In addition to cider tasting, Cider Summit Portland will also feature a number of food vendors, including an exclusive Oregon Cider Week Donut by Blue Star Donuts; a dog lounge; live music; a heritage cider pavilion showcasing traditional cider making from the orchard; a cider cocktail lounge; and an on-site retail store featuring select cider bottles and cans to go.
Several of the cidermakers will also participate in the 5th annual Oregon Fruit Products Fruit Cider Challenge, creating specialty pilot batch fruit ciders using Oregon Fruit Products puree; attendees vote on their favorite ciders  via text, and the winners are announced at the conclusion of the event on Saturday.
Event tickets are on sale now at www.cidersummit.com; discounted tickets are available through May 31. General admission tickets include a souvenir tasting glass and 12 tasting tickets and cost $25 if purchased before June 1; $30 if purchased between June 1 and June 20; and $35 at the gate. VIP tickets include a souvenir tasting glass, 16 tasting tickets, and one-hour early admission on opening day and cost $35 if purchased before June 1, and $40 if purchased between June 1 and June 20; quantities are limited and VIP tickets may not be purchased at the gate. Designated driver tickets are available for $5 only at the gate and include a bottle of water. Minors are not allowed at the festival.
Cider samples cost one ticket for a taste, with additional tasting tickets available onsite. All tickets allow reentry on Friday and Saturday with an attached wristband and the current year's tasting glass.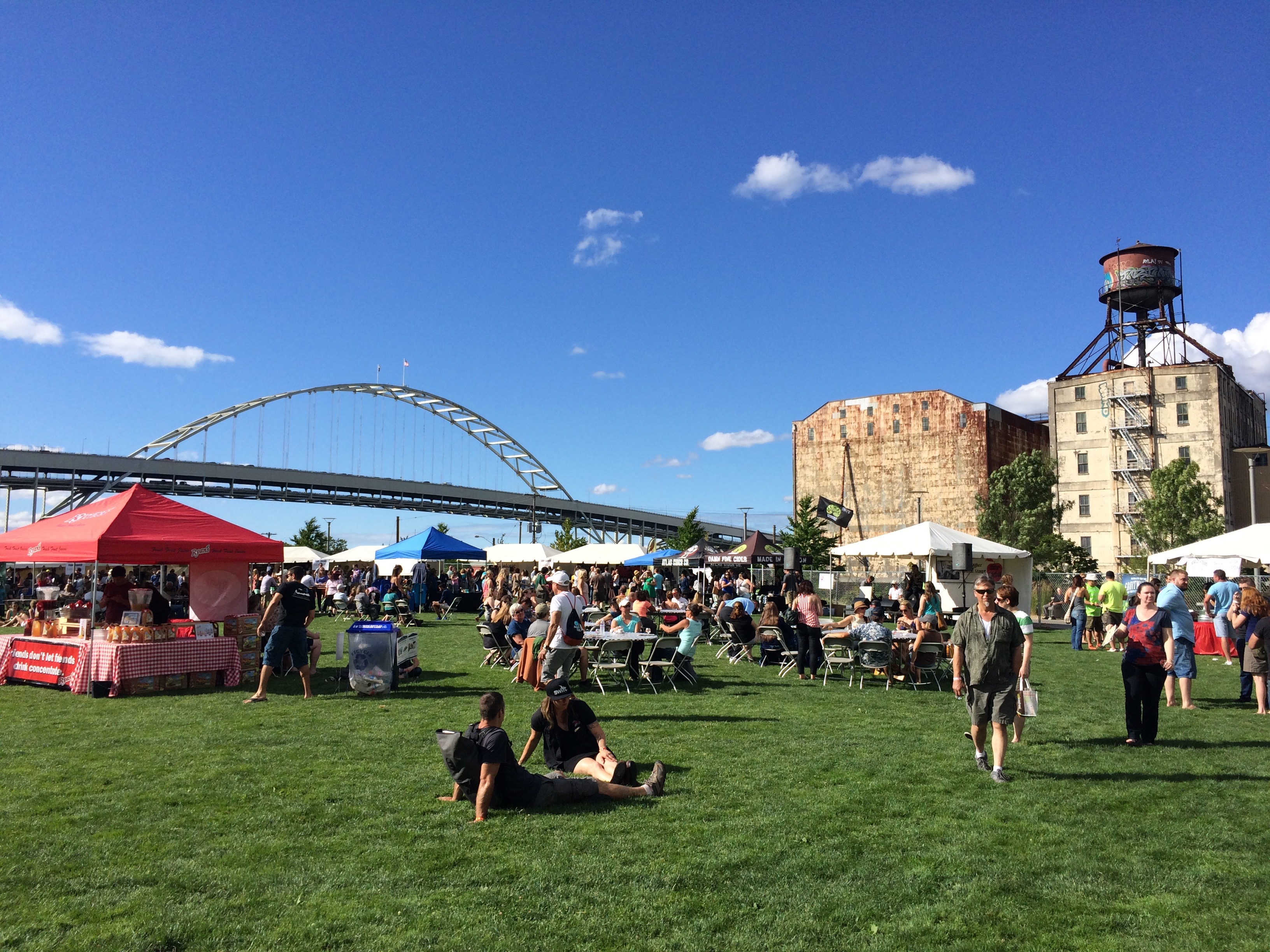 Cider Summit Portland is presented by Cider Bite Cider House. Supporting sponsors include Ilani, Oregon Fruit Products, Seattle Cider, Portland Pet Food Co., Canopy by Hilton Hotel, Portland Streetcar, and Maletis Beverage. Media partners include 94/7 Alternative Portland, Portland Mercury, and CIDERCRAFT Magazine. The event is a benefit for Cascade Blues Association, Northwest Cider Assn., DoveLewis Emergency Pet Hospital, and The Institute for Myeloma & Bone Cancer Research.
For more information, visit CiderSummit.com and follow @CiderSummit on social media, hashtag #CiderSummitPDX.
The Fields Park
1099 NW Overton St.
Portland, OR 97209