Portland Cider Co. Releases 8th Annual Community Cider
|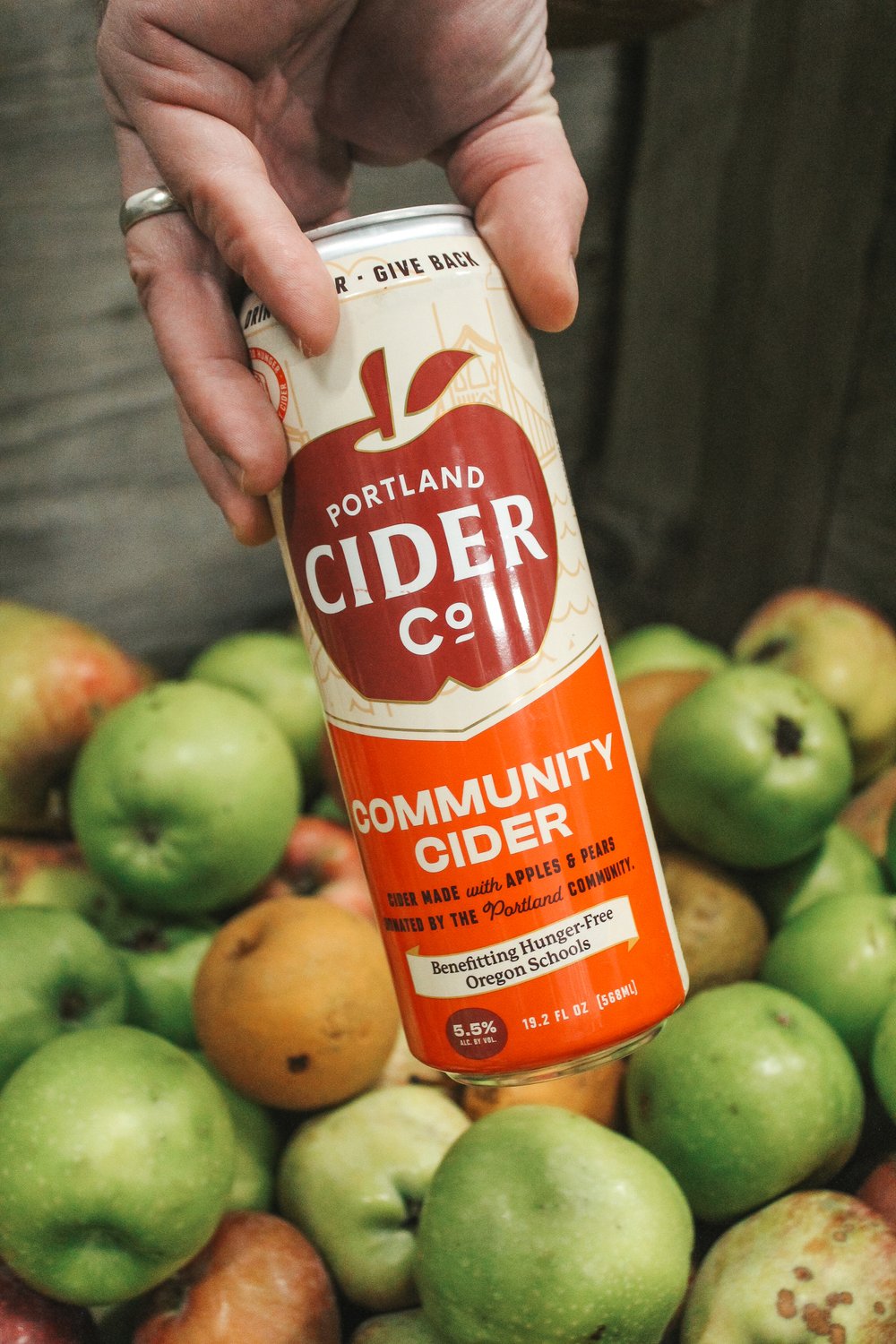 CLACKAMAS, Ore. – October 10, 2023  – Fruit from across the Portland Metro Area has been pressed into Portland Cider Company's 8th Annual Community Cider, which is now available to enjoy. The cider was crafted from donations of backyard apples and pears from across the region, and proceeds will go to help end hunger in Oregon.
Throughout the month of September, Portland Cider received an impressive amount of donated pears & apples at its Clackamas cidery, exceeding 38,000 lbs, or 19 tons. The donations were sorted, washed and pressed, and proceeds from the resulting Community Cider will support Partners For a Hunger-Free Oregon in their effort to expand free school lunch to all students in the state. The Community Cider program has raised $57,000 over the past seven years, and will easily exceed the $60,000 mark this year.
The 2023 Community Cider, made with a beautiful blend of apples and pears grown all around the Portland Metro Area, is juicy and medium-sweet. Every can contains countless varieties of hyperlocal apples and pears donated by community members as part of the company's annual Fruit Forward Drive. The flavor profile varies a bit each year, depending on the specific blend of fruits collected, but it's always made with 100% local, community-donated fruit.
"We are honored to partner with our neighbors, the greater Portland community, and Partners For a Hunger-Free Oregon to help feed hungry kids while reducing waste and doing what we do best—making cider," said Portland Cider co-owner Lynda Parrish. "It is truly heartening to see the community come together year after year to create something delicious while supporting this vital nonprofit advocacy organization."
Net proceeds from the Community Cider sold, including pints and growler fills at Portland Cider's three locations and 19.2-ounce cans sold across the region, will be donated to Partners For a Hunger-Free Oregon. The organization, which successfully advocated for accessible school breakfast and expanded access to school meals, is now focused on ensuring free, universal school meals for every K-12 student in Oregon. Thanks to Partners For a Hunger-Free Oregon's advocacy efforts, 3 out of 4 schools in Oregon will offer free school meals in the 2024-2025 school year. The organization plans to bring legislation forward in the 2025 session to make Oregon a universal free-lunch state. This effort impacts 560,000 students in Oregon K-12 schools by ensuring that all students have access to healthy, nutritious meals at school at no cost.
David Wieland, policy advocate with Partners for a Hunger-Free Oregon shares some of the positive impacts that school meals provide. "When kids have access to school meals, we see educational achievement increase. We see racial disparities decrease. We see disciplinary actions decrease. There are all sorts of benefits from this critical piece of the school day."
The Oregon Hunger Task Force estimates that 9.8% of Oregonians, including 13.2% of Oregon's children, experienced food insecurity in 2022. Universal school meals will provide relief in communities statewide, enabling Oregon parents and guardians to direct their resources toward other necessities, including food for themselves and other family members.
"We are honored to collaborate with Portland Cider on this project," said Jaz Bias, Co-Executive Director of Partners for a Hunger-Free Oregon. "It's beautiful to incorporate the full food system – to use the abundance from our local neighbors and invest that back into our communities."
In addition to purchasing cans of Portland Cider Co.'s Community Cider, supporters can donate directly to Partners For a Hunger-Free Oregon at oregonhunger.org/give.
The 2023 crop of Community Cider is available in 19.2-ounce "proper pint" cans in retailers throughout Oregon, with draft exclusively available at the cidery's three pub locations. Cider fans can locate PDX Community Cider using the company's Cider Finder online.
About Portland Cider Company
Portland Cider Company was founded in 2013 to bring hand-crafted, award winning cider to the Northwest. The company recognizes Portland and her bold spirit as the inspiration behind their innovative ciders, and promises the cleanest, tastiest, and most enjoyable cider-drinking experience the city has to offer. Including the new Westside Pub, Portland Cider has three taproom locations in the Portland Metro Area, where they encourage all to visit, sample, and expect more from the cider they drink.