Portland Cider Releases Passion Orange Guava + Grapefruit Gimlet
|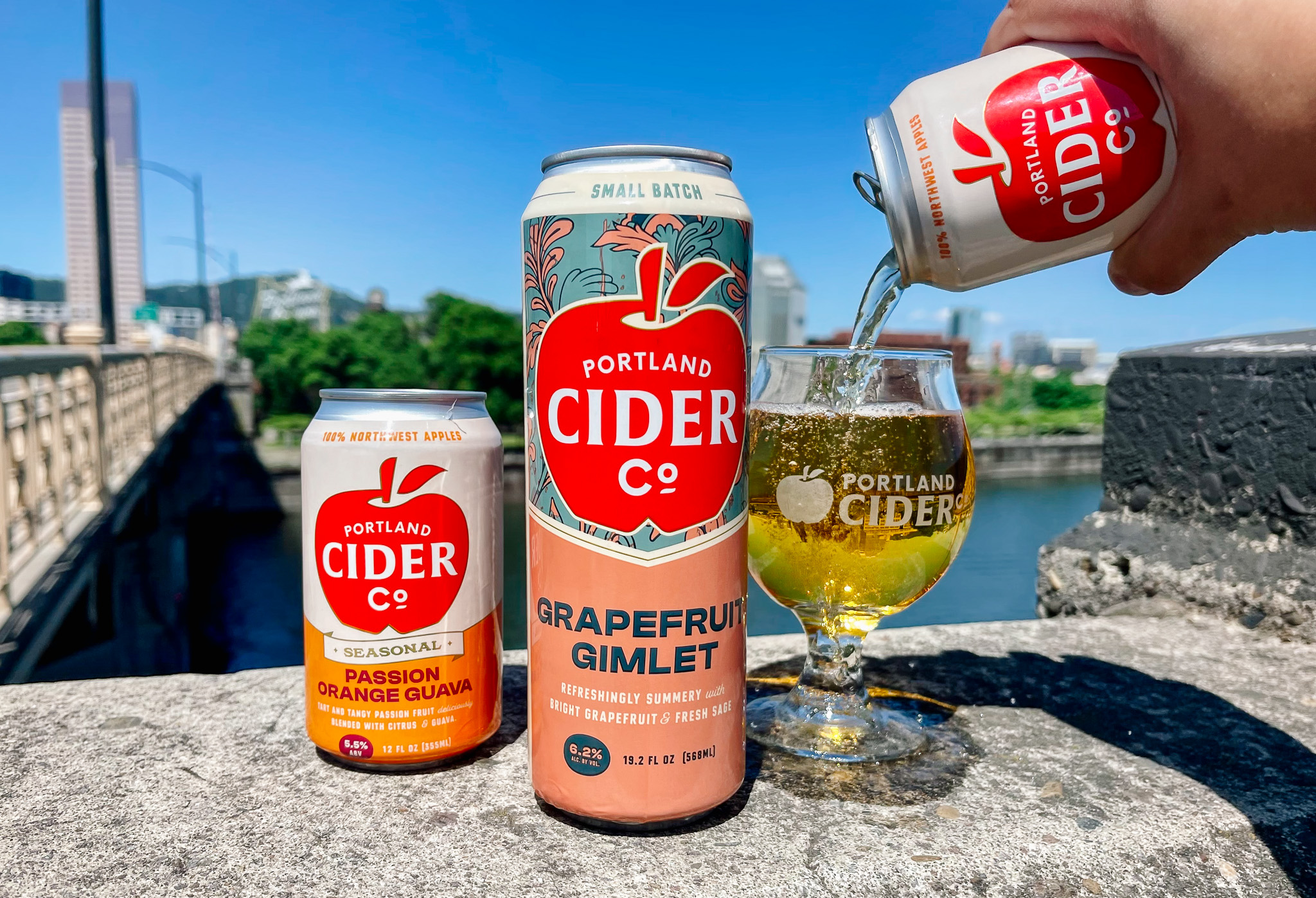 CLACKAMAS, Ore. – June 7, 2023 – Juicy, refreshing, fruit-forward ciders are the theme of the latest releases from Portland Cider Co. This month, cider fans will see the return of the tropical Passion Orange Guava cider, and the launch of a brand-new Grapefruit Gimlet cider.
Passion Orange Guava is summertime in a glass (or right out of the can!), richly fruity, with tart passion fruit and tangy citrus giving way to luscious, smooth guava. This cider pairs perfectly with dangling your feet off a dock, or stretching out on warm sand.
"I think our POG Cider is especially popular because there's something alchemical about the combination of fruits," said Jeff Parrish, co-owner of Portland Cider. "The way the guava flavor lingers as the passion fruit and citrus fade makes every sip an experience worth savoring."
Grapefruit Gimlet is another in head cidermaker Deron Davenport's line of limited-release experimental ciders in the company's small batch series. This marks the second release this year influenced by the growing trend of cider cocktails. This cider is crafted with fresh grapefruit juice and a subtle infusion of sage grown by Oshala Farms in Southern Oregon.
"The sweet-tart grapefruit juice makes this cider incredibly refreshing, and the light herbaceousness from the sage elevates it into something extraordinary," said Davenport. "Grapefruit Gimlet would be a great mixer in a cocktail with tequila, Paloma-style, or as a cider mimosa."
POG is now available in six-packs of 12-ounce cans and 19.2-ounce "Proper Pint" cans, with Grapefruit Gimlet available in 19.2-ounce "Proper Pint" cans later this month.  Both can be located at retailers within the craft cidery's distribution footprint throughout Oregon, Washington, Colorado, and most of California using the company's Cider Finder. Or enjoy a pint by visiting Portland Cider's three locations in Clackamas, Beaverton, and Portland.
About Portland Cider Company
Portland Cider Company was founded in 2013 to bring hand-crafted, award winning cider to the Northwest. The company recognizes Portland and her bold spirit as the inspiration behind their innovative ciders, and promises the cleanest, tastiest, and most enjoyable cider-drinking experience the city has to offer. Including the new Westside Pub, Portland Cider has three taproom locations in the Portland Metro Area, where they encourage all to visit, sample, and expect more from the cider they drink.