Bendistillery and Deschutes Brewery to Release 2019 Black Butte Whiskey
|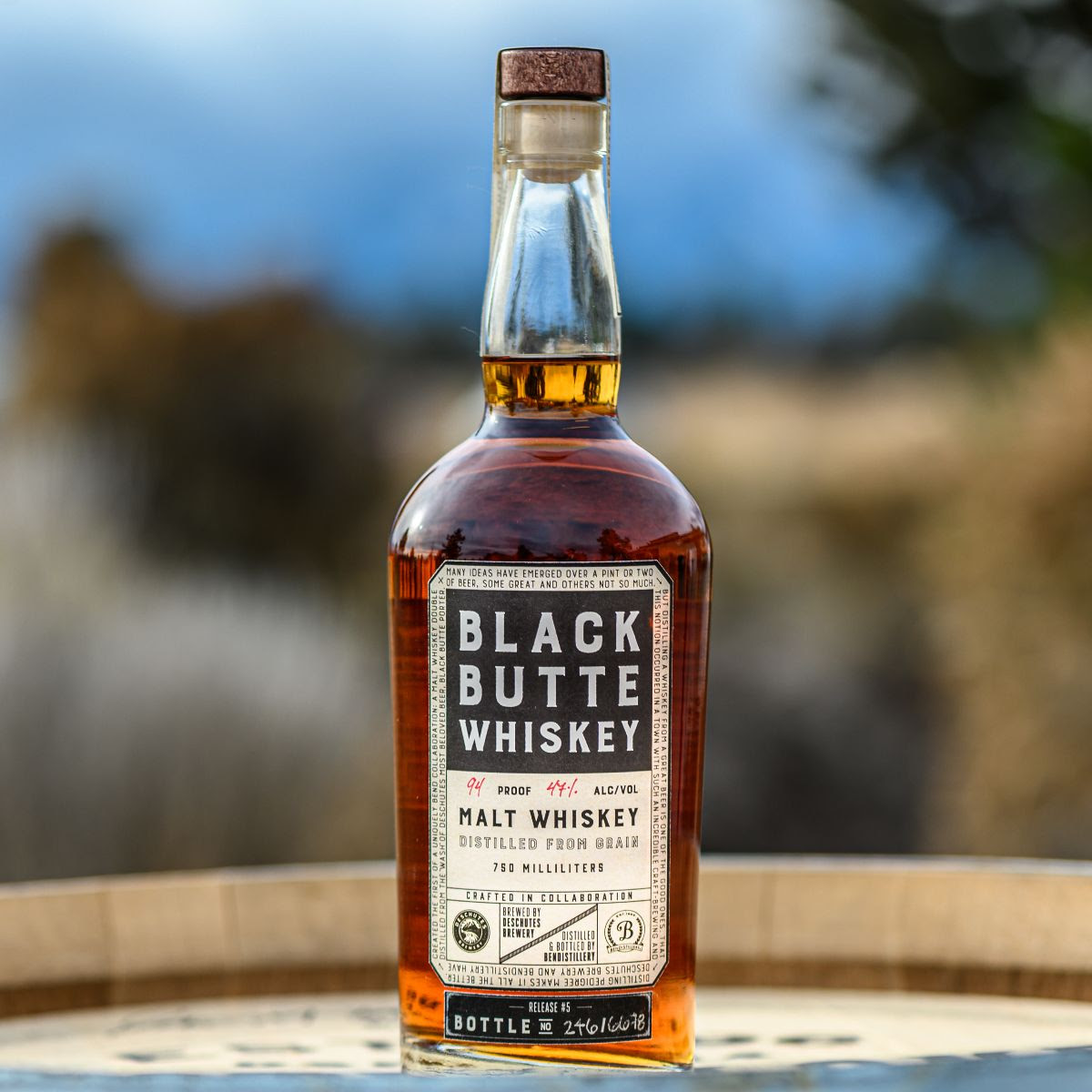 Once again, two Central Oregon iconic businesses collaborate on a project that took years in the making. Bendistillery and Deschutes Brewery have partnered on the 2019 vintage of Black Butte Whiskey.
Distilling whiskey begins with brewing a wash, distilling it and finally aging it. To create Black Butte Whiskey, Deschutes Brewery brewed a whiskey wash, essentially wort without any hops and then sent it over to Bendistillery's Crater Lake Spirits to distill and then age in new #4 char American oak barrels for three years.
The idea of creating this whiskey was spawned decades ago through conversations over beers between Jim Bendis, founder of Bendistillery, and Gary Fish, founder of Deschutes Brewery. Then in September 2016, Black Butte Whiskey was first released to the public in a very limited run that saw a small allotment of bottles make its way into Oregon Liquor stores. Since this original release the whiskey has only been sold in house by the pour or in cocktails at all of Deschutes Brewery pubs and Crater Lake Spirits Tasting Rooms.
Now the 2019 Black Butte Whiskey is ready for release on Friday, December 6th in downtown Bend at Bendistillery's Crater Lake Spirits Downtown Tasting Room. Bottles of the 2019 Best of Show, Double Gold at the Sunset Magazine International Spirits Competition will begin to go on sale by the bottle to go beginning at Noon. Bottles will only be sold at Crater Lake Spirits Tasting Rooms and there is no limit on bottle purchases.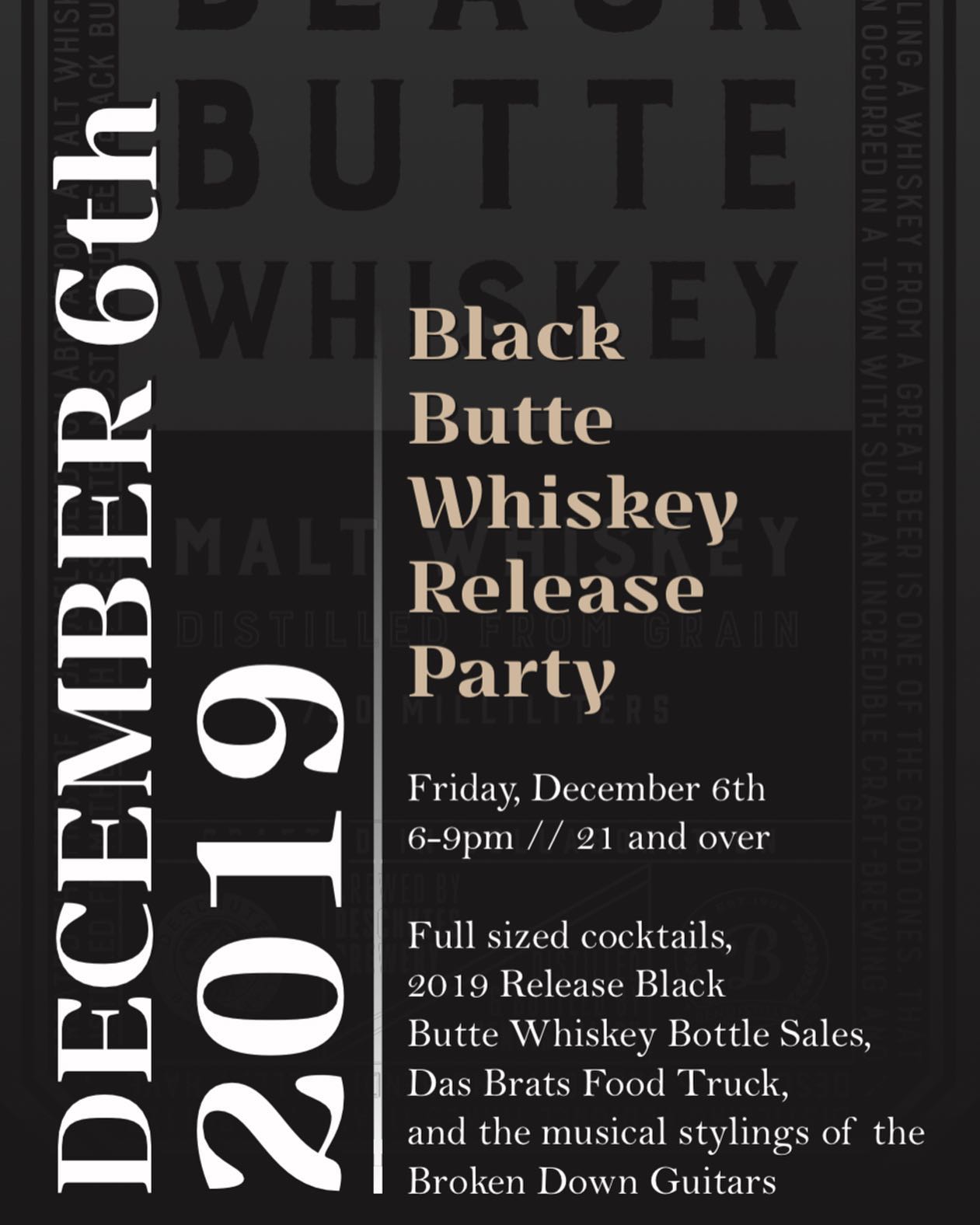 Then at 6:00pm, the official 2019 Black Butte Whiskey Release Party will take place at Crater Lake Spirits Downtown Tasting Room located at 1024 NW Bond Street in Bend, Oregon. This special event will include bottle sales, full sized cocktails featuring Black Butte Whiskey, music by Broken Down Guitars and delicious food by Das Brat Food Cart!
"The excitement around each release just keeps growing every year," said Alan Dietrich, CEO of Bendistillery, in a prepared statement. "Our customers value this truly unique, high-quality beverage, something both Bendistillery and Deschutes Brewery are known for."
Black Butte Whiskey is an American malt whiskey distilled from the wash of Deschutes Brewery's famed Black Butte Porter beer, all done in Central Oregon. It is double-distilled and aged for 3 years in new #4 char American oak barrels. The resulting spirit is a balanced yet complex whiskey that retains the malty, chocolaty notes of Black Butte Porter, Deschutes Brewery's flagship beer, and finishes with the soft, nearly sweet, character.
"Black Butte Whiskey beautifully showcases Bendistillery and Deschutes Brewery as pioneers in adult beverages," said Mike Rowan, food and beverage director at Deschutes Brewery, in a prepared statement.  "We've always been committed to experimentation and innovation in creating delicious, approachable beverages to create extraordinary experiences for our customers."
Black Butte Whiskey pours are available year-round at both Deschutes Brewery pubs, and the Portland International Airport pub. Both the Bend and Portland pubs feature an exclusive barrel-aged Manhattan that will be available Friday to celebrate the release as well. Unfortunately, bottle sales are limited to being sold in Bend only at both Crater Lake Spirits Tasting Rooms.
Crater Lake Spirits Downtown Tasting Room
1024 NW Bond Street
Bend, OR 97702