McMenamins Distillery Program and Its 2016 Devils Bit Whiskey Release
|
Fourteen years after McMenamins was founded, the Pacific Northwest institution began its fledgling spirits program. This was back in 1997 when craft brewing was still called micro brewing and producing sprints on the small scale seemed a bit far-fetched but they succeeded when its first spirit, Newtroff, was released in March 1998.
Now approaching 20 years of distilling, McMenamins Distillery program produces about 120 barrels per year from its two distilleries, the original Distillery at Edgefield and the second location at Cornelius Pass Roadhouse (CPR). Every drop of these distilled spirits is sold in house either in cocktails or at any of the 13 McMenamins locations that have a license to sell bottles to go. This is a program that is truly held close to the heart at McMenamins and this week will see the release of the distillery's most prized bottle, Devils Bit Whiskey, released every year on St. Patrick's Day.
Clark McCool leads the McMenamins Distillery program. He began his career at McMenamins back in 1993. Three years later McCool was promoted to be the Head Winemaker and held this position from 1996 to 2004. He then left McMenamins for about four years and returned in 2008 to lead the Distillery program. McCool is in charge of three full time distillers at Edgefield that includes James Whelan, Bill Fry and Jerod Davis.
With the original still located in a building that was once home to root vegetable storage when Edgefield was a poor farm is in the same building that is home to Edgefield's Golf Course Clubhouse and Bar. The distillery recently brought on a second still at Edgefield. This second still was necessary since the distillers have been distilling for over 10 hours per day, seven days per week. The result of this hard work is lineup of 14 spirits that are produced at Edgefield and 5 spirits at CPR.
However before any of this distilling begins the distillers first brew up their very own 350 gallons of mash at the Edgefield Brewery just down the hill. The grain bill that is used is predominately the same one that is used for the brewery's Hammerhead, Terminator, or Ananda. This concoction is then fork lifted in totes up to the distillery to let the magic begin on the various whiskeys, rums, and gin along with its wine distilled brandy liqueurs. One thing noticed about this lineup is the absence of vodka. "We don't like to make spirits that are odorless and flavorless," states McCool.
McMenamins produces about 50 to 60 barrels of whiskey per year. The distilling of its whiskey is a three-hour process and it then goes through this a second time to create a twice-distilled whiskey 65 gallons at a time. After distilling 1800 gallons over a two-week period this results in four barrels of whiskey. McMenamins first foray into whiskey was with Newtroff, its first spirit that was released in March 1998. This un-aged whiskey evolved into White Dog. But it's with its Hogshead Whiskey where McMenamins sets itself apart from other Oregon whiskey. Hogshead is aged for over four years, usually at around 51 months. McCool's goal is to get Hogshead to be a five-year aged fully Oregon produced whiskey.
Once distilled, Edgefield spirits are aged in three locations, the quaint distillery, Edgefield's basement, and in the neighboring jailhouse that McMenamins now owns. The distillery holds about 96 barrels of whiskey while the rest of its whiskey, rum, gin and brandy rest in the other two locations.
Edgefield creates 14 different spirits including White Dog Whiskey, Hogshead Whiskey, Monkey Puzzle Whiskey, Aval Pota, Joe Penney's Gin, Three Rocks Rum, Three Rocks Spiced Rum, Herbal Liqueur No. 7, and Coffee Liqueur. Edgefield produces four brandies that includes Alambic "13" Brandy, Edgefield Brandy, Pear Brandy, and Longshot Brandy. More details on the complete lineup of Edgefield Spirits can be found here.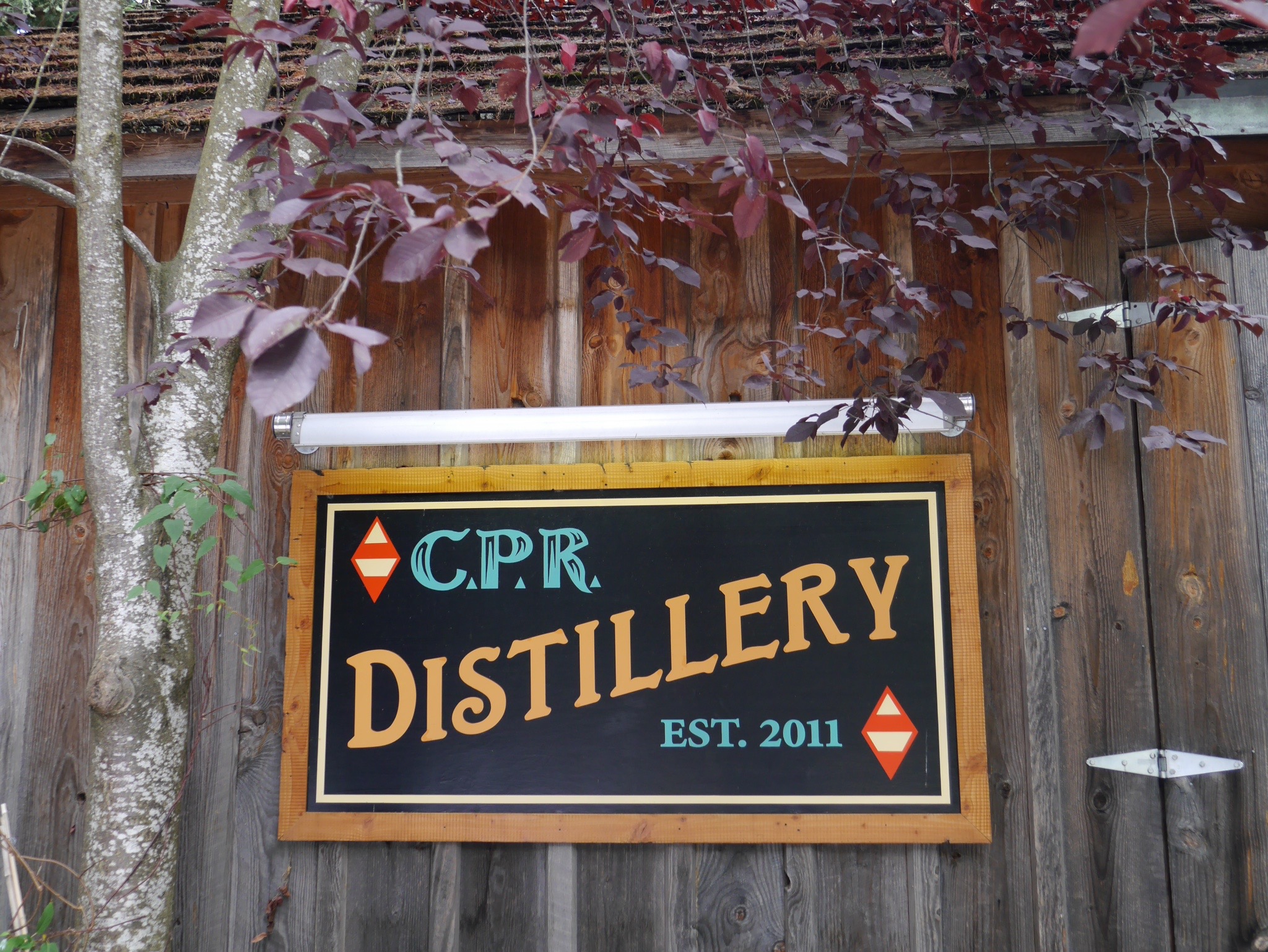 On the other side of the Portland metro area is the home of McMenamins second distillery located in Hillsboro at Cornelius Pass Roadhouse. McMenamins began distilling at CPR in 2011 in an old grain building that dates back to 1855. This building also happens to be the oldest agricultural building that is still standing in Washington County. From touring the facility it's amazing that the structure is still upright as there are many flaws in the facade including holes in the wall and seasonal leaks in the roof. Fortunately the roof swells in the winter months to keep it from leaking too much.
Longtime McMenamins employee Bart Hance leads the distilling operations at CPR and is assisted by Arthur Price. Hance began his career at McMenamins 26 years ago as what he calls a "utility brewer". During this tenure he has brewed for McMenamins at Hillsdale, Fulton Pub, Highland, Thompson, Edgefield, West Linn, Oak Hills and CPR. When Hance began his time brewing in Salem at Thompson Brewery & Public House, he was the first professional brewer in Salem since 1966.
The beauty inside the CPR Distillery is with its 100+ year old Alambic Charentais pot still that was originally built to distill cognac in France. Now all cleaned up, this 160 gallon still sits atop bricks that once called Crystal Hotel, Edgefield, and Kennedy School home. Though it was designed for cognac, Hance states, "l love its versatility."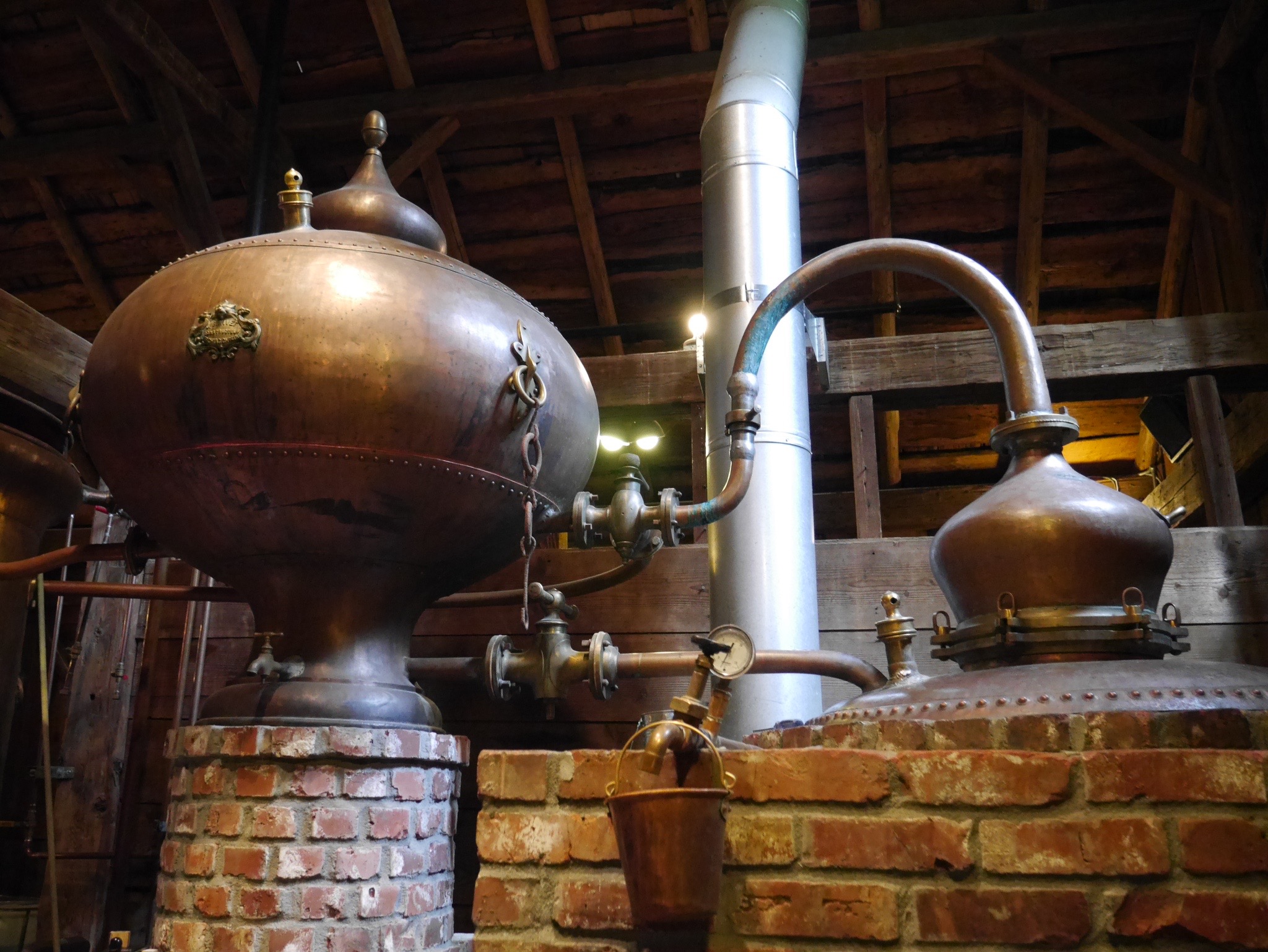 Just as is done at Edgefield, Hance brews up the mash that is used to distill its whiskey and gin, usually 280 gallons at a time. From the work of the distilling process during the course of four days this yields one barrel of spirit. Then a few of these barrels are aged on site at CPR while a majority of the spirits gets sent to Edgefield for aging. This however will soon change, as more barrel aging space will soon be added at CPR when its new rickhouse will be in operation by the end of the month.
The spirits distilled at CPR include Phil Hazelnut Liqueur, Billy Whiskey, White Owl Whiskey, Gables Gin, and its sole brandy offering Morning Dew. On April 1, CPR will release Frank High Proof Rum. More details on these spirits can be found here.
All of this hard labor from the distillers leads to its prized annual release, Devils Bit Whiskey. Released every year since 2007, this small batch whiskey sells out within hours after going on sale on St. Patrick's Day. "I don't see it lasting past four or five o'clock this year," stated McCool whom has seen the popularity of this release increase with each passing year.
For the 2016 release of Devils Bit, this year's is a blend of four year aged Hogshead Whiskey featuring a Hammerhead Ale grain bill that was aged in new charred American white oak barrels. But this is not where it ends as McMenamins does its own twist on Jameson Caskmates that was released last year. (Read our review here.) The Edgefield Distillery lent the previously used Hogshead Whiskey barrels back to the Edgefield Brewery to age a 2015 batch of Black Widow Porter in them. Once the beer was done aging the barrels were returned to the Distillery. From there the four-year aged Hogshead Whiskey returned to these barrels for an additional 6 months of aging.
Now the 2016 edition of Devils Bit Whiskey is just about ready to be unleashed at 92 proof. With an increased amount of bottles available, this year's Devils Bit will see 1600 bottles released on St. Patrick's Day. Each label designed by Lyle Hehn whom has designed all of McMenamins spirits labels except for Morning Dew that was designed by Myrna Yoder, features signatures from each of the distillers that made the 2016 release of Devils Bit possible. The label also takes a slight detour from year's past as the center of label has always seen a clover in the center. This year's label has had the clover replaced with the McMenamins Black Widow artwork.
So what happened to that 2015 Black Widow Porter that was aged in the four-year-old Hogshead Whiskey barrels? Look for this very limited barrel aged beer on St. Patrick's Day at McMenamins 23rd Avenue Bottle Shop.
Available at all 13 McMenamins locations that sells its spirits, Devils Bit will be go on sale Thursday, March 17, during normal retail hours. Devils Bit will cost $17.00 per 200 ml bottle with a two-bottle limit per person. Bottles of McMenamins Spirits can be purchased to go at the following McMenamins locations:
Edgefield Distillery / Gift Shop · Troutdale, OR
CPR Distillery / Imbrie Hall · Hillsboro, OR
Kennedy School Gift Shop · Portland, OR
Old St. Francis School · Bend, OR
Old Church & Pub · Wilsonville, OR
Grand Lodge · Forest Grove, OR
North Bank · Eugene, OR
Roseburg Station · Roseburg, OR
Hotel Oregon · McMinnville, OR
Lighthouse Pub · Lincoln City, OR
Gearhart Hotel · Gearhart, OR
23rd Avenue Bottle Shop · Portland, OR
Anderson School· Bothell, WA
Both the Edgefield Distillery and CPR Distillery are open for tours seven days per week. Its best to check the website for current tour times.