Celebrate Mardi Gras at Ecliptic Brewing for the release of Callisto Blackcurrant Tripel
|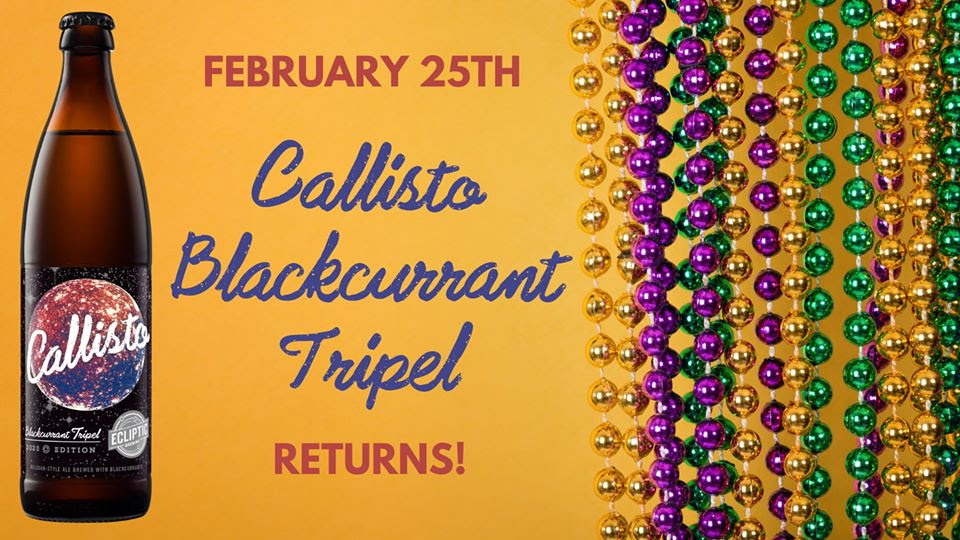 When Mardi Gras rolls around on Fat Tuesday next week, Ecliptic Brewing will host the release of its new Callisto Blackcurrant Tripel. In addition, Ecliptic's kitchen will be serving up a Shrimp and Andouille Gumbo Special all day long on Tuesday, February 25th from 11:00am-10:00pm.
Callisto Blackcurrant Tripel is named after the outermost of Jupiter's four Galilean moons, and the most heavily cratered object in our solar system. This 7.5% ABV golden Belgian-style ale features traditional flavors of a sweet tripel with the addition of tart blackcurrants. Callisto Blackcurrant Tripel will also be available in 500mL bottles.

Also taking place on Fat Tuesday just up the street from Ecliptic is the 2020 Portland Mardi Gras Parade held on Mississippi Avenue beginning at 6:00pm. This annual all ages, family friendly, free community parade celebrates Mardi Gras. The parade will be ending at Ecliptic Brewing, perfect for a post-parade pint! Visit their Facebook Page, 2020 Portland Mardi Gras Parade, for more information.
Ecliptic Brewing
825 N. Cook St.
Portland OR 97227