Gigantic Brewing Presents SNACKDOWN V The Return!
|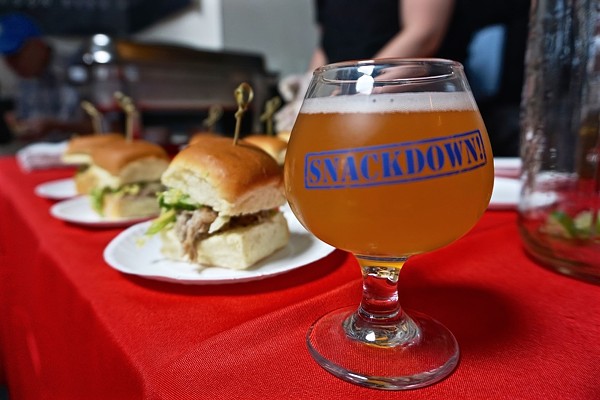 As part of the 2022 PDX Beer Week, Gigantic Brewing will once again bring together eight breweries and chefs for its annual beer and food pairing – SNACKDOWN V The Return!
Taking place at The Evergreen above Loyal Legion in Portland on Father's Day, Sunday June 19th, SNACKDOWN is an entertaining food and beer pairing event. It will bring together eight of Portland's best chefs and eight Oregon Brewers paired into eight Brewer/Chef teams to make their greatest snack and beer pairing. From 1:00-4:00pm, guests will choose their favorite pairing and the winners will be awarded the SNACKDOWN Belt!
SNACKDOWN is a different kind of beer and food pairing as each team pairs smaller bites for attendees to enjoy while DJ Rev Shines spins tunes. Organizers state that it's a "WWF style Smackdown with brewers and chefs hyping their pairing on the mic, all while sporting wrestling themed costumes".
"I'm so excited that Snackdown is back!" said SNACKDOWN organizer Ben Love from Gigantic Brewing, in a statement. "This event is the ultimate combination of amazing food, tasty beers, and ridiculous wrestling wackiness. It is so much fun!"
2022 Brewery & Chef Teams:
Gigantic Brewing + 28 Tigers
Beer: 50 Shades of IPA
Snack: "The Octagon" – Super Savory Dumpling of Scallop, Shrimp,
Chicken, Water Chestnut & Ginger. Drizzled with Secret Slam Sauce &
Wonton Crisps.
Great Notion Brewing + Woodblock Chocolate
Beer: Double Blueberry Shake
Snack: Malted vanilla ice cream, black walnut reduction, 70% liquid
cacao, and brined & toasted cacao nibs
Ecliptic Brewing + Electric Pizza
Beer: Flamingo Planet Guava Blonde Ale
Snack: Achiote + Citrus Marinated Pork Belly Slider with Pickled Red
Onion, Cabbage, Cilantro, Jalapeño & Lime
Baelic Brewing + Interurban
Beer: Dad Beer
Snack: Dry Aged New York Strip & Bacon Bolognese, Spaghetti Noodle &
American Cheese All Inside a Egg Roll! Served with Green Garlic Marinara
Dipper
Steeplejack Brewing + Loyal Legion
Beer: Tepache inspired Kolsch-style ale, conditioned with Pineapple and
Cinnamon
Snack: Two artfully spiced meatballs on a skewer, with a delectable
pineapple sauce
Breakside Brewery + Sebastiano's
Beer: Bellwether Double Wit Ale – Gin Barrel Aged, Lime Leaf, Coriander,
Orange Peel, Chamomile
Snack: Toasted Sesame & Fennel Seed Brioche, Prosciutto di Parma, Washed
rind Buffalo Cheese, Churned Butter, Trapani Sea Salt & Fresh Herb
Threshold Brewing & Blending + Stammtisch
Beer: Life Forms – Mixed Culture Farmhouse Ale Aged in Gin Barrels
Snack: Guava Beer-Braised Geschmorter Schweinebauch on fried wonton,
green chili sauce, toasted coconut, crispy shallot, gherkin, peanut, and
cilantro
Von Ebert Brewing + Pizza Thief
Beer: Räuch Marzen
Snack: Beef Birria Torta with Pozole Au Jus
Tickets are now on sale at $49 ($52.89 after fees) and includes all 8 small plates and 8 x 5oz beer pours, plus a collectible glass. Proceeds after expenses will go to the family of the late Ryan Buxton, the Head Brewer at Ex Novo Brewing. Tickets can be purchased by clicking here!
The Evergreen
618 SE Alder St,
Portland, OR 97214