Mt. Hood Meadows 2019 Summer Brew Fest & Brewers Dinner
|
The upcoming 4th of July Weekend will be hopping up on Mt. Hood as Mt. Hood Meadows presents its 2019 Summer Brew Fest and Brewers Dinner. Taking place on Saturday, July 6th, the 2019 Summer Brew Fest will take place on the Mt. Hood from 2:00-6:00pm and will be followed up with its 2019 Summer Brewers Dinner beginning at 6:00pm.
Enjoy locally crafted beers while taking in the beautiful views of Mt. Hood at Mt. Hood Meadows 3rd Annual Summer Brew Fest. This family friendly event will include games for the kids, scenic chair rides, live music, hiking for the whole family and great food for everyone. Purchase online in advance for $14 or $16 at the door – includes 4 drink tokens and a Meadows logoed mug. Make the day a Total Experience for $79 and receive entry into the Brew Fest, the Brewer's Dinner featuring Double Mountain (details below) and a scenic chair ride ticket.
Here's a preview of the breweries and cidery pouring at the 2019 Summer Brew Fest.
Summer Brew Fest Brewery List:
Backwoods Brewing
Double Mountain Brewery
Everybody's Brewing
Full Sail Brewing
pFriem Family Brewers
Slopeswell Cider Company
Widmer Brothers Brewing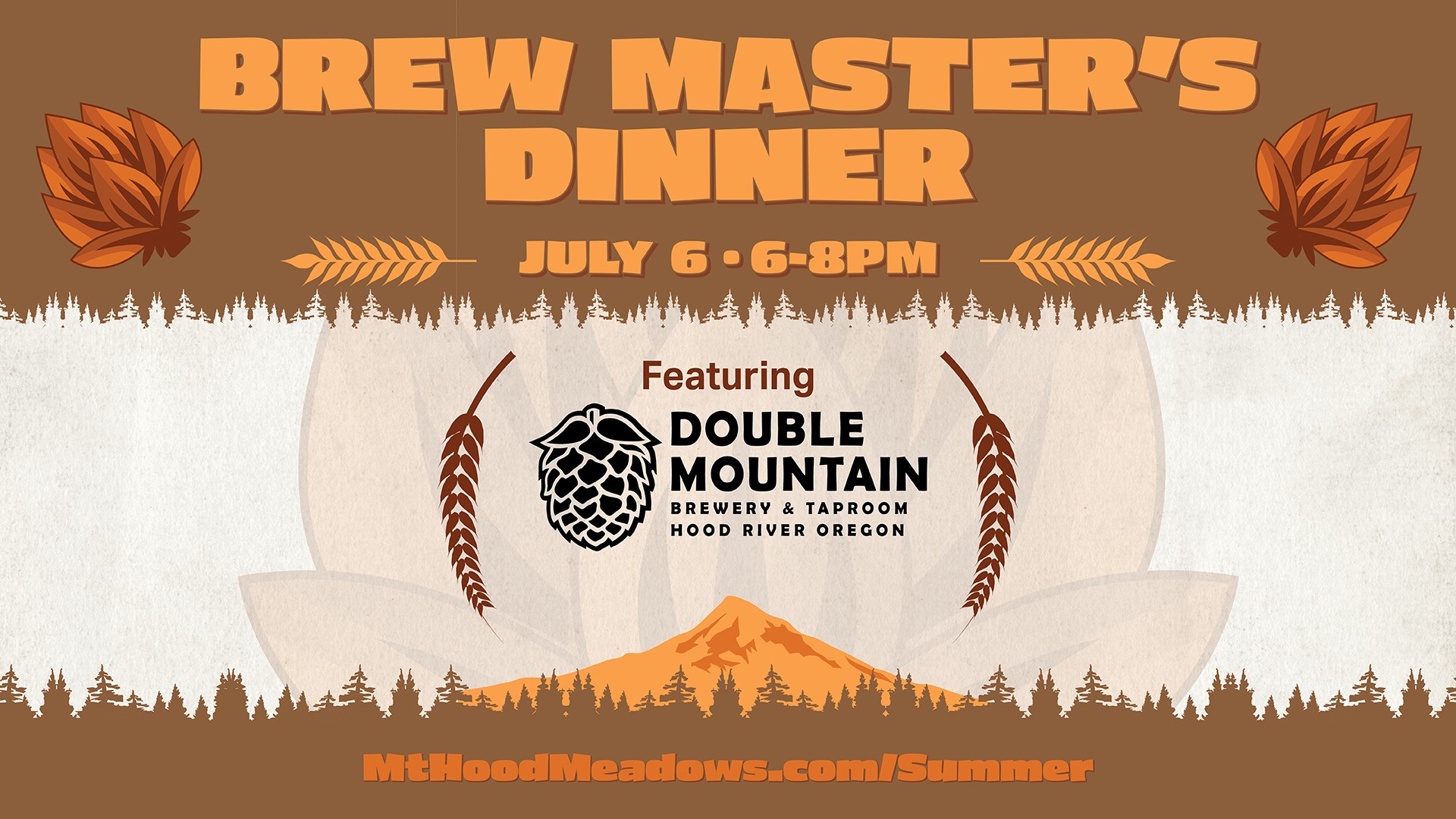 To complement the Summer Brew Fest, Mt. Hood Meadows will also be hosting a Brewers Dinner featuring Double Mountain Brewery. Come enjoy a summery, five-course feast prepared by Executive Chef Matthew Grimsley. The dinner will go from 6:00-8:00pm and will cost is $65, gratuity included.
Here's a preview of the 2019 Summer Brewers Dinner.
Double Mountain Beer Dinner Menu:
Smoked Duck Confit – cherry Walla Walla grits, Kolsch glazed pistachio, racelette
Paired with Devil's Kriek Belgian Sour
Summer Grill Salad – grilled peach, basil, hydroponic bibb, sweet corn, poblano, pop, hop blossom vinaigrette
Paired with Yakuza Japanese Lager
Campfire Beans – charred linguisa, butter, pinto, fava, cornbread crisp, IRA bacon-pear butter, smoked pepper
Paired with Cool Camp IPA
Braised Short Ribs – heirloom tomato risotto, brussles, Black Irish Stout BBQ, hopped onions
Paired with Arkansas Black Cider
Strawberry Rhubarb Crisp – dry cider ice cream, crisp butter crumb topping
Paired with Peche Mode
To purchase tickets to any of these events please click here to learn more.
Mt. Hood Meadows
14040 Oregon 35
Mt Hood, OR 97041