Lagers, Belgians, bikes, bacon and more: beer events for the week of December 11
|
Happy Pilz Release
4 p.m. Friday Dec. 11, Migration Brewing, 2828 N.E. Glisan St.;
Join the Migration crew for the annual release of their limited edition crisp pilsner, Happy Pilz.
Fourth Annual Humbug Lager Fest
Noon -10 p.m. Saturday, Dec. 12, Occidental Brewing Co., 6695 N. Baltimore St., St. Johns; free admission, 21 & over only.
Dunno about you, but right around the darkest days, I get a hankering for some lighter beer – lagers, please – which is why this little fest is one of my favorites. It features Occidentals fine lagers plus beers from Heater Allen, Oakshire, the Commons, Widmer, Breakside and several other favorites, plus food from Urban German.
Uptown Market Fourth Anniversary
2 p.m. – close Saturday, Dec. 12, Uptown Market, 6620 S.W. Scholls Fy. Rd.;
Uptown celebrates four years with food specials from the food carts, live music, brewery guest tastings and the debut of their 2015 winter seasonal, Beeracle off 92nd Street.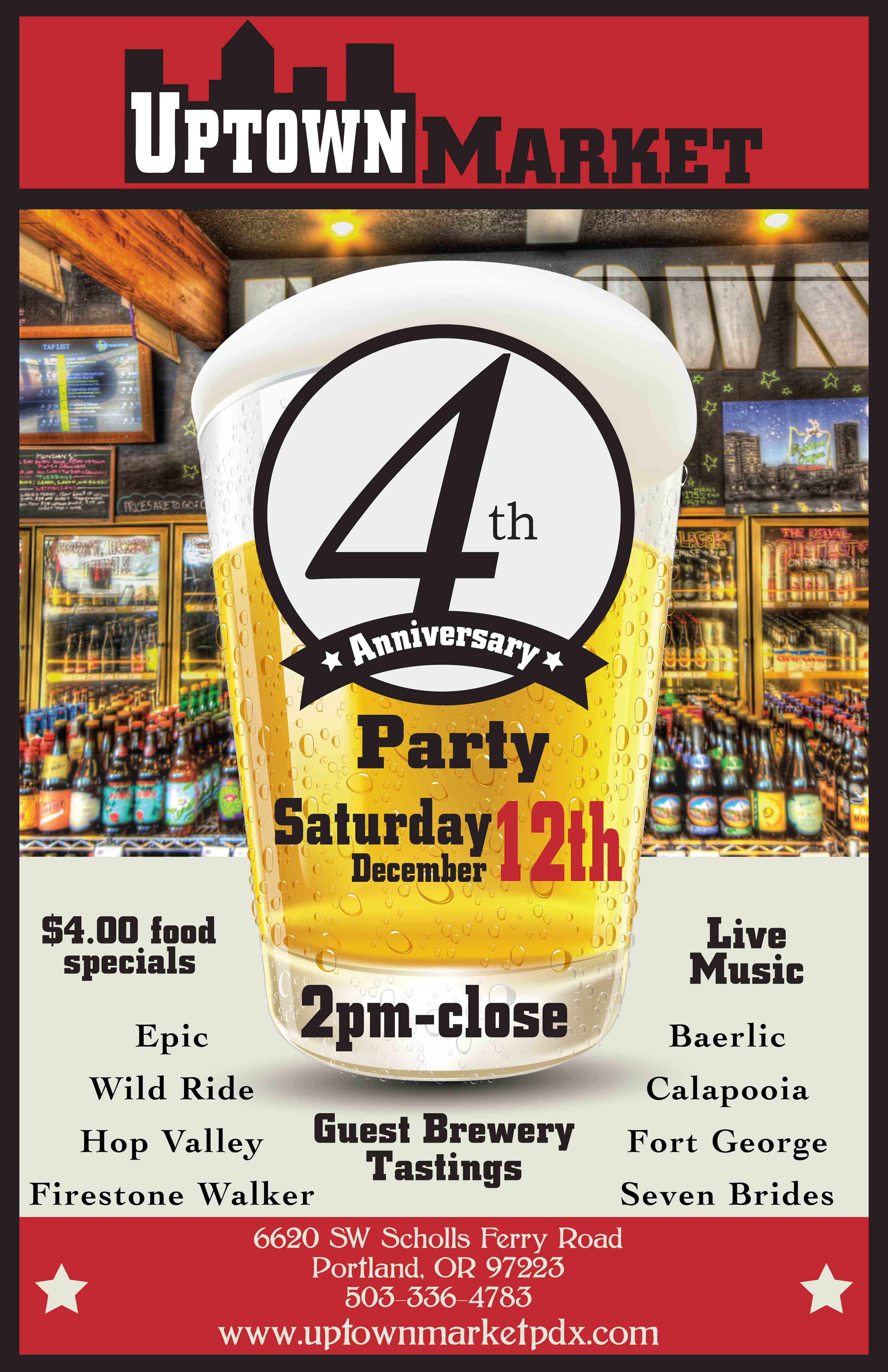 El Borracho Pop-Up
6-9 p.m. Saturday Dec. 12, NW IPA, 6350 S.E. Foster Rd.;
N-Dubs celebrates the Feast of the Virgin Guadalupe by serving traditional Mexican fare with a twist. Menu features Ensalada de Noche Buena, Pozole Rojo with Braised Bacon, Tamale de Mole Poblano and Rompope Popsicle with Coffee Abraxas.
Big 500 Art Show Opening
2-9 p.m. Saturday Dec. 12, Peoples Art of Portland, 700 S.W. Fifth Ave., Ste 4005;
The Big 500 Show sounds like the perfect place to do some holiday shopping. It featuire 5000+ Pieces of art from more than 500 artists and all pieces are $40 ea. Opening day will be crowded, but the show runs through Jan 10, 2016.
Breakside Bike Ride/Beer Release
10 a.m. bike ride, 1 p.m. party, Saturday Dec. 12, Velo Cult, 1969 N.E. 42nd Ave.;
Work up a thirst for three new Breakside beers, including two brand new coffee brews, by taking taking a leisurely bike ride over to the Breakside location on Dekum for a pit stop. After a beer and a snack, they are riding back to Velo Cult for live music with Bullets and Belles at 1pm. Come for some, part or all…
21 Days of Festivus
Continues through Thursday Dec. 19, Imperial Bottle Shop, 3090 S.E. Hawthorne Blvd.;
Imperial thanks its customers with three weeks of daily giveaways on their Facebook page with the grand prize being a growler-a-week for all of 2016. They're also tapping special holiday beers throughout, such as Fremont Brewing's Bourbon Abominable, Anchor's Our Barrel, and Stone's Xocoveza.
Free Bacon Night Featuring Proletariat Butchery
6-10 p.m. Monday Dec. 14, Saraveza, 1004 N. Killingsworth St.;
Free Bacon Night features Proletariat Butchery and owner Zeph will be in house cooking up some of his finest for you to try – the Saravezans will be offering free bacon, free sausage and guanciale as well: get your choice of meat with the purchase of any draft beer.
The Dark Side of Baerlic
5-7 p.m. Monday, Dec. 14, Belmont Station, 4500 S.E. Stark St.;
Baerlic Ben and Rick release — for the first time outside their brewery — bottles of the newest beer in their WoodWorker barrel-aged bottle series, Woodworker Iniquitous Bourbon Barrel-Aged Imperial Stout. This Kentucky bourbon barrel-aged version of Baerlic's Iniquitous Imperial Stout is an amped-up – 8.5 percent – version of the brewery's year-round Noble Oatmeal Stout aged for six months in Elijah Craig barrels. In addition to the bottles available in the store, they'll also be pouring Thunderbolt Imperial Porter and their Hotfoot Smoked Caramel Imperial Porter in the tap room.
Merchant du Vin Annual Holiday Bazoodily Bop & Meet the Monks
5-8 p.m. Tuesday, Dec. 15, Belmont Station, 4500 S.E. Stark St.;
The annual holiday extravaganza featuring Merchant du Vin's fine imports focuses this year on their "monk" beers: Trappist beers Orval, Rochefort 8, Westmalle Dubbel and Westmalle Tripel, as well as sandwich samples from our new on-site food cart, Monk's Deli and some other fun stuff in the works.
Almanac/Cheese Bar Pairing & Tap Takeover
6 p.m. Tuesday Dec. 15, The Upper Lip, 720 S.W. Ankeny St.; $25.
The Upper Lip's beer, cheese and charcuterie pairing features six paired offerings from Cheese Bar and San Francisco's Almanac Beer Co. Six pours of Almanac Beer will be offered and discussed by Almanac Sales Manager Ryane Mooney. Cheese and meat pairing details from Steve Jones of Cheese Bar will also be available. Almanac Beers on Tap:
Saison Dolores – Dry hopped Saison, 6.8 percent
Ginger Gose – 5 percent
IPA – West Coast IPA, 7.5 percent
Horchata Almond Milk Stout – 6.5 percent
Saison de Brettaville – Dry hopped Saison w/Brettanomyces, 7.2 percent
Farmer's Reserve Blueberry – Wine barrel aged Sour Ale, w/ blueberries, 7 percent
Affligem Tasting Seminar
7 p.m. Thursday, Dec. 17 Portland, Bazi Bierbrasserie, 1522 SE 32nd Ave.; $24 inclusive.
Affligem has been brewing outstanding abbey beers in Belgium for nearly ten centuries. The beers are still brewed according to the monks' strict traditions of purity and craftsmanship, maintaining Old World quality and complex flavors for which they're renowned. Sign up to learn the history of the brewery all while sampling four of their beers – Blonde, Dubbel, Noel and Cuvee. The official Affligem Tasting Tray will be used as part of the seminar. Each beer pour will consist of 1-12 oz pour (Blonde) and 3-5 oz pours (Dubbel, Noel and Cuvee) and attendees will be able to take the tasting tray and glassware home.
Winter Sip n Shop
4-7 p.m. Thursday, Dec. 17, Katie O'Briens, 2809 N.E. Sandy Blvd.
Katie O'Briens opens up half of the bar to local craftsmen for a holiday bazaar with drinks. Look for original art, jewelry, clothing and more from quality local artists.