Dark Days Call For Big Beers – The Beer Here for the Week of November 1, 2018
|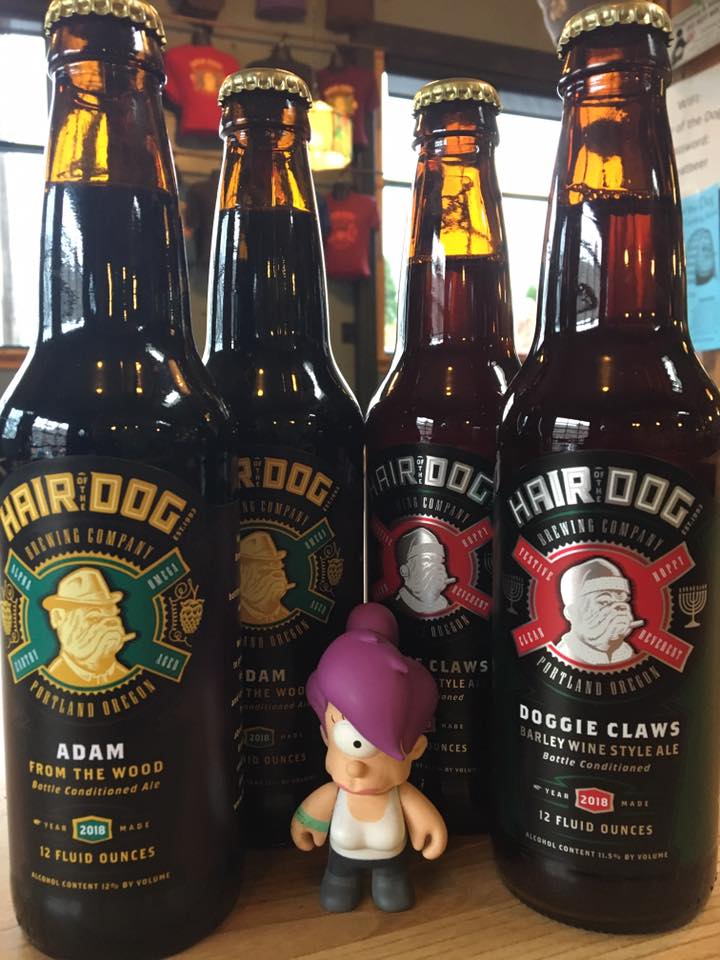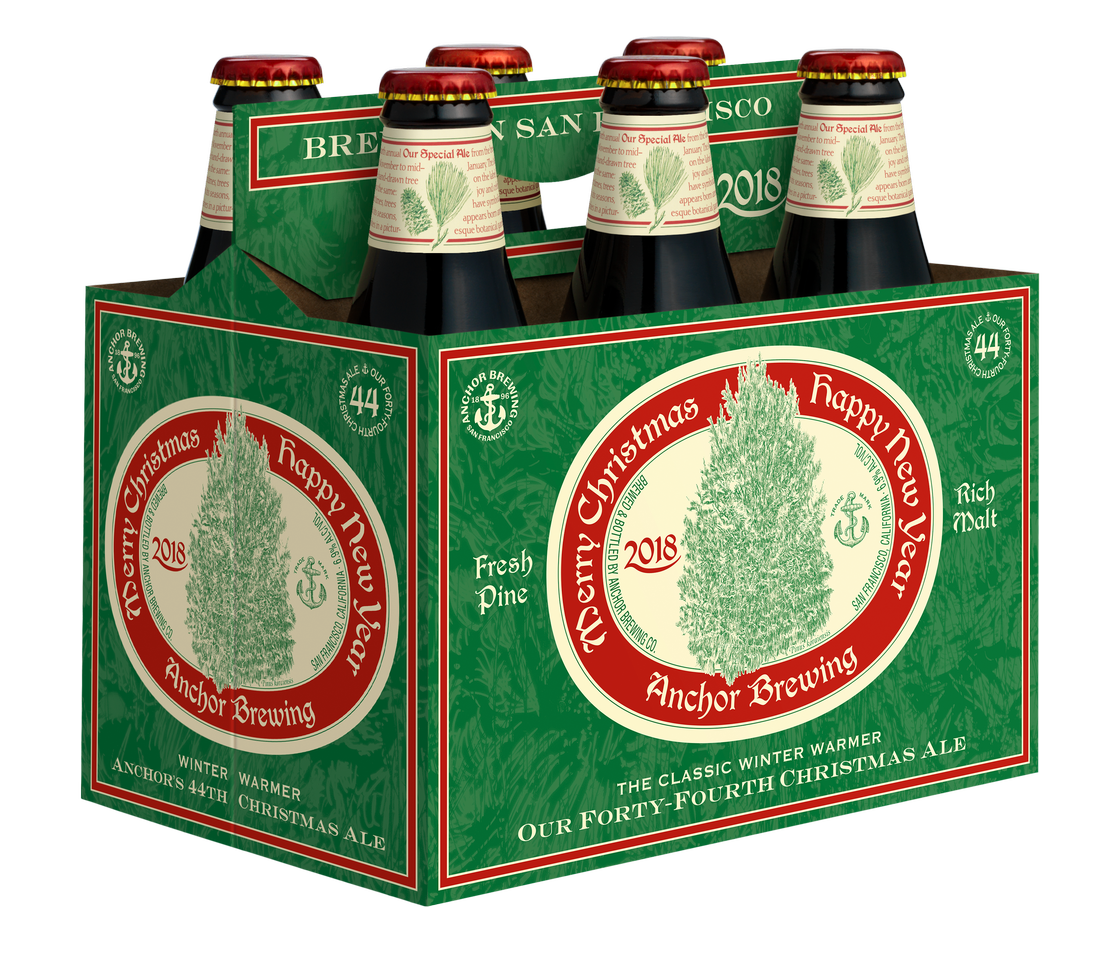 With the release of Baerlic Woodworker Collusion Imperial stouts, Montavilla's Enforcer stout, Deschutes Abyss coming out next week, Anchor releasing its 44th (!) consecutive Anchor Christmas Ale in 6-packs and a gold-foiled 51-oz. magnum and Alan Sprints now selling this year's editions of Hair of the Dog's much loved Doggie Claws and Adam From the Wood by the bottle and the case at the brewery, the big beers of 2018 and 2019 are upon us…
and some notable smaller beers too: Widmer Brothers teamed up with Lyft on a limited-release beer, Closing Time IPA, a sessionable IPA in 16-ounce cans at select bars and taverns across the Portland metro area. Each can of includes a unique Lyft promo code printed directly on the label that offers up to 50 percent off a single ride to encourage partygoers to drink responsibly and get home safely at the end of the night.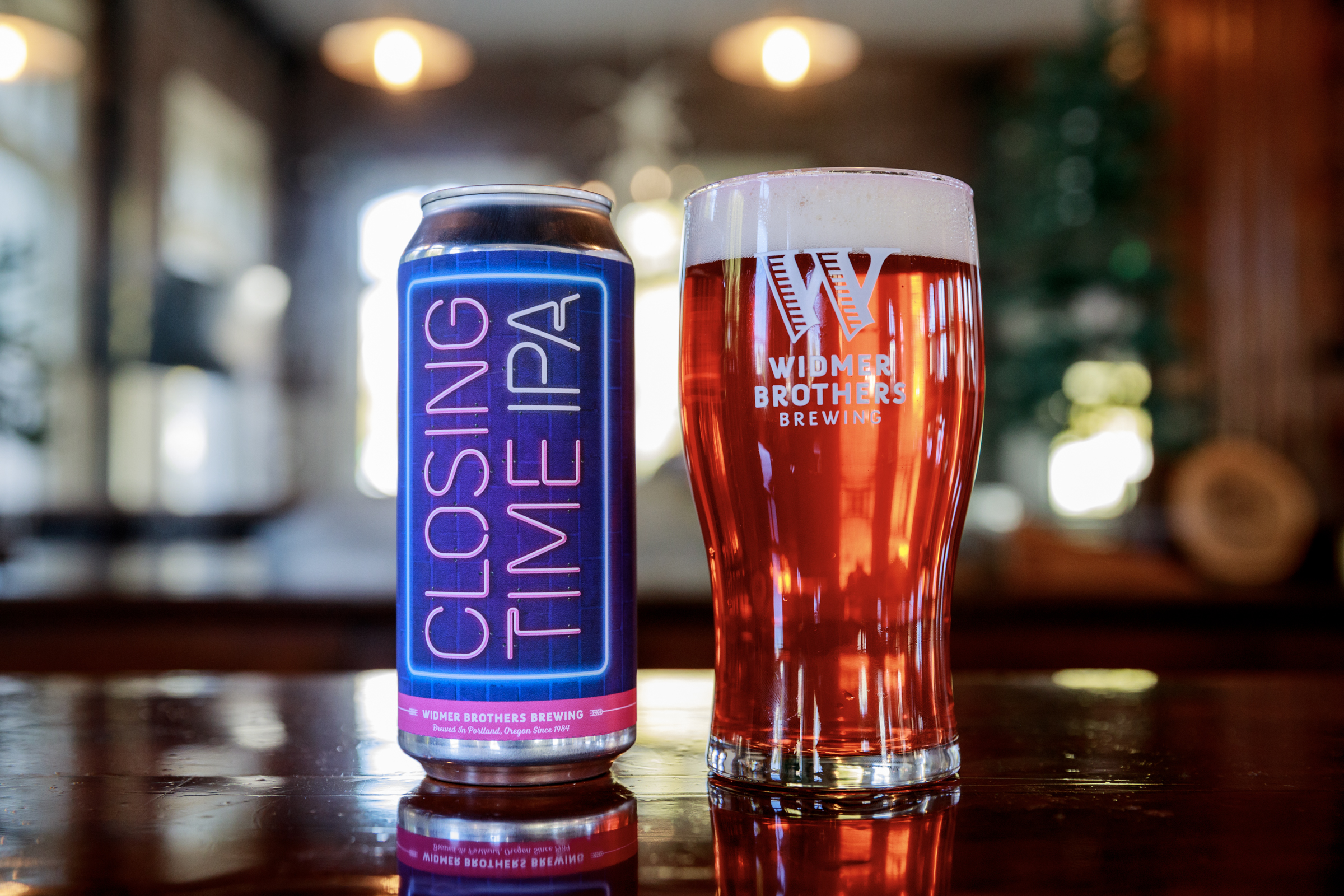 Closing Time IPA is a session IPA (under 5 percent ABV) brewed with experimental cold-pressed hops and hibiscus flowers, which gives the brew a pale pink hue reminiscent of Lyft's signature logo. Widmer Brothers brewed only 75 cases of Closing Time IPA, which is available at the Widmer Pub and select bars around Portland while it lasts.
International Stout Day Tasting
3-9 pm Thursday Nov. 1, Montavilla Brew Works, 7805 SE Stark St
Michael and the MBW crew celebrate International Stout Day with a very special tasting event: Taster flights* of the following three beers will be available for just $7:
"The Enforcer" Imperial Stout
"Buffalo Trace Bourbon Barrel-aged Enforcer" Bourbon Barrel-aged Imperial Stout brewed in collaboration with Vintage Cocktail Lounge
…and as a bonus, they're pulling out samples of our now ONE YEAR OLD "Ben's Barleywine" Barrel-aged and Blended Barleywine. (No growler fills on Barrel-aged beers, Ben's Barleywine 16.9 oz bottles to-go for $10 each or a case of 12 bottles for $100.)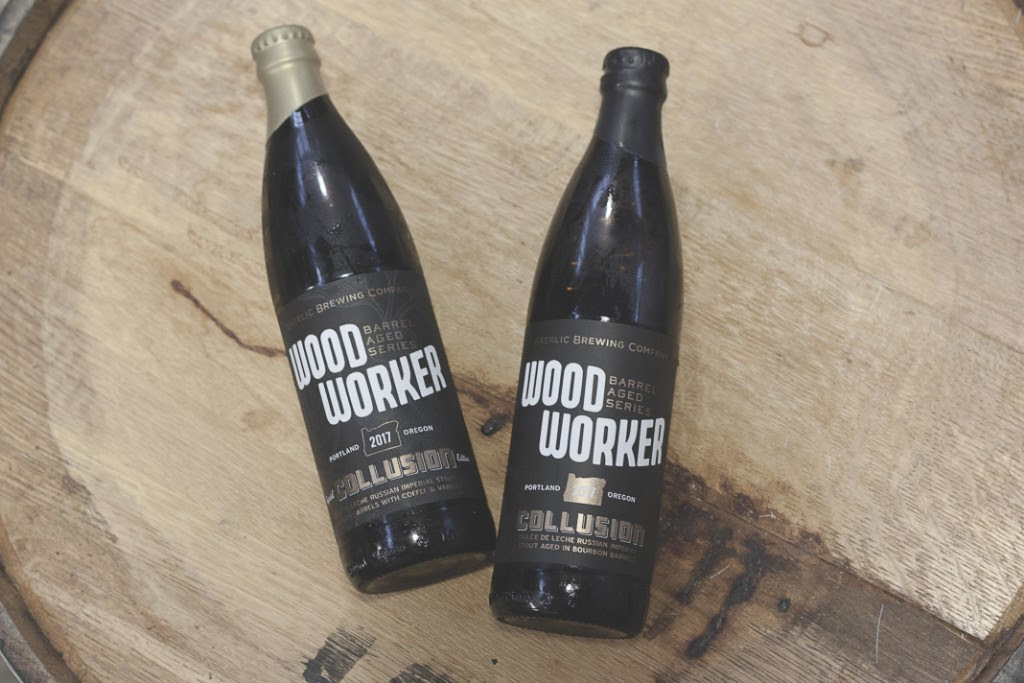 2x WoodWorker Collusion 2017 Bottle Releases
4 pm Thursday Nov 1, Baerlic Brewery & Taproom, 2235 SE 11th ave.;
The Baerlic guys have been busy and they've got two new big, bad stouts to show for their effort: Bourbon Barrel Aged Dulce de Leche Russian Imperial Stout AND Bourbon Barrel Aged Dulce de Leche Russian Imperial Stout Coffee + Vanilla. Here are the deets from the press release: We're releasing two different barrel aged versions of our Dulce de Leche Russian Imperial Stout just in time for the midterm elections—perfectly suited for celebrating or wallowing alike, as long as we're all dedicated to getting to the bottom of this whole collusion thing together.
BREWED WITH 120 POUNDS OF HOUSE MADE DULCE de LECHE
Thanks to a binge in the depths of the internet in 2017, we discovered the simple process of making the most delicious and gooey-est Dulce de Leche around—made by boiling unopened cans of sweetened condensed milk for 4+ hours until the sugars have caramelized.
After brewing and releasing a limited run of bottles and draft of in 2017, we laid the rest down in a blend of freshly emptied Old Weller Bourbon Barrels and a few second use Elijah Craig 12 Year Bourbon Barrels.
1) WoodWorker Collusion BBA Russian Imperial Stout
2) WoodWorker Collusion BBA Russian Imperial Stout with Coffee + Vanilla
WoodWorker Series also releases at Baerlic's Northeast Portland Beerhall at The Barley Pod Monday noon, Nov. 5.
Also available at select Portland are bottle shops, New Seasons and Market of Choice stores soon.
Migration/Oregon Humane Society Dine Out Night
5-8 pm, Thursday Nov. 1, Migration Brewing, 2828 NE Glisan St.;
Be the first to try our limited edition 150th year commemorative Oregon Humane Society brew and anyone who purchases a pint of the special OHS beer will get a ticket to enter the OHS drawing. In addition, 10% of proceeds from all sales during the event will be donated to OHS (including t-shirts). Dogs are welcome on the patio.
Founders CBS Release & 'Days of Darkness' Kickoff Party
5-8 pm Friday Nov. 2, Belmont Station, 4500 SE Stark St.;
As the clocks fall back to standard time, the Station crew is going to The Dark Side with special drafts of imperial stouts starting on Nov. 2 and running through Nov. 7 — the Days of Darkness. Founders helps kick it all off with the annual release of Canadian Breakfast Stout on draft and in 750 ml bottles to take home. Here's what we will be pouring in the Biercafe this night:
Founders Canadian Breakfast Stout 2017
Founders Canadian Breakfast Stout 2018
Founders Breakfast Stout 2017 & 2018.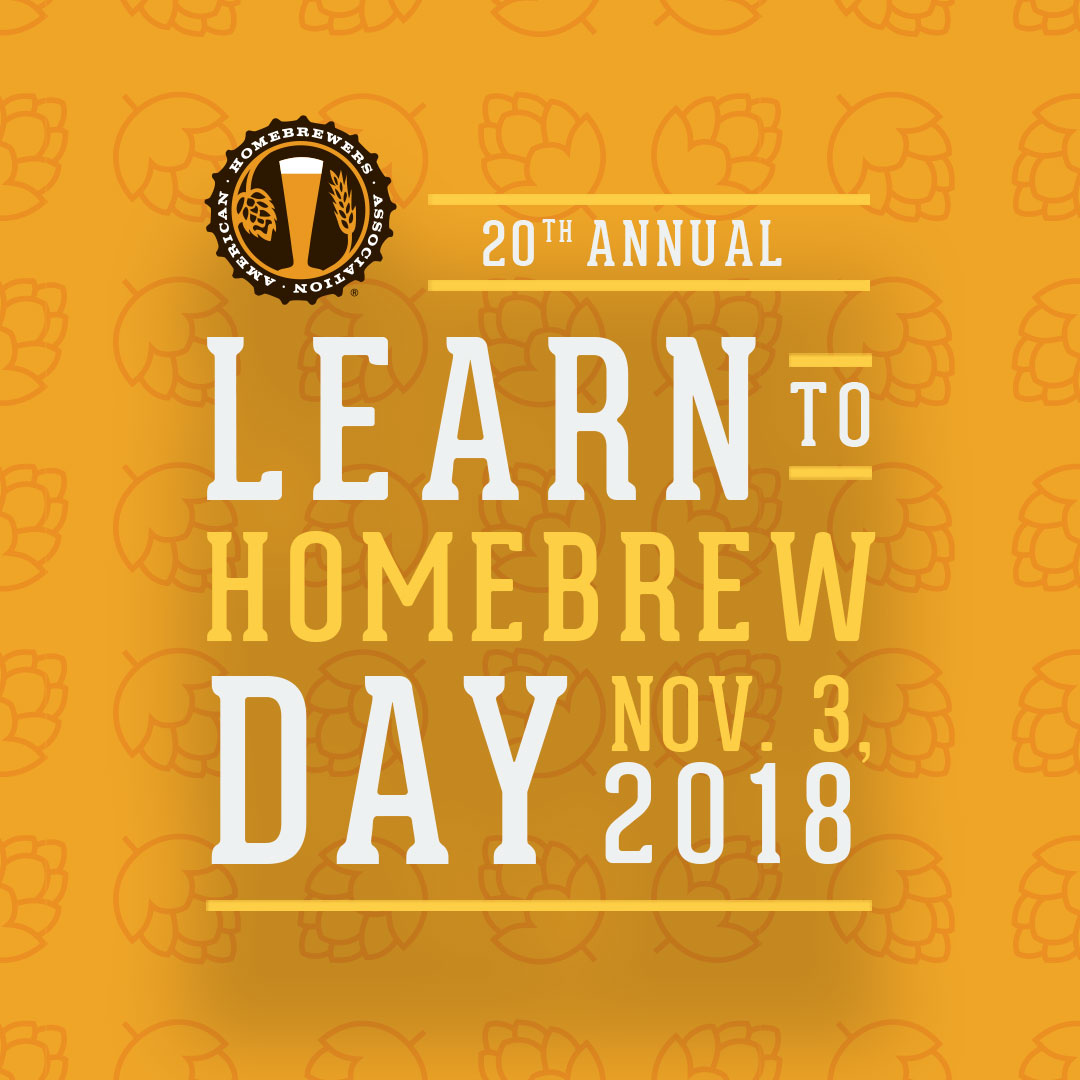 20th Annual Learn to Homebrew Day
Saturday Nov. 3, FH Steinbart and many local homebrew supply shops;
If you've ever wanted to brew your own beer, Saturday is the day to start: The American Homebrewers Association hosts the 20th Annual Learn to Homebrew Day, an opportunity for homebrewers to draft their non-brewer friends and family to learn how to make beer at home. Hundreds of lively, educational events are held at homes, breweries, shops and clubs worldwide. Over 300 local celebrations and more than 4,000 participants are expected for this year's celebration both in the U.S. and abroad. Me? I'd head over to FH Steinbart on Southeast 12th Ave. where they just celebrated their first century in business…they're like doing something right!
The AHA offers resources to help people of all skill levels begin brewing. Among them is Brew Guru®, a free mobile app which delivers money-saving deals on beer, food and homebrew supplies, plus the finest homebrew recipes on the planet.
Sixth Annual Boone's Ferry Autumn Ale & Cider Fest
11 am – 10 pm Saturday Nov, 3, McMenamins Wilsonville Old Church & Pub; $22 includes Tasting Glass & 12 Tokens. All ages; 21+ to drink,
The McMenamins Wilsonville crew is back for the sixth year with more than 20 different beers and ciders that are perfect for the season. Help choose the best beer or cider of the bunch, whose maker will be awarded the famed Boone's Ferryman oar trophy. Participating Breweries include Ancestry, Bent Shovel, Breakside Brewery, Cornelius Pass Roadhouse, Culmination, Edgefield, Fort George, Level Beer, pFriem Family Brewers, SunRiver, Wayfinder Beer and several more, plus ciders from Anthem Cider, AVID, Bauman's, Edgefield Cider, Portland Cider Co. and Nectar Creek Mead. Also: food specials including BBQ Pork Sandwich, Roast Pig Platter and Terminator Sausage Sandwich…
Events:
Brewery Tours: 1 – 5 pm
Spirit + Wine Tasting: 2 – 6 pm
Live Music:
Garcia Birthday Band: 7 – 10 pm
History Presentations:
Walt Morey: Oregon Author: 11 am
Women in Brewing: A Discussion with McMenamins Employees: 1- 2:30 pm with audience Q&A
Friends of Trees Tuesdays at Brewkside Slabtown
11am – close every Tuesday in November, Breakside Brewery, 1570 NW 22nd Ave.;
Breakside Brewery will be supporting the work of Oregon nonprofit organization, Friends of Trees, at its Slabtown location. Each Tuesday during November, the brewery will be donating a portion of proceeds and hosting a representative to share the group's mission with visitors. Founded in 1989, Friends of Trees is committed to inspiring people to improve the natural world by planting trees together. Today, the organization is a nationally recognized, regional leader in improving the urban tree canopy and restoring sensitive natural areas—through programs delivered by thousands of volunteers. Those who attend all four Tuesdays can receive a stamp on a special Breakside fundraiser card and enter to win prizes at the close of November.
Scott Fogarty, executive director for Friends of Trees said, "We are thrilled with our Breakside partnership which will help green our region. This is critical to fighting climate change, cooling the planet, and cleaning our air and water. It's this sort of community partnership that makes it possible for Friends of Trees to engage more than 6,000 volunteers to plant 50,000+ trees in our region every year."