2018 Portland Fruit Beer Festival Beer & Cider List
|
Since 2011 the Portland Fruit Beer Festival has been assembling some of the largest selection of fruit beers anywhere to be found. When the eighth edtion of the festival returns to Burnside Brewing from June 8-10, 2018, it will serve up 25 fruit forward beers and 6 ciders.
There are two entry options into the 2018 Portland Fruit Beer Festival. Admission with a plastic Govino cup and 12 drink tickets is $20.00 ($22.09 after fees). Admission with a branded glass and 12 drink tickets is $25.00 ($27.40 after fees). Advance tickets can be purchased by clicking HERE.
Here's a rundowon on the 30+ beverages pouring during the three day run of the 8th annual Portland Fruit Beer Festival.
BEER LIST:
Allegory Brewing – Sunshine Slammer
Fruits used: Passionfruit, Blood Orange, Pink Guava
Description: Lacto Sour with Passionfruit, Blood Orange and Pink Guava
ABV: 5.2%
Breakside Brewery – Caribbean Vacation
Fruits used: Orange, Tangerine
Description: Inspired by the flavors of Caribbean cuisine: citrus, chile, nuts. We've created this golden pastry ale with orange and tangerine zest, toasted almonds, and a little fire from aji amarillo chilies.
ABV: 6.2%
Buoy Beer Company – Saison de Gewürtz
Fruits used: Gewürztraminer Grapes
Description: A light, earthy saison brewed with Buckwheat. Aged for five months in Willamette Valley Pinot Noir barrels on blend of house cultures and then spiked with Oregon-grown Gewürztraminer juice. Notes of pineapple, mango and, well, grape juice.
ABV: 4.9%
Burnside Brewing – Lem and Ada
Fruits used: Strawberry Lemon Gose
Description: A slightly tart Gose style ale with strawberries, lemon zest and a cold side infusion of lemon aid
ABV: 5.2%
Claim 52 Brewing – Skrrrrrt
Fruits used: Pineapple, Passionfruit
Description: Puree Gose brewed with coriander and Oregon sea salt. Conditioned on 840 pounds of pineapple and passion-fruit puree.
ABV: 4.2
Culmination Brewing Co. – Sun Rey Tea Radler
Adjuncts Usesd: Lime, Ginger, Black Tea
Description: Our twist on a radler, Sun Rey, is a kettle sour based that is fermented with ginger and lime and then blended with a house soda made from Jasmine Pearl Tea Company's Black Tea for a tart and refreshing summer beverage.
ABV: 4.5%
Deschutes Brewery – Sop Trop & Kolsch
Fruits used: Soursop & Tangerine
Description: If you're looking for light and refreshing… you found it. Crisp and clean with a light body and subtle bready notes from Bohemian Pilsner malt. Conditioned on Soursop and Tangerine puree offering notes of strawberry and pineapple with a hint of tartness.
ABV: 4.8% IBU 25
Ex Novo Brewing – Cactus Wins the Lottery
Style: Berliner Weisse Style beer
Description: A sour Berliner Style Weisse beer, fermented with Prickly Pear Cactus fruit. Notes of puckering melon, extremely refreshing.
ABV: 4.2% ABV IBU: 8
54° 40′ Brewing Co. & Grains of Wrath Collaboration – Brass Monkey
Fruits used: Oranges
Description: Drink Brass Monkey, here's how you feel
You put your left leg down, your right leg up
Tilt your head back, let's finish the cup!
ABV: 7.7%
Fort George Brewery – I Apricot Wait IPA
Fruits used: Apricot
Description: A classic IPA with a twist of sweet apricot to balance the bitterness. I cannot wait for Fruit Beer Festival to try I Apricot Wait IPA.
ABV: 6.7%
Gigantic Brewing – Gigantic & Juice
Fruits used: pineapple, tangerine, grapefruit
Description: Gigantic IPA kicked up to the juiciest heights with pineapple, tangerine, grapefruit.
ABV: 6.3
Great Notion Brewing – Blueberry Muffin
Fruits used: Blueberry
Description: This art and whimsical blueberry treat will remind you of your family's freshly baked blueberry muffins!
ABV: 6%
Hopworks Urban Brewery – Strawberry Milkshake IPA
Fruits used: Strawberry
Description: We blended berry-forward Australian hops with tropical Pacific NW hops for this fruity Milkshake IPA. We added lactose and apple pectin for added texture and we conditioned the beer on a mountain of strawberries. No brain freeze here, but this is certainly an ice cream dream come true.
ABV: 7.4%
Level Beer: Lemon Meringue Pie
Fruits used: N/A
Description: N/A
ABV: N/A
Lompoc Brewing – Cacao Cream Ale
Fruits used: Cacao
Description: Brewed in collaboration with Repurposed Pod and Portland Fruit Fest. This Cream Ale has cacao juice added at the end of fermentation and aged on cacao nibs in the brite tank.
5.0% ABV
Migration Brewing Co.- Manhattan Transfer
Fruits used: Sweet and tart cherries
Description: A Manhattan cocktail beer! Fermented entirely in freshly emptied rye whiskey barrels, heaps of sour and tart cherry were added along with vermouth-infused oak and botanicals to round out this classic cocktail beer.
ABV: 7.9%
Modern Times Beer – Nectarnomicon
Fruits used: Apricot and Coconut
Description: This kettle soured miracle was packed w/ ridiculous amounts of apricot puree as well as coconut flakes & Madagascar vanilla bean.
ABV: 3.6%
Montavilla Brew Works – Black Cherry Porter
Fruits used: Black Cherry Juice
Description: Bittersweet Chocolate Devil's food cake meets Dark Cherry compote in a glass.
6.4% ABV
pFriem Family Brewers – Hazy Peach Pale
Fruits used: White Peach Puree
Description: A New England Style Pale Ale brewed with White Peach
ABV: 6.4%
Reuben's Brews – Razzmatazz Raspberry Berliner Weisse
Fruits used: Raspberry
Description: A Berliner Weisse style beer fermented with raspberries. Crisp, refreshing, tart and balanced.
ABV: 3.2%
Ruse Brewing – Invisible Machine
Description: Invisible Machine is an Extra Pale Brut IPA brewed with Pinot Gris grapes and dry hopped with a bountiful amount of Mosaic.
ABV: 6.2%
StormBreaker Brewing – When I Froot, I Froot For The…
Fruits used: Dragon Fruit, Buddah's Hand, Strawberry, and Guava
Description: Our fruit beer rotator series is a Mosaic and Galaxy Dry Hopped Blonde Ale. Strawberry and Guava was generously added during fermentation, while Dragon fruit and Buddah's Hand was added after, seamlessly complimenting the rich, bright tropical notes of the hop profile. Game Day? Match Day? This beer is for any and all days!
ABV: 5.2%
Sunriver Brewing – Pineapple Haze
Fruits used: Pineapple
Description: This New England style IPA combines barley, malted wheat and flaked oats with an abundance of juicy hops in hazy perfection. We then added over 80 pounds of pineapple puree for some tropical fruit complexity.
Von Ebert Brewing – Starcloud
Fruits Used: Starfruit
Description: Hazy IPA with Starfruit
ABV: 7.1%
Widmer Brothers Brewing Company – Strawbarbaric IRA
Fruits used: Strawberries, Rhubarb
Description: An India Red Ale incorporating strawberries and rhubarb, accompanied by red fruit nuanced hops such as Hallertauer Hull Melon, Mandarina Bavaria, and a few others. These hops were chosen because they interplay beautifully with the fruit as well as accentuate it. Red-X malt, Munich and Dark Caramel Malt give this beer a solid malt backbone while the hops shine through dancing on the pallet harmoniously with the strawberries and rhubarb added.
ABV: 6%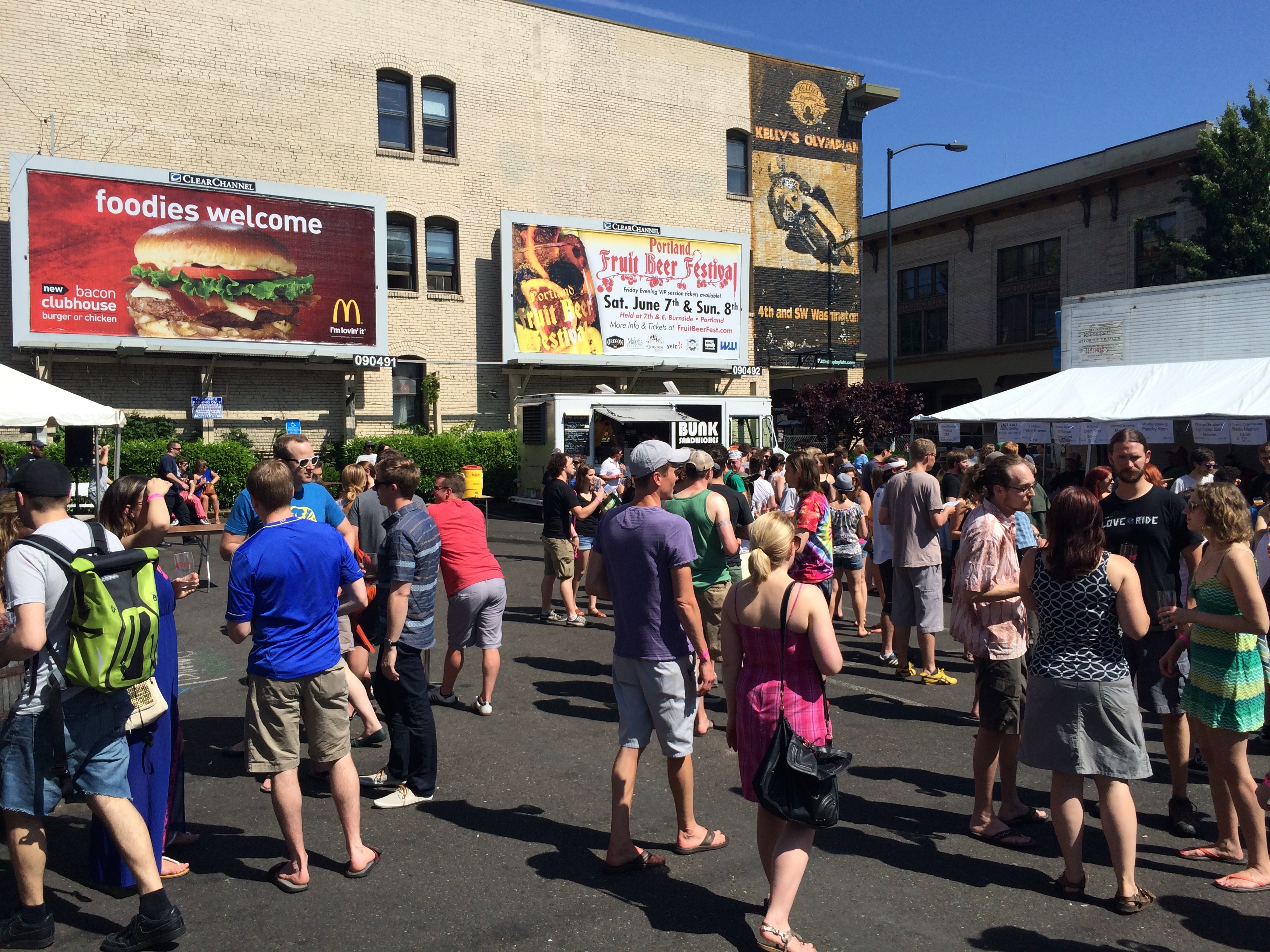 CIDER LIST:
Cider Riot! – Everyday Passionfruit
Fruits used: Passionfruit
Description: A trip to the tropics, this semi-dry cider is balanced with acidity from the addition of Passionfruit late in fermentation. Beautiful passionfruit aromas and flavor combine with that of fresh pressed NW apples.
ABV: 6.0
Finnriver Farm & Cidery – Berry & Bard
Fruits used: Apples, Aronia Berries (and Rhubarb)
Description: An heirloom blend of organic Washington apples come together with Aronia Berries grown from cultivars at Finnriver Farm and rhubarb sourced locally on the Olympic Peninsula. The tart berries bring depth, acid and a beautiful pink blush as rhubarb punctuates crisp green apple notes in this bright fruit cider.
ABV: 6.7%
Mission-Trail Cider – KIWIFORNIA
100% Kiwi 7.7% ABV Made from Nothing other than Whole Cold Pressed Kiwi.
Portland Cider Company – Guava Hopanero
Fruits used: Guava and Apple
Description: A juicy, tropical cider with deliciously fresh Guava, a touch of heat from Habanero peppers, and 100% NW apples! Hopped up with Citra & Mosaic hops for added tropical island fun and ending medium sweet.
ABV: 6%
Reverend Nat's Hard Cider – Blood Orange Viva La Pineapple
Fruits used: Pineapple and Blood Orange
Description: A Fruit Beer Fest exclusive version of This cider is a blend of fermented fresh apple juice (sourced, like all the apples I use, from Oregon and Washington, but mostly Eastern Washington in the case of this cider), and unfermented fresh pineapple juice. A touch of spice is added (cinnamon and cloves and allspice) and it is not to be consumed by those allergic to pineapples.
ABV: 6.9%
2 Towns Ciderhouse – Easy Peasy
Fruits used: apples, meyer Lemon, Raspberries
Description: Citrusy and refreshing, Easy Peasy will have you leisurely drifting your way through summer. Crafted with fresh-pressed Northwest apples, Meyer lemon, raspberries and soured with lactobacillus, it's summertime and the livin's squeezy!
ABV: 5%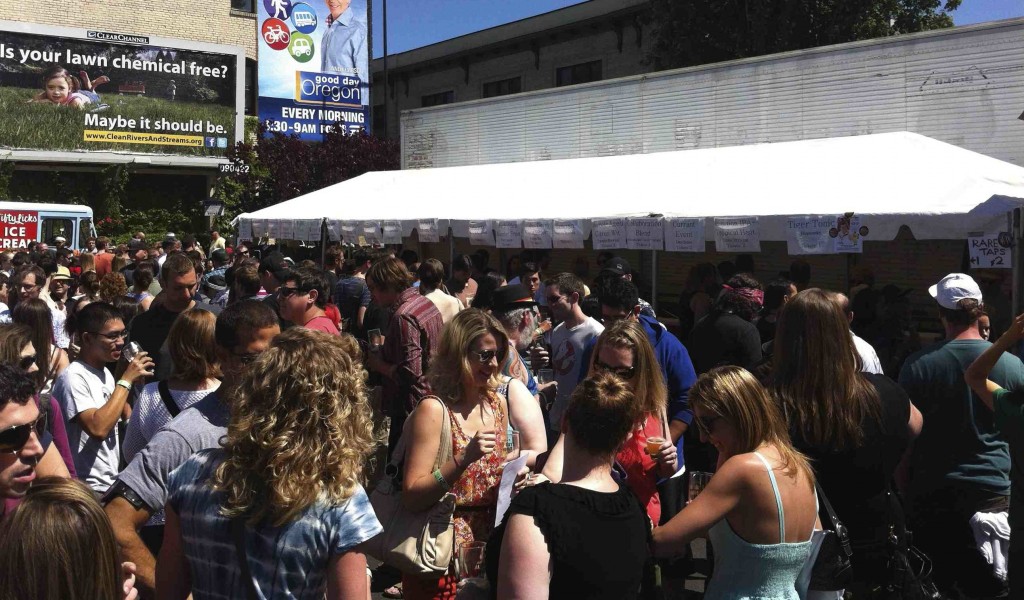 Beyond this list of beer and cider, there will an additional selection of rare and rotating taps featuring even smaller batch fruit beers and ciders during the festival's three day run.
Food providers at the Portland Fruit Beer Festival will include HOTLIPS Pizza & Soda and Urban German Grill alongside the full kitchen and menu inside Burnside Brewing Co.
Portland Fruit Beer Festival is an all ages event that will take place during three days – Friday, June 8 (4:00-9:00pm), Saturday, June 9 (11:00am-9:00pm), and Sunday, June 10 (11:00am-6:00pm).
Follow the Portland Fruit Beer Festival on social media.
INSTAGRAM: https://www.instagram.com/fruitbeerfest
FACEBOOK: https://www.facebook.com/FruitBeerFest
TWITTER: https://twitter.com/fruitbeerfest
Burnside Brewing
701 East Burnside
Portland, OR 97214