Block 15 Brewing Tap Room Curbside Sale with 2 Towns Ciderhouse
|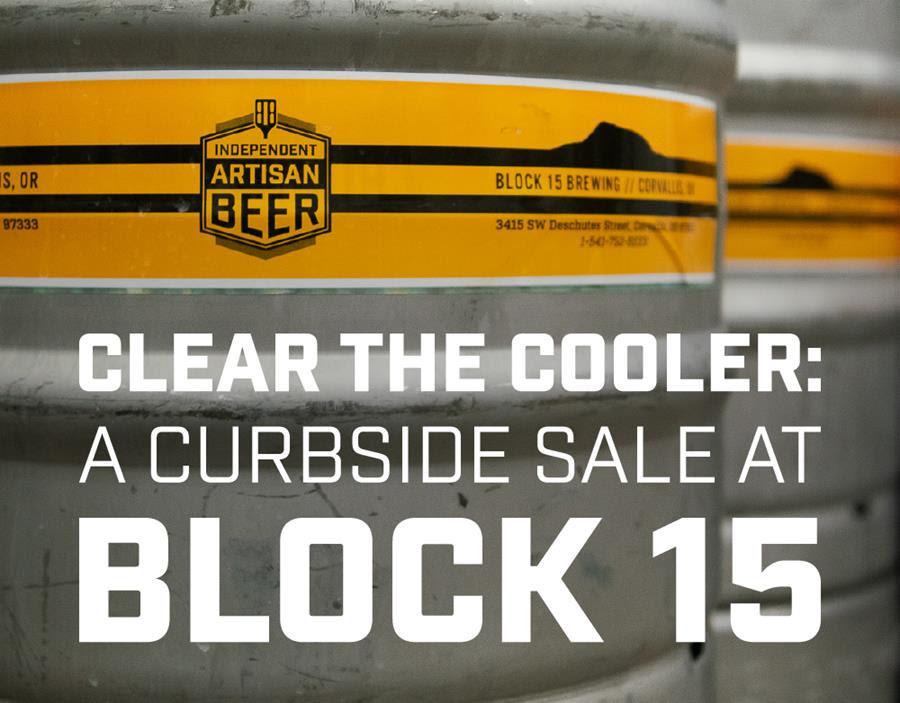 To manage its way through this economic downturn during the Novel Coronavirus/COVID-19 pandemic, Block 15 Brewing will return this weekend with a special one-day Curbside Sale featuring a plethora of beer both fresh and rarities from its cellar.
Block 15 offered up a similar sale this past Saturday and it will do the same on Saturday, March 28th. This one-day sale will take place at its Block 15 Tap Room and will include products from 2 Towns Ciderhouse.
With a minimum purchase of $40.00, Block 15 patrons can place a curbside order for 4-packs, bottles, crowler fills, corni fills, and both 50L and 1/4bbl kegs. There will also be a plentiful selection of beers from the Block 15 Cellar. The Corvallis base brewer will also be selling a selection from 2 Towns Ciderhouse, the brewery's Block 15 mash paddle hat and more including $1.00 rolls of toilet paper!
To get in on this beer sale, orders will only be done online through this link. This advance order preparation will allow sales to move more smoothly and for Block 15 to hand deliver the product directly to your car. Orders will be taken until Noon on Friday, March 27th. No walkup orders will be allowed.
Here are the specifics on Saturday's Block 15 Curbside Sale…
CURBSIDE SALE ORDER REQUIREMENTS:
There is a $40 minimum purchase to place an order.
In your order confirmation email, there will be a link to schedule your pick-up time on Saturday. If you do not log in to select a pick-up time by 5pm on Friday, then we will assign one to you. On Saturday morning you will receive details of order pick-up, please look for that message.
Your name and address that you submit in this process must match the legal name on your Identification. ID will be required for all orders, no matter your age.
*Orders may not be modified during pickup. The order that you place today is the order you will receive on Sunday.
FOR ALL CORNI-FILL ORDERS:
Corni-kegs must be dropped off at our Tap Room between 9am-11am on Saturday morning cleaned and sanitized INSIDE AND OUT.
There is no need to get out of your car, as we are trying to limit as much personal contact during this time as possible—just unlock your trunk/doors and our staff will retrieve your keg.
Head out and return during your allotted pickup window to retrieve your freshly filled corni keg.
FOR ALL DOCK SALES:
Customers will be given a parking spot number with their order. Simply park in that spot, and a Block 15 employee will come and bring you the necessary paperwork to fill out.
Once that paperwork is filled out, we will load the kegs up in your vehicle and you'll be on your way!
ALL GENERAL PACKAGED BEER PICKUP:
Please bring a printed copy of your receipt.
Do not worry about getting out of your car! Once you arrive, a greeter will direct you where to park, check-in your order, and a Block 15 employee will run it out to you and load it in your vehicle—easy peasy!
To place an order, remember it's a $40 minimum, do so by clicking HERE.
Block 15 Tap Room
3415 SW Deschutes St
Corvallis, OR 97333