Breweries in the Gorge Presents the 3rd Annual B.I.G. Swig on October 27, 2018
|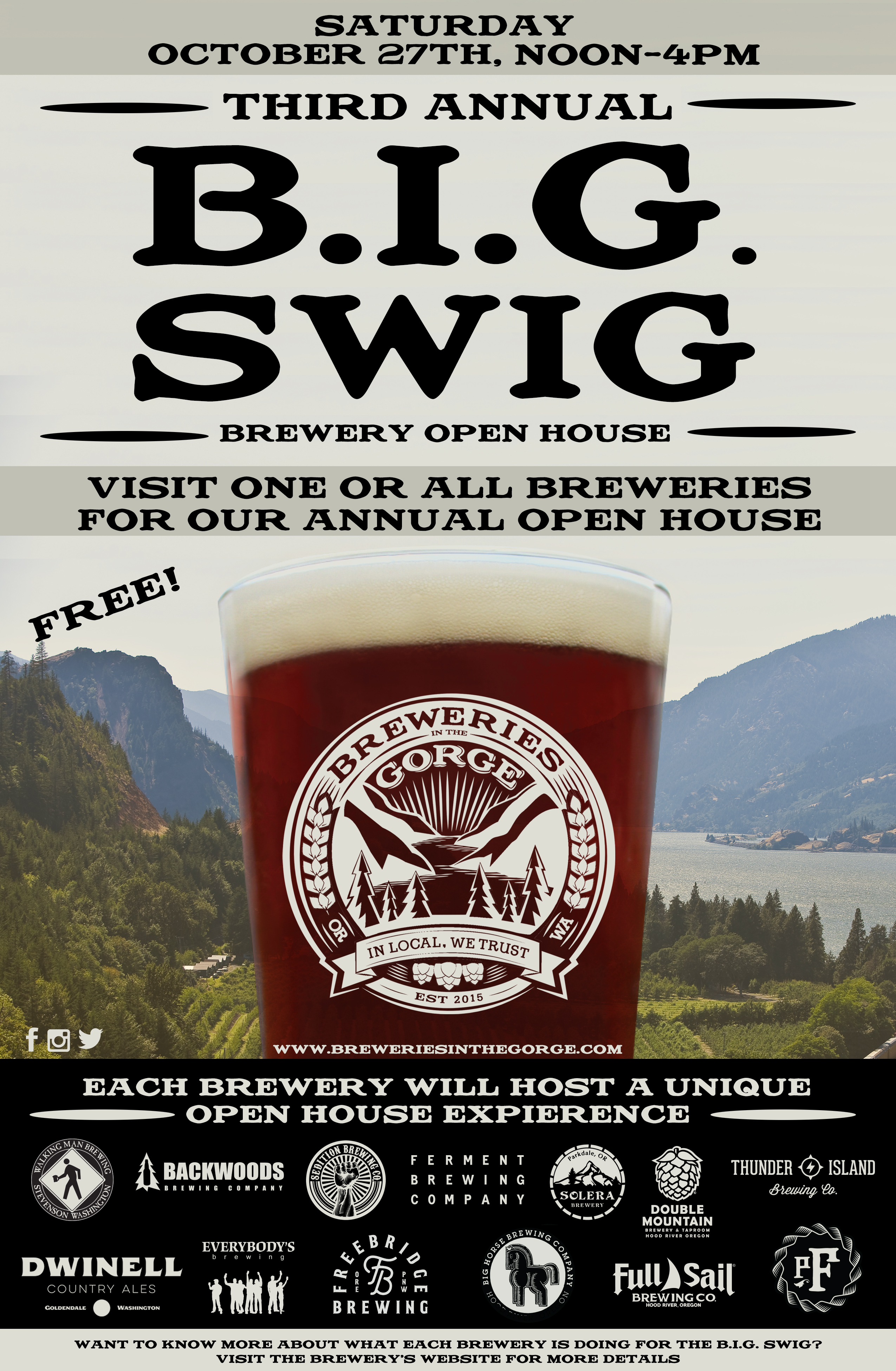 With the scenic Columbia River Gorge as your backdrop, visiting breweries in this area is always a treat. On Saturday, October 27th, Breweries in the Gorge will host their 3rd Annual B.I.G. Swig from Noon-4:00pm.
Breweries in the Gorge (B.I.G.), is a non-profit organization comprised of the 13 craft breweries throughout the Columbia River Gorge. This afternoon of craft beer will bring together these 13 breweries spanning across the two states surrounding the Columbia River Gorge. Each of the breweries will offer craft beer fans a special opportunity to attend open houses from the Bridge of the Gods to the John Day Bridge, participate in guided beer tastings, and more.
Oregon B.I.G. breweries include Big Horse Brew Pub, Double Mountain Brewery & Taproom, Freebridge Brewing, Ferment Brewing, Full Sail Brewing Company, pFriem Family Brewers, Sedition Brewing, Solera Brewery, and Thunder Island Brewing Company. Washington B.I.G. breweries include Backwoods Brewing Company, Dwinell Country Ales, Everybody's Brewing, and Walking Man Brewing.
Here are additional details from B.I.G.'s press release…
The Columbia River Gorge, with a reputation as a premier beer destination in the Pacific Northwest, houses a unique array of breweries. From classic lagers and bold barrel-aged stouts to sticky IPAs and artful wild ales, B.I.G. offers craft beer enthusiasts a diverse selection of beer in a beautiful setting.
"The B.I.G. Swig is a unique event that offers craft beer fans with the perfect opportunity to spend the weekend in the Gorge, visit their favorite breweries, and discover some new ones along the way," says Justin Leigh, B.I.G. President and co-owner of Dwinell Country Ales in Goldendale, WA.
Seasoned craft beer enthusiasts who have explored the Columbia River Gorge may already know B.I.G. from their "Gorge Beer Guide," a passport map that invites drinkers to visit and collect stamps from each brewery.
"This year, we are excited to provide the opportunity for craft beer fans to collect their passport stamps using the 'Breweries in the Gorge' digital app, available for download on Apple and Android devices," said Caroline Lipps, owner of Thunder Island Brewing Co. in Cascade Locks. "Beer fans can now collect stamps digitally. Those who visit 11 of the 13 breweries will receive a limited-edition commemorative B.I.G. pint glass."
For a complete list of the Breweries in the Gorge and to learn more about B.I.G. Swig events, check out www.breweriesinthegorge.com or follow Breweries in the Gorge on Facebook.