Cider Riot! ‎Presents Pressing Matters – Proper Cider and Real Ale Fest
|
The premiere of Proper Cider and Real Ale Festival will take place this coming Saturday, November 18th at Cider Riot! in Northeast Portland. The seven hours fest will feature two-dozen ciders made from traditional bittersweet and bittersharp cider apples and five cask-conditioned ales. As an ode to the fermentation traditions of England and France, Pressing Matters celebrates the innovation of American cidermakers and brewers.
"One of my favorite quotes about cidermaking is that 'making cider from eating apples is like trying to make Pinot Noir from Concord grapes,'" says Cider Riot! founder Abram Goldman-Armstrong in a statement. "We're hosting Pressing Matters to show people how amazing ciders made from bittersweet and bittersharp cider apples such as Kingston Black, Yarlington Mill, or Marie Maynard can be."
"Bittersweet and bittersharp apples produce ciders with balanced tannins and acids, that take time to make, and reward us with the depth of character of fine wine," says Cider Riot! cidermaker and certified sommelier Angie Watkins in a statement.
Pressing Matters – Proper Cider and Real Ale Fest will take place from Noon-7:00pm at Cider Riot!'s Pub and Production Facility. The casks of ale will be tapped in the traditional manner with taps driven in with a mallet at the festival opening. In addition to the spectacular ciders and ales, there will be a dance performance by the Bridgetown Morris Men at 2:00pm, and cider apple tasting at 3:00pm. Soulsuckers, Cider Riot's monthly all-vinyl soul DJ night follows the festival at 8:00pm.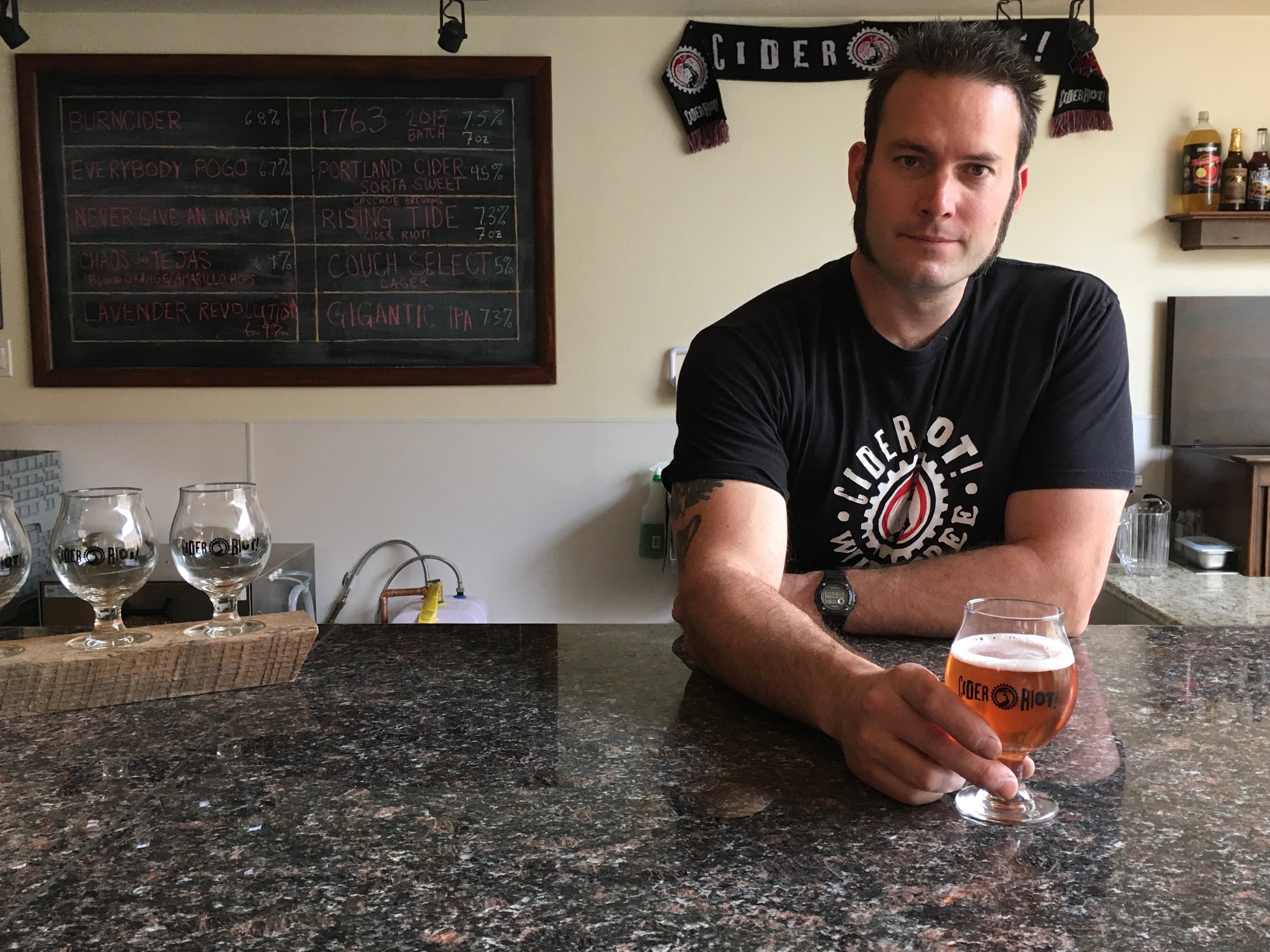 Cider Riot! will be serving an array of specialty ciders including Porter's Perfection single varietal, Shaken Tree Yarlington Mill single varietal, Kingston Black single varietal, a French-meets English collaboration with E.Z. Orchards, 1763 Revolutionary West Country Cider vintages 2015 and 2016 on draft, 2013, 2014 available in the bottle, Old Main Drag 2014 Vintage Burncider available in bottle.
Guest Ciders:
Runcible Cider – Old Hoot
Portland Cider Company – English Pub Cider
Alpenfire Cider – Ember & Pirates Plank
Bull Run Cider – Bittersweet Blend
Carlton Cyderworks – French Lane Press
WildCraft Cider Works – Willamette Heritage Cider
Baird & Dewar Farmhouse Cider – 2016 Single Barrel Reserve
Wandering Aengus Ciderworks – Bittersweet
Angry Orchard Innovation Cider House – First Flora
E.Z. Orchards Cidre – Cidre Semi Dry-2015
2 Towns Ciderhouse – 2016 Cidre Bouche
Finnriver Farm & Cidery – Finnriver Fire Barrel Cider
Stone Circle Cider – Farmhouse Semi-Dry
Reverend Nat's Hard Cider – Sidra Bravo
Foggy Ridge – First Fruit
Cask Ales:
Falling Sky – Juniper Rye
Machine House – Blakeney Bitter
Gigantic – Most Premium Russian Imperial Stout
Brewers Union Local 180 – Quality of Mercy ESB
Baerlic – Noble Stout
Entry into Pressing Matters – Proper Cider and Real Ale Fest is free and all ages are welcome. To sample the ciders and cask ales a tasting glass and six drink tickets are $20.00 or a glass and 12 drink tickets are $30.00 with additional tickets set at $3.00 each. Food will be available from No Q' No Taqueria, Cider Riot!'s resident foodcart.
Cider Riot!
807 NE Couch St
Portland, OR  97232