Ecliptic Brewing & Dogfish Head Beer Sagittarius B2N Release Party
|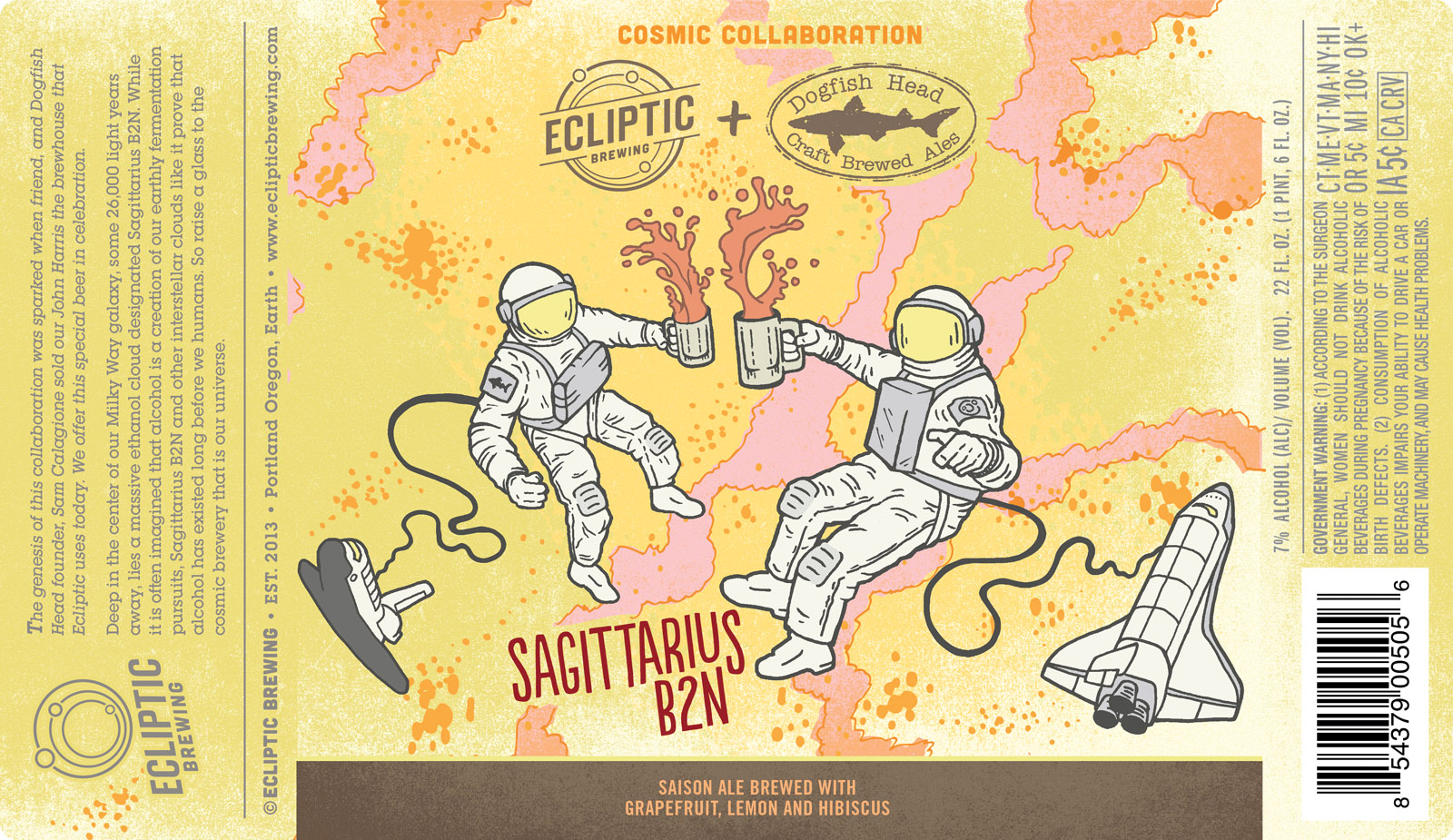 John Harris and his brew team at Ecliptic Brewing have been quite busy as of late, especially on the collaboration front. After this weeks official release for Points Unknown IPA, a collaboration beer that was brewed with Wicked Week Brewing and Stone Brewing Co,, the brewery now has its eyes set on its next collaboration release.
Ecliptic Brewing teamed up with Sam Calagione of Dogfish Head Beer and his brew team while they were all in Portland last month for the Craft Brewers Conference. The resulting beer, Sagittarius B2N, will officially be released on Thursday, May 28th at 5:00pm at The BeerMongers for an Ecliptic and Dogfish Head Tap Takeover. Ecliptic Brewing's taproom will be releasing the beer the following day on Friday, May 29th.
Sagittarius B2N is a saison brewed with grapefruit, lemon and hibiscus. As with the other beers from Ecliptic Brewing, Sagittarius B2N takes its name from the celestial theme that runs through all of the beers at Ecliptic. Sagittarius B2 is known to be a large molecular cloud near the center of the Milky Way Galaxy. Sagittarius B2N is a bigger saison at 7.0% ABV and will be available in 22 ounce bottles and on draft throughout Ecliptic Brewing's distribution footprint.
For those of us in the Portland area, The BeerMongers will be the first to be selling bottles of this collaboration and will also be featuring seven drafts dedicated to Ecliptic and Dogfish Head. The draft list for the release party is stellar and it's as follows:
Ecliptic Aries Brett IPA
Ecliptic Helix Hoppy Lager
Ecliptic White Asteroid Imperial Wit IPA
Ecliptic & Dogfish Head Sagittarius B2N – Saison brewed with grapefruit, lemon and hibiscus
Dogfish Head 2013 Old School Barleywine
Dogfish Head Festina Lente
Dogfish Head Burton Baton
This should be a great night for beer lovers!
The BeerMongers
1125 SE Division St
Portland, Oregon 97202