Gigantic Brewing Announces its 2019 Beer Release Calendar
|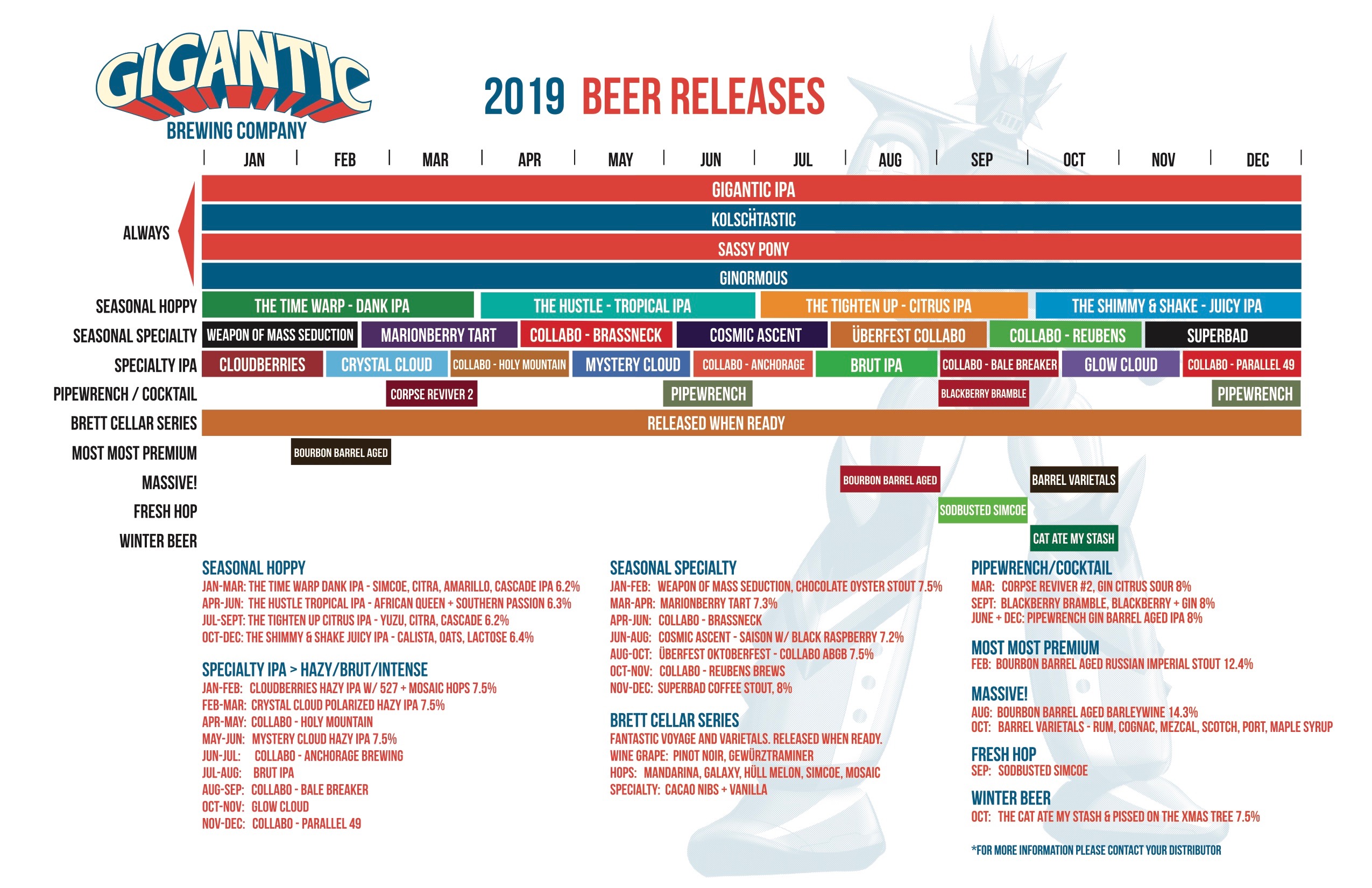 Gigantic Brewing has just announced its 2019 Beer Release Calendar. The coming year will see a new addition to its year-round lineup of beers, plus a few new beer series coming from the nearly seven-year-old brewery.
This past year's new beer, Sassy Pony Hoppy Pale, that stuck around for quite some time will be joining the brewery's other year-round offerings of Gigantic IPA, Kölschtastic and Ginormous DIPA. And just like in year's past, Gigantic will also be brewing up many one-time beers throughout the coming year!
Gigantic will be introducing a few new beer series that includes Seasonal Hoppy, Seasonal Specialty, Specialty IPA, and Brett Cellar, all created to showcase the brewery's skill sets.
Its Seasonal Hoppy beer series are fun beer names all named after various dances. This series will include The Time Warp, The Hustle, The Tighten Up and The Shimmy & Shake.
Moving on to its Seasonal Specialty and Specialty IPA beer series, these two will bring together Gigantic's collaborations with other well known breweries. Look for beers brewed with Holy Mountain, Brassneck, Anchorage, The ABGB, Bale Breaker, Reuben's and Parallel 49.
Gigantic will be showcasing its use of brettanomyces with its new Brett Cellar Series. The brewer will return with its award winning Fantastic Voyage Brett Saison to include variations of this beer. Look for this brett saison made with fresh pressed Pinot Noir, Gewürztraminer, and a myriad of dry hopped versions.
Pipewrench Gin Barrel-Aged IPA will see an expansion to include cocktail inspired beers, also aged in Ransom Old Tom Gin Barrels. The first beer in that series will be Corpse Reviver #2, a gin citrus sour followed up in the fall with Blackberry Bramble, think blackberry and gin.
When it comes to Gigantic's other two popular barrel-aged beers those two will feature a few variants. Most Most Premium Bourbon Barrel Aged Russian Imperial Stout returns in the spring, then in the fall MASSIVE! Bourbon Barrel Aged Barleywine will return alongside MASSIVE! Small Batch Barrel Variants including rum, cognac, mezcal, scotch, port and maple syrup.
A few hop forward bees will return this year. The brewery will once again work with Sodbuster Farms on its Fresh Hop beer brewed with freshly picked simcoe hops. And then to close out the year its nod to John Mallett returns with The Cat Ate My Stash & Pissed On the Xmas Tree.
As Ben Love stated in his email to us, "It's going to be a huge 2019!!!"