Gigantic Beer Week 5th Anniversary Celebration
|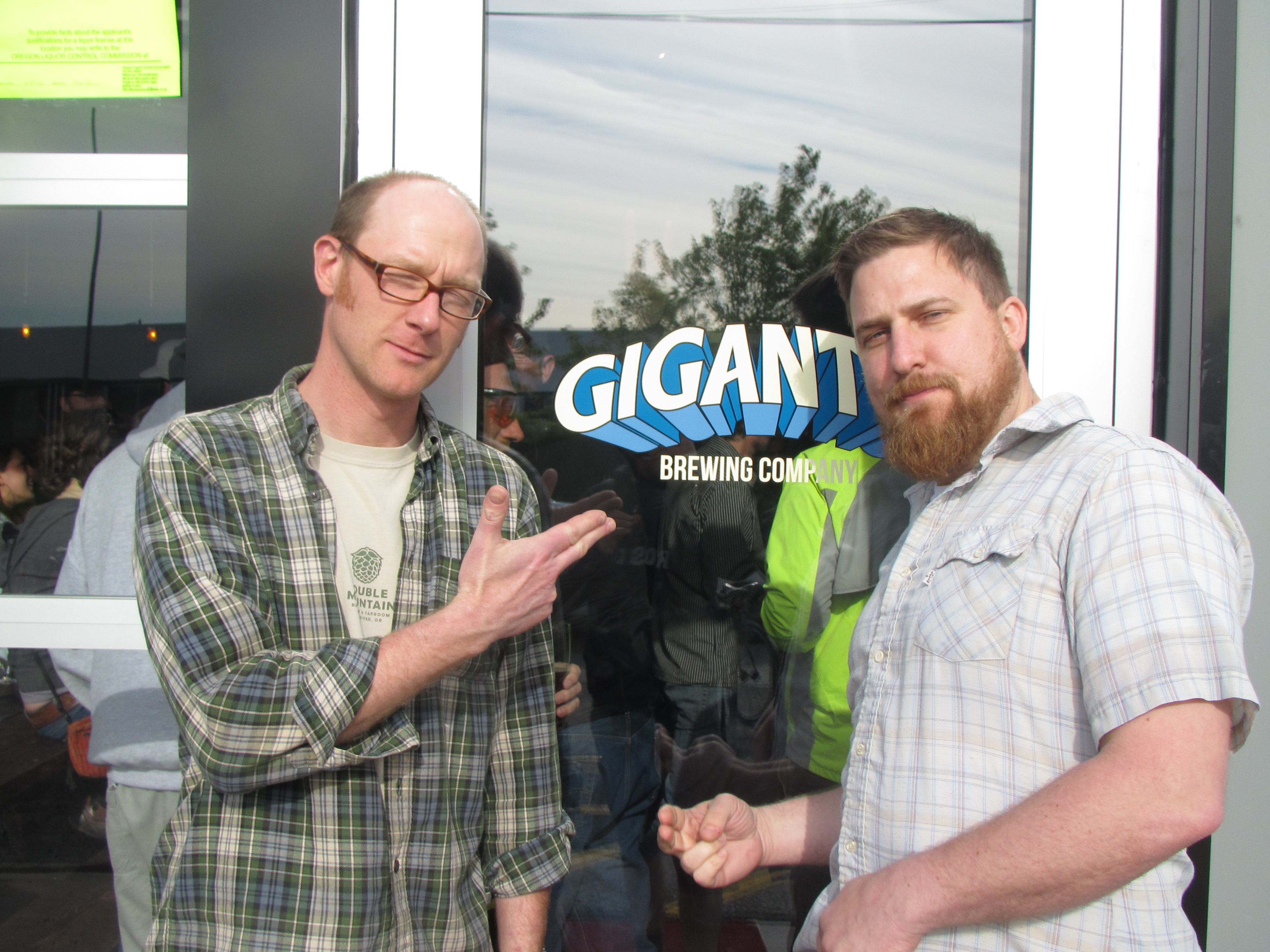 Five years ago on May 9, 2012, Gigantic Brewing opened its doors to the public for the very first time. One of the most talked about brewery openings in Oregon that year, the brewery founded by Van Havig and Ben Love ended up being voted the 5th Best Top New Brewers In The World by Rate Beer for the year 2012.
Since this time the brewery expanded upon its original decision to only produce one year round beer, Gigantic IPA that was complimented by rotating seasonals by adding Ginormous Imperial IPA to its year round production. As Gigantic celebrates its fifth year it will now add its third beer to its year round lineup with a sessionable Kölschtastic.
Gigantic Brewing opens its doors to the public on May 9, 2012.
Now five years later Gigantic Brewing is set to host Gigantic Beer Week, an eight-day week of Gigantic beer from May 4-11. This week is a rehash of what Van and Ben did for its first year in business when it hosted its first Gigantic Beer Week in 2013.
Taking some of the ideas that they had four years ago and expanding on them, Gigantic Beer Week to celebrate the brewery's 5th Anniversary will feature art, music, food and of course beer…lots of beer! Events will take place around Portland and will conclude in Denmark. However the biggest day will be on Tuesday, May 9th when the official Gigantic Brewing 5th Anniversary takes place at the Gigantic Tap Room featuring $2.00 pints!
Gigantic Brewing tears it up all week in Southeast Portland.

Gigantic and Friends – a great weekend primer to wrap up Gigantic Beer Week.
Here's a rundown on the 8-day celebration that makes up Gigantic Beer Week.
Thursday May 4th
Kölschtastic Release
Come celebrate the release of our new year-round beer Kölschtastic. We will have 5 Gigantic Beers on Tap + DJs Cherri Rose and Danava playing tunes from the Rock N' Roll Gods!
White Owl Social Club – 1305 SE 8th Ave
5pm-Late
Free
Friday May 5th
Gigantic Concert
We celebrate our 5th anniversary with a night of tasty beer and awesome local music! The show features local favorites Y La Bamba, Wooden Indian Burial Ground, bed. and The Comfy Boyz. Tickets are just $15.00 and can be purchased HERE.
Star Theater – 13 NW 6th Ave
Doors at 7. Show at 8
Saturday May 6th
Art of Gigantic
Featuring original art from our label artists from our first 5 years. Artists attending 1-5pm
Gigantic Taproom – 5224 SE 26th Ave
noon-10pm
Sunday May 7th
Gigantic Brunch
Special taps of Gigantic & Juice, Too Much Coffee Man and Kölschtastic. A special brunch menu from Produce Row, and DJ Ben Love laying down chill soul to start your day.
Produce Row – 204 SE Oak St
11am-3pm
Monday May 8th
Gigantic Tap Feature
10 Gigantic taps. Featuring the sneak preview of Fantastic Voyage, a saison fermented with brett and saison yeasts, aged one year in Oregon wine barrels, unfiltered and naturally carbonated.
Tap List:
IPA – India Pale Ale
Ginormous – Imperial IPA
Kölschtastic – Kölsch-style Ale
Axes of Evil – Collabo Pale Ale
City Never Sleeps – Imperial Black Saison
Massive – Barleywine
Massive – Bourbon Barrel Barleywine
Pipewrench – Gin Barrel-aged IPA
Belmont Station – 4500 SE Stark St
5pm-10pm
Tuesday May 9th
Gigantic 5th Anniversary Celebration
The day it all began! Celebrate our 5th Anniversary at the Gigantic Taproom! $2 pints all day
Gigantic Taproom – 5224 SE 26th Ave
3-9pm
Wednesday May 10th
Gigantic + Ancient Heritage Collabo Cheese Release
Come try Ancient Heritage brie washed with Gigantic IPA. We'll be offering a set pairing with a few Ancient Heritage cheeses and Gigantic beers.
Cheese Bar – 6031 SE Belmont St
5-9pm
Thursday May 11th
Gigantic Tap Takeover
We take it to the magic number with 11 Gigantic beers on tap.
Mikkeller Bar Viktoriagade – Viktoriagade 8, 1655 København V, Denmark
1pm-2am