Inaugural Boring Beer Fest – August 24-26, 2018
|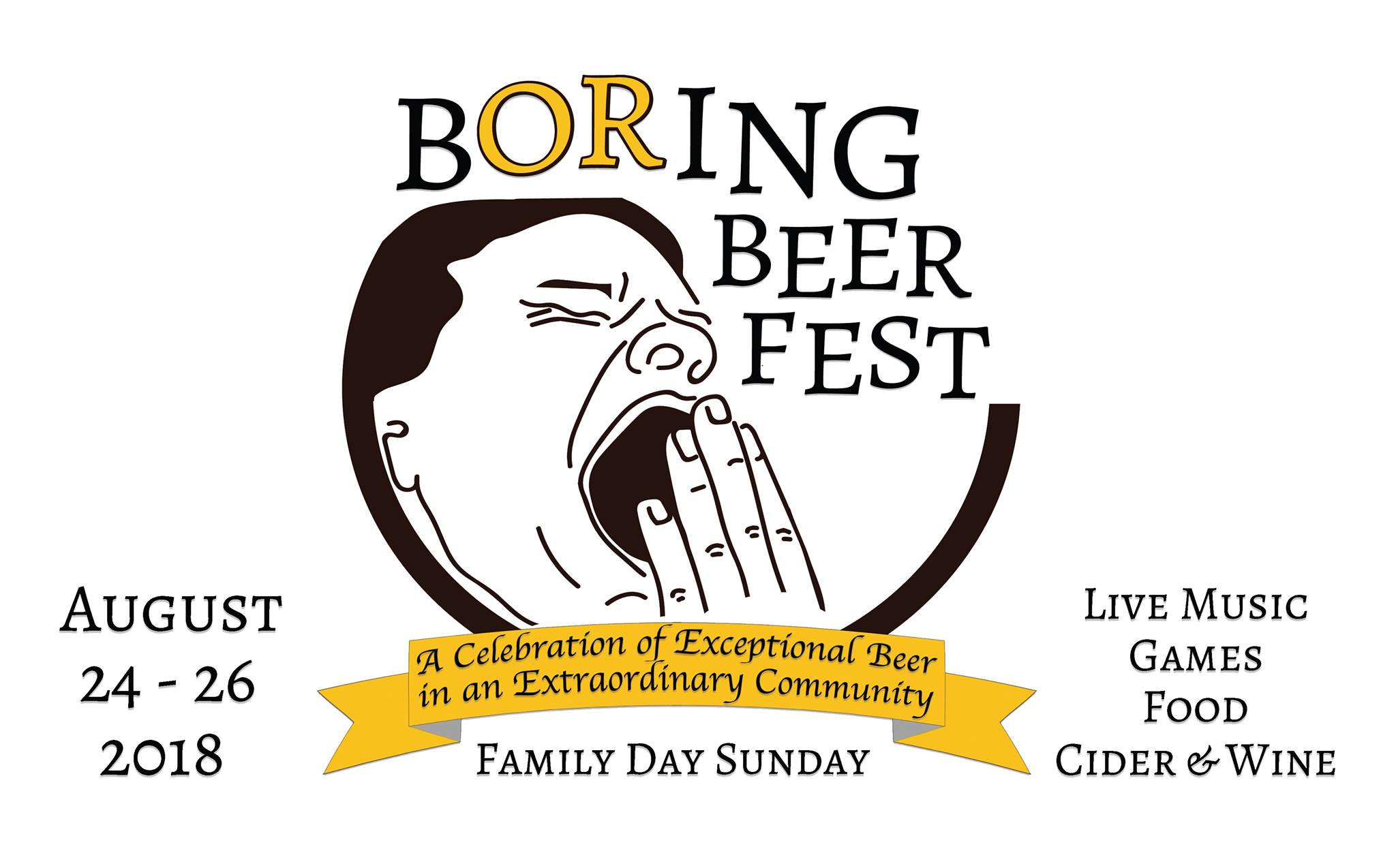 Oregon's most boring town will soon be host to its very one beer festival. The inaugural Boring Beer Fest will take place in Boring, Oregon at Boring Brewing and Winery from August 24-26, 2018.
The Boring Beer Fest will feature breweries from outside the city limits of Portland, many that are not commonly scene within Portland. In addition to these lesser known breweries the festival will also pour beers from a few better known breweries from the likes of Ecliptic Brewing, pFriem Family Brewers and Migration Brewing.
Held at the new(er) home of Boring Brewing that now is located alongside Highway 26, the entire property will be open to wander and enjoy some craft beers during the three day festival. Boring Brewing will also pour a special festival beer available in a 16-ounce option.
In addition to the available beer at the festival, organizers will offer food vendors, live music, a covered "country patio" and outdoor games. Then on the Sunday, this day will be Family Day featuring special entertainment for the kids.
Boring Beer Fest was created as an annual event to showcase regional brewers and cider makers of all sizes in beautiful Boring, Oregon. The creators of the event felt the communities of Gresham, Sandy and Boring were thirsty for an event in which they didn't have to travel to Portland and deal with the hustle and bustle of the city. Equally, Portland residents can get out to the country and enjoy an eclectic mix of well-known and smaller breweries. – Boring Beer Fest Organizers
Entry into the Boring Beer Fest is $20.00 and includes a festival glass and 10 beer tickets. Each ticket is good for a 4-ounce pour. If you wish to take a chance on a pint of Boring Brewing beer, they'll be available for 4 tickets. Additional tickets will be available for purchase at $1.00 each.
For those wishing to purchase tickets in advance, the $20.00 ($22.23 after fees) entry will include 15 beer tickets! Purchas advance tickets by clicking HERE.
Participating Boring Beer Fest Breweries:
Batch 1 Brewing – Oregon City, Oregon
Bent Shovel Brewing – Oregon City, Oregon
Boring Brewing Co. – Boring, Oregon
Brewery 26 – Portland, Oregon
Bunsenbrewer – Sandy, Oregon
Ecliptic Brewing – Portland, Oregon
Fearless Brewing Company – Estacada, Oregon
Feckin Irish Brewing Co. – Oregon City, Oregon
Madcow Brewing Company – Portland, Oregon
Migration Brewing – Gresham, Oregon
Ordnance Brewing – Wilsonville, Oregon
pFriem Family Brewers – Hood River, Oregon
Solvana Brewing – Gresham, Oregon
Boring Beer Fest will raise money for two 501(c)(3) non-profits organizations. These include The Kyla McCullough Gift Fund and the Boring Oregon Foundation.
Boring Beer Fest Hours:
Friday, August 24th 12pm – 8pm
Saturday, August 25th 12pm – 8pm
Sunday, August 26th 12pm – 6pm (Family Day)
Boring Brewing and Winery
29300 SE Haley Rd.
Boring, OR 97009