Inaugural Oktoberfest Pendleton
|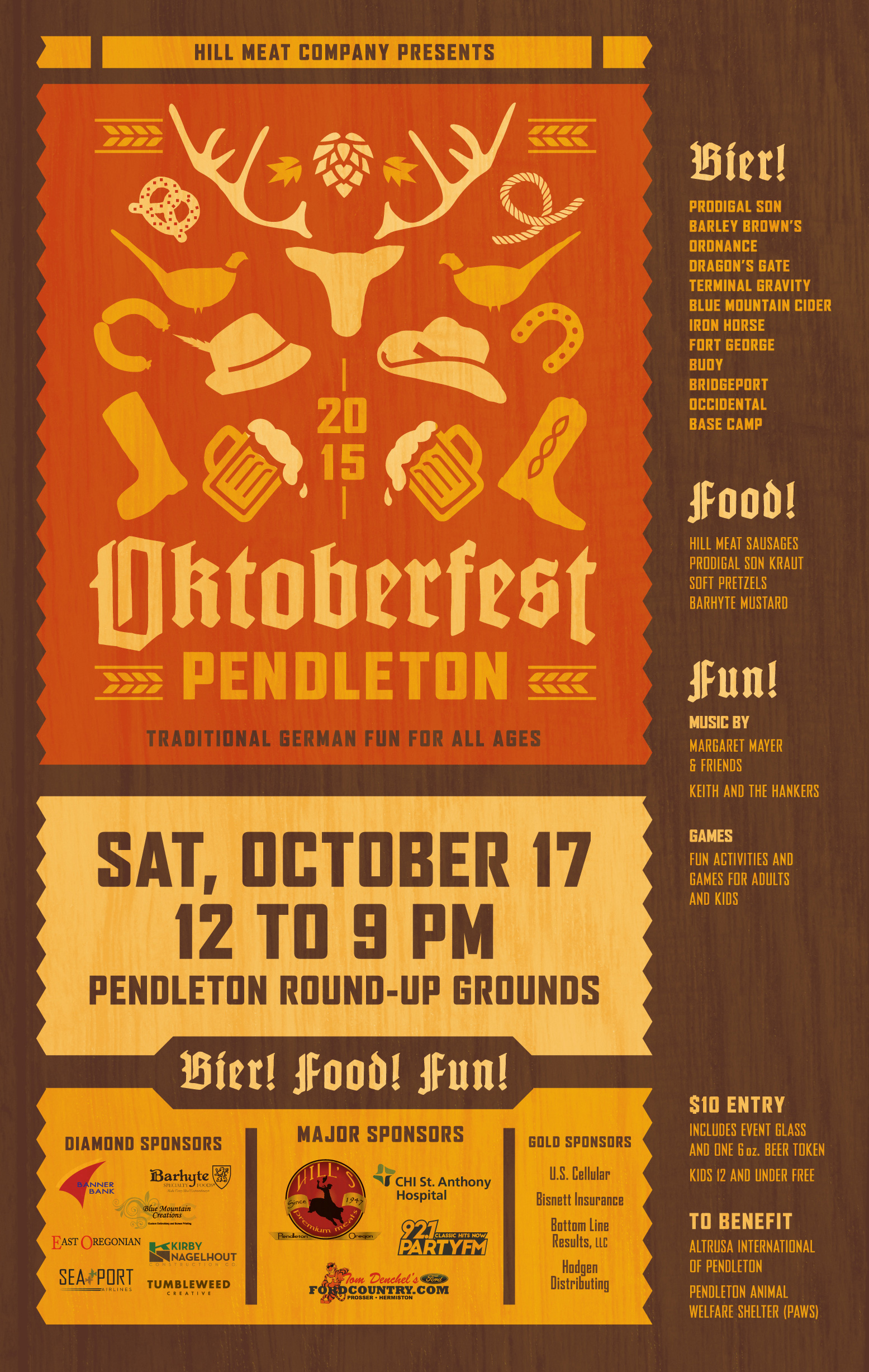 Three and a half hours east of Portland is Pendleton, Oregon, home of the historic Pendleton Round-Up. This year the stadium that the Round-Up is held in each summer will become the new home for the inaugural Oktoberfest Pendleton taking place on Saturday, October 17th, from Noon to 9:00pm. Oktoberfest Pendleton is a nonprofit, with a portion of the proceeds going to PAWS (a local humane society) as well as the city's Altrusa chapter.
Oktoberfest Pendleton came together from a few local community members that wanted to assist in bringing people to their city for a family event that did not involve the famous rodeo. Just like any community the more tourism you can bring in is a sure fire way to help the local economy. There are many local owned businesses in Pendleton that are prime targets to be part of this new Oktoberfest. A fine local brewery in Prodigal Son, cured meats from Hill Meats and mustards from Barhyte are a perfect trifecta to initiate a German-style celebration.
When it comes to the beer list Oktoberfest organizers wanted to feature as many Eastern Oregon breweries as possible. Some of these breweries featured include Prodigal Son, Barley Brown's, Dragon's Gate, Terminal Gravity and Ordnance.
The tentative list of breweries and beers include:
Prodigal Son – A Bier Named Uter (Kolsch)
Barley Browns – Marzen
Ordnance – Old Craig (English Strong)
Dragon's Gate – Headless Hop Ale (Fresh Hop IPA)
Terminal Gravity – Alpenfest Ale
Iron Horse – Irish Death (Stout)
Buoy – Ludo the Gose
Fort George – The Optimist
BridgePort – Long Ball
Occidental – Hefeweizen
Base Camp – Hop in the Pool Late Hop Helles
Blue Mountain Cider Co. – Dry Creek (semi-dry apple cider)
To compliment the beers being poured, Matthew Barnes, Prodigal Son's chef/kitchen manager/part owner, has put together a traditional German menu. There will be four types of sausage from Pendleton's Hill Meat Co. There will also be a sausage dinner option that will include your choice of one of the sausages as well as house-made German potato salad, a sweet & sour apple & red cabbage salad, a creamy dill & mustard cucumber salad, and to top it off, a German chocolate desert. Barnes is also preparing to make a beer cheese dip to go with warm Bavarian style soft pretzels. Pendleton based Barhyte mustards will also accompany all of these dishes. Plus there will be a vegetarian option offered.
Just as in Munich there will be live music being performed during Oktoberfest Pendleton. Beginning at Noon, local musicians Margaret Mayer & Friends will be playing eclectic German-style music until 2:00pm. This is followed by two sets by Keith & the Hankers with sets from 2:00 to 5:00pm and a second one from 6:00 to 9:00pm.
Since this is a true family event there will be many activities for the kids. The Eastern Oregon Children's Museum as well as the Pendleton Art Center will each have different crafts and games for the kids to take part in.
Admission to Oktoberfest Pendleton is $10.00. This entry fee includes a glass stein, a beer ticket and access to all of the events throughout the day. For the non-drinkers or young adults aged 13-20 admission is $5.00 while kids 12 and under enter for free.
Stay up to date on Oktoberfest Pendleton by following its Facebook page. Also make sure to check out the contest from SeaPort Airlines on the Oktoberfest Pendleton Facebook page for an opportunity to win a roundtrip flight for two from PDX to Pendleton!
Oktoberfest Pendleton
Pendleton Round-Up Stadium
1205 SW Court Ave.
Pendleton, OR 97801