KLCC Brewfest Brings Together Beer and Music
|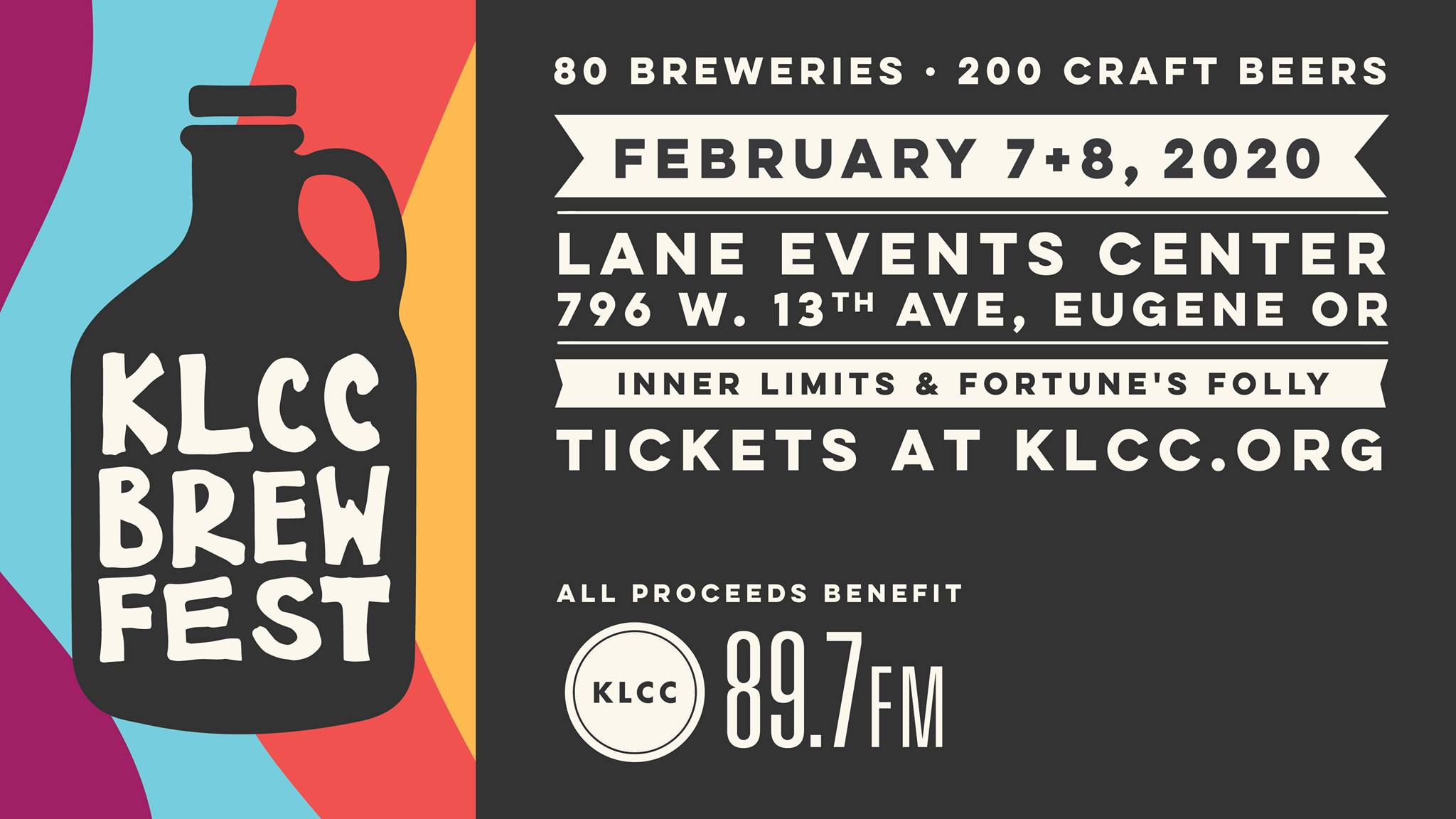 The largest fundraising event for Eugene's public radio station KLCC 89.7 FM returns February 7-8 when the KLCC Brewfest takes place inside the Lane Events Center in Eugene. Over 80 breweries and cideries will come together for two days of beer and cider with all proceeds benefiting KLCC.
For the past few years at the KLCC Brewfest, Eugene-area breweries have collaborated on festival themed beers known as Vinyl Tap. This year is no different as various regional breweries have partnered to create nine different beers for the festival, all inspired by music. A free Vinyl Tap Passport is included with the festival brochure. Redeem the completed passport for up to $10 off any appetizer at First National Taphouse with purchase of two drinks.
The 2020 collaboration beers will be indicated by balloons and vinyl records on the signs at the participating brewery booths. Most of the collaborations will be poured at the two sections dedicated to local breweries. An additional feature of the KLCC Brewfest, separate from the collaboration, are two special taps, called Bonus Tracks, X-Taps, which will rotate hourly through rare, barrel-aged, or otherwise special beers from participating breweries.
Descriptions of all nine KLCC Brewfest Collaboration beers are below.
Alesong Brewing & Blending + Ninkasi Brewing – The Distance
Bourbon Barrel Aged Imperial Stout with cocoa nibs, cherries,and toasted coconut. Inspired by the alt rock band Cake.
Go the distance with this German chocolate Cake-inspired bourbon barrel-aged imperial stout. We're racing and pacing and plotting the course with cherry puree, cocoa nibs, and toasted coconut swirled together and aged in bourbon barrels over nine months.
The 3 Legged Crane (Brewers Union) + Coldfire Brewing + Oakshire Brewing + Plank Town Brewing – Harmonious Oat Stout
English Style Oat Stout with American finesse (both Cask and Draft versions). Inspired by the jazz group Harmonious Wail
A wonderfully crafted, drinkable and seasonally appropriate recipe. Nutty, fruity & chocolaty smooth. Simply water, grain, hops, yeasts and care. Take One brewed at The 3 Legged Crane and served on cask, Take Two brewed at Plank Town and served on draught.
Cascade Brewers Society + Sunriver Brewing – Mandopop
French Saison. Inspired by the French Mandopop genre
French Mandopop features songs performed mainly in Mandarin Chinese with a French style. This French saison has Mandarin oranges and Szechuan peppercorns.
Claim52 Brewing + Oregon BrewLab – TrippHop Beats to Drink/Chill To
Triple IPA. Inspired by Tripp Sommer, former KLCC News Director, and hip-hop beats.
Elkhorn Brewpub + Falling Sky Brewing – Roots Radicals
Dry Hopped Pale Ale. Inspired by the punk band Rancid
We started thinkin' you know we started drinkin' that is how we came up with this beer. 
Manifest Brewing + McMenamin's High Street – Blood Sugar Sex Magik
Hazy IPA. Inspired by the early 90's Red Hot Chili Peppers classic album of the same name.
Monster additions of Columbus and Mosaic hops were masterfully blended to create a super dank sticky haze much like Frusciante's eccentric riffs and Flea's phat bass lines can ease one's mind into a euphoric bliss.
Hop Valley Brewing + The Wheel Apizza Pub – Bufala Springfield
Belgian Special Mild.
A Belgian ale with influences from the extensive collection of Lucio Battisti.
McKenzie Brewing + Covered Bridge Brewing – Natural Mystic
Rye IPA. Inspired by Bob Marley
"There's a natural mystic blowing through the air," so we brewed a 7.7% ABV Rye IPA to share and dry-hopped it to the hilt with Belma and Mystic, naturally.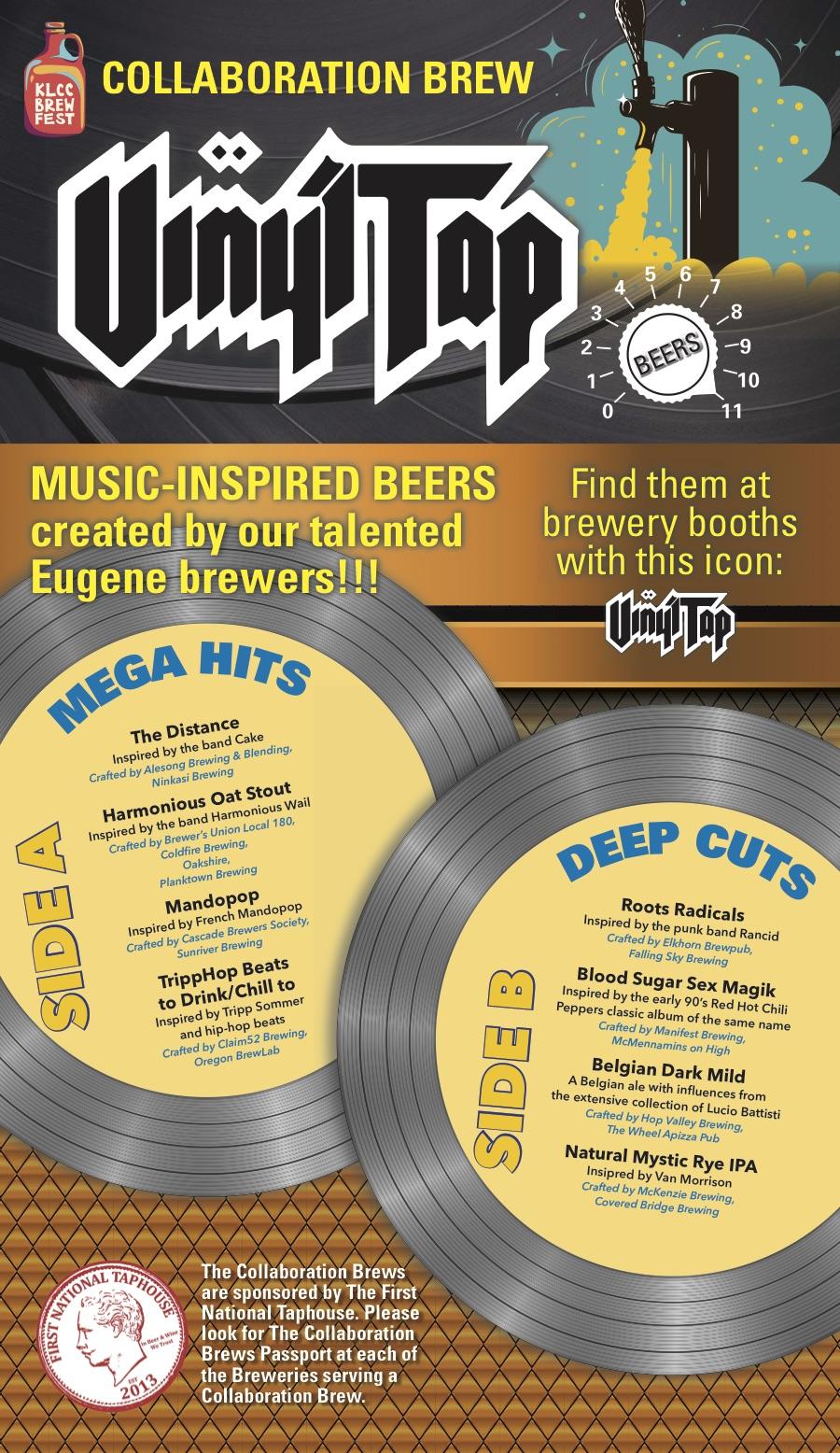 2020 KLCC Brew Fest Brewery + Cidery List:
10 Barrel, Bend OR
2  Towns Ciderhouse, Corvallis OR
Ace Cider, Sebastopol CA
Alesong, Eugene OR
Ancestry, Tualatin OR
Avid Cider, Bend OR
Bandon Rain, Bandon OR
Bauman's Cider, Gervais OR
Belching Beaver, Oceanside CA
Bend Brewing Co., Bend OR
Block 15, Corvallis OR
Boneyard Beer, Bend OR
Breakside Brewing, Portland OR
The 3 Legged Crane (formerly Brewers Local Union 180), Oakridge OR
Buoy Beer, Astoria OR
Caldera, Ashland OR
Cascade Lakes, Redmond OR
Claim 52, Eugene OR
ColdFire, Eugene OR
Covered Bridge Brewing Group, Cottage Grove OR
Cyderish, Eugene  OR
Deluxe, Albany OR
Deschutes, Bend OR
Ecliptic, Portland  OR
Elk Horn, Eugene OR
Ex Novo, Portland OR
Falling Sky, Eugene OR
Finnriver Cidery, Chimacum WA
Firestone Walker, Paso Robles CA
Flat Tail, Corvallis OR
Fort George, Astoria OR
Founders, Grand Rapids MI
Freehand, Eugene OR
Fremont Brewing, Seattle WA
Full Sail, Hood River OR
Georgetown, Seattle WA
Ghostfish Brewing, Seattle WA
Gilgamesh, Salem OR
GoodLife, Bend OR
Gratitude Brewing, Eugene OR
Great Notion, Portland OR
Ground Breaker, Portland OR
Hop Valley, Eugene OR
Hopworks Urban Brewery, Portland OR
Immersion, Bend OR
Iron Horse Brewery, Ellensburg WA
Kona Brewing Co., Kona HI
KYLA Hard Kombucha, Hood River OR
Lagunitas, Petaluma CA
Laurelwood, Portland OR
Level Beer, Eureka CA
Magic Number, Bend OR
Manifest Beer, Eugene OR
Mazama, Corvallis OR
McKenzie, Eugene  OR
McMenamins High St, Eugene OR
Merchant du Vin, Seattle WA
Modern Times, Portland OR
Ninkasi, Eugene OR
Oakshire, Eugene  OR
Occidental, Portland  OR
Paulaner & Fruli, Europe
Pelican, Pacific City OR
pFriem Family, Hood River OR
Plank Town, Springfield OR
Portland Cider, Clackamas OR
RiverBend Brewing, Bend OR
Rogue Ales, Newport OR
Rueben's Beer, Seattle WA
Rusty Truck, Lincoln City  OR
Schilling Cider, Seattle WA
Sierra Nevada, Chico CA
Silver Moon, Bend  OR
Sky High, Corvallis OR
Square Mile Cider, Portland OR
Sunriver, Sunriver OR
Three Creeks, Sisters OR
Tumalo Cider Co, Bend OR
Uinta Brewing Company, Salt Lake City UT
The Wheel Apizza Pub, Eugene OR
Widmer Brothers, Portland  OR
Wild Ride, Redmond OR
WildCraft Cider Works, Eugene OR
Wolf Tree, Seal Rock OR
Worthy, Bend OR
Zoiglhaus, Portland OR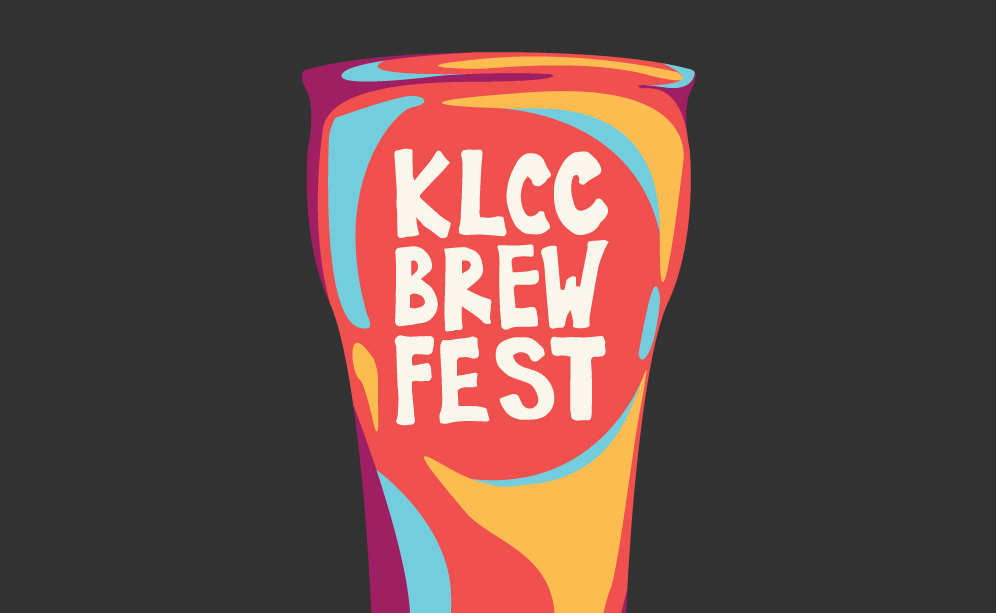 Advance tickets to the 2020 KLCC Brew Fest are now on-sale. Tickets cost $15 Single Day or $22 Both Days. Admission includes souvenir glass and a just two beer tickets, each good for a 3oz sample. Tickets will also be available at the door for $20/Single Day and $25/Both Days and includes a souvenir glass and two beer tickets. Not the greatest deal for a beer festival out there but if you bundle with additional tickets at $1 each for a 3oz pour it can make it bit more appealing. A Designated Driver ticket is $10/Day and is sold in advance and at the door.
KLCC Brewfest takes place on Friday, February 7th from 5:00-11:00pm and Saturday, February 8th from 1:00-11:00pm. Each day there will be a record and CD sale inside the brewfest so make sure to check this area out as we have found some great finds in years past!
Lane Events Center
796 W 13th Ave.
Eugene, OR