Mayfly Taproom to Host 2nd Annual Mayfly Kölsch Fest
|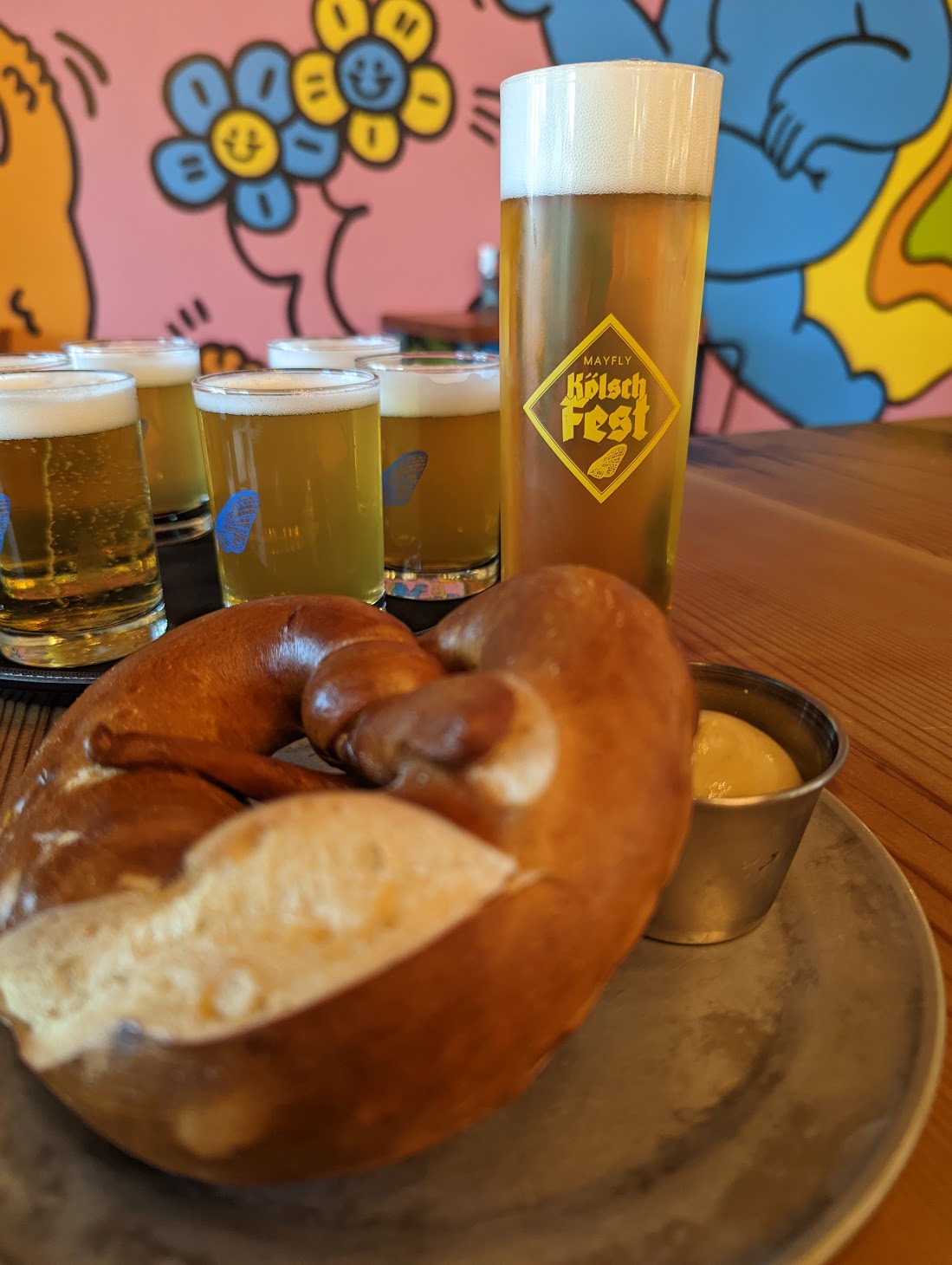 Portland Ore. (August 15, 2022) – North Portland's Mayfly Taproom and Bottle Shop is excited to announce the second annual Mayfly Kölsch Fest will kick off on Friday, August 26 and run through Sunday, August 28. This year's event will feature 12 Kölsch-style beers, through a blind tasting process, from various local breweries as well as live music, cornhole and more!
Guests will have the opportunity to purchase a $30 tasting package to take part in the festivities. Each package includes two different rounds of six 3 oz. tasters. Guests will then choose their top two beers from each round, receiving a final tray with their top four choices, to determine their favorite overall Kölsch. Once the tasting is complete, they will receive a full pour of their top Kölsch in a custom 2022 Mayfly Kölsch Fest Glass that they can keep.
At the end of the weekend, all votes will be tabulated to determine which Kölsch received the most top votes, to crown the 2022 Kölsch Champ. With the entire event being a blind tasting, not even the breweries or distribution reps will know which beer is theirs.
Every tasting package includes the entire Kölsch tasting, the custom 2022 .3L Mayfly Kölsch Fest glass to be filled with the guests #1 Kölsch pick, and a Dos Hermanos Bakery soft pretzel with mustard. Each guest will also have the opportunity to guess which Kölsch they chose as their top beer and if correct, they'll receive a $10 Mayfly Gift Card!
Complete Weekend Schedule:
Friday August 26: 5 pm-10 pm
Kölsch Kick Off! 
The Festival begins! Swing by to purchase your tasting package and start tasting some of the best Kölsch in the Pacific Northwest.
Saturday, August 27: all day 12pm-10pm
Live music from Festival Brass (5pm-8pm), cornhole, and hangs throughout the day!
Sunday, August 28: all day 12pm-8pm
Enjoy NW Loop Fest (1pm-8pm) – feature seven different loop musicians!
Last chance to purchase a tasting package and participate! At 8 p.m. we will tally all votes and decide who is the Kölsch Champ!
Monday, August 29: Noon
Kölsch Champ will be announced! Winner will receive a trophy, a special prize from Team Mayfly, and a permanent handle for the rest of 2022!
Breweries Featured: 
54°40′ BEER
Breakside Brewery
Chuckanut Brewery
Double Mountain Brewery
Grains of Wrath Brewery
Living Häus Beer
Occidental Brewing Company
Rosenstadt Brewery
StormBreaker Brewing
Van Henion Brewing Company
VIA Beer
Zoiglhaus Brewing Company
About MAYFLY TAPROOM AND BOTTLE SHOP: Mayfly Taproom and Bottle Shop opened in March 2019 in the Kenton neighborhood of North Portland, featuring delicious beer, wine, seltzer, and more! With 16 rotating taps along with a wide variety of cans and bottles, including non-alcoholic options, Mayfly has something for everyone. Stop by for live music from local artists throughout the week, Untapped Trivia and Holy Trinity BBQ on Thursday nights and Peachy Springs Drag Bingo every other Saturday night. BE GOOD. HAVE FUN.