Oakshire Brewing Presents Hellshire Day 2018 on May 12th
|
With the return of Hellshire Day 2018 on Saturday, May 12th, Oakshire Brewing will once again release its annual bourbon barrel-aged beer for the eighth year. Hellshire VIII Bourbon Barrel Aged Imperial Stout, brewed with cinnamon, cocoa nibs, coffee, vanilla beans and dried peppers will be available at the 5th Annual Hellshire Day for $20 per 22oz bottle.
Held at Oakshire Public House located in Eugene, Oregon, Hellshire Day 2018 will bring together over 35 breweries pouring a featured barrel-aged beer. The festival will take place from Noon to 8:00pm and advance tickets are now on sale at $30.00 each ($32.04 after fees) in advance ($35.00 at the gate) and entitle each ticket holder to a festival glass and 5 beer tokens. Organizers state that most beers are one token per 4 ounce pour. Additional beer tokens will be available for $2.00 each. Entry only to the festival is $5.00 each ($6.17 after fees) and allows one to order any of the Oakshire regular lineup of beers but not the festival barrel-aged beer offerings. At the gate these tickets will be $10.00 each.
Oakshire Founder Jeff Althouse describes the fest in a statement as, "A celebration of the pinnacle of craftsmanship in beer making. Hellshire Day showcases rare and special beers from a variety of independent brewers. The community gathering of beer makers and beer drinkers at Hellshire Day is a rare experience in the underworld of barrel-aged beer."
Hellshire Day's headlining beer is Hellshire VIII; Oakshire's 2018 Vintage release in the Hellshire series of bourbon barrel-aged imperial stouts. For the beer's eighth installment, Hellshire VIII is a take on Mexican coffee that offers a big and bold chocolaty imperial stout aged in 4 Roses Distillery Kentucky bourbon barrels. Showcasing a natural and sweet vanilla from the wood; cinnamon, cocoa nibs, coffee, and escalating peppers, Hellshire VIII takes after the Especial versions of the previous two years and comes in at 14% ABV and packaged in 22 ounce wax dipped bottles with label art once again from Sean Aaberg.
"The spiciness comes through as a warming pepper sensation across your palate, super smooth and crazy drinkable for the high ABV," said Dan Russo, who also leads Oakshire's barrel aging programs, in a statement.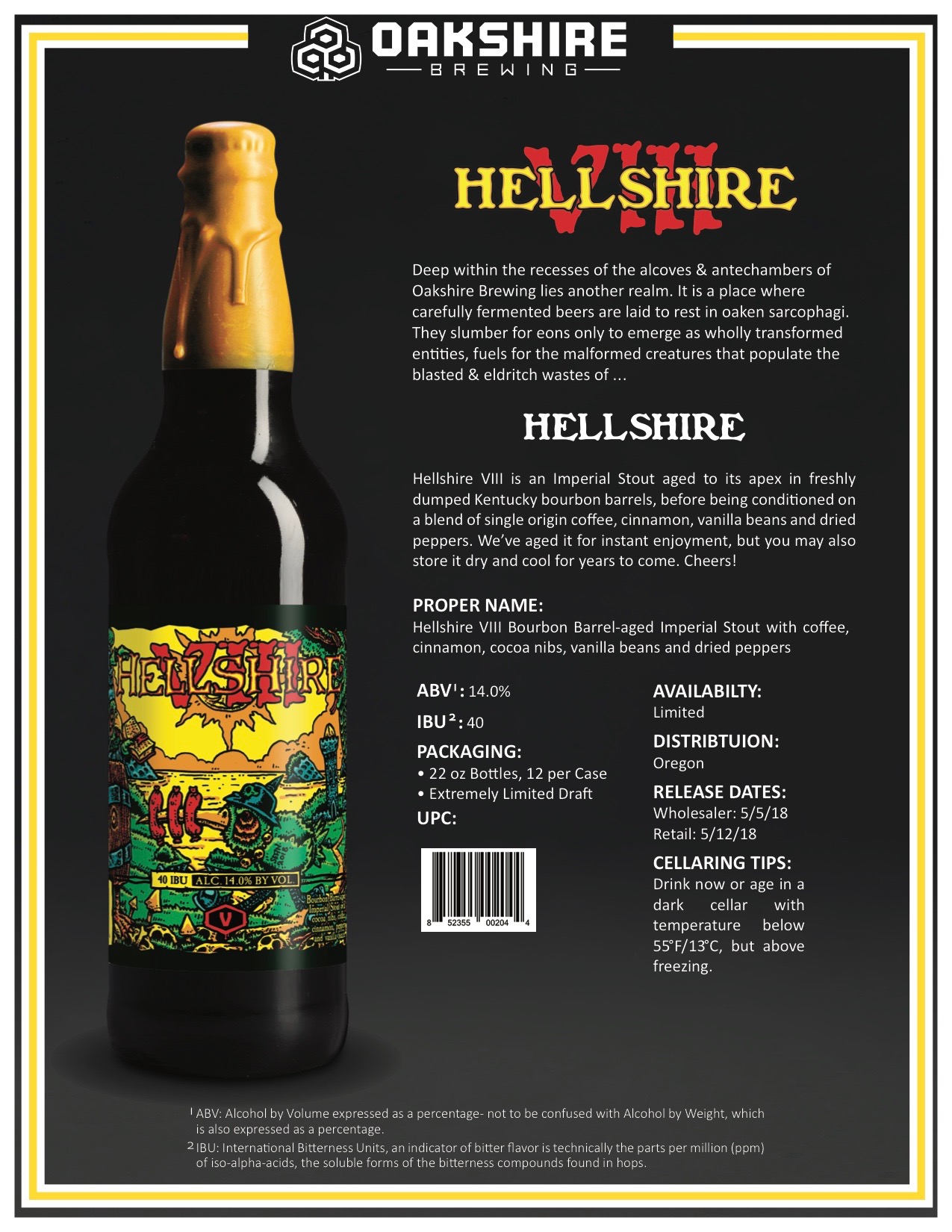 If you cannot wait until May 12th to get your hands on a bottle of Hellshire VIII, Oakshire Brewing is hosting The Hellshire Experience on Friday, May 11th from 6:00-9:00pm. Oakshire's Lead Brewer Dan Russo and brewery Co-Founder Jeff Althouse will lead this intimate all-inclusive evening of vintage draft pours from the beer library, food and live music. This behind- the-scenes all-inclusive warehouse party will give barrel-aged beer fans and industry professionals the chance to try Hellshire VIII for the first time along with other special vintage offerings. Also included is an extremely rare Oakshire Vintage Brunch in Hell 750ml Bottle for each guest to relive the experience in his or her own time. The first bottling for this perennial favorite is a divergent offspring of Hellshire VIII's base beer laid to rest in a freshly dumped St. Croix Rum Barrel. This single barrel breakfast inspired beer features and Organic Vermont Maple Syrup and single origin Columbian varietal coffee roasted by our friends at Slightly Coffee Roasters.
The Hellshire Experience will take place at the Oakshire Public House. Advance tickets are required and are $100.00 each ($104.49 after fees) and are available through May 10, 2018. Each Hellshire Experience ticket also includes a VIP Hellshire Day festival entry, festival glass and 5 tokens.
"It's a great honor for us that our brewery friends from around the country continue to share their rarest beers with us," said Russo in a statement. Here's a rundown on what to expect to be pouring on draft at Hellshire Day 2018.
Hellshire Day 2018 Tap List:
Crux Fermentation Project – Bandished Wild Farmhouse Ale
Yachats Brewing – Barrel-aged Cetacea
Crooked Stave – TBD
Block 15 – Super Nebula Breakfast with the Buffalo 2015
Block 15 – Snozzberry 2017
Ecliptic – Barrel-aged Carina Peach Sour Ale with Brett
Sunriver Brewing Company – Barrel-aged Motorhead
Burnside Brewing – Fable
Fort George Brewing Company – Matroyshka 2018
Adroit Theory – Tenebris Double Barrel Barleywine
Modern Times – Barrel-aged Devil's Teeth Cuvee (Rum & Rye)
Breakside – Err to Excess
Springdale Beer by Jack's Abby Brewing – Peach Bod
Ordnance Brewing – Ordnance Barleywine '16
Vike Braggot Company – Barrel-aged Biere de Garde
Reach Brew Brewing – Proprius Kisutch Chardonnay
Left Hand Brewing- TBD
Wild Ride Brewing- TBD
Alesong Brewing and Blending – Peche
Fremont Brewing – Rusty Nail
Coldfire Brewing – Seeds of Infinity
Gigantic Brewing- 2016 MASSSIVE! Bourbon Barrel-aged Barleywine
Cascade Brewing – Bourbonic Plague
Ruse Brewing – Briar Run
Logsdon Farmhouse Ales – Blue Rubus
Goodlife Brewing – Brett Lager
Founders Brewing Company – TBD
WildCraft Cider Works – Empire
Fair Winds Brewing Company – All Hands Anniversary Ale
Claim 52 – Menage a Framboise
Ninkasi – Cask Strength Ground Control.
Perennial Artisan Ales – 2 Beer TBD
2 Towns – Bourbon Barrel-aged Nice and Naughty
Two Roads Brewing – Philsamic Flanders Red
pFriem – TBD
New Holland – TBD
Oakshire – Hellshire VIII
Oakshire – Rum-barrel-aged Hellshire VIII
Oakshire – Many more surprised and wonderment
Hellshire Day 2018 will also feature food carts Buck Buck (fried chicken), Oregon Wood Fired Pizza, Bing King (Chinese street food) and more. Live music throughout the day will round out Hellshire Day that takes place from Noon – 8:00pm.
Oakshire Public House
207 Madison Street
Eugene, OR