The Weekend in Beer – Beginning September 8, 2022
|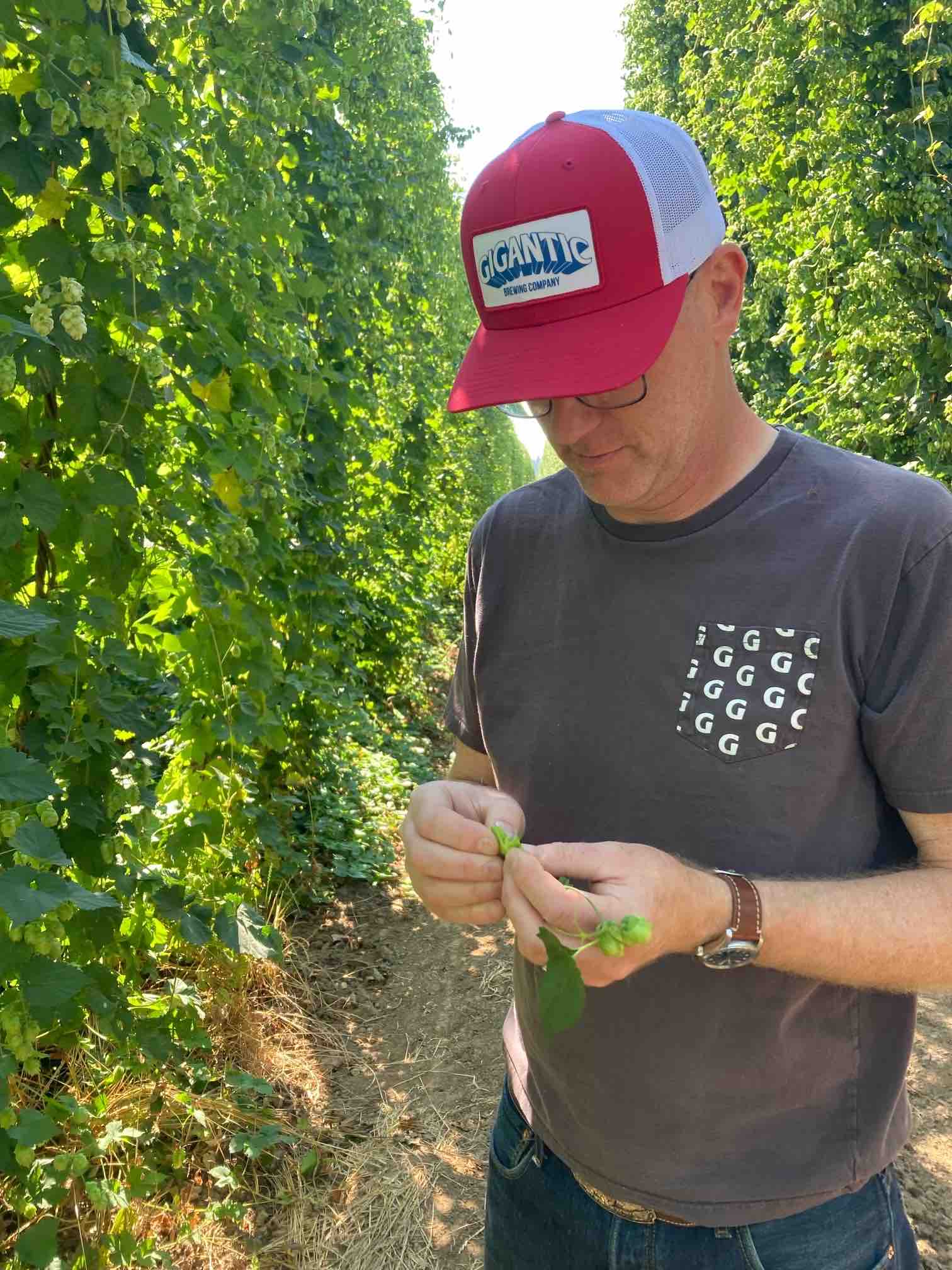 Another weekend of Fourteen fun filled events featuring not quite a F!@#ton of fresher than fresh hop beer releases. It all begins today over at Gigantic who is releasing a fresh hop hazy with a normal name and at Threshhold Brewing as they are releasing three fresh hop beers.
Kyle from Kings and Daughters is celebrating his first Anniversary at Belmont Station with brewery friends tonight at 5pm and if you are in SW Washington hit up the kick off of the Northbank Beer Week in Ridgefield or if you are in SW PDX,  Hops for Hounds has Hop Valley beers raising dough for doggos at Loyal Legion in Beaverton.
For Friday, Gigantic releases another Fresh Hop Beer, Freshtoberfresh at their two locations and John's Market has Johnstoberfest at their two locations. Saturday continues the Oktoberfest celebrations at John's Market and McMenamins Kennedy School in Portland. Over in SW Washington the city of Ridgefield and 54-40 Brewing in Washougal are hosting Oktoberfests as well.
If you want to hit up a couple of beer fests, one with over 60 beers head on down to Corvallis for Septembeerfest or if BBQ is your thing, Hops and Hogs is happening in The Dalles. If you have not had any of Ninkasi's collab cocktails with Jeffrey Morganthaler, Ninkasi is doing a tasting of three new ones at their Better Living Room space in Eugene on Saturday afternoon pre-Ducks game.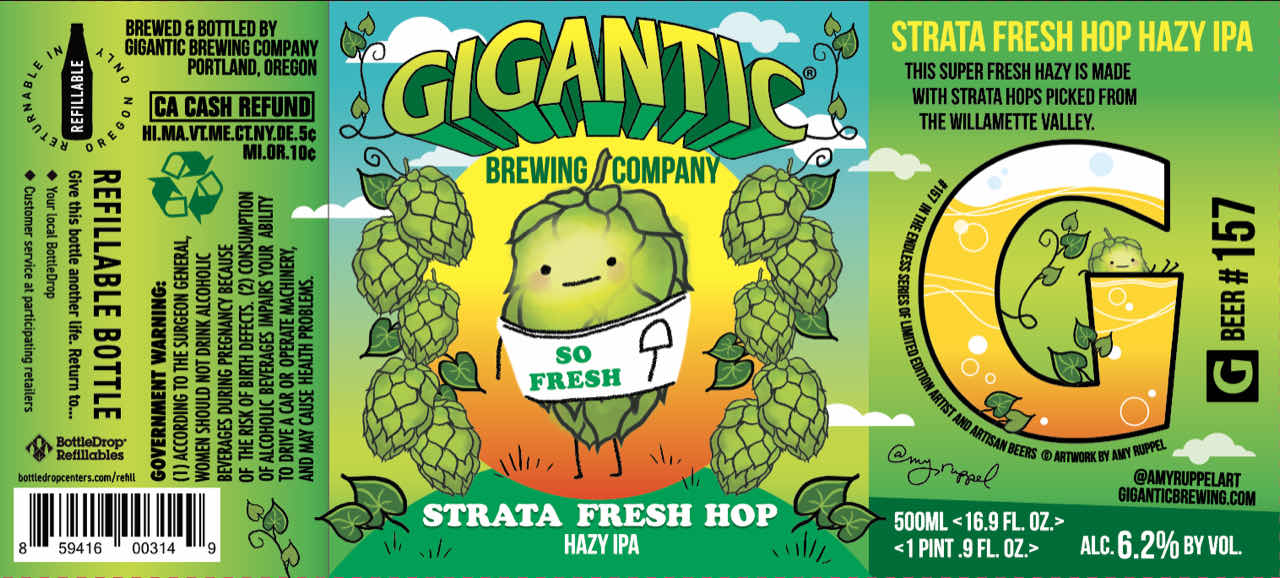 GIGANTIC BREWING STRATA FRESH HOP HAZY IPA RELEASE
THURSDAY SEPTEMBER 8 – 12-9:00PM NE LOCATION
THURSDAY SEPTEMBER 8 – 2-9:00PM SE LOCATION
The Gigantic brewers are releasing the first of their Fresh Hop beers on Thursday.  Strata is an Oregon developed  hop and the brewers at Gigantic love it for its punchy, juicy, passionfruit flavors and how it lends itself to the hazy style. Available on draft and in 16.9oz refillable bottles.
Gigantic Brewing Company – 5224 SE 26th Ave. – Portland, OR
Gigantic Brewing Company – 6935 NE Glisan St. – Portland, OR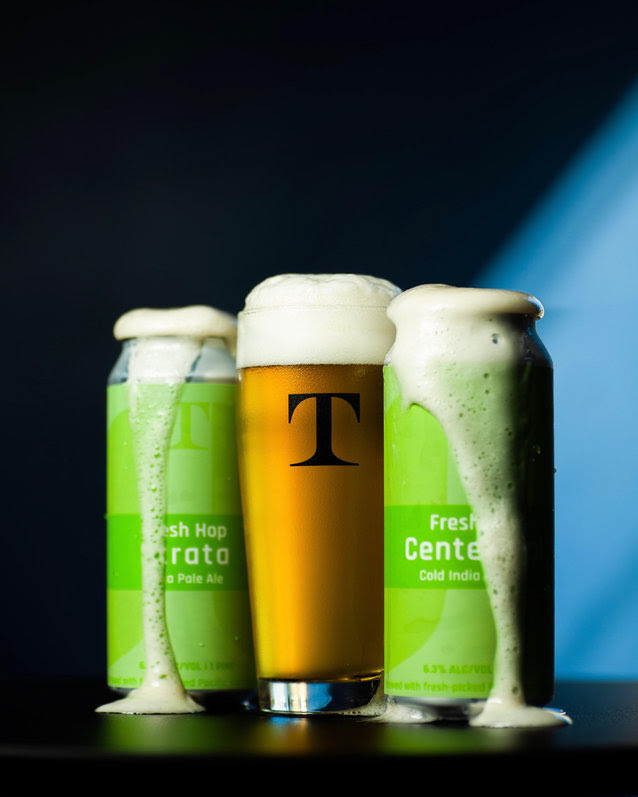 RELEASE THE THRESH HOPS
THURSDAY  SEPTEMBER 8  – 4-9:00PM
Threshhold is releasing 3 fresh hop beers on Thursday at their Montavilla brewery at 4:00 p.m.  Threshold's official 2022 fresh hop releases are both from Crosby Hop Farm this year and a part of their Fresh Hop Electric Fields series including the following beers:
Electric Fields Centennial Cold IPA | A Fresh Hop spin on their Cold IPA, using freshly harvested citrus-forward and aromatically floral Centennial hops. 6.3% ABV
Electric Fields Strata IPA | A straight up Strata fresh hop IPA in all its fruity dankness. 6.2% ABV
Both are available on draft and in cans starting Thursday, September 8th.
Extra Fresh Fun: is a draft-only limited Fresh Hop batch of Piwo Polish Pilsner and is hopped with fresh Simcoe from BC Hop Farm in Woodburn.
Threshold Brewing – 403 SE 79th Ave – Portland, OR

KINGS AND DAUGHTERS 1ST ANNIVERSARY PARTY
THURSDAY  SEPTEMBER 8  – 5-8:00PM
Belmont Station is celebrating the one-year anniversary of Kings and Daughters brewery on Thursday from 5-8:00 p.m. View the draft list online at https://www.belmont-station.com/.
Belmont Station – 4500 SE Stark St. – Portland, OR

NORTHBANK BEER WEEK KICKOFF
THURSDAY, SEPTEMBER 8, 2022 AT 5–9:00PM
Northbank Beer Week kicks off for the 7th year with a patio party at 3Peaks Public House in Ridgefield at 5:00 p.m. featuring beers from over 25 Northbank brewers and FREE T-Shirts will be handed out to the first 300 people in attendance.
3Peaks Public House & Taproom – 24415 NE 10th Ave. – Ridgefield, WA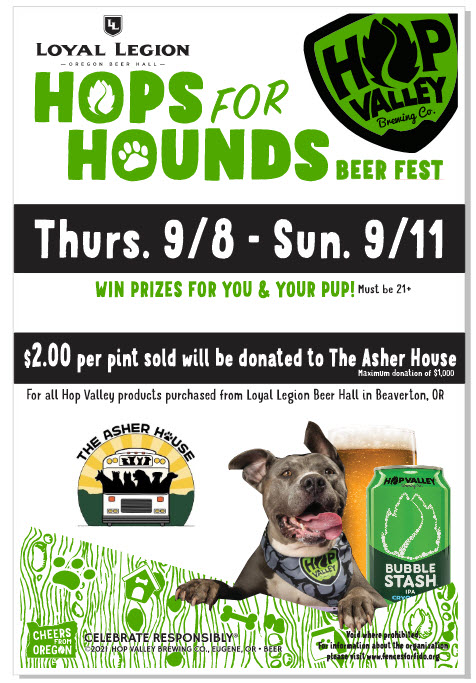 HOPS FOR HOUNDS WITH HOP VALLEY
THURSDAY, SEPTEMBER 8, 2022 AT 5-8:00PM
EVENT RUNS THRU SUNDAY
Hop Valley rep Sara Robinson will be at Loyal Legion Beaverton on Thursday from 5-8pm to give out swag and talk about beer and dogs.  Hops for Hounds is benefiting The Asher House, a registered non-profit sanctuary in Estacada, Oregon. They rescue animals that have been discarded or unwanted, providing them with a life of comfort, love and adventure.  If you order any of the featured Hop Valley beers all weekend contribute $2 per pint up to $1,000!
Featured Hop Valley beers: Hefeweizen, Blonde, Bubble Stash IPA, Pineapple Stash House Hazy, Citrus Mistress IPA, Stash Panda Hazy, Space Gaze Hazy Pale, The Oneness Single Hop Cashmere IPA, Big Smile IIPA and Paintn' the Town Brown
Loyal Legion Beaverton – 4500 SW Watson Ave. – Beaverton, OR
JOHNSTOBERFEST
FRIDAY SEPTEMBER 9 – 11-8:00PM
SATURDAY SEPTEMBER 10 – 11-8:00PM
John's Marketplace is doing two days of Oktoberfest starting Friday at 11:00 a.m. and tickets are $35 at the door and gets you a custom glass and 6 drink tickets.  It will feature the following beers: Away Days Festbier, Baerlic Oktobaerfest, Block 15 Altbier, Flensburger Festbier, Grains of Wrath Gerstenwolf Festbier, Heater Allen Bobtoberfest, Mutantis Wüb German Lager, Paulaner Oktoberfest Wiesn, pFriem Oktoberfest, Reverend Nat's Oktoberfest Apfelwein, Rosenstadt Houblon-Pils, Röder Apfelwein and Weihenstephaner Festbier
John's Marketplace – 3535 SW Multnomah Blvd. -Portland, OR
John's Marketplace – 3560 SE Powell Blvd. – Portland, OR
GIGANTIC BREWING FRESHTOBERFRESH PILSNER RELEASE
FRIDAY SEPTEMBER 9 – 12-9:00PM NE LOCATION
FRIDAY SEPTEMBER 9 – 2-9:00PM SE LOCATION
Gigantic's take on the modern Wiesn beers served at Oktoberfest in Munich this fresh hop pilsner uses Goschie Farm's Tettnang hops.  The base beer is a pilsner made entirely with German malt and proper lager yeast.  Tasting notes speak of soft, bready malts, noticeable floral notes, and a spicy wet hop character and is on draft only.
Gigantic Brewing Company – 5224 SE 26th Ave. – Portland, OR
Gigantic Brewing Company – 6935 NE Glisan St. – Portland, OR 
BEER FLOAT NIGHT
FRIDAY SEPTEMBER 9 – 5-9:00PM
Ben's Bottle Shop is making beer floats on Friday from 5-9:00 p.m.  You choose the beer and they will have the ice cream ready to make a beer float.
Ben's Bottle Shop – 8052 E. Mill Plain Blvd. #2002 – Vancouver, WA

15TH ANNUAL SEPTEMBEERFEST
SATURDAY SEPTEMBER 10 – 12-7:00PM
Join Heart of the Valley Homebrewers among the trees of Avery Park in Corvallis, Oregon on Saturday at noon as they celebrate the 15th annual Septembeerfest.  Admission is $25 and includes a tasting glass and eight drink tokens, additional drink tokens are 4 for $5. For most beers 1 token = 4 oz pour and while cash is preferred, save time and purchase your admission in advance online and are $27.87 with fees.  Right now the beer list is at over 60 beers including the rotating ones from 21 breweries and cideries and you can check out the beer list at online here.
Septembeerfest is a family friendly event, everyone under the age of 21 and designated drivers are admitted free. Anyone under 21 must be accompanied by a paid adult. While they love the fur friends, please leave them at home.
Avery Park – 1200 SW Avery Park Dr. – Corvallis, OR
GORGE HOPS & HOGS
SATURDAY SEPTEMBER 10 – 12-11:00PM
The Gorge Hops and Hogs event kicks off at noon on Saturday in the Dalles and features BBQ and beers from 9 breweries and tickets are $50 and include a commemorative tasting mug and 8 tokens and all ages are welcome.  This BBQ & Beer Festival features a BBQ Competition, Regional Craft Beer and Cider in the Hops Tent and Live Music performances by National Recording Artists Eric Paslay and Jon Langston.  There will also be People's Choice BBQ tasting, food trucks, sponsor exhibits, backyard games and more at this family-friendly event.
Lewis & Clark Festival Park – W. 1st St. – The Dalles, OR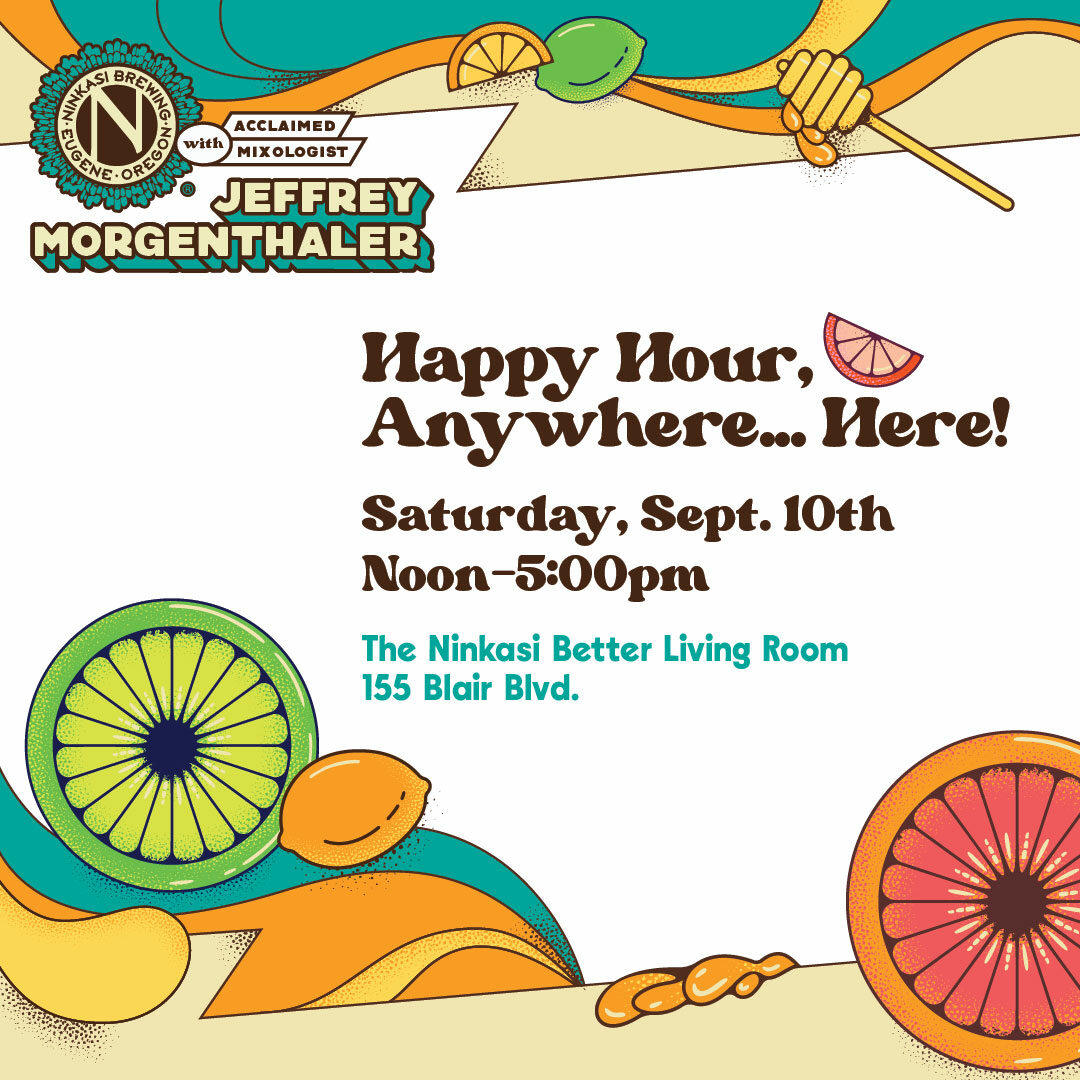 NINKASI HAPPY HOURS WITH JEFFREY MORGANTHALER
SATURDAY SEPTEMBER 10 – 12-5:00PM
On Saturday at Noon you can check out the most recent arrivals and expansion of Ninkasi canned cocktails at The Ninkasi Better Living Room in Eugene starting at noon.  You can sample all three new flavors: Rum Punch, Grapefruit Refresher, and Ginger Honey Press from noon to 3:00 p.m. and hear from Ninkasi co-founder Jamie Floyd and acclaimed mixologist, Jeffrey Morgenthaler, for a poolside chat at 2:00 p.m.
The Ninkasi Better Living Room – 155 Blair Blvd. – Eugene, OR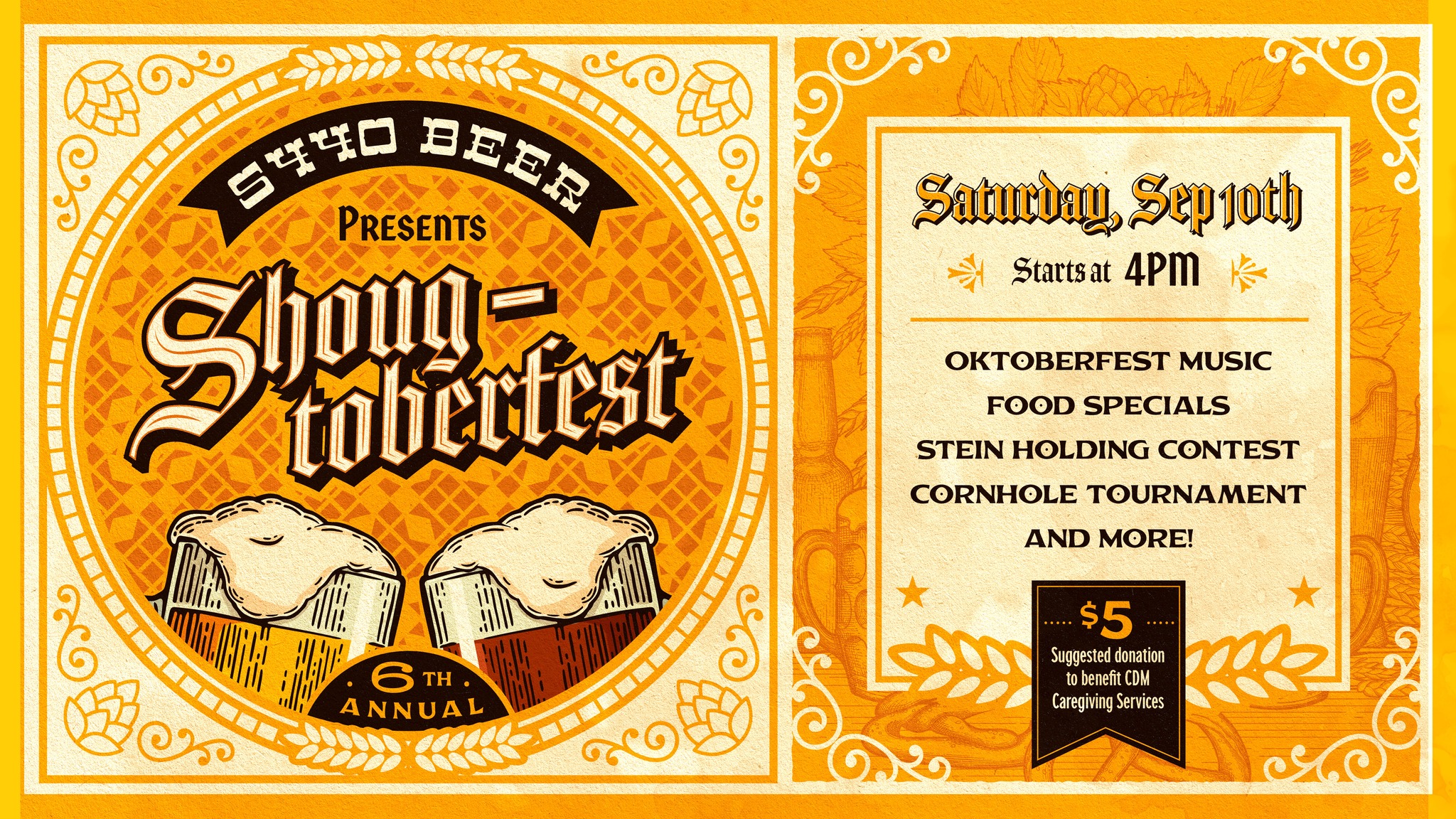 SHOUGTOBERFEST
SATURDAY SEPTEMBER 10 – 12-8:00PM
Join Bolt and the gang for a night of Oktoberfest music, stein holding, bag tossing and more.
5440 Brewing Co. – 3801 S. Truman St. – Washougal, WA
6TH ANNUAL MCMENAMINS KENNEDY SCHOOL OKTOBERFEST BREWFEST
SATURDAY SEPTEMBER 10 – 1-7:00PM
McMenamins Kennedy School is having an Oktoberfest beer fest on Saturday from 1-7:00 p.m. German food fare and German-style craft beers along with their inspiral beers from Germany with a beer and cider list totaling 25.  The costs are $25 for brewfest glass and 10 tokens and as always all ages are welcome but you need to be of age to drink beer/cider.  Look for live music from the Mawlee Jones Band agt 2:00 p.m. and Falcon Heart at 4:30 p.m.  Tickets here
GERMAN BEER LIST:
Aldersbacher – Kloster Dunkel
Ayinger – Celebrator Doppelbock
Ayinger – Oktober Fest
Franziskaner – Hefe Weisse
Hacker-Pschor – rMunich Dark
Hofbräu – Original Helles
Köstritzer – Schwarzbier
Paulaner – Oktoberfest Märzen
Schoenramer – Gold Lager
Schöfferhofer – Pineapple Hefeweizen
Weihenstephaner – Hefeweissbier Dunkel
Weissbräu Schwendl – Schalchner Weisse Pale
LOCAL GERMAN-STYLE BEERS:
McMenamins Edgefield Brewery – Oktoberfest
McMenamins Edgefield Brewery – Uncle Bock
McMenamins Kennedy School Brewery – Concordia Oktoberfest
McMenamins Kennedy School Brewery – Okto Fiesta
McMenamins Mill Creek Brewery – Intercontinental Vienna Lager
McMenamins Oak Hills Brewery – Coastline Fresh Hop Kölsch
Great Notion Brewing – Puffery
Von Ebert Brewing – Rauch Helles
CIDERS:
Edgefield Winery – Farmhouse Cherry Cider
Reverend Nat's Hard Cider – Oktoberfest Apfelwein
MagnersIrish Cider
Bauman's Cider
Peach Raspberry Cider
McMenamins Kennedy School – 5736 NE 33rd Ave. – Portland, OR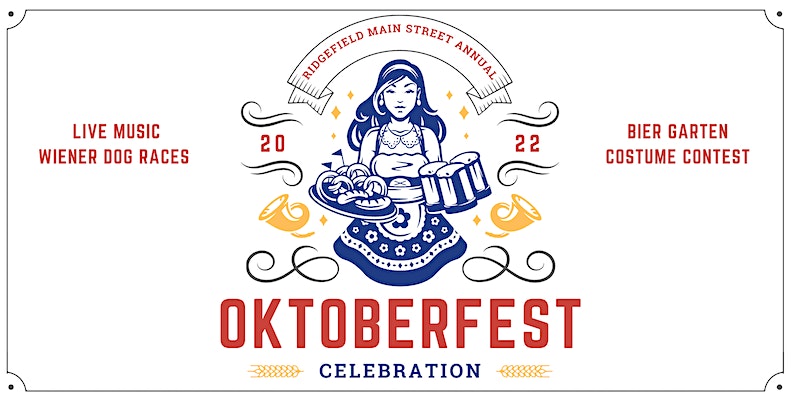 7th ANNUAL RIDGEFIELD OKTOBERFEST
SATURDAY SEPTEMBER 10 – 3-10:00PM
Ridgefield's Annual City Oktoberfest Celebration starts at 3:00 p.m. on Saturday and offers fun and entertainment for all ages in Downtown Ridgefield at Overlook Park. The '22 Ofest offers a packed schedule with live music, local craft and German beers, great food, activities for all ages, and the traditional weiner dog races- (YES!).  There are multiple ticket packages available and you can check them out online here.
Overlook Park – 113-131 S. Main Ave. – Ridgefield, WA