AleSmith and Anvil of Hope Brew Support for Frontline Workers
|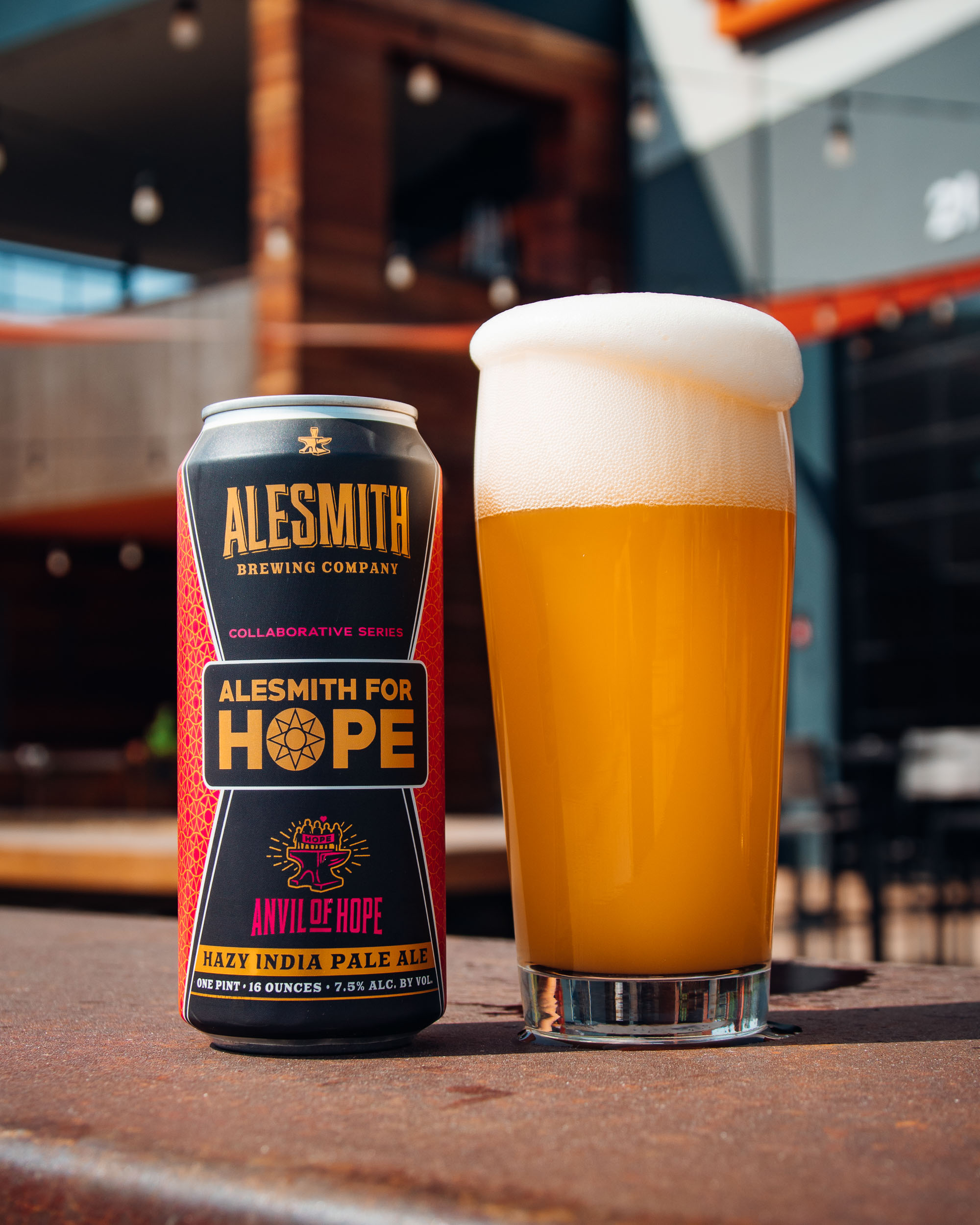 AleSmith Brewing Company has established a new nonprofit, Anvil of Hope. The goal of this nonprofit is to provide assistance to low-income families, those who are facing homelessness, youth who are aging out of foster care and citizens who are experiencing temporary hardships in the San Diego community and beyond.
To help launch Anvil of Hope, AleSmith Brewing has released AleSmith for Hope Hazy IPA. This exciting release demonstrates the local brewery's tangible commitment to the community as they "pour it forward" to help frontline workers both during, and in the wake of the current COVID-19 crisis.
"While many breweries are doing their best to manage during this global pandemic, we believe it is our duty to give back to members of the community who are 'giving it their all' during these trying times," said Peter Zien, co-owner of AleSmith, in a press release. "It makes perfect sense for us to do what we do best, and through that, be able to lend a hand to others across the county."
Anvil of Hope is the brainchild of AleSmith Brewing Company's owners, Peter and Vicky Zien – merging their shared desire to help others with their affinity for brewing. As a manifestation and malleable extension of their existing brand, the nonprofit aims to support those who need it most. Spearheading the operations of the charity component is AleSmith's Chief Culture and Community Advocate Vicky Zien, whose own upbringing fueled her fervor for helping others.
"Growing up as one of five children, I saw what my mother went through as a Mexican immigrant to raise us on her own. We grew up combatting racist remarks from other children, which certainly added insult to injury for our family, as we were already struggling to make ends meet. I find comfort in knowing that Peter shares my passion for helping those in need, and frontline workers impacted by the COVID-19 pandemic felt like the right place to start."
AleSmith Brewing Company has collaborated with Anvil of Hope to donate proceeds from AleSmith for Hope Hazy IPA to members of the San Diego community who have been impacted in a multitude of ways by COVID-19. Proceeds from AleSmith for Hope Hazy IPA will aid organizations that support the mission of Anvil of Hope and will be specifically earmarked to help frontline workers and their families.
AleSmith for Hope Hazy IPA Description:
Crafted with the American spirit, AleSmith for Hope Hazy IPA is packed with intense aromas of pineapple, citrus and tropical fruits. It's light body and smooth finish make it a brew that's perfect for every occasion.
7.5% ABV
15 IBU
Anvil for Hope will be available for purchase at AleSmith's Gift Shop and distribution of the beer will begin next week in Southern California, Illinois, Washington, Oregon, Texas and Nevada. To locate AleSmith Brewing beers click here.
Learn more about Anvil of Hope by visiting its website and following them on Instagram and Facebook.