No-Li Brewhouse 25 Days of Christmas – 2021
|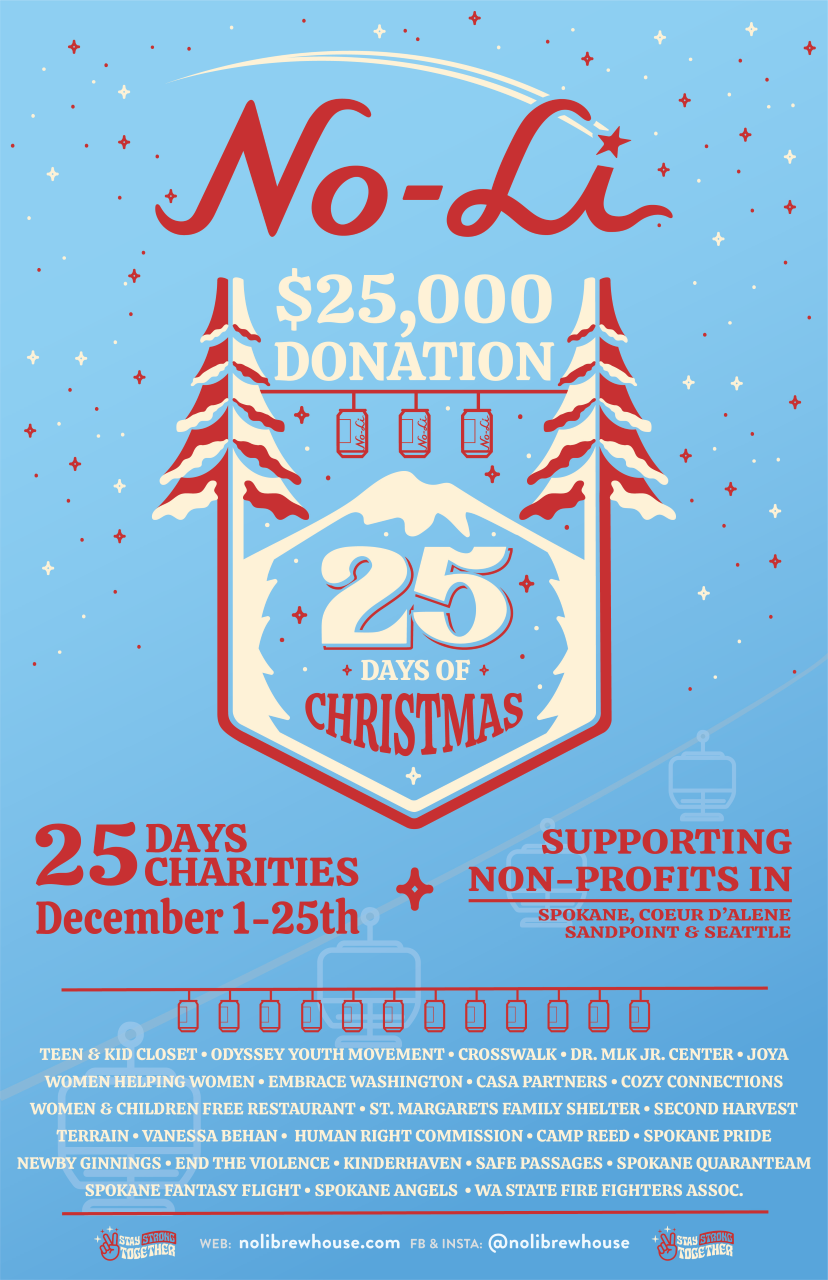 After donating $12,000 last year during its 12 Days of Christmas fundraiser, No-Li Brewhouse from Spokane, Washington will expand this fundraiser as it is set to host its 25 Days of Christmas for the 2021 Holiday Season. Each day during the first 25 days of December, No-Li will be raising funds to support 25 local charities that bring love and goodness to its community.
"A strong community takes the commitment of each of us to give more than we take," says Cindy Bryant of No-Li Brewhouse. "These 25 organizations exemplify this idea, reaching into our local neighborhoods to uplift our fellow citizens with respect, dignity and caring,"
Each day, No-Li will donate $1,000 to each charity that'll total $25,000 during the month of December. Here's a list of the 25 charities.
NO-LI 25 DAYS OF CHRISTMAS CHARITIES
Wednesday, Dec. 1st – TEEN AND KID CLOSET
Thursday, Dec. 2nd- ODYSSEY YOUTH MOVEMENT
Friday, Dec. 3rd – CROSSWALK
Saturday, Dec. 4th – DR. MLK JR. CENTER
Sunday, Dec. 5th – JOYA
Monday, Dec. 6th – WOMEN HELPING WOMEN
Tuesday, Dec. 7th – EMBRACE WASHINGTON
Wednesday, Dec. 8th –CASA PARTNERS
Thursday, Dec. 9th – COZY CONNECTIONS/SEATTLE
Friday, Dec. 10th – WOMEN AND CHILDREN FREE RESTAURANT
Saturday, Dec. 11th – ST. MARGARET'S FAMILY SHELTER
Sunday, Dec. 12th – SECOND HARVEST
Monday, Dec. 13th- TERRAIN
Tuesday, Dec. 14th – VANESSA BEHAN
Wednesday, Dec. 15th – SPOKANE HUMAN RIGHTS COMMISSION
Thursday, Dec. 16th – CAMP REED
Friday, Dec. 17th – SPOKANE PRIDE
Saturday, Dec. 18th –NEWBY GINNINGS/ POST FALLS, IDAHO
Sunday, Dec. 19th – END THE VIOLENCE
Monday, Dec. 20th- KINDERHAVEN/SANDPOINT, IDAHO
Tuesday, Dec. 21st – SAFE PASSAGES/ COEUR D'ALENE, IDAHO
Wednesday, Dec. 22nd – SPOKANE FANTASY FLIGHT
Thursday, Dec. 23rd – SPOKANE ANGELS
Friday, Dec. 24th – WASHINGTON STATE VOLUNTEER FIRE FIGHTER'S ASSOCIATION/ WASHINGTON STATE
Saturday, Dec. 25th – SPOKANE QUARANTEAM