Redhook Brewery To Release El Sonido Mexican-Style Lager To Benefit SMASH
|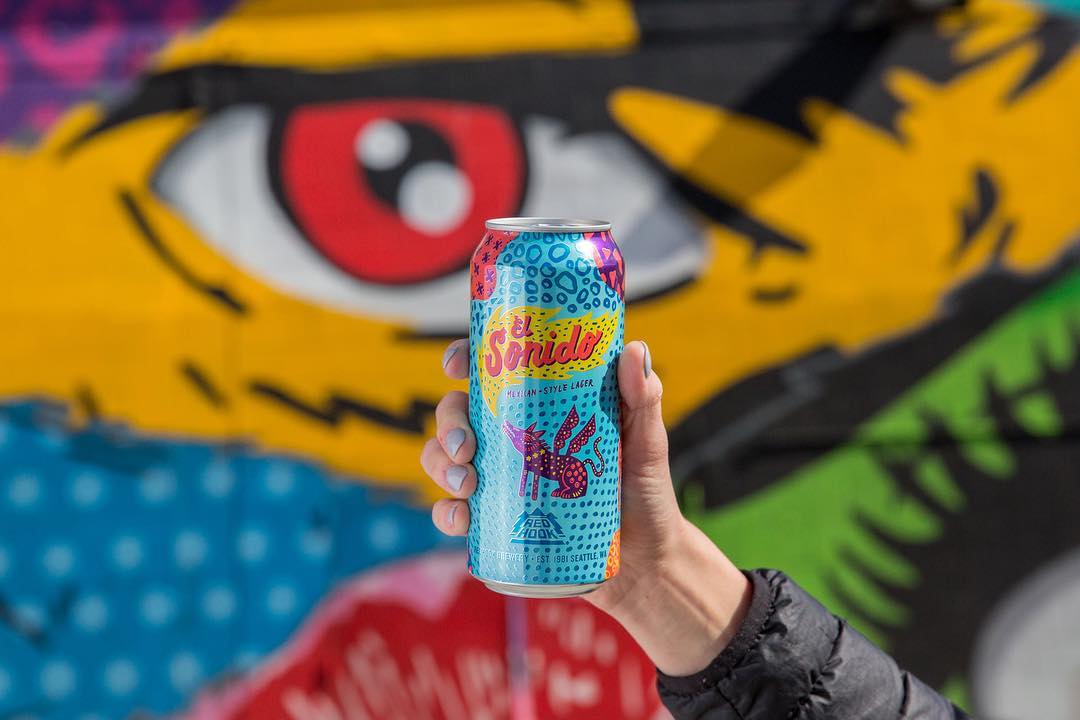 Last year, Redhook Brewery released El Sonido, a Mexican inspired lager brewed at its Brewlab in Seattle and went on to become Brewlab's most popular beer of 2018. Now El Sonido will join Redhook's year-round lineup and will also benefit a very important charitable organization in Seattle.
When released this month, El Sonido will partner with SMASH – Seattle Musicians Access to Sustainable Healthcare. This organization assists the Seattle music community by providing health education, advocacy, and access to preventative healthcare to Seattle-area working musicians.
In coming up with the packaging design for the can artwork on El Sonido, Redhook reached out to Seattle-area artist Victor Melendez. Originally from Mexico City, Melendez artwork features Alebrijes, a unique and fantastical Mexican creature full of color and stories. El Sonido will be available in 12- and 16-ounce cans in 6- and 4-packs.
Here are additional details from Redhook's press release…
"I was inspired by Alebrijes for their handcrafted nature, their color and uniqueness – no two are alike," Melendez said. "The colorful vibrant creatures represent the spirit of the Mexican culture and flavor. Elements and parts from different animals or beasts are combined, and together they form a unique colorful and magical creature." 
The El Sonido name was inspired by another Redhook partner, KEXP and its host DJ Chilly, who has a show of the same name on Monday evenings. El Sonido, "the sound", evokes the place Redhook calls home as well as Redhook head brewer Nick Crandall's passion for music and creativity.
"Our beer fans were thirsting for a lighter lager with great flavor, so we came up with this beer, which did really well at Brewlab," said Crandall. "When we thought about adding this delicious lager to our 2019 lineup, and being able to work with Seattle artists and musicians, the idea really came to life. It's the beer I'm most excited about in 2019."
A portion of the proceeds of El Sonido will be donated to SMASH – a nonprofit organization dedicated to keeping the Seattle music community healthy and thriving by providing health education, advocacy, and access to preventative healthcare to Seattle-area working musicians.
"We at SMASH are so excited to be working with Redhook as part of the El Sonido release," said SMASH President Ian Moore. "We love their company ethics and are grateful for their support for our organization and for our SMASH members."
Redhook will be celebrating the launch of El Sonido with a "Meet the Makers" event at Brewlab on April 11, 2019 from 5:00 to 8:00 p.m. All of the key players will be in attendance, including Victor Melendez, Ian Moore, Nick Crandall, and DJ Chilly. Fans will have the opportunity to try El Sonido with special prices on cans, and learn more about all the key partnership components behind the beer. Melendez will also be handing out artist prints.
To help promote SMASH, Redhook and KEXP will be hosting special events throughout the Puget Sound in the month of April. Each event will feature information on SMASH, live music, and El Sonido specials. Here's a brief rundown on those launch parties:
April, 13 – Tony V's Garage in Everett from 7:00 p.m. – close
April 17 – The Swiss in Tacoma from 5:00 – 8:00 p.m. there will be a DJ in the house
April 18 – Chop Suey in Seattle from 7:00 – 11:00 p.m. with the Moondoggies (5 dollar cover)
April 25 – The Crocodile in Seattle from 5:00 – 8:00 p.m.
For additional information on Redhook Brewery, visit redhook.com and follow the brewery on Instagram, Facebook, and Twitter. Or, to find El Sonido near you, visit Redhook's beer-finder: http://www.Redhook.com/find-beer.
El Sonido
El Sonido will join Redhook's core beer lineup in all-new cans in the spring of 2019. This Mexican-style lager bursts with subtle flavors of citrus boasts an exceptionally crisp finish. Perfect for any occasion, this easy-drinking beer—just 5.7 percent ABV—pays tribute to the grand Puget and the artists like Victor Melendez, a Seattle designer and illustrator who designed the can artwork. A portion of sales proceeds benefit SMASH, which helps provide Seattle musicians access to healthcare.  
Malts: Premium 2-Row, Weyermann, Munich I
Hops: Alchemy, Wakatu
Extra: Flaked Corn
ABV: 5.7%
IBU: 30