Review of the NewAir 126-Can Freestanding Beverage Fridge
|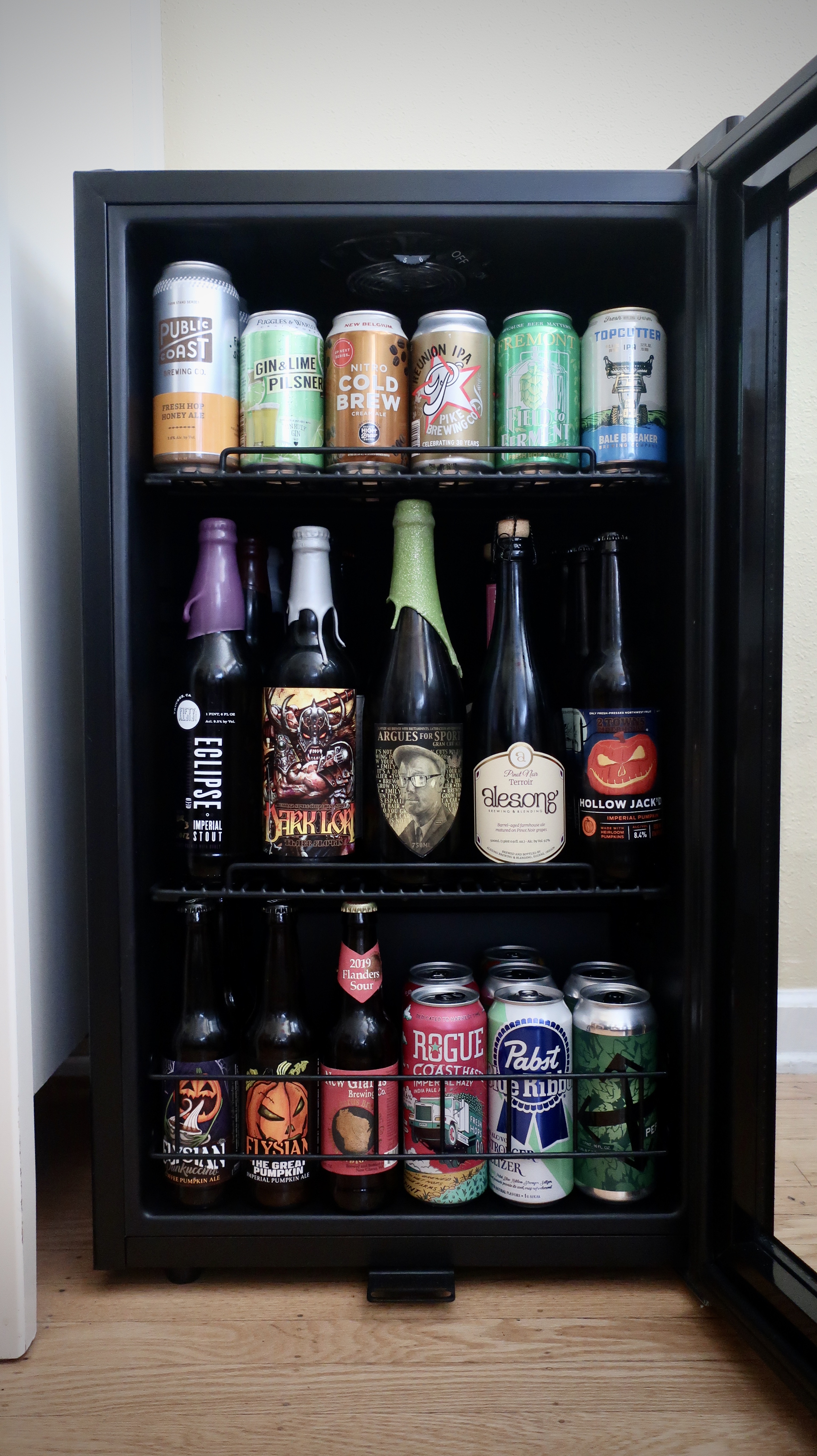 Finding space to keep all of your beer cold can be a challenge. One solution can be a smaller, dedicated beer fridge such as the NewAir 126-Can Freestanding Beverage Fridge.
NewAir, makers of mini-fridges among other household appliances recently reached out to us to try out and review the NewAir 126-Can Freestanding Beverage Fridge. After being sent the FedEx tracking info it was easy to follow the delivery process. The NewAir fridge arrived on our doorstep and was quite simple to move and to install as it weights under 63 pounds. There were some packing straps to cut and then all we had to do was lift the outer box off and then slide the fridge onto our floor. Pretty easy.
Once unpacked we found the owner's manual for the NewAir AB-1200B, and quickly perused it. First thing we did was figured out the seven-setting thermostat that will chill down your beverage to 34 degrees from the quiet 35dB compressor. This is a dial setting but if you have a thermometer you can get an exact temperature to perfect your beer storage, especially for proper aging.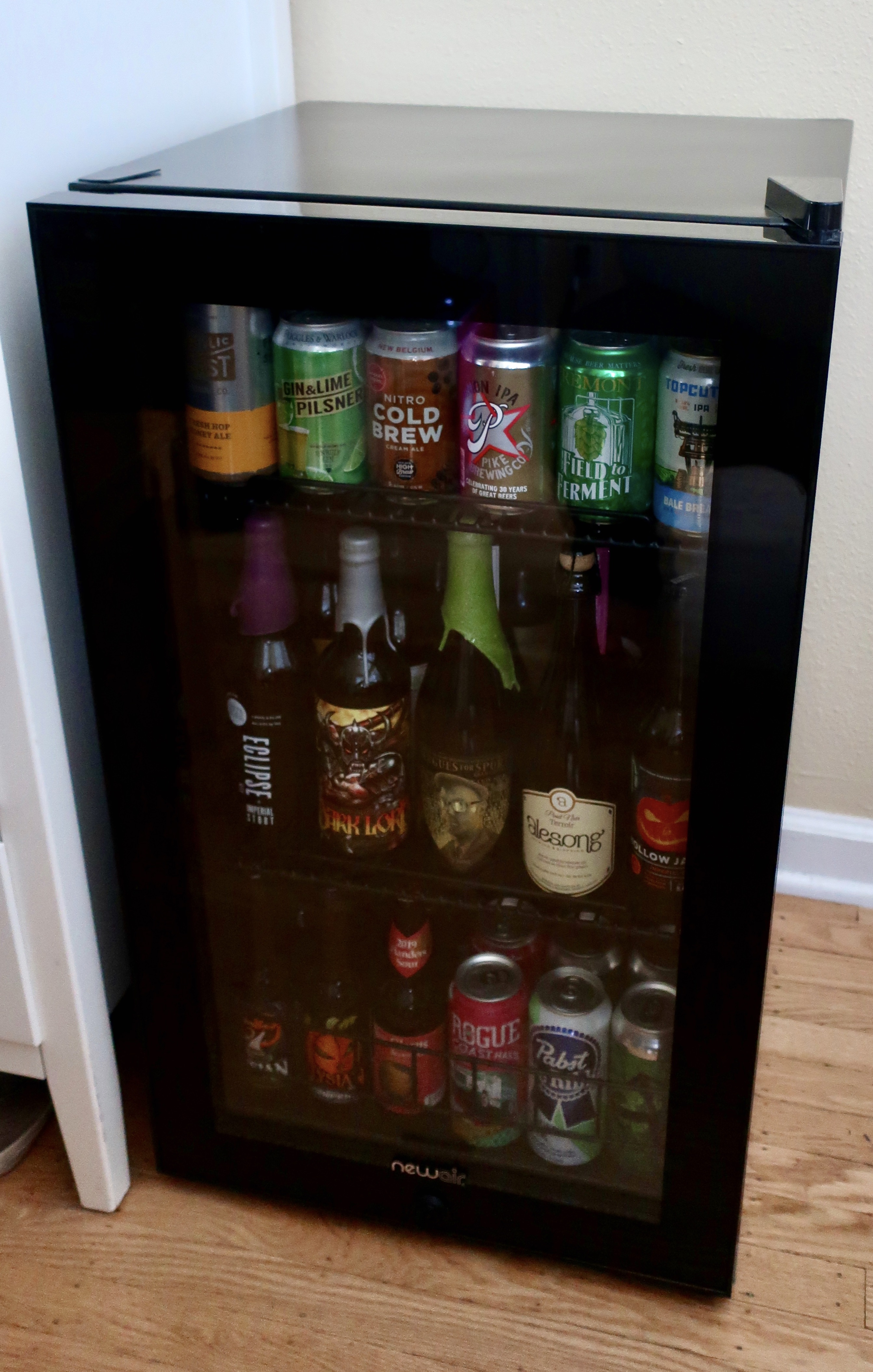 As with many other mini-fridges, the NewAIr does not have one. This allows for a much better thermostat to store beer in. No fear of freezing your beer if the beer's placed too close to the freezer. Plus, with no freezer installed this means there is more cubic inch space inside for your beer!
Next we had to fill the fridge. We decided the best shelf spacing for the fridge. According to NewAir, this NewAir AB-1200B will hold up to 126 12oz cans. Since we have a variety of container sizes, we set up the shelves to best fit our needs. Of course these can easily be changed out and added depending on which beers you have as there are plenty of shelf slots to best maximize the space.
When it comes to the aesthetics of the NewAir AB-1200B Fridge, the onyx black color is quite sharp. The clear double-pane glass door is a tough one that's held in place by a durable stainless-steel door frame. Inside near the thermostat is the LED interior light switch. You can choose to have this energy saving LED light either on or off. The estimated operating cost for this fridge is $54.
Measuring just 18.5 x 18.8 inches and under 33 inches high, this new beer fridge will fit in many spaces. Perfect for the basement bar, office or wherever you want an easy access to your beer. And if you need to secure your beer, this fridge comes with a safety lock.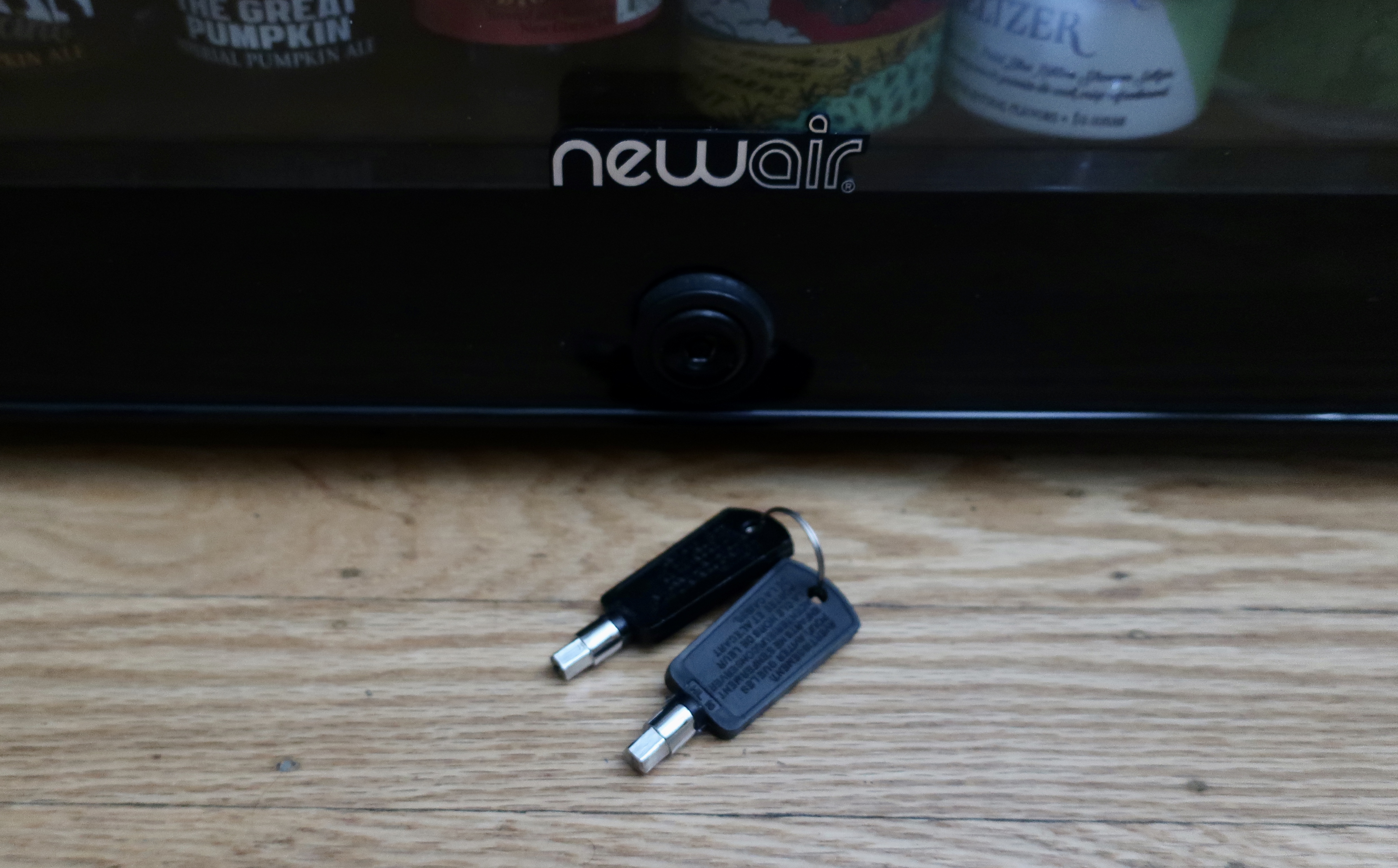 The NewAir 126 Can Freestanding Beverage Fridge in Onyx Black with Adjustable Shelves (AB-1200B) can be purchased online directly from NewAir for $289.95. Use code BrewPublic20 in the Gift Card/Discount Code Box to receive a 20% discount to bring this fridge down to $231.96. Click HERE for this offer.