Portland Brewing and Terry Currier of Music Millennium Collaborate on In The Groove Black Vinyl Lager
|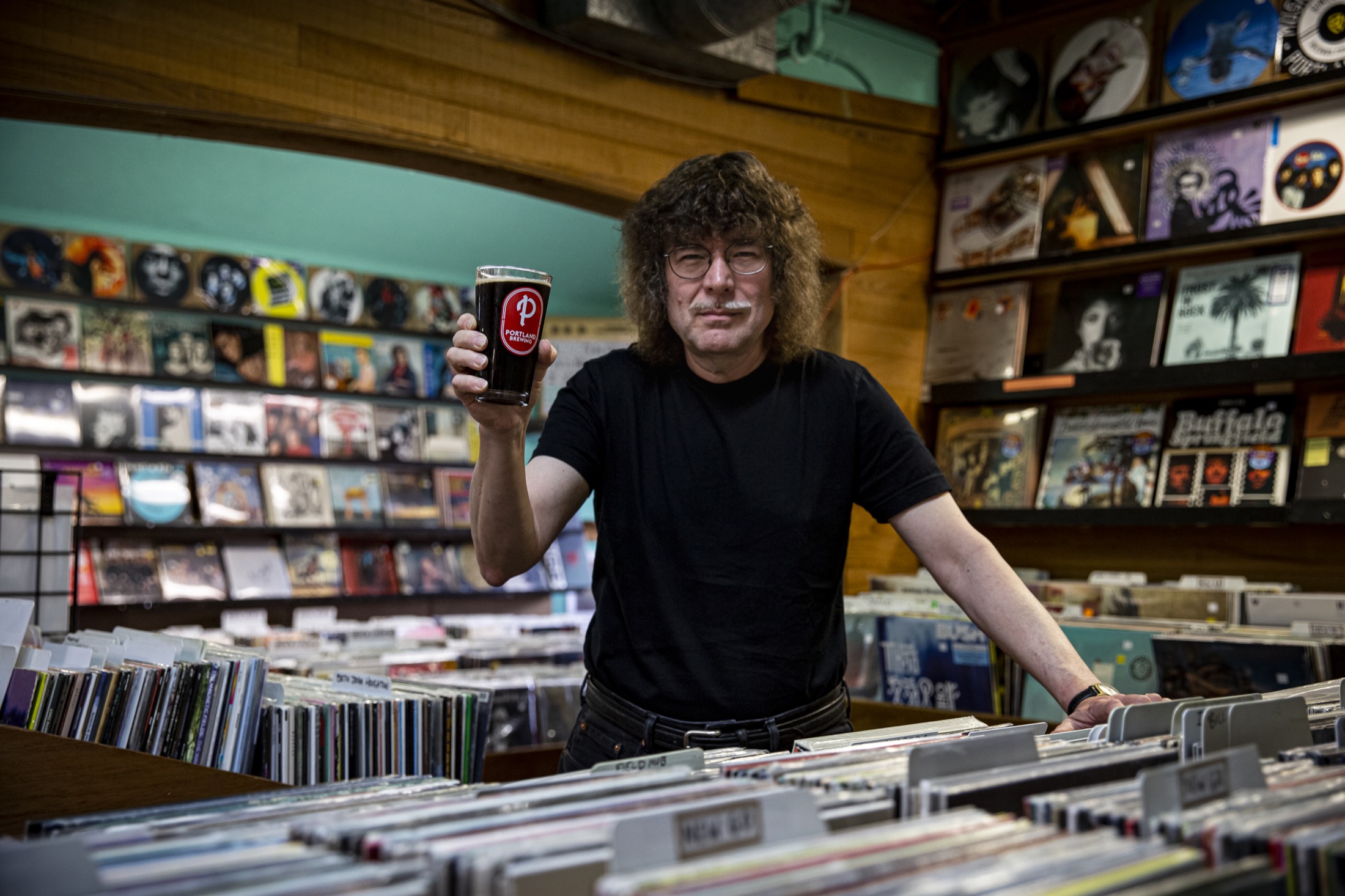 One of Portland's musical treasures is Terry Currier and his highly lauded record store Music Millennium. Back on August 12, 2017, the City of Portland honored Terry for his contributions to the Rose City with Terry Currier Day. Seattle's Sub Pop Records made a compilation CD that featured Terry's favorite recordings from the label. And to proclaim Terry Currier Day, Portland's favorite mayor, Bud Clark officiated the capacity crowd ceremony held outside at Music Millennium.
Now two years later Currier is once again going to be honored in a special way. However, this time it'll be with his very own beer, In The Groove Black Vinyl Lager from Portland Brewing. This will be the second beer in the brewery's "Keep Portland Weird" rotating series of beers. In The Groove Black Vinyl Lager will replace Unipiper Hazy IPA, that was released earlier this year.
The beer series namesake slogan Keep Portland Weird was created and is owned by Currier as he began using the slogan three years after he learned of the similar slogan that began in the city of Austin, Texas in the year 2000. Currier trademarked the slogan in 2007. He was approached by Portland Brewing to use the name for this beer series that donates a portion of proceeds to charitable organizations.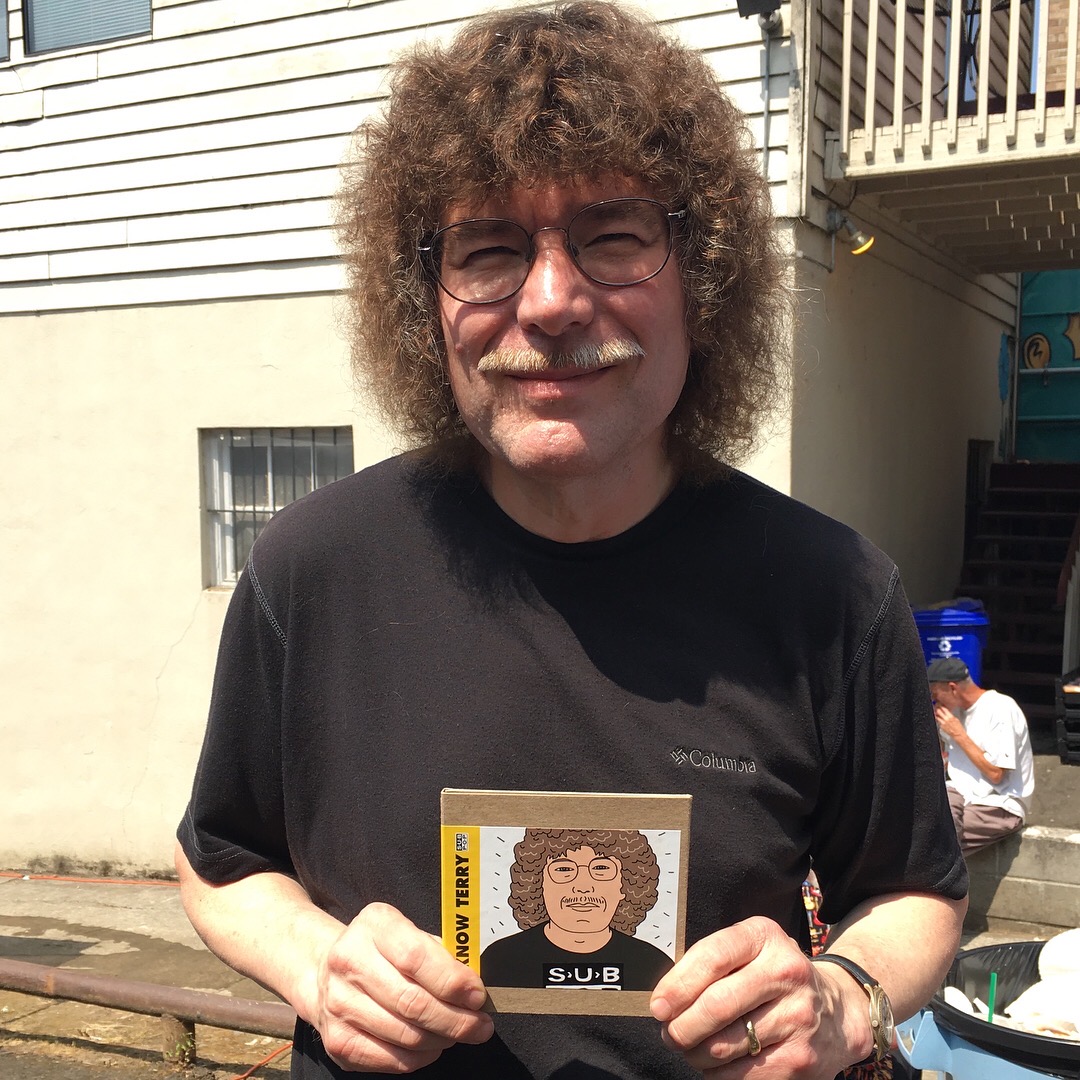 "I met with them as they were interested in creating a "Keep Portland Weird" series with the Unipiper being the first in the series," wrote Currier in an email to BREWPUBLIC. "We talked about a charity component being added to each release in the series and that sold me and I gave them permission to use it. They asked me to be on the second can and I picked the Oregon Music Hall of Fame's Music In The Schools Program to be the charity."
Being honored this year is a big one for Currier as his record store, Music Millennium is celebrating its 50th Anniversary this year. Currier was not the original owner of the store but became involved with the store in the mid 1980s after working many years at competitive retailer.
"I started working in Record Retail in 1972 at DJ's Sound City, a new store that was going to open in the new Jantzen Beach mall," wrote Currier. "I visited Music Millennium for the first time 3 weeks later, when they were just 2 1/2 years old."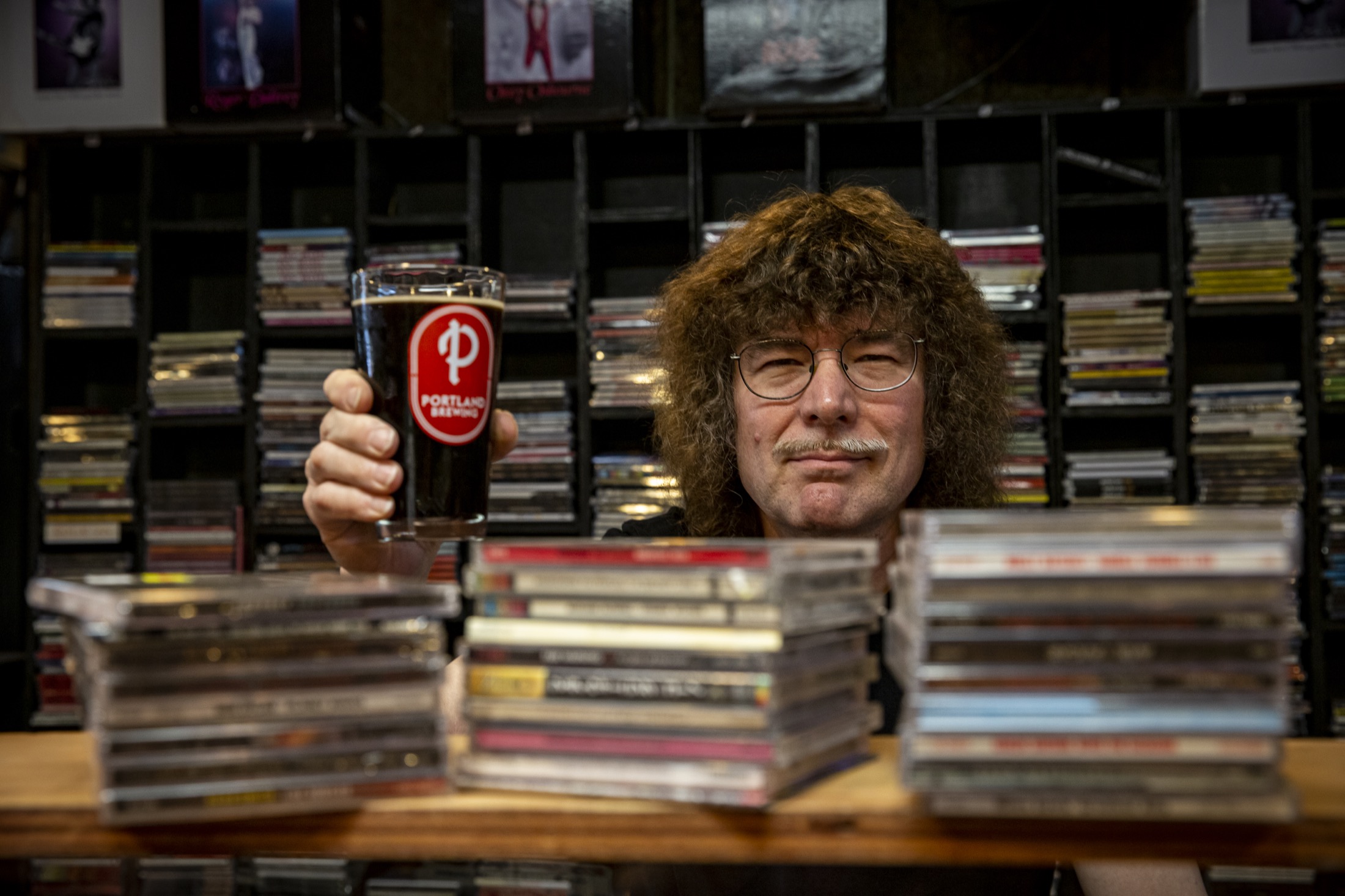 Then over a decade later he found his way to Music Millennium after Don Macleod, the store's original owner reached out to Currier. "In 1984 I got a call from a rep for RCA Distribution," wrote Currier in an email to BREWPUBLIC. "The second owner was going to file bankruptcy and Don didn't want to see his baby go and assume a hefty debt and almost no inventory. I was hired and 3 years later he gave me 5% after the debt was gone. 2 years later I bought 20% more. In 1996, Don passed away and we bought the rest from the family." Since then, Music Millennium has been named one of the top record stores in the country by Paste Magazine, Spin Magazine, and the Album Network.
In addition to his work at Music Millennium for the past 35 years, Currier also co-founded Burnside Distribution that has brought thousands of musicians of all types to the broader public. He also co-founded the Oregon Music Hall of Fame and has served on local and regional music council boards.
Read More: Music Millennium Taps Into Craft Beer
"After decades of tireless work supporting regional and local musicians, we thought it was time for Terry to have a beer!" said Ryan Pappe, Head Brewer at Portland Brewing in a press release. "It has been a true honor to work this closely with a person whom I respect on a strong, personal level. Creating a beer for a legend is no easy feat, but I knew I had to stick with vinyl records for inspiration. Records are smooth and vibrant black, and the sounds that come from my favorite albums are textured, warm, and always familiar. With In The Groove, we tried to capture the experience of playing our favorite records."
"The first time we sampled this beer we were actually upstairs in the record shop, surrounded by the blues and jazz vinyl collection," said Terry Currier in a press release. "After just a sip, I knew that Portland Brewing had put a lot of great effort into making this beer. It's easy drinking and also has a lot of subtlety to it. I'm looking forward to evenings where I can start up a record, sit back, and enjoy a great album with a glass of In The Groove."
In creating In The Groove Black Vinyl Lager, Pappe wanted to brew a beer that is inspired by the thousands of vinyl records at Music Millennium. From the outset of the collaborative process, Currier asked that the beer be easy drinking, and not overly bitter or hoppy. The result is a 4.8% ABV dark lager, which presents soft roasty flavors of chocolate and caramel, but still clearly comes across as a lager. The beer is refreshingly light, finishes dry and crisp, and drinks as smooth as one would expect from any summer thirst quencher.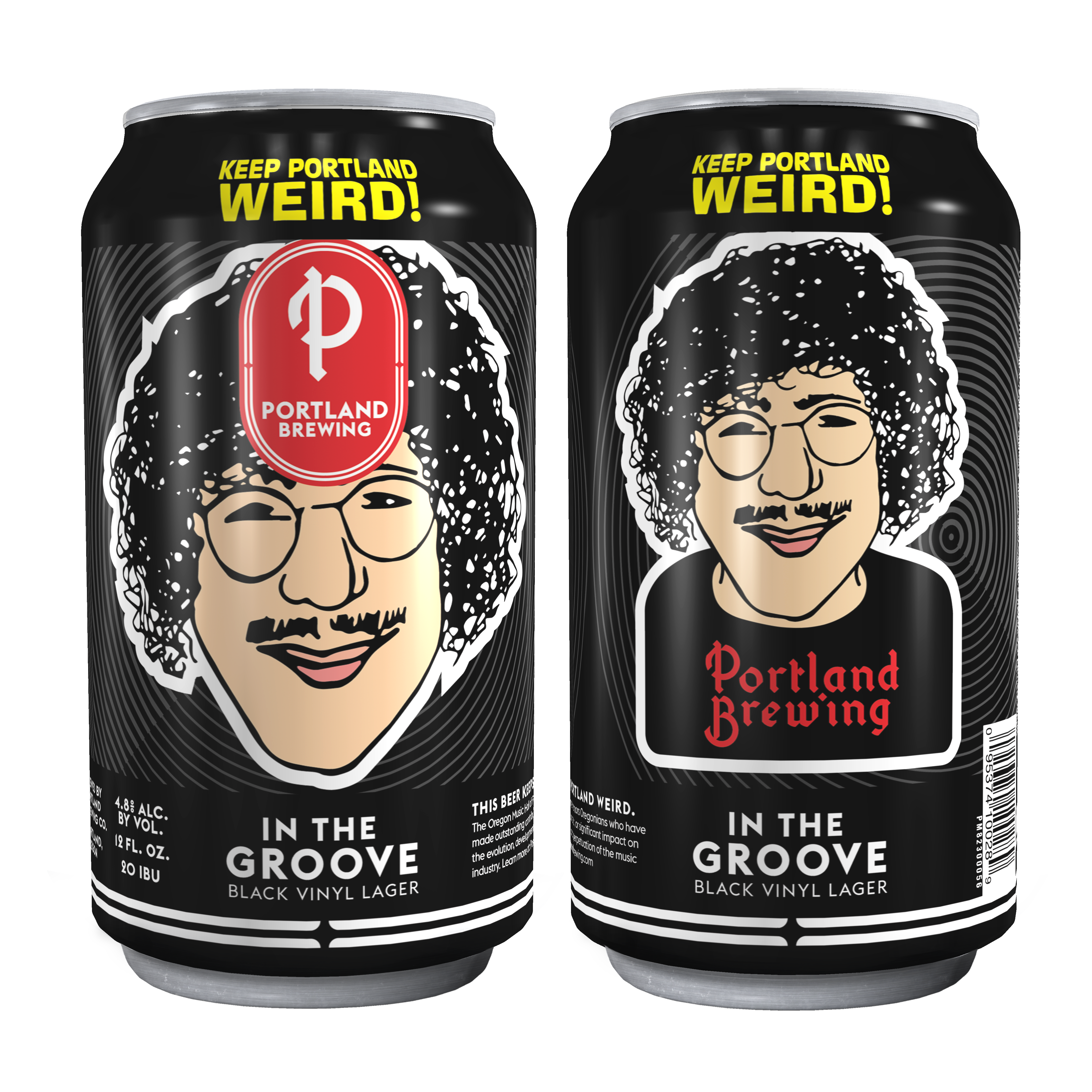 When the cans of In The Groove Black Vinyl Lager are released in the coming weeks, the can's artwork features an image of Terry Currier that was drawn from a photo in 2000 by an Atlantic Records receptionist. At the same time Atlantic Records sponsored a music store convention in Portland and his image was emblazoned on the back side of the conference's tote bag, to the surprise of Currier. The drawing has long been a favorite of Currier because "they nailed the hair." Nineteen years later Currier looks the same, all black clothing and all.
The charitable arm of In The Groove Black Vinyl Lager is the Oregon Music Hall of Fame (OMHF), an organization that honors Oregonians who have made outstanding national, regional, or local contributions to the evolution and perpetuation of the music industry. OMHF also provides scholarships to college-bound high school seniors studying music, awards an Oregon-based artist of the year and album of the year, and annually selects bands, artists, and players for induction into the Hall of Fame. Portland Brewing will donate $4,500 of In The Groove's proceeds to the this organization.
In The Groove Black Vinyl Lager will be released to the public on August 10 from 11:00am-6:00pm at Music Millennium's 27th annual Customer Appreciation BBQ. Each year over 1500 people attend the Customer Appreciation Bar-B-Que that is free to attend where In The Groove will pour at the outdoor BBQ and music space, and on tap inside the record store. The day's festivities of food, live music, and prizes will take place in the back-parking lot of the store.
"There will be complimentary food and beverages," wrote Currier in an email to BREWPUBLIC. "We will have 7 live performances on the hour. Everyone will be able to spin the Wacky-Wheel Of Wonder and win a prize and there will be enter to win and discounts coupon good that day instore."
This year Music Millennium will be serving food and drinks from its sponsors: Portland Brewing, Spielman Bagel Chips, Off The Griddle, Franz Bakery, Hotlips Pizza, Portland Beverage Company, Secret Aardvark Sauces, Elephants Delicatessen, Crema Bakery, Staccato Gelato, Voodoo Doughnuts, La Buca, Movie Madness, and the Portland Ketchup Company.
Everyone will have a chance to spin the Wacky Wheel of Wonder and win great prizes like the Grand Prize a limited-edition metallic print of the Grateful Dead in July of 1968! Other prizes include coupons to Movie Madness, free slice coupons from Sizzle Pie, loaves from Dave's Killer Bread, CD's and vinyl, Music Millennium T-shirts, gift certificates and more!
And of course there will be live music all day long. Here's the schedule!
Music Millennium Live Music Schedule:
11:00 AM – Ragon Linde
12:00 PM – Roselit Bone
1:00 PM – Rich Layton & Tough Town
2:00 PM – Reverberations
3:00 PM – Tracey Fordice
4:00 PM – Johanna Keith & the Paradigm Crushers
5:00 PM – Louder Oceans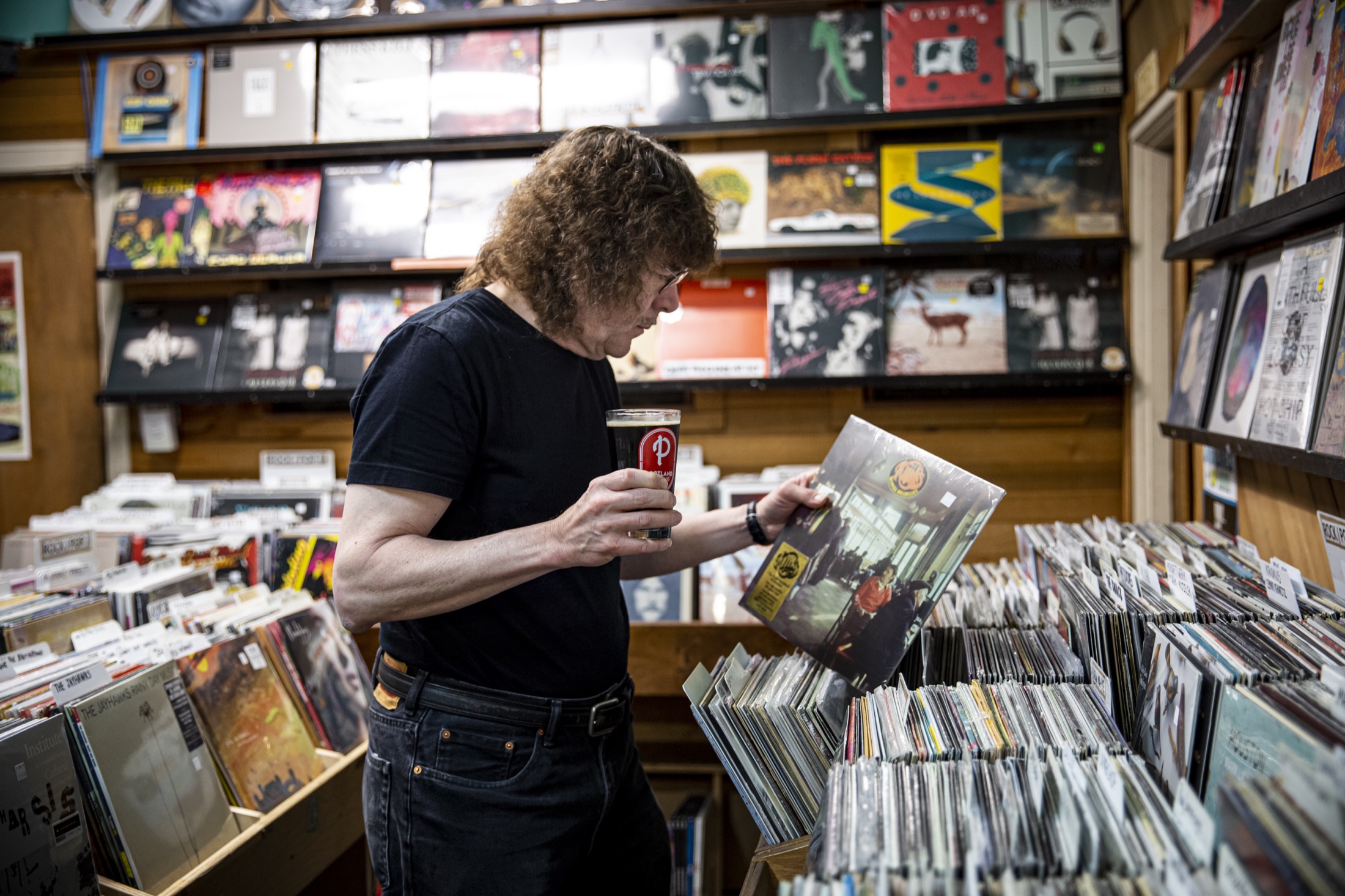 Stay up to date on the Music Millennium Customer Appreciation Bar-B-Que by following its Facebook Event Page.
In addition to the release at Music Millennium on Saturday, In The Groove Black Vinyl Lager will be released on draft throughout the Pacific Northwest beginning that same day and will be followed later this month in seasonal 12 oz 6-pack cans.
Music Millennium
3158 E Burnside St.
Portland, OR 97214